Why Ellen DeGeneres Got Backlash For Her Interview With Sofia Vergara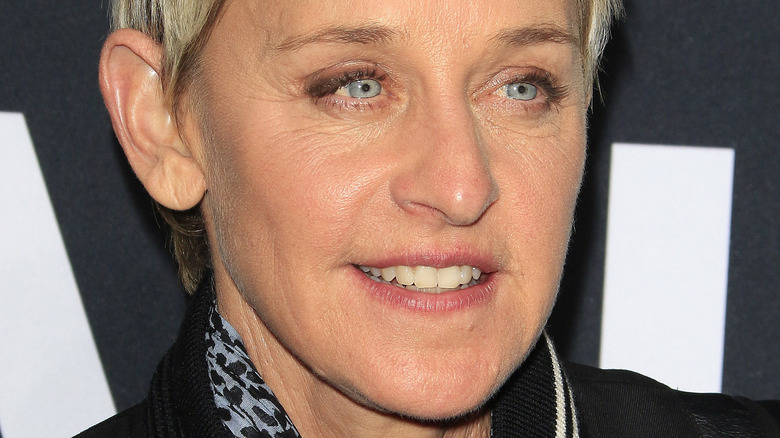 Joe Seer/Shutterstock
Ellen DeGeneres has faced her fair share of allegations over her career, most notably facing a pretty serious amount of backlash in 2020 after a bombshell report by BuzzFeed News which claimed what went on behind the now defunct talk show "The Ellen DeGeneres Show" wasn't exactly a happy work environment for many. DeGeneres addressed the allegations on the show, saying during her monologue at the start of the first episode of Season 18, "I want to say I am so sorry to the people who were affected. I know that I am in a position of privilege and power, and I realize that with that comes responsibility, and I take responsibility for what happens at my show." She then added that those behind the scenes had made changes, noting, "Today we are starting a new chapter."
But that's not the only time DeGeneres has come under fire. The star has been called out on social media multiple times over her interviews, with one of the most famous coming when DeGeneres sat down with Dakota Johnson on "The Ellen DeGeneres Show" in 2019 and called her out for not inviting her to her birthday party. Johnson famously turned the tables though, hitting back by making it clear she was invited and didn't turn up. Awkward.
But it's another controversial interview on the now defunct talk show that had Sofia Vergara speaking out, after some viewers claimed the former was making fun of the latter.
Ellen DeGeneres was called out for making fun of Sofia Vergara's accent
Sofia Vergara's Colombian accent has long been part of her signature charm, with plenty of playful jokes being made about her voice on the show that made her a household name, "Modern Family." But while that was all with Vergara's permission, not everyone was happy when Ellen DeGeneres repeatedly poked fun at Vergara on "The Ellen DeGeneres Show." It all started in 2020 when a Twitter user shared a video of DeGeneres mocking Vergara's accent. Though the video has since been deleted (plenty still remain on YouTube, though), it created quite the social media firestorm, with some claiming DeGeneres took the joke too far and even suggesting her comments may have been racially motivated.
"Um this is so uncomfortable to watch being from the same county as sofia vergara. tbh f**k ellen and her racist a*s," one person hit back, while another tweeted, "Am I the only one that hates and finds offensive the way Ellen treats Sofia Vergara? I hate when Americans make fun of the way people from other countries speak English when they can't even pronounce a Spanish word properly." A third commented, "Us bilingual people may struggle with our second language sometimes but we still speak two languages, which is something people like ellen probably could never. the fact that we had to learn a second language just in order to communicate with people in other countries and now actually can is impressive!"
Sofia Vergara defended Ellen DeGeneres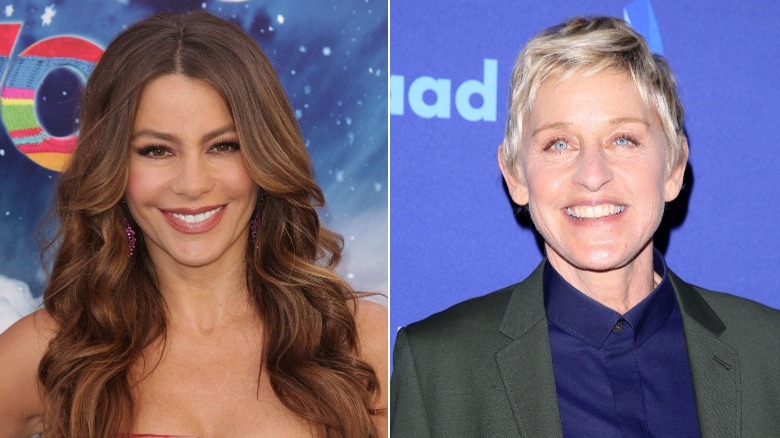 DFree & Kathy Hutchins/Shutterstock
But while social media was busying calling out Ellen DeGeneres after seeing her poke fun at Sofia Vergara, the "Modern Family" star was speaking out in her defence. The two have notably been good friends for years (with DeGeneres even dressing up as Vergara for a Halloween episode of "The Ellen DeGeneres Show" in 2012), and Vergara was quick to defend the now former talk show host on Twitter. Vergara posted a clip from one of her appearances on the show and wrote, "Two comedians having fun with each other to entertain. I was never a victim guys, I was always in on the joke."
But while Vergara made it pretty clear she supported DeGeneres amid the controversy, not everyone has been quite so happy with the talk show host after an interview. Someone who wasn't ready to defend DeGeneres? Mariah Carey. Carey was also subject to a resurfaced interview on the talk show, as 2020 also dug up a 2008 appearance in which DeGeneres was doing all she could to get the "We Belong Together" singer to confirm her pregnancy, even attempting to get her to drink alcohol to prove she was or wasn't expecting. "I was extremely uncomfortable with that moment is all I can say. And I really have had a hard time grappling with the aftermath," Carey told Vulture after the resurfaced interview went viral. DeGeneres didn't appear to speak publicly about the backlash.