The Disturbing Reason Behind Former NBA Star Amar'e Stoudemire's Arrest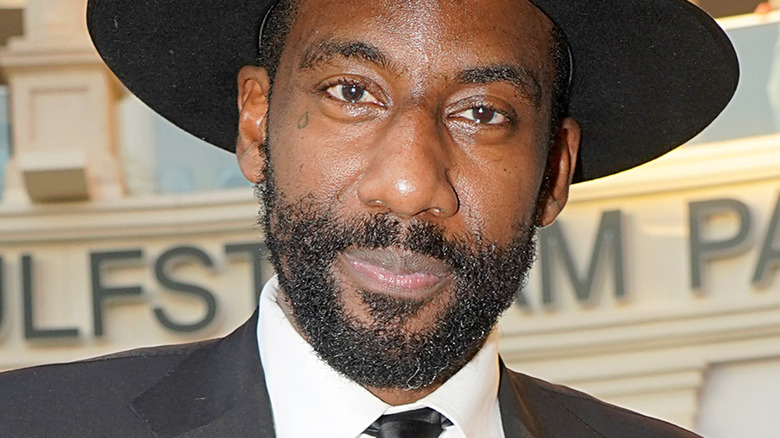 Alexander Tamargo/Getty Images
The following article includes mentions of domestic abuse.
Amar'e Stoudemire had an illustrious career in professional basketball before he retired as a player for the New York Knicks back in 2016. The American-Israeli athlete spent 14 seasons in the NBA and made six All-Star and five All-NBA teams (including a first-team selection in 2007, according to Sports Illustrated). Stoudemire won Rookie of the Year in 2003 as part of the Phoenix Suns and, in 2015, was named by Forbes as one of the highest-paid athletes in the world. (He has also played for the Miami Heat and Dallas Mavericks.) After announcing his retirement, the star went on to play in international leagues and become an assistant coach for the Brooklyn Nets under his former Phoenix teammate, Steve Nash. He stepped down from his role after serving for two seasons, and per Instagram, has since earned a master's degree in business administration from the University of Miami. 
While things have been smooth sailing for Stoudemire for the past decade, the basketball legend recently courted controversy after news of his arrest in Miami for allegedly beating one of his teenage daughters. Per the Miami Herald, Stoudemire was charged with misdemeanor battery and was released from police custody after posting $1,500 bail. He's reportedly due to appear in court on January 17, and ahead of the hearing, the former NBA star released an official statement addressing the abuse allegations involving him and his daughter. 
Amar'e Stoudemire denies hitting daughter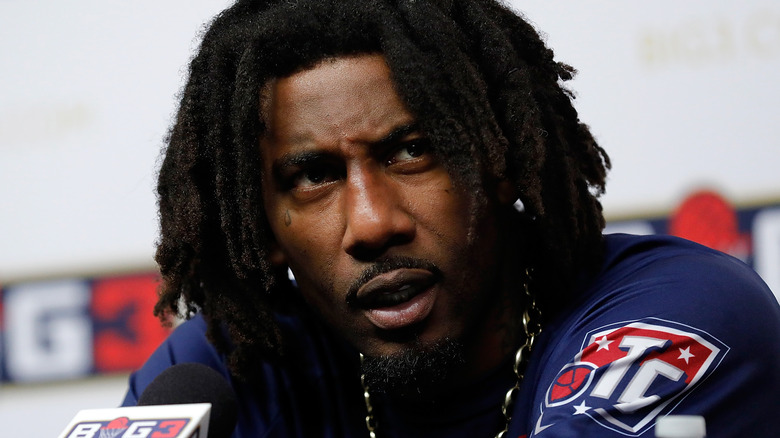 Tim Warner/Getty Images
Amar'e Stoudemire allegedly struck one of his daughters during a heated argument in his Miami condo unit on December 17, according to court documents obtained by The Miami Herald. The victim — who was unnamed in the report —  alleged that her father punched her on the right jaw after accusing her of disrespecting his mother. (Stoudemire has two minor daughters with his ex-wife Alexis; one is 17, while the other is 14.) After the punch, Stoudemire allegedly continued to beat his daughter by slapping her on the face hard enough for her nose to bleed. He also hit her repeatedly on the left side of her body. 
In his statement, Stoudemire confirmed his arrest but denied he physically assaulted his daughter. He also described the allegations against him as untrue and baseless. He said, "As the investigations unfolds, the facts will show the allegations to be groundless as my daughter's medical condition is not the result of being assaulted by a father who is nearly 7 feet tall and weighs 250 pounds," referring to himself. He went on to stress that he could never hurt anybody, let alone his own kids. "I respect, protect and love my family, particularly my children," Stoudemire added. "As a father, I ask for your grace as we secure our space and privacy."
If you or someone you know is dealing with domestic abuse, you can call the National Domestic Violence Hotline at 1−800−799−7233. You can also find more information, resources, and support at their website