What Lionel Messi And Cristiano Ronaldo's Relationship Is Actually Like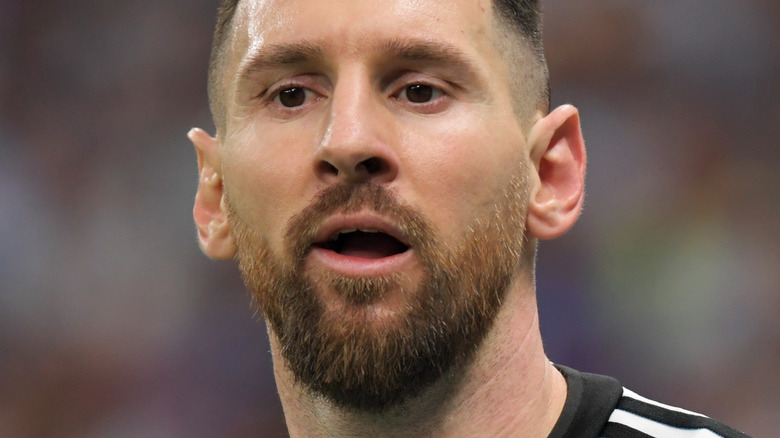 Kaz Photography/Getty Images
On December 18, Lionel Messi's Argentina squad won the 2022 FIFA World Cup. For the eight-time Ballon D'Or winner, it was the final trophy he'd lacked, and the crowning moment of a legendary career. Messi has long been heralded as the GOAT in the football (or soccer) world, but his La Liga titles and Champions League trophies seemed to pale in comparison to the elusive mantle of a World Cup win. The last time Argentina brought home a World Cup trophy was in 1986, back when Diego Maradona was dribbling circles around defenders. Now, nearly 40 years later, 35-year-old Messi can rest easy, knowing he's done his country proud. So, what's next for the star forward? According to The Times, Messi is "close" to inking a deal with the MLS, specifically, Inter Miami.
His peer on the pitch, Cristiano Ronaldo, is in a similar position. At 37 — and with five Champions League titles to his name — the sun's setting on Ronaldo's illustrious career. Fox News reports that the prolific striker is heading to Saudi Arabia, where he'll play for the country's Al Nassr club (to the tune of $75 million a year, no less)! But, unlike Messi, Ronaldo has never won a World Cup. In the 2022 competition, Portugal lost to Morocco in the quarterfinals, and Ronaldo left the field in tears.
Messi and Ronaldo's hugely successful careers mean that sports pundits have long compared them to each other. But are they friends when they're off the pitch? Maybe not.
Is Cristiano Ronaldo jealous of Lionel Messi's success?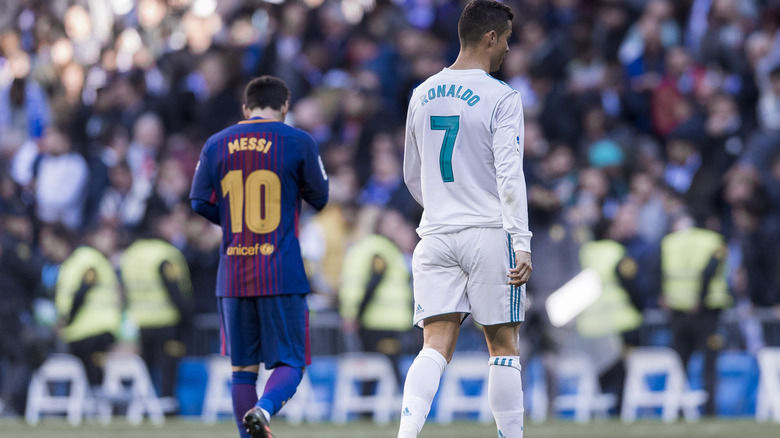 Power Sport Images/Getty Images
Lionel Messi and Cristiano Ronaldo are two of the most influential soccer players on the planet. However, Messi always seemed to have edged out his rival in the race to become the GOAT — so, does that make Ronaldo jealous? Spanish journalist Guillem Balagué certainly seems to think so. In 2014, he shared that Ronaldo often refers to Messi as a "motherf***er" behind closed doors. Per Sport, Balagué also suggested that Ronaldo and his former teammates at Real Madrid "refer[red] to Messi as Cristiano Ronaldo's small dog, to be put in his designer handbag."
Previously, Ronaldo has reacted badly to anyone else's claims that Messi is the best player in the world. In November, ex-Manchester United striker Wayne Rooney confirmed (via Sports Illustrated) that he viewed Messi as the ultimate player, explaining, "Everyone has different views on Messi and Ronaldo but I have said many times that I think Messi is the best." Speaking to Piers Morgan (via The Sun), Ronaldo didn't hold back when it came to Rooney, who also bashed the striker for his poor performance at Manchester United. "I don't know why [Rooney] criticizes me so badly ... probably because he finished his career and I'm still playing at [a] high level," Ronaldo said. When asked point-blank whether Messi is the GOAT (via Sport), Ronaldo expressed his belief that Messi is the "best he's ever seen" ... excluding himself, of course.
Cristiano Ronaldo and Lionel Messi have a respectful relationship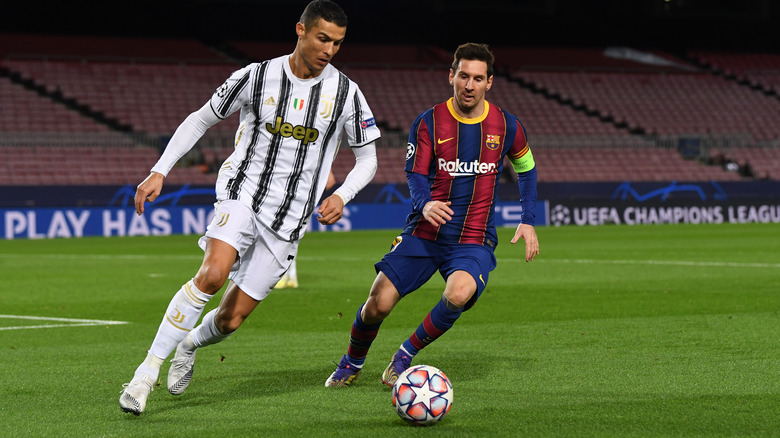 David Ramos/Getty Images
When speaking to the media about one another, Cristiano Ronaldo and Lionel Messi have largely struck a cordial tone. After Messi won the 2015 Ballon D'Or, Ronaldo said (via Bleacher Report) that he and Messi were "close," if not friends. "We have become closer, we have always enjoyed a good relationship but perhaps in the last few years it has become a little closer," he added. In a 2022 interview with Sport, Ronaldo acknowledged that he and Messi were more like "teammates" than friends. "We [have] [shared] the stage for 16 years. So, I have [a] great relationship with [Messi]. I'm not [a] friend of [his] in terms of, a friend ... [you'd speak with] on the phone, but it's [more] like a teammate," he said.
As for Messi, he's not interested in comparisons, and he'd rather let his feet do the talking. "Competing with Cristiano? I don't feel like competing with him or anyone else," he previously told the Daily Mail. "It's not about individual awards. I want to help my team. I don't think about my place in football history. I just want to keep getting better and win trophies with my team." However, now that Messi has won a World Cup (and Ronaldo has not), the great Ronaldo vs. Messi debate has tipped in favor of Messi. Furthermore, Ronaldo's reluctance to congratulate Messi on his historic win (so far) speaks volumes.