Who Is Tim Allen's Daughter, Elizabeth Allen-Dick?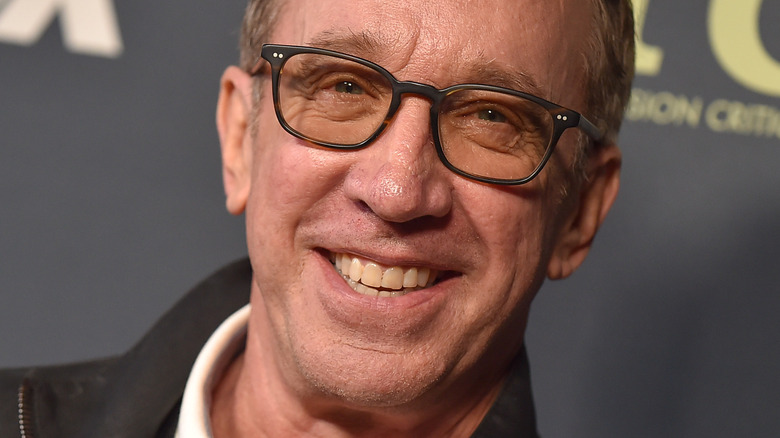 DFree/Shutterstock
In some of his most memorable roles on television, comedian Tim Allen portrays a father. From his role as Tim "The Toolman" Taylor in "Home Improvement" to his subsequent role as Mike Baxter in "Last Man Standing," Allen is often cast as the dad who ends up caught in the middle of chaotic family life. 
As it turns out, this actually isn't all that different from reality. Although the names are certainly different and the precise situations may vary, the reason that Allen appears so at home in a paternal role is that he's a father to two daughters. Allen's oldest daughter, Katherine, was born in 1989, and nearly two decades later, he became a father for a second time when his youngest daughter, Elizabeth, was born (via Closer Weekly).
Although we haven't seen Allen's oldest daughter on the small or big screen yet, her younger sister already appears poised to follow in her father's footsteps. Elizabeth Allen-Dick, who adopted her father's real surname as a part of her stage name, is a central player in the Disney+ series "The Santa Clauses," a spin-off of the "Santa Clause" films.
The Santa Clauses is Elizabeth Allen-Dick's screen debut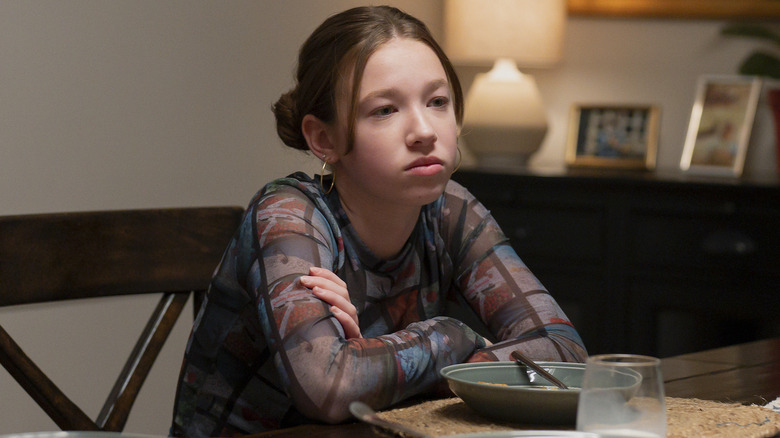 Disney/James Clark
As first announced by Deadline, Elizabeth Allen-Dick made her acting debut alongside her father, Tim Allen, on the Disney+ series "The Santa Clauses." Much like her father has chosen over the years, Allen-Dick appears to be starting off with a role familiar to her real-life world. In the series, she plays Sandra Calvin-Claus, the daughter of Allen's character, Scott Calvin (aka Santa Claus).
In a September 2022 interview, Allen explained to Entertainment Weekly that he only ever intended for Allen-Dick to play an elf in the series, but it didn't take long for producers to elevate her role. "I wanted to put my youngest daughter as an elf, just so she'd see herself in a movie," Allen explained. "But as she was reading for that, she read so well that they said, "We'd like to read her for more of a part.'"
After realizing the direction the other producers wanted to go, Allen reportedly insisted on stepping aside from that part of the decision-making process out of an apparent fear that his daughter's first role would be seen as nepotistic. Nonetheless, it would seem that Allen-Dick was simply destined for the franchise. "They loved how she read, loved it so much ... They ended up casting her as Santa's daughter," Allen said. "It was a surprise, but it became the most amazing experience."
Elizabeth Allen-Dick got to work closely with her father
Disney/James Clark
Although Tim Allen was originally concerned about having his real-life daughter, Elizabeth Allen-Dick, play his on-screen daughter, the experience of working on "The Santa Clauses" ended up being a positive one for both of them. In an interview with Entertainment Tonight, Allen and Allen-Dick discussed what it was like to work together. Allen-Dick shared, "It was such a joy. I can't express how grateful I am for this opportunity and how fun it was."
Similarly, Allen described how impressed he was by his daughter's on-screen abilities, emphasizing that her skills were a complete surprise to him and his wife. "On set, it showed that she really does this very well," Allen said. "She honors the skill of acting and knows the value that comes from the writing, the staff, and crew." In particular, Allen highlighted his daughter's talent during work on a particularly emotional scene. In fact, Allen praised his daughter's ability to bring emotion out of him and his fellow crew members. "A photographer on the set was getting all teared up," Allen said. "I was there, and it really affected me."
In another interview on "The Kelly Clarkson Show," Allen-Dick answered whether it was "intimidating or weird" to work with her father. In response, Allen-Dick admitted that she felt right at home. "Not really, honestly," Allen-Dick said. "It was a blast. I had so much fun on set."