The Real Reason Mark Wahlberg Had His Tattoos Removed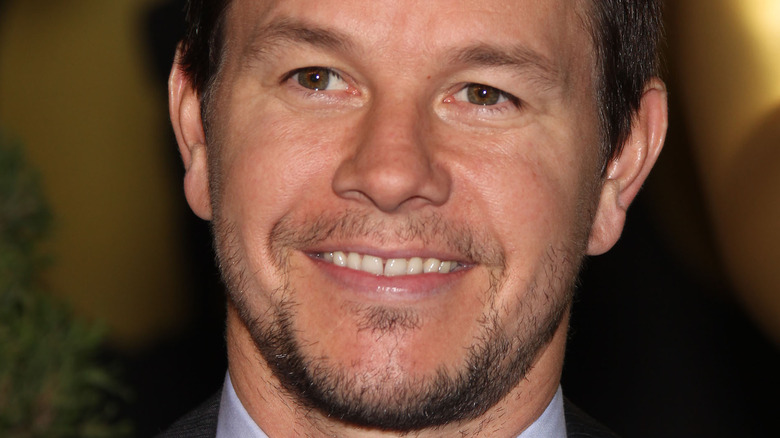 DFree/Shutterstock
Mark Wahlberg has been gracing our screens ever since he made the big jump from Marky Mark the hip-hop rapper to a serious actor. Throughout his stellar career, Wahlberg has played dozens of memorable roles, including in films such as "Boogie Nights," "The Departed," "Transformers," and "Ted," among many other big-ticket projects. But while he is certainly known for his acting chops, fans also admire Wahlberg for his handsome looks and his incredibly sculpted physique, which the actor has credited to a strict diet and fitness regimen.
Younger fans may not know it, but back in the day, Walhberg used to sport a variety of tattoos all over his body. In fact, Wahlberg's body art stretched all the way from his neck and back down to his stomach and legs. Per the Body Art Guru, one of his old tattoos was a rosary around his neck, which went all the way down to his sternum and featured the words "In God I Trust." He also had his initials "MW" and surname tattooed on his right shoulder, while an image of musical icon Bob Marley was inked on his left. Wahlberg also had an old shamrock on his left ankle, which he later covered up with Sylvester the Cat and Tweety Bird.
Alas, Wahlberg had the aforementioned tattoos — along with all others on his body — lasered off. Here's why.
Mark Wahlberg grew to regret the tattoos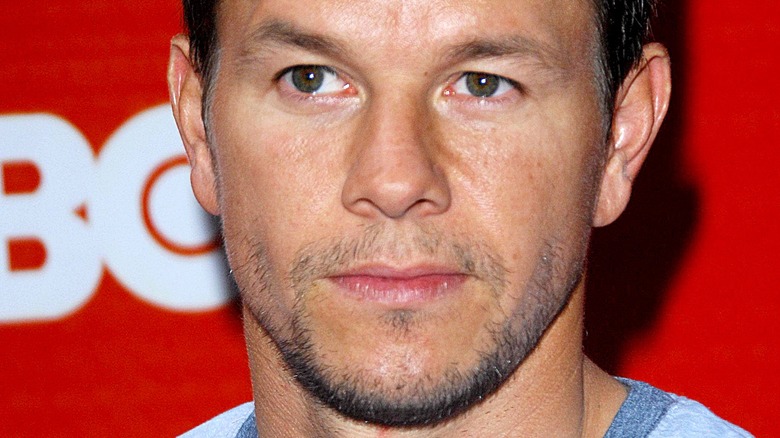 Everett Collection/Shutterstock
We all have our own regrets in life, and for Mark Wahlberg, that's getting his tattoos. While promoting the film "Spenser Confidential" on "The Late Late Show" in 2020, the actor shared what compelled him to finally get his tattoos removed in his late 30s. 
"Maturity, sensibility," he said. "You realize, 'I'm pushing 40. I got to do something about this.'" He also opened up about his experience having his tattoos lasered off, describing it as a long and (literally) painful journey. "It's not the same sitting down, having a couple of beers, you know, you can fall asleep, all of a sudden you wake up it's one and done," he said. "This is like... it took me five years to get the tattoos removed. And it's dreadfully painful." (Wahlberg said it hurt "1000% more" than getting the tattoos themselves, and described the pain as akin to that of "hot bacon grease getting flicked on you over and over." Yikes!)
Drawing from his own experience, Wahlberg said he warned his "Spenser Confidential" co-star Post Malone against getting more tattoos on his body... only for the rapper to ignore his words and add more ink on his face. Malone, who now has more than 78 identifiable tattoos previously admitted that his facial tattoos come from a "place of insecurity" for him (per Men's Health). "I don't like how I look, so I'm going to put something cool on there so I can look at myself and say, 'You look cool, kid,' and have a modicum of self-confidence when it comes to my appearance," he said. 
Mark Wahlberg took his children to his laser sessions
Notably, Post Malone isn't the only person that Mark Wahlberg warned against tattoos. Per Perez Hilton, Mark Wahlberg also cautioned his children about them, even going so far as to take the kiddos along to his grueling laser appointments in the hopes of discouraging them from inking up in the future. "I thought, you know what, I'm not really supposed to mark my body. I was trying to really also get them removed, work and for personal and professional reasons," he said during an appearance on "The Ingraham Angle." "So, I took my children."
Despite the best of intentions, it would appear that such a strategy didn't quite work out for the "Patriots Day" actor. Wahlberg's daughter, Ella Rhae Wahlberg, still wound up getting two tattoos, as well as belly button and nose piercings. "You gotta figure things out for yourself," Wahlberg said when acknowledging his daughter's choices. He also added that he hopes future technology will make it faster and easier to remove tattoos as it took him many years of laser treatments to remove his own.
In a more recent interview, however, Wahlberg also stressed that his eldest daughter, who is now an adult, is old enough to make decisions of her own. "I literally have no authority over her until she realizes she needs me financially," he said in jest (per People). "She's doing tattoos and all this stuff, but she's now really focused on academics, which is great. It took her a while to get there."