Is Love Island Fake?
Not all reality television shows have iconic one-liners that immediately remind people of the show. But "Love Island" does (contestants and viewers perk up when they hear "I've got a text!"). Over the years, the series has made a place for itself amongst fans. It's also a massive production, as one would expect. According to Hello Magazine, "Love Island" has over 70 cameras within the show's villa along with mics everywhere, as well as a mic pack on every Islander. It's the perfect environment to catch a couple hooking up or someone getting played on camera. 
But how much of that juicy drama is real? Is any of it scripted? The show's very own producers gave a statement to Metro UK refuting any rumors of "Love Island" being fake. "As anyone who watches the show regularly would know, 'Love Island' is a combination of reality and produced elements that are reflective of what's happening in the villa, and is a fair and accurate representation of villa life," the statement said. They said that it is "untrue" that "Love Island" is fake or staged. "The opinions [Islanders] have and the relationships formed are completely within the control of the Islanders themselves," they finished. But there's more to that narrative.
Love Island's producers influence what happens in the villa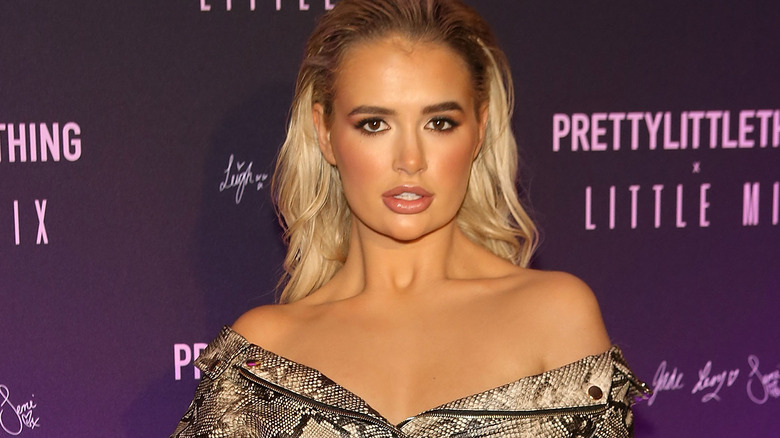 David M. Benett/Getty Images
While the producers of "Love Island" may refute the claims that the show is scripted, they are believed to create conflict to fit the narrative they want to air on television. Tyla Carr, from Season 3 of the U.K. version of the show, told Daily Star in 2018 that producers "suggest" topics for Islanders to bring up (via HeatWorld). "What viewers don't see is there is always a producer on site. They don't live in the villa with us but someone generally comes in every hour to have a chat," Carr said. "They tell you what they want you to talk about, and who with."
Fan-favorite Molly-Mae Hague (Season 5) told Closer Online the exact same thing. "Sometimes you have to do things in there you don't necessarily want to do ... for the storyline," Hague said. Like when Anton Danyluk got a cashier's number as a joke and producers told Hague to tell castmate Anna Vakili after her love interest Tommy Fury told Hague not to spill. It, of course, created the desired drama. While former contestant from the same season, Amy Hart, told her TikTok followers that "it's not scripted at all" (via Hello Magazine), it's clear other Islanders have a different take. The Daily Mail reported that a whistleblower shared with the outlet that the show is "completely disingenuous and a lot of the time very, very fake."
Former contestants claim the show is edited for drama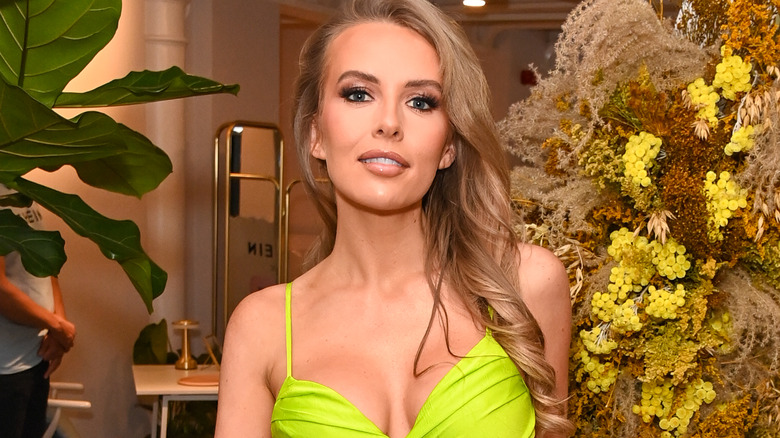 David M. Benett/Getty Images
According to a source from the show (via Daily Mail), "Love Island" is just like all reality TV — all about the edits. "We were treated like performing animals and the current cast are still," the source shared. While that somewhat aligns with the views of some former contestants, others also say it's all about how each person is portrayed in the final edit. Jonny Mitchell, a Season 3 Islander, said that he "got portrayed very badly in 'Love Island,'" telling Sky News that the editing was "completely unfair" to his character in real life (via The Sun).
The "villain edit" in reality TV is a real thing, where situations or conversations are edited to show someone in a bad light. However, former Islanders have pushed back on comments like Mitchell's. "This gets to me because regardless of which scenes were aired, you still did those things ... You are still that person and those things still left your mouth," Faye Winter told Cosmopolitan. 
But there are some strategies that Islanders have used to stop juicy secrets from airing. Season 8's Indiyah Polak shared on TikToker GK Barry's podcast, "Saving Grace" that she and her female castmates made sure to be topless in their room when they wanted to spill the tea. "Whenever someone wanted to say something cheeky, we'd be there talking with our t*** out because we know they can't air it," she shared (via HeatWorld).