How Ron Howard And Jamie Foxx's Unlikely Friendship Really Began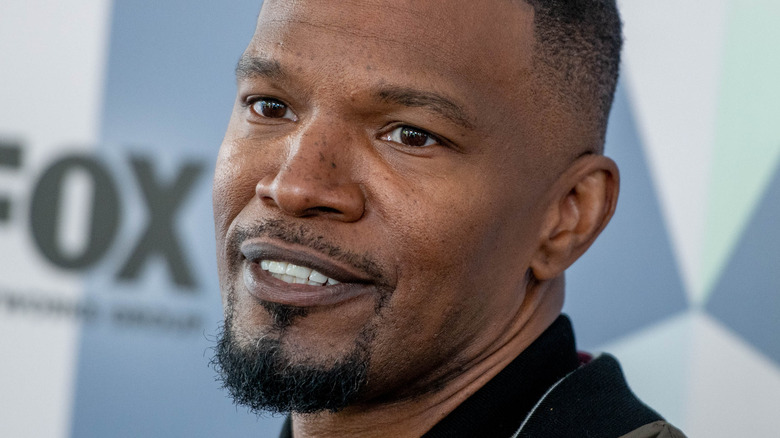 Roy Rochlin/Getty Images
When thinking of celebrity friendships, you're more likely to think of, say, Tina Fey and Amy Poehler or Ben Affleck and Matt Damon. However, there are quite a few lesser known yet interesting celebrity duos. From Martha Stewart and Snoop Dogg to Bette Midler and 50 Cent, even unlikely famous people tend to run in the same circles.
Perhaps one of the most iconic yet little-known celebrity friendships is that of Ron Howard and Jamie Foxx. On the surface, the two have absolutely nothing in common, but they share more than one might think. Both Foxx and Howard are Oscar-winners. Both have experience behind and in front of the camera. And both men are fathers. However, none of those things are what brought them together.
Strangely enough, Foxx and Howard became friends not through the entertainment industry, but through politics (via Express). A chance encounter lead to what is one of the most bizarre yet memorable music video cameos of all time.
Ron Howard and Jamie Foxx blame it on the alcohol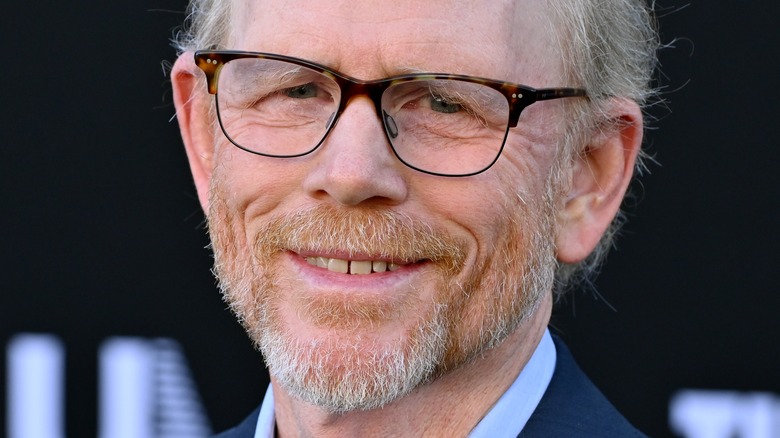 Featureflash Photo Agency/Shutterstock
Though their friendship extends beyond their initial collaboration, Jamie Foxx and Ron Howard first made waves as a duo in the music video for the former's 2009 hit "Blame It." Also starring Jake Gyllenhaal, Forest Whitaker, and Samuel L. Jackson, the video features Foxx and his crew rolling up to the club. Seeing a former child actor like Howard participate in rowdy party scenes was out of character to say the least. As it turns out, the "Happy Days" star agreed.
"We were at the inauguration, and there's this whole spirit of brotherhood, and I thought it was going to be some 'We Are The World' thing," Howard said on "The View" (via HuffPost). He later elaborated on the experience in a 2012 interview with Entertainment Weekly. Despite being an actor by profession, Howard had a hard time channeling his inner player and director Hype Williams frequently chastised the star for smiling too much. "I'm the opposite of a big pimpin' kind of dude; probably the last time I was in a club was doing research for Night Shift in 1981. Discos, they were called then." Howard found himself questioning whether he should be in the video as "one of the whitest men in the world," but he found his cameo funny.
"Jamie sent me a case of champagne and I asked him if I could now blame everything on the a-a-a-alcohol," he concluded. Whatever Foxx had in mind, it worked — the song remains one of Foxx's most successful to date, according to Billboard.
Are Ron Howard and Jamie Foxx still friends?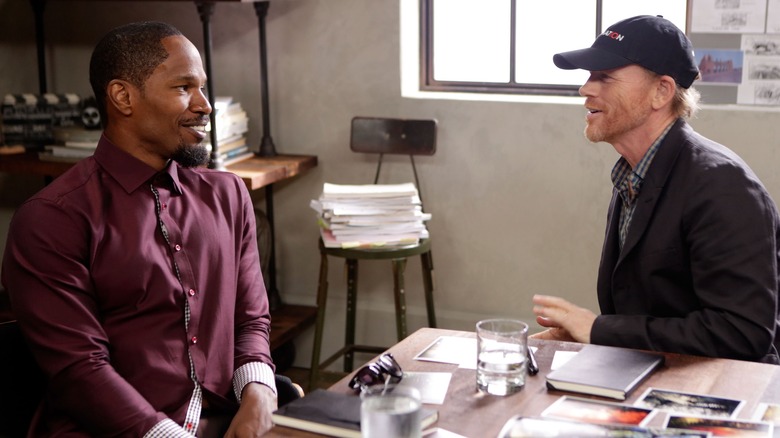 Jeff Vespa/Getty Images
Though you won't see them clubbing together, Jamie Foxx and Ron Howard remain on good terms. In addition to working side-by-side on "Blame It," the pals teamed up as part of Canon's Project Imaginat10n. Geared toward encouraging emerging talent, one of the endeavors involved having celebrities take on their first directorial projects (via The Hollywood Reporter). Intended to prove that any creative has the ability to make a Hollywood film, the 2012 challenge saw Foxx and other stars, such as Eva Longoria, make a film based on a series of images submitted by photographers of various skill levels. 
For Foxx, Project Imaginat10n was both a creatively enriching experience, as well as a fun opportunity to pal around with Howard. "Myself and Ron Howard had a bit of history because we did a music video together called 'Blame it on the Alcohol,' so it was just two old friends getting back together," Foxx told Complex. The singer praised how "Howard is so cool and laidback" with "that freshness of a child." Stating that "Canon couldn't have chosen a more perfect person" for the project, Foxx elaborated that Howard was a perfect fit because "he's done so much for this industry."
"He's willing to talk to you and just sit down and give you some of the jewels and the knowledge he's gained over the years to make your film successful," Foxx added. While Project Imaginat10n was a decade ago, Foxx and Howard's unlikely friendship is still just as iconic. Maybe the two will be inspired to team up for a feature film? One can hope.