Here's Why Jimmy Fallon Really Left SNL
Matt Winkelmeyer/Getty Images
Jimmy Fallon's claim to fame on "Saturday Night Live" was his impressive impersonations of celebrities. "I was getting more and more famous, and more people were talking about the show," he told Interview Magazine. He shared that the show has specific moments where cast members start getting noticed for their talent, mentioning former cast members like Chris Farley, Molly Shannon, and Tina Fey. "So I think that was probably my moment," he added.
And the fans sure did love Fallon — for his impressions, his humor, and his good looks. In fact, actor Jonathan Bennett admitted that he was cast as Aaron Samuels in "Mean Girls" because Tina Fey thought he resembled the late-night talk show host. "She said that's exactly 100 percent true," Bennett told HuffPost.
But Fallon didn't see himself working on "SNL" long-term. In 2004, he announced that he was leaving the popular sketch comedy show. And, while he now has his own late-night show, Fallon first had other big aspirations in the entertainment industry.
Jimmy Fallon was an aspiring actor before his late-night show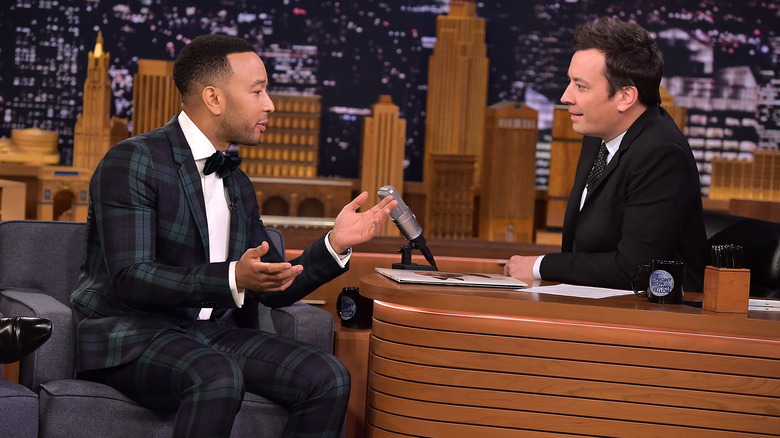 Theo Wargo/Getty Images
When Jimmy Fallon left "Saturday Night Live," the comedian had his heart set on becoming an actor, following in the footsteps of "SNL" legends Chevy Chase and Eddie Murphy. "My goal was just to be in movies — be like a rom-com guy or something," he told Entrepreneur. He then admitted that he thought that was what he was supposed to do after finishing a good run on the live sketch show. "It's just the path," he added.
Fallon had some acting credits directly after his "SNL" run, including "Taxi" with Queen Latifah and "Fever Pitch" with Drew Barrymore. But after trying for years to become the next Will Ferrell, those acting dreams fizzled out. "Six years later, my movie career didn't pan out," he told USA Today. He then explained that "SNL" executive producer Lorne Michaels asked the comedian if he wanted to take over Conan O'Brien's spot on "Late Night." And after some back and forth with NBC, Fallon, and Michaels, the former actor officially became a late-night talk show host in 2009.
Jimmy Fallon keeps his SNL roots close to him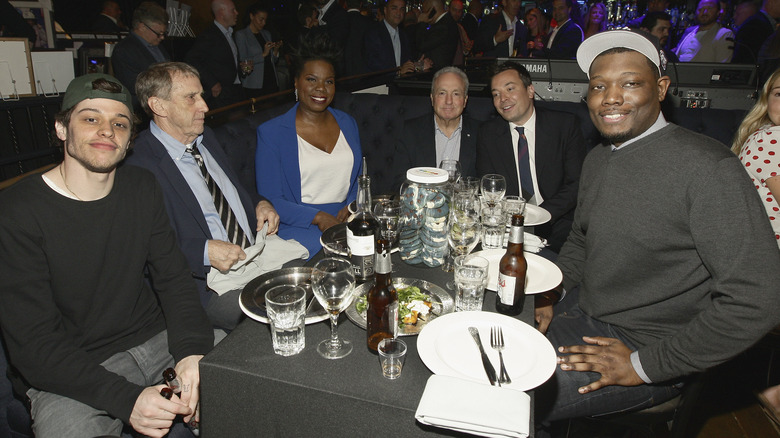 Mychal Watts/Getty Images
Since starting a hosting gig for "Late Night" and then hosting his own late-night talk show, Jimmy Fallon has gained a lot of popularity for his outgoing personality and his fun games. Fallon recalled the moment he knew his spin-off game show, "That's My Jam," was going to be a hit. "People were weeping in the audience," he said on Billboard's "Pop Shop" podcast, explaining the audience's reaction to Ariana Grande and Kelly Clarkson's appearance on the show. "I go, 'Oh this is cool, man. It was unbelievable ... this is great TV.'"
Fallon has also given advice to current "SNL" cast members since he's moved on from the show. In an interview on "The Tonight Show," current Weekend Update co-anchor Colin Jost explained how he emailed Fallon for advice, as the talk show host co-anchored the news segment with Tina Fey. "One of [the pieces of advice] was, whatever you do, don't take a weird moment and introduce yourself at the beginning of the segment," Jost said, later adding that he ended up introducing himself anyway for the fake news broadcast.
The late-night talk show host has also invited past and current "SNL" cast members to be on his show. For example, John Mulaney and Pete Davidson played a hilarious round of "True Confessions," which shows that Fallon is still connected to his "SNL" roots.