Who Is Daymond John's Wife, Heather Taras?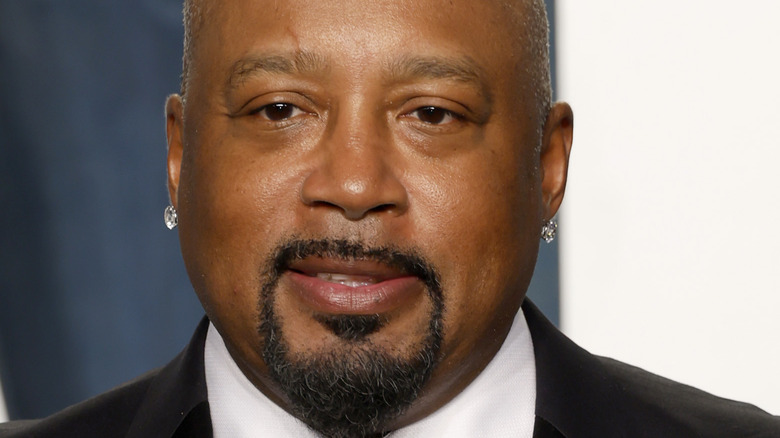 Frazer Harrison/Getty Images
Daymond John has become a familiar face on television as one of the longtime investors on ABC's hit reality program, "Shark Tank." John has appeared on the show since its 2009 inception, with his investment in Bombas being named the highest-grossing deal in the show's history as of 2019, per USA Today. Aside from his role as an investor, John is known as the founder and CEO of the streetwear brand FUBU, which he established in 1992 alongside three of his childhood friends. His success at FUBU made him worth more than many other sharks. 
Speaking with CNN, John said he came up with the line out of his love of the hip-hop community and culture. "We said we really want to be inclusive and really proud of the people who we're selling these clothes to. So we came up with a name: FUBU 'For Us By Us,'" he said. "It was all about a culture, not about a color."
Today, John is known as "The People's Shark," having helped hopeful entrepreneurs and inspired "Shark Tank" viewers with his rags-to-riches story. And while his professional life continues to flourish, his personal life does as well. Since 2018, John has been married to Heather Taras. The two became engaged during a taping of "Shark Tank" in September 2016 and tied the knot in an intimate ceremony in Greece in June 2018. When asked to describe his favorite thing about his then-fiancee, John told Us Weekly, "Her calm demeanor." So, who exactly is Heather Taras?
Heather Taras is a former nurse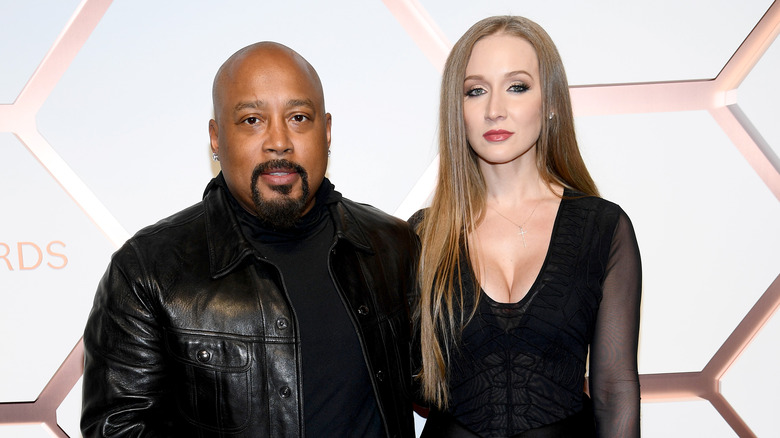 Dimitrios Kambouris/Getty Images
Before marrying Heather Taras, Daymond John was a divorcee. He and his first wife (whom he refuses to name in interviews) married before the fame and later welcomed two daughters, Yasmeen and Destiny John. The pair got divorced after John became blindsided by his success at FUBU. He confessed during an interview on "Forefront"  (via CNBC) that he became an absentee husband and father — to the point where his wife and kids saw him more on television than in person. "Because I was in commercials all the time and other than that I was hanging out," he explained. "I was so concentrated on work."
Years after their divorce, the fashion mogul met his future wife. While it isn't entirely clear when the two first met, Techie Gamers suggests they began a platonic relationship in 2012 before things took a romantic turn sometime later. Although Taras tried to keep a low profile, it is believed that she worked as a registered nurse before meeting John. Growing up, however, she was passionate about modeling and interested in a career in fashion. And while she never became a model, Taras regularly flaunts her killer physique on Instagram, where she's amassed an impressive 19,000 followers. She also gives a glimpse of her life with John and shows her support for the entrepreneur by helping promote his ventures on social media — from FUBU to "Shark Tank" to his best-selling books and other business projects.
Heather Taras is a doting wife and mother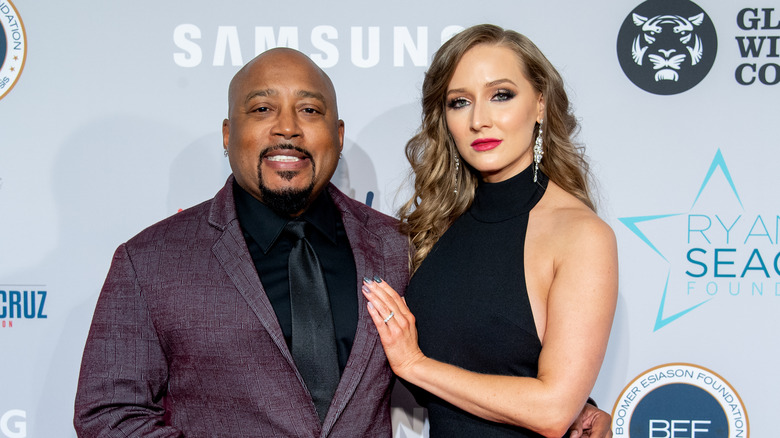 Roy Rochlin/Getty Images
Heather Taras is a devoted wife and mother to Damon John and their daughter, Minka Jagger. She and John welcomed Minka in March 2016, several years before the pair got engaged and tied the knot in Greece. In 2020, Taras opened up about motherhood and her dreams for her daughter in an interview with Contemporary Approaches. "Confidence and empathy," she answered. "I am preparing our daughter Minka to be a confident female and for her to be certain that she is important and that her voice holds weight. As a mother to a mixed race child, it is my responsibility to educate her on potential ignorance and build her up so she will be able to handle any situation she may encounter."
She also shared how meeting John turned her life around. "My entire world opened up after meeting my husband Daymond," she said. "Daymond is the most grounded, global human I've ever met. ... He has taught me so much." The happy couple appears to be going strong, having celebrated their fourth anniversary last June. Sharing her message for the "Shark Tank" star on his 53rd birthday last February, Taras said John is the person she wants to spend the rest of her life with. She wrote, "Thank you for being such a positive influence to our daughter and the world! You are appreciated and loved by so many, but most of all your family." Sweet!