Pink Postpones Concert Due To Flu Battle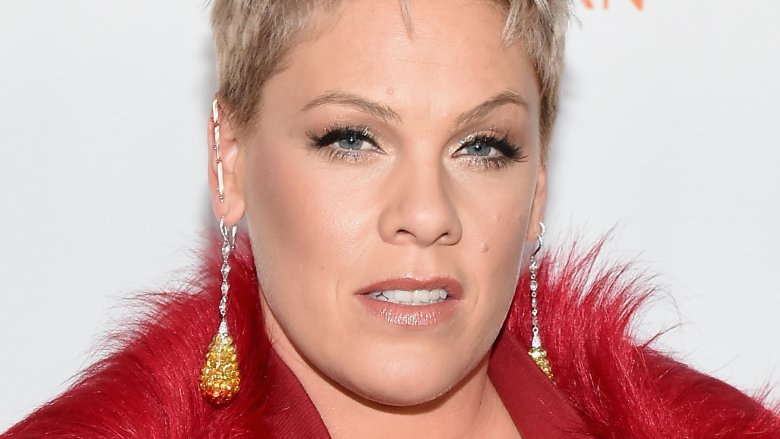 Getty Images
Pink (real name Alecia Beth Moore) is feeling under the weather.
On Thursday, March 22, 2018, the "What About Us" singer took to Twitter to announce that she has been forced to postpone her Friday, March 23 concert at the Bell Centre in Montreal, QC due to her battle with the flu. "I am absolutely GUTTED to announce that tomorrow's show, March 23rd (Friday) will be postponed," Pink wrote in a text post. "I will absolutely be back to perform for you all and I'm grateful for you wanting to come and be with us at all."
The 38-year-old pop star added, "Our entire family have been battling this awful virus/flu for two weeks now, and I have battled my way through these shows because postponing sucks. I'm really sorry and know that I have done everything I could to avoid this." Explaining that her husband, Carey Hart, had "been sent home" while she and their two kids, 6-year-old daughter Willow and 1-year-old son Jameson, "battle this virus," Pink added, "I wish anyone out there going through this healing vibes and big hugs."
At the time of this writing, it is unknown when the "Try" singer's Montreal concert will be rescheduled. Her next tour stop is scheduled for Sunday, March 25 in Detroit, Mich.
As Nicki Swift previously reported, Pink powered through another nasty bout of the flu last month to perform an emotional rendition of the national anthem at the 2018 Super Bowl.
"Trying to practice the flu away," she shared on Instagram just ahead of the big game, captioning a photo of herself in rehearsals. "I've been waiting to sing this song since 1991 when I saw my idol, Whitney Houston, own this song. And now, my chance has finally come."
The "Wild Hearts Can't Be Broken" singer continued, "And it just so happens that this chance comes when I have two small Petri dish kids who literally cough INTO MY MOUTH and rub their snot on my cheek. You can't write this stuff I swear!"
"And here we are. I've arrived at another one of my dreams which is slowly becoming a sort of nightmare," she went on, adding, "I promise I will do my best, as I always do."
We're wishing Pink and her family a speedy recovery!