Inside Law & Order: SVU Star Peter Scanavino's Real-Life Marriage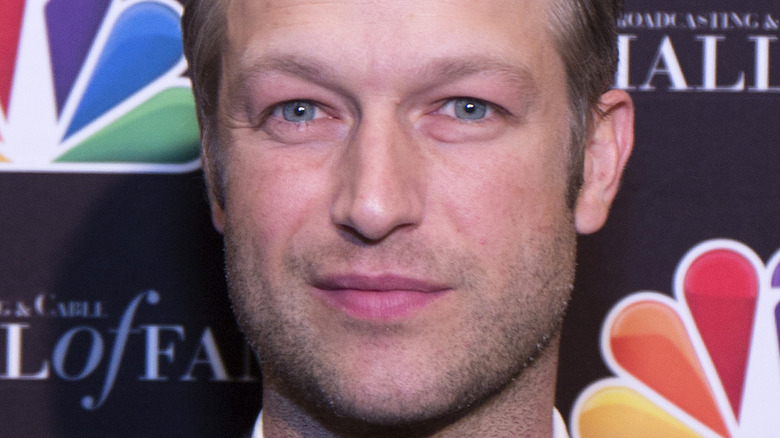 Santiago Felipe/Getty Images
Peter Scanavino has been a long-standing actor in the hit television show "Law & Order: Special Victims Unit." Since 2013, he has played detective-turned-assistant district attorney Dominick "Sonny" Carisi, Jr. Scanavino has also appeared in the original "Law & Order," as well as "Law & Order: Organized Crime.
Scanavino's character was madly in love with his former partner, Detective Amanda Rollins, played by Kelli Giddish. The show finally gave viewers what they wanted with the two characters getting married in Giddish's final episode, per People. Fans watched as Carisi and Rollins stood in a courthouse surrounded by their colleagues, portrayed by Mariska Hargitay and Ice-T.
Although many actors fall for their counterparts, Scanavino and Giddish's relationship is purely for television only. Both "SVU" stars are happily married — surprisingly not to people in their same field. Although Scanavino is pretty private about his personal life, here's what we know about his marriage.
Peter Scanavino is married with three kids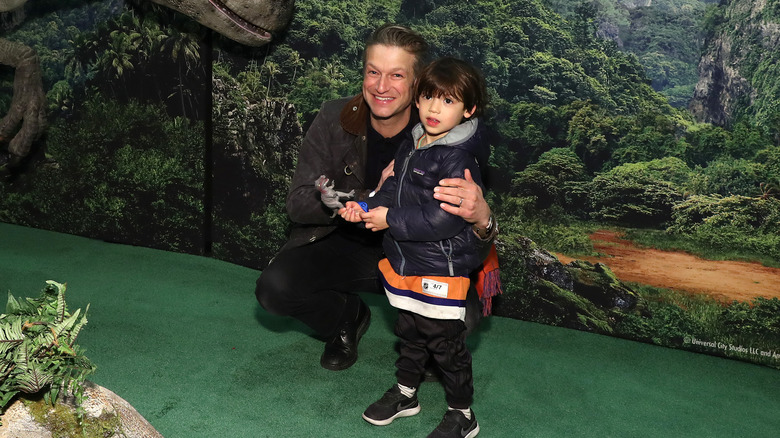 Cindy Ord/Getty Images
Peter Scanavino's character on "Law & Order: Special Victims Unit" just tied the knot with his former partner, but the actor has been married for years. According to Hello!, Scanavino is married to an artist named Lisha Bai. The two wed in 2011, and on July 2, 2021, he shared a throwback picture of him with Bai on Twitter, writing, "Married ten years today. Meeting Lisha is the best thing that ever happened to me. Happy anniversary!!"
In January 2016, Scanavino shared a picture of his newborn baby boy and tweeted, "Welcome to the world, Leo." According to E! News, Leo is Scanavino and Bai's second child. While the couple rarely divulges any private information, it appears their first child is named Sid and a fan of the New York Islanders NHL team. In a 2020 tweet, Scanavino asked hockey player Mathew Barzal, "From my seven-year-old, Sid, 'What do you like to eat after a game?'"
Scanavino shared another tweet of his three kids watching a hockey game on their television. "The kids are ready. Let's go isles," he wrote. It's unclear when he and Bai had their third child, but he is apparently raising them as hockey lovers, although the many paintings on their walls also show his wife's artistic side.
Peter Scanavino's wife is an artist
According to Mutual Art, Peter Scanavino's wife, Lisha Bai, is a postwar and contemporary artist. She attended Washington University in St. Louis for Painting and received a master's degree in Painting and Printmaking from Yale University, per her website. Bai has had her artwork in many exhibitions in London, England, and all over New York. Bai seems to enjoy working with sand, and many of her pieces involve her manipulating the medium into breathtaking sculptures. She has worked with sand for over ten years, and her latest exhibition was in a New York City gallery in 2019. 
Scanavino is proud of his wife's art and gave her a shout-out on his Instagram. "Here with my @lisha_bai at @newartdealers. Check out @klausgallery booth 2.02 if you're in Miami to see my darling's work," he told fans in 2019. In June 2021, he also posted, "So proud of my wife Lisha for launching @studioarchiveproject. Give it a look, art lovers. Lots of amazing work from the archives of amazing artists, what could be better?!?!" With so much talent between the two, Scanavino and Bai's children are sure to make a splash in the world.