Maren Morris Marries Fiance Ryan Hurd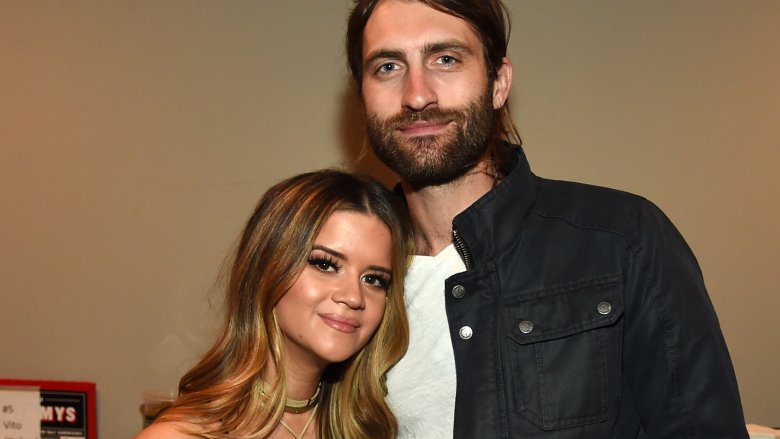 Getty Images
Maren Morris and Ryan Hurd are married!
On Saturday, March 24, 2018, the country music star and her singer-songwriter fiancé tied the knot in Nashville, Tenn., People reports.
The following day, Morris took to her Instagram Story to share a pic from the newlyweds' "'59 Jaguar Ride Home" from their wedding, in which she sweetly wrote "R + M," complete with a heart in the fog of their stylish ride's window.
Earlier this week, Morris, who was recently nominated for a Grammy, posted a cute photo of the soon-to-be-married couple on Instagram, which she captioned with, "Writing vows, feeling sentimental AF and dreaming of this guy being my freaking husband in a few days."
For his part, Hurd released his latest single, "Diamonds or Twine," on Friday, March 23, in honor of his fiancée. "Midnight tonight. I wrote this song for you, played it for you in Michigan the night I asked you to marry me," he wrote on Instagram. "Diamonds or Twine, no matter what, I'll be wrapped around your finger. I love you, MM. Here's to forever."
Morris, 27, and Hurd, 31, first met in 2013 during a Nashville songwriting session for Tim McGraw's ballad "Last Turn Home" — which the two have since taken to performing together — but only began dating in August 2016. 
"We had been friends for only a couple of years, but there was always this writing chemistry in the room, and eventually, the timing of it was undeniable," Morris told People. "We had such a foundation built off writing so many songs over the years that we were like, 'Why are we avoiding this?'"
The cute pair announced their engagement on Instagram in July 2017. At the time, the "My Church" singer shared a few snapshots of the two, which showed off her gorgeous engagement ring, simply writing in the caption, "Yes."
"We have a date now — it's March 24. I feel like all the corners are knocked out. We've got the location, the date, the guest list — kind of — and I've got the groom!" Morris said of her wedding planning progress during a red carpet interview with E! News at the 2017 CMA Awards last November. "So, that's the most important part."
She added, "Ryan and I want it to feel like us, so it's going to be a party. There's going to be a margarita bar, oyster bar, a Motown DJ, my dog. All of it!"
Congratulations to the happy couple!