What Mike 'The Situation' Sorrentino's Life In Prison Was Really Like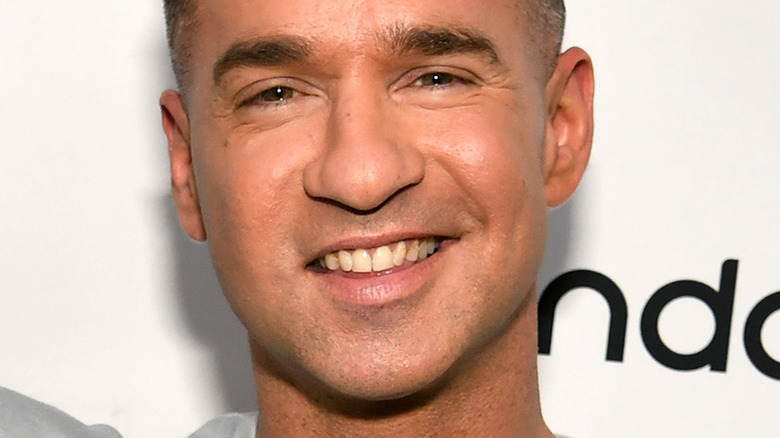 Slaven Vlasic/Getty Images
Mike "The Situation" Sorrentino found himself in some chaotic and troublesome moments when he starred in the famous MTV series, "Jersey Shore." But, the reality star's most unfortunate moment happened after the iconic show had ended.
NBC News reported Sorrentino was indicted with his brother Marc for tax fraud committed in 2014. However, charges were added after it was discovered that Sorrentino didn't file a tax return in 2011. The "Jersey Shore" star, instead, attempted to file paperwork under a fake corporation for "Situation Nation, Inc." To hide the income he made, he deposited only a certain amount of money into different bank accounts. The government caught on to Sorrentino's antics, and in 2018, he decided to plead guilty to the offense.
According to USA Today, Sorrentino and his attorney, Henry Klingeman, attempted to get the sentence to just probation and no jail time. Klingeman claimed that Sorrentino's drug addiction, during the tax fraud, prevented him from paying the appropriate taxes required. However, Judge Susan Wigenton told Sorrentino, "Many of the things you did were very conscious. With celebrity comes responsibility." He was then sentenced to eight months in prison for falsifying returns. The outlet also revealed that Sorrentino would serve two years of supervised release, 500 hours of community service, and pay a $10,000 fine. 
The reality star officially went to jail in 2019, per People. However, with the support of friends and family, Sorrentino's time in prison became bearable.
Mike The Situation made infamous friends in prison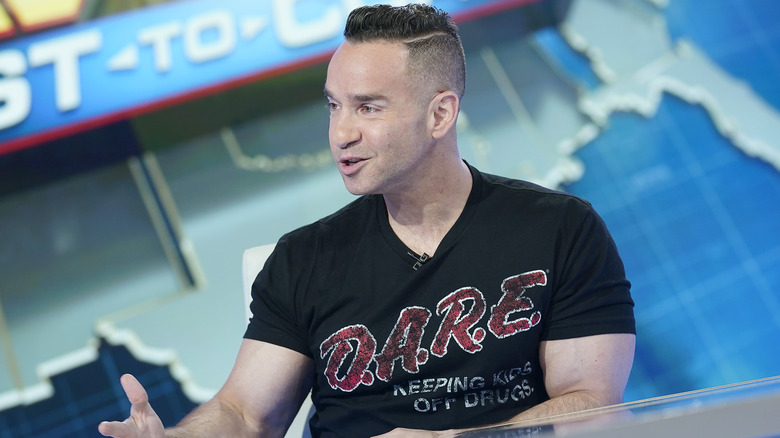 John Lamparski/Getty Images
It was easy for Mike "The Situation" Sorrentino to make friends at the "Jersey Shore," and prison was no different. The reality star buddied up with famous faces during his time in behind bars. It wasn't a coincidence; the Federal Correctional Institution, Otisville in New York — where Sorrentino did his time –  is reported to be one of the cushiest prisons in the U.S., per Forbes. Many high-profile inmates with low-security threats spend their sentences there.
While in prison, Sorrentino's "Jersey Shore" castmates, Vinny Guadagnino and Paul DelVecchio – better known as Pauly D – revealed on "The Jenny McCarthy Show," exactly who he was hanging out with while he was in jail. Guadagnino shared, "He's in there with the guy [Billy McFarland] from the Fyre Festival. And he's in there with the guy that leaked Jennifer Lawrence's nudes, that hacked her phone." According to DelVecchio, the unnamed hacker played Scrabble alongside Sorrentino.
McCarthy suggested that they tell Sorrentino to get as much information about Fyre Festival, so he can write a book about what happened. Guadagnino said, "Imagine what he's learning in there from all these guys." Of course, in true "Pauly D" fashion, DelVecchio joked, "He's learning how to hack phones." That may not have been the case, but Sorrentino definitely had other notable individuals alongside him during his time in jail.
Snooki says Mike The Situation had a great time in prison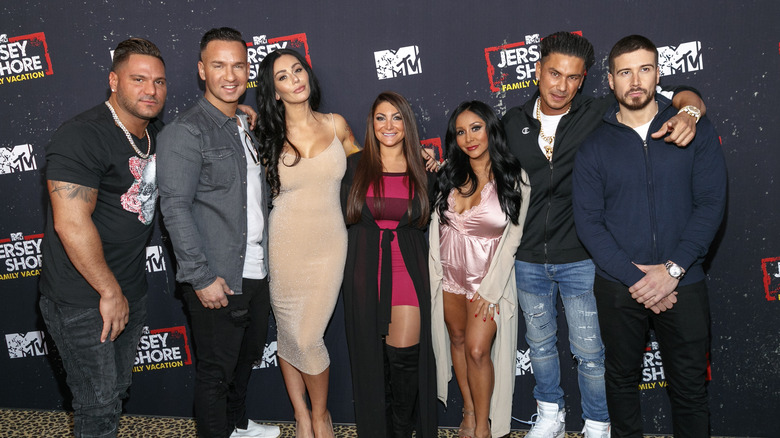 Rich Polk/Getty Images
During Mike "The Situation" Sorrentino's time in prison, he made sure to stay in touch with his "Jersey Shore" castmates. Sorrentino would share updates about his time in jail with his friends, and it turns out he did pretty well. 
Nicole "Snooki" Polizzi spoke with E! News in 2019 and revealed that Sorrentino was "having the time of his life." Polizzi shared that she and Sorrentino would email once a week about how he was doing. "It's like he's in a senior home, he's playing Bingo, he's helping people recover in jail," she said. When Sorrentino wasn't playing bingo or Scrabble, the reality star spent his time bulking up. Polizzi also stated at the time, "He's in the gym a lot, so he's probably gonna come out ripped. You know he's not gonna be BDS anymore — Big Daddy Sitch — he's gonna have his, probably, six-pack again." 
After his release, Sorrentino also admitted that his time behind bars wasn't too bad. "There wasn't anything crazy going on but it had that hierarchy of like a high school, like cliques," he shared on the It's Happening With Snooki & Joey podcast. "If I would have come in and people didn't like me, it wouldn't have been good. They liked me as soon as they got in."