Are Kendra Wilkinson And Hank Baskett Headed For Divorce?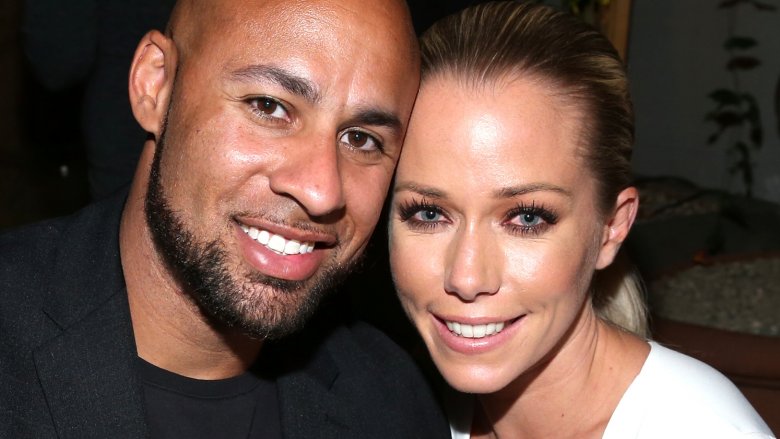 Getty Images
Kendra Wilkinson and Hank Baskett may be on their way to Splitsville.
Us Weekly reports that the Kendra on Top stars are planning on legally separating. According to the magazine, Wilkinson is expected to file for divorce from Baskett, whom she's been married to for nearly nine years. A source told Us Weekly, "She's been really unhappy and felt uncomfortable in the marriage and they have been fighting a lot."
These rumors are supported by Wilkinson's Instagram Story posted on Sunday, March 25, 2018. As captured by E! News, the former Girls Next Door star shared black-and-white photos of herself with messages like "life isn't making any sense to me right now" and "I need to love myself again."
After both Wilkinson and Baskett were seen without their wedding rings, Wilkinson shared a selfie on Monday, March 26 — also without her wedding ring — and wrote, "I'm proud of myself" (via People).
The Instagram Story came not long after Wilkinson shared on Instagram that she and Baskett were having "marital problems." In a post that's since been deleted, Wilkinson addressed claims that she and Baskett were faking their relationship issues for the camera.
"1. how do u fake marital problems? makes absolutely no sense," she wrote back in February 2018 (via Us Weekly). "2. Yes we are having issues 3. My job has been reality tv for 13 years 4. My show was a comedy and light hearted til sad times happened then we had to change my show from comedy to drama. Not what i wanted but was a part of my journey and story."
She added that "everyone knows about" her issues with her husband and that "the last thing" she wanted to do was "hurt Hank."
Wilkinson and Baskett previously married in 2009. They share two children together, son Hank Baskett IV and daughter Alijah Mary Baskett.
Wilkinson and Baskett have publicly dealt with problems in their marriage in the past — like Baskett's alleged infidelity. Wilkinson once memorably flushed her wedding ring down a toilet after learning about her husband's reported affair with transgender model and YouTube star Ava Sabrina London (via Us Weekly).
The two have also appeared on Marriage Boot Camp: Reality Stars.