The Untold Truth Of Erika Girardi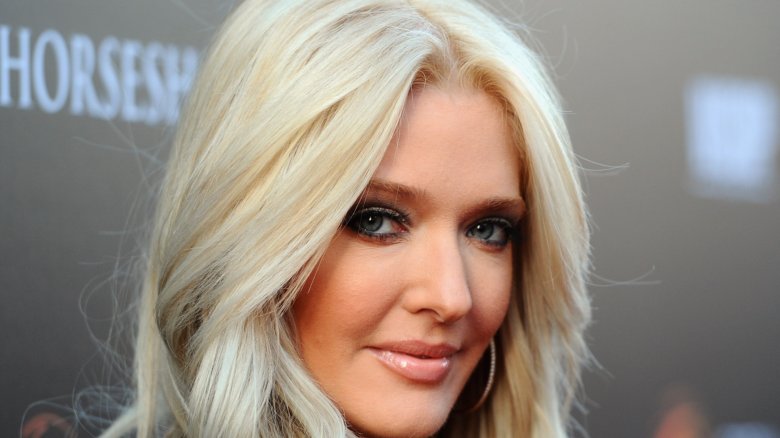 Getty Images
When Erika Girardi made her 2015 debut on The Real Housewives of Beverly Hills, viewers instantly fell in love with the blonde bombshell who proudly described herself as an "enigma, wrapped in a riddle, and cash." By day, she's the devoted wife to high-powered attorney, Tom, and by night, she transforms into her alter ego, Erika Jayne — the leotard-wearing, booty shaking, potty-mouthed pop star. Her hits, such as "XXPEN$IVE" and "PAINKLLR," have risen to the top of the charts and blared through the speakers of dance clubs across the globe. 
When she's not entertaining her fans on stage, she's filming scenes for RHOBH. She has managed to stay poised and as a cool as a cucumber despite various dramatic altercations, eventually earning her the title of the show's "ice queen." Initially, she was a bit guarded when it came to disclosing personal details about life, but she's slowly shared bits and pieces about her childhood and upbringing, which were riddled by heartbreak and abandonment before things finally did a complete 180. Here's the untold truth of Erika Girardi.
She almost gave birth on the subway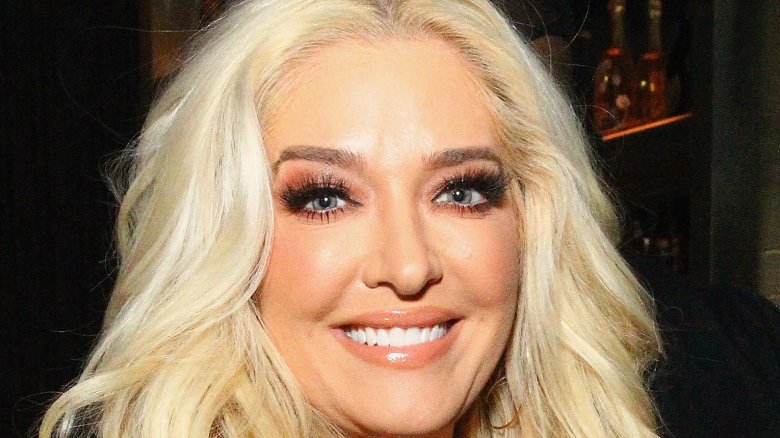 Getty Images
Prior to living in the lap of luxury, Girardi was pregnant, married to her first husband, Tommy, and absolutely broke in New York. In her memoir, Pretty Mess (via Page Six), the reality star described going into labor and urging her ex-husband to hail a cab so they could make the trek to New York Hospital on the Upper East Side, but he refused. "No, we're broke and you need to walk around," he reportedly told her. Hmm...no wonder he's now her ex-husband, right?
"We walked to the 6 train station at Wall Street and took that for what seemed like an eternity to the hospital. No one got up and gave me their seat even then. I was in labor on f*****g public transportation," she wrote.
Thankfully, she was able to make it to the hospital just in the nick of time and gave birth to her son without any complications. 
Go-go Girardi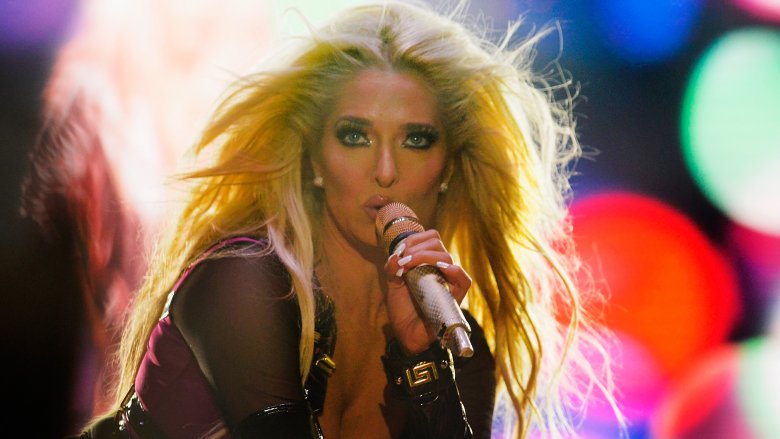 Getty Images
Some people think Girardi has had everything handed to her for the majority of her life, but that couldn't be any further from the truth. "I've worked very hard for everything I've ever had," she told People. "But it's my journey. And I don't regret anything."
Part of her journey included her initial foray into the music industry. Before going solo, she was the member of various girl groups who performed at various clubs. In an interview with 303 Magazine, she described herself as a "starving artist" who would work just about any job just so she could "stay alive." 
She even had a stint as a go-go dancer, which explains the racy and risqué routines she performs on stage and in her music videos, such as her infamous pat the p**s dance move. And yes, it actually entails her patting below the belt while rolling and swiveling her hips from side to side.
She was in a "wealthy coma"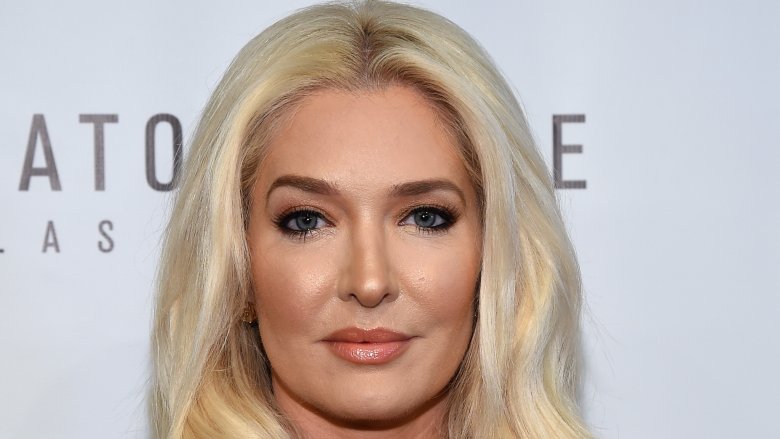 Getty Images
After divorcing her baby daddy shortly after giving birth, Girardi made the decision to leave her son in New York City in her ex-husband's care so she could pursue her dream of becoming a star. "It was the biggest risk I've ever taken," she told People. "I was panicked, but I was committed to succeeding."
She made the journey to Los Angeles and when she wasn't auditioning for roles, she was working as a cocktail waitress at a restaurant. That's where she met her husband, mega-successful attorney Tom, whose claim to fame was his work on the real-life Erin Brockovich case. After their courtship, the couple was married in 1999 and she immediately became immersed in his flashy and affluent lifestyle. "I was living Tom's life," she said. "There are only so many material things you can have before it becomes boring. There are only so many dinners, so many things you can buy. I was complacent. I was in a wealthy coma and I wasn't looking inward."
She could've lived out the rest of her life as a pampered wife but Girardi said, "I had to be brave enough to say, 'I'm not fulfilled.'" Soon enough, she began crafting her Erika Jayne persona in preparation to dominate the pop charts. 
She never watched 'RHOBH'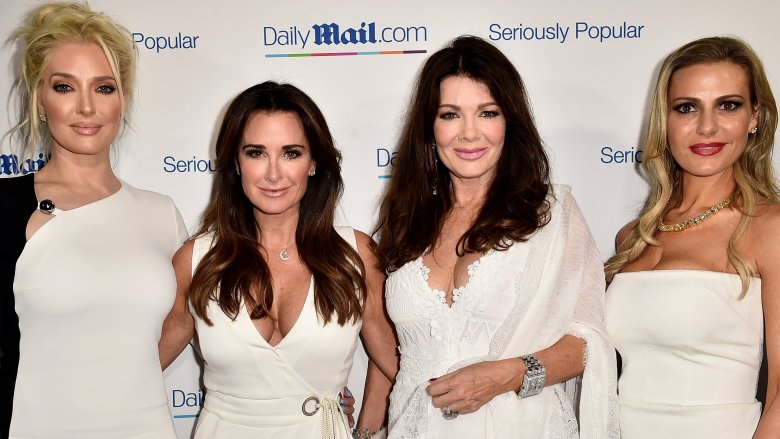 Getty Images
RHOBH debuted in 2010 and has since gone on to be one of the most popular Housewives franchises. But even though Girardi also lives in the same ritzy city where the show is filmed, the "Roller Coaster" singer told Interview magazine that she had never watched the show before she joined the cast in 2015. "I did know who the women were, though," she said. "It's impossible to escape."
In another interview with Nylon, Girardi mentioned she was good friends with former cast member Yolanda Hadid prior to joining the cast, but Hadid didn't have any plans on holding Girardi's hand during the filming process. In fact, Hadid basically threw her to the wolves — and by wolves, we're referring to co-stars Kyle Richards, Lisa Vanderpump, and Dorit Kemsley (pictured left to right). "Yolanda gave me a really good piece of advice, she said, 'Listen Erika, you have to get in there and figure it out for yourself,'" Girardi recalled.
That advice definitely worked because although it took some time for the cast to warm up to her icy demeanor, Girardi instantly became a fan favorite from the moment she appeared on the small screen.
Her inspiration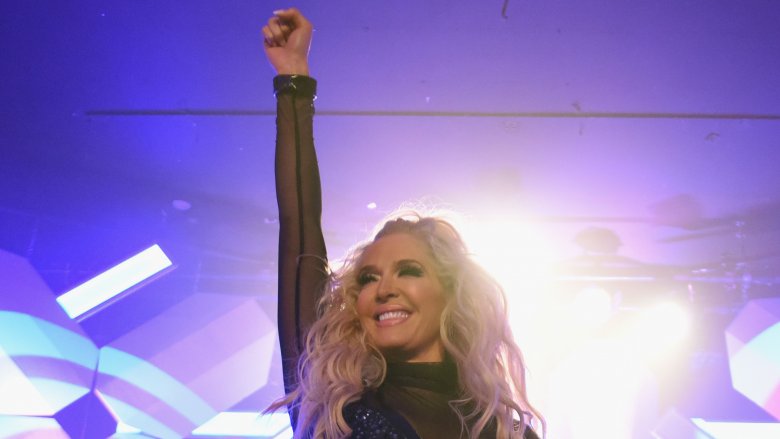 Getty Images
She was raised by a single mother who was a piano instructor, so she grew up surrounded by classical tunes. She also acquired an intense love for pop music, listing some of her favorite singers as Madonna, Michael Jackson, and Prince. After graduating from high school, the Atlanta native moved to New York City at the age of 18 and began hitting the town, perusing various nightclubs to shake her groove thang under the sparkly disco balls of some of the city's hot spots.
It was the blaring and thumping music that pumped through the clubs' speakers that actually inspired her to become a musician. "I remember being in those clubs and there would always be that one song that would make you want to toss your drink to the side and run out and dance your heart out," she told 303 Magazine. "And I realized instantly that those were the kinds of records I wanted to make."
Pricey potty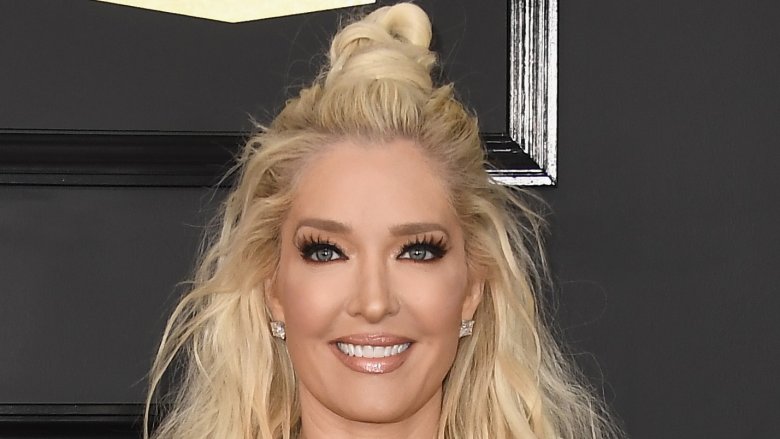 Getty Images
She coos the words, "It's expensive to be me," on her track "XXPEN$IVE," and she's not kidding either. She admitted to spending $40,000 a month on hair, makeup, her wardrobe, and a team of stylists during an episode of The Wendy Williams Show, according to OK! Magazine (via DailyMotion). But come to find out, she's also quite generous when it comes to showering her loved ones with extravagant gifts, too. 
In an interview with People, the glam pop queen revealed she bought her husband a $5,000 toilet for Christmas. "It's getting installed this week it has to have like its own power source and everything; it's major. It's ridiculous. He's going to kill me. That's okay," she said while discussing the outrageous and unique purchase.
We can imagine her husband probably already owns every single thing his heart desires. So what do you buy the person who literally has everything? A commode, obviously.
She's a pretty mess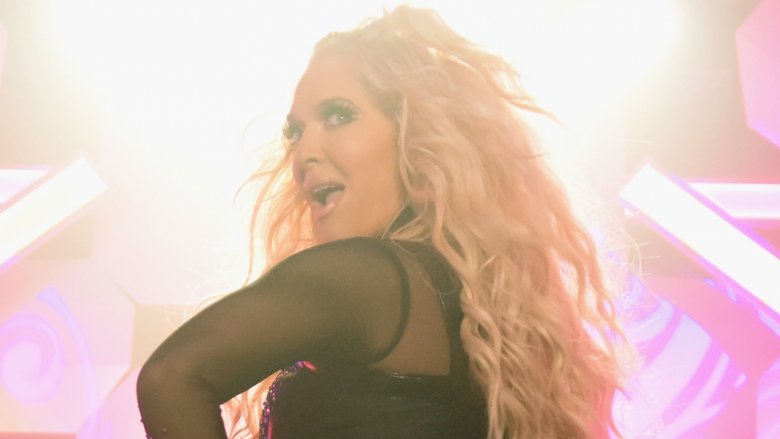 Getty Images
When you have tons of cash at your disposal, you don't necessarily have to go the traditional route to kick-start your dreams. Unlike other artists who dream of catching music executives' attention and being signed to a lucrative record contract, Erika Girardi took a different approach and opened her own record label instead.
Pretty Mess Records launched in November 2010, according to Billboard. She immediately released her first single through the label, "One Hot Pleasure," which spent 14 weeks on the chart and hit the no. 1 spot in January 2011. She followed up that release with "Party People (Ignite the World)." That track also landed at the top of Billboard's Dance Club Songs chart. "Being able to put out the music you want to put out, on your own, is great freedom," she said.
At this point, Girardi's record label gives her creative leeway to express herself through her infectious dance tracks. It's also an added bonus that her fans seem to love every single song she releases.
Happy Father's Day, mom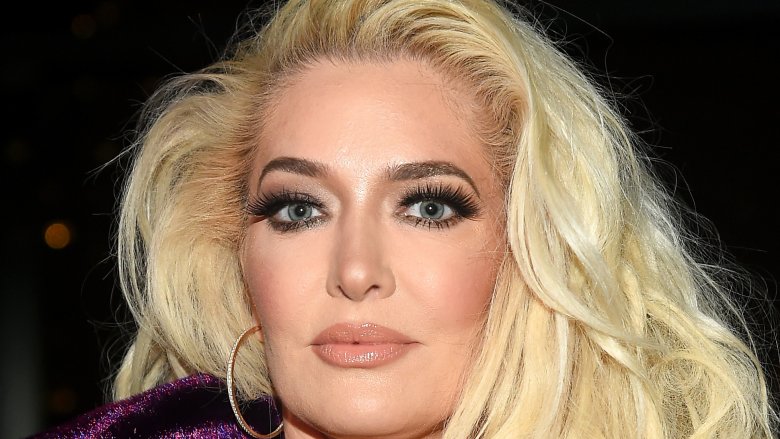 Getty Images
When she was just 9 months old, her father walked out on her and her mother. "[My mom] was under a lot of pressure," she told People. "So it was definitely hard at times. There wasn't a lot of time to be coddled. So I had to grow up quickly."
Girardi spoke more about her absentee father on an episode of RHOBH (via People), telling her cast mates: "I didn't grow up with my father. We don't speak."
She eventually met him when she was 25 after she took a trip to Los Angeles prior to moving there permanently. "It wasn't emotional, it was like meeting a stranger," she said in response to their first meeting. "It wasn't like this long-lost s**t in the movies where you run towards one another. 'Oh my God, dad, where have you been?'"
She also made it clear that her relationship with her husband, who just so happens to be 32 years older than her, has nothing to do with her having daddy issues. "Listen, I didn't marry my dad. My dad is much younger than my husband. So f**k you!"
On Father's Day, Girardi took another shot at her father by dedicating the holiday to her mom. She wrote in an Instagram post: "It's 'Father's Day' I know but here's the woman that was both mother AND father to me. We didn't need him."
"Flats are for quitters"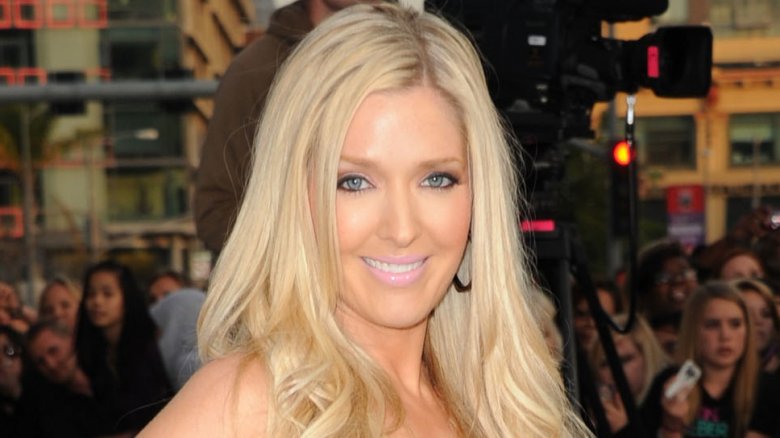 Getty Images
She and her husband live in a sprawling mansion, and Girardi's closets are definitely the focal point of the entire home. Yes, that's right, we said closets. Girardi has three of them in total, and they're packed to the brim with designer pieces, blinging jewelry, and her massive footwear collection. "I probably have too many shoes and most of them are Christian Louboutin and they are as high as possible," she told People.
She describes shoe shopping as her "weakness," so we're pretty certain she has a collection to die for. But there's one particular style of footwear that's noticeably absent from her shoe arsenal. "Flats are for quitters, at least in my book, so pumps only," she told the publication.
It makes sense that she would wear sky-high heels while filming RHOBH and when performing on stage, but staggering around in stilettos during a quick run to the grocery store is something only a fashionista like Erika Girardi can pull off. 
She's a big tomboy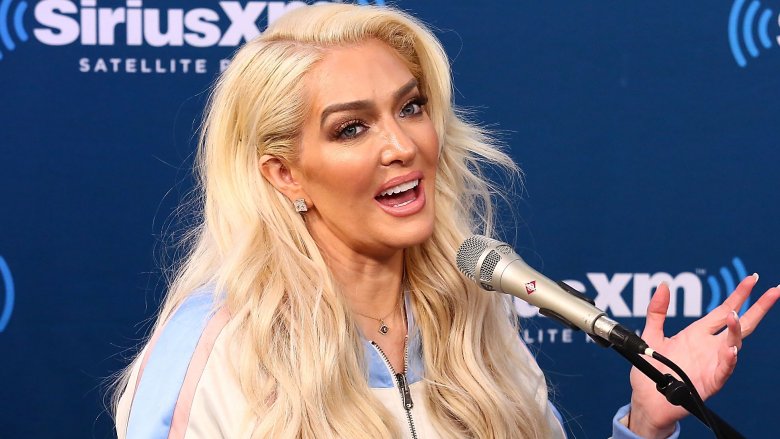 Getty Images
In an interview with SheKnows, Erika Girardi was asked what types of things she does to entertain herself. We expected her to list shopping and getting pampered as a few of her favorite pastimes, but she shocked us with her answer. "You know, I'm kind of a tomboy," she said. "I love to fish. I like to fish. I love to stay outdoors." It looks like Crocs will need to release a high-heeled version of their fishing-friendly shoes for this diva STAT!
Along with gambling in Las Vegas, Girardi also mentioned, "I'm a big sports fan and go to games. I don't care what they are..." 
So when Girardi refers to herself as an "enigma," she's not lying. Her outward appearance could certainly be described as a facade because the real Girardi is the complete opposite of the vision of feminine perfection she portrays.