Avril Lavigne And Chad Kroeger's Strange Relationship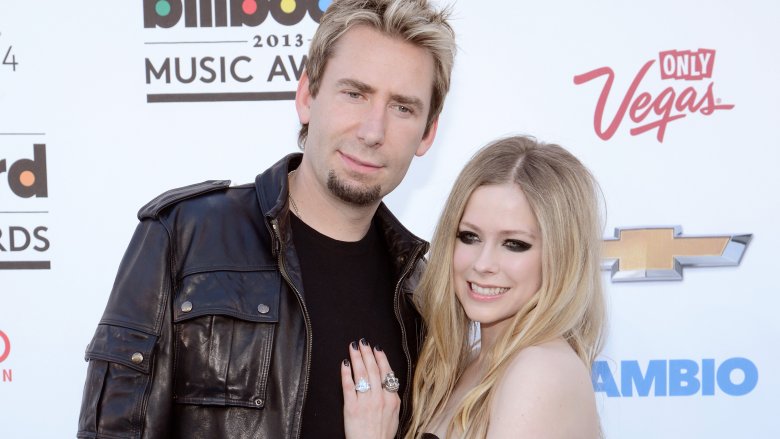 Getty Images
Though pop star Avril Lavigne has long ditched her baggy jeans and men's ties, she never ditched her taste for Canadian rockers. After a month-and-a-half whirlwind romance, the singer got engaged to Nickelback frontman Chad Kroeger, who collaborated with her on her 2013 self-titled album. It was basically the type of sickeningly sweet love story that fuels Nickelback's most nauseating lyrics.
Lavigne's relationship with the singer and guitarist is nothing short of adorable, despite the fact that the pair called it quits after two short years of marriage. Wait, how is that possible? It turns out, the "Complicated" singer is anything but complicated (and she really does hate that!) Lavigne and Kroeger famously penned a list of self-imposed rules for relationship success and have continued to support each other through bouts of illness and nasty internet trolls — and that's just how they act while they're broken up.
Lavigne's relationship with Kroeger is anything but ordinary. From his arguments with her first husband, who Lavigne still considers family, to the fact that these two are still each other's Valentine's Day dates post-breakup, these are the strangest things about the Canadian rockers' relationship. It may be strange, but darn is it as sweet as maple syrup.
Lavigne met her second husband the same day she met her first husband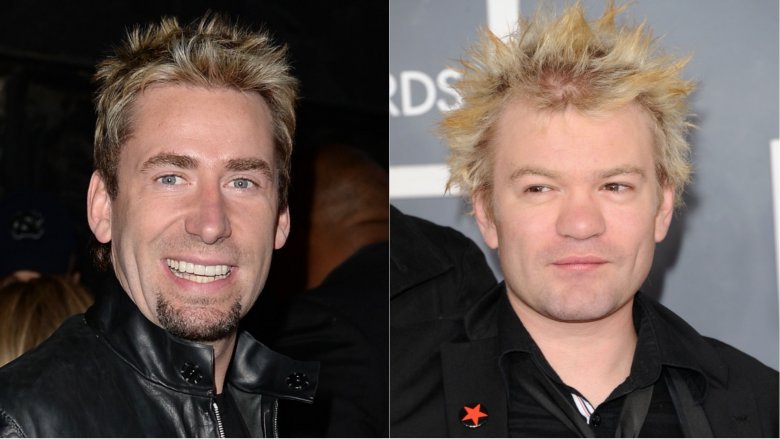 Getty Images
Though she eventually said see you later boy, Lavigne's first love was Sum 41 frontman and fellow Kanuck Deryck Whibley. As fate would have it, the same day she met her first husband, she also met her second husband — or at least encountered him for the very first time in one of the most embarrassing ways.
Lavigne was a teenager when she was partying in a club with Whibley. "I made out with him the first day I met him. He gave me my first shot of Jäger," she told Rolling Stone. "I had a tie on — it was back in the days of the tie. I was 17. As I was getting carried out of the bar I saw Chad from Nickelback! Isn't that funny?"
It seems when those Northern stars align, they really align, eh?
Kroeger proposed to Lavigne after just a month of dating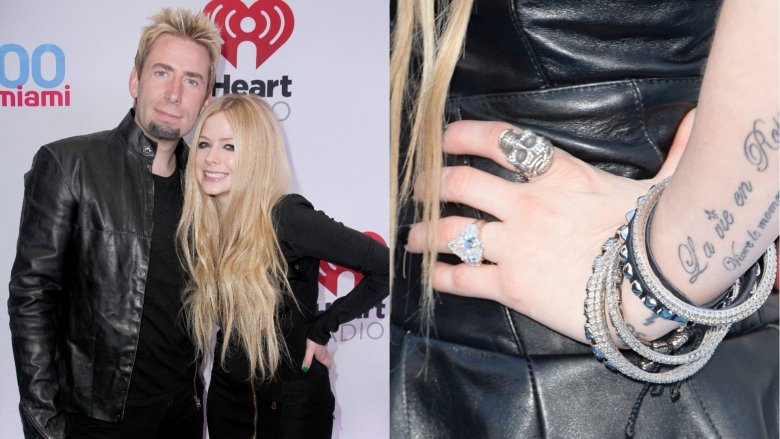 Getty Images
He was a boy, and she was a girl. Can it be anymore obvious? Kroeger and Lavigne had a whirlwind romance that was ignited when the pair starting hanging out at the studio, singing a song they wrote. Just like Lavigne's treasured 2002 hit "Sk8r Boi," it seems life truly does imitate art.
Years after Lavigne spotted Kroeger while she was being carried out of that aforementioned nightclub, she found herself in the studio with the Nickelback frontman. The pair formed a fast friendship which led to a whirlwind month of dating before getting engaged. 
"We started dating and the next day he's like, 'You know, I'm going to marry you.' And I said, 'I know.' It was just one of those things we knew," she told Ryan Seacrest.
Kroeger's proposal played out like a love song. The pair was working on Lavigne's self-titled album when he took a Polaroid photo of himself with the massive, 14-carat engagement ring and put it in Lavigne's studio scrapbook. He spelled out "Will you marry me?" with stickers, then got on one knee in the live room and popped the question for real. She said yes.
Their wedding was a three-day party at a French castle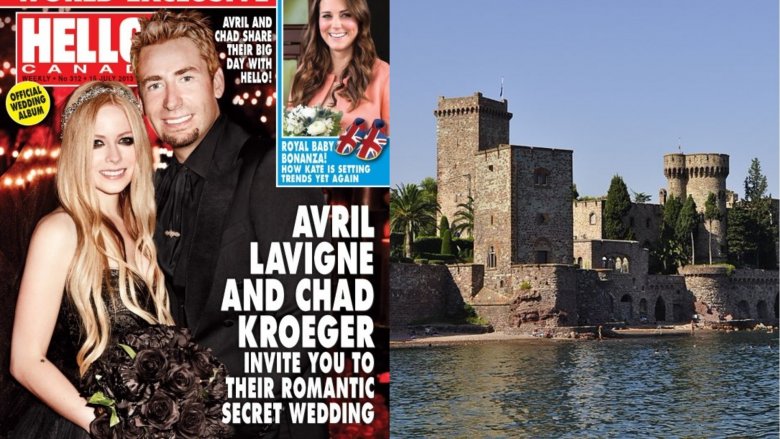 Hello / Shutterstock
When Avril Lavigne wed Deryck Whibley in 2006, she shocked the masses by shedding her punk rock clothes and donning a traditional white Vera Wang gown. The singer had a small outdoor ceremony with 100 guests and a red-and-white-themed reception at a luxe estate. Everything about Lavigne's first wedding was what people are supposed to do when they get married. Then came Chad Kroeger, who let Lavigne take the reigns the second time around.
This time, she and her Nickelback beau threw caution to the wind, ditched tradition, and hosted an epic three-day party at a French castle. "I wanted to make sure it's a crazy vacation and an experience of a lifetime for our guests," the singer told Hello magazine.
The Canadian couple set their ceremony for Canada Day (a cheeky nod to the fact that they're basically Canada's most lucrative musical exports,) and Lavigne donned a gothic black gown to compliment the gothic-themed wedding. About 110 family and friends were in attendance at Chateau de la Napoule, an expansive, medieval castle near Cannes.
They wrote their own wedding song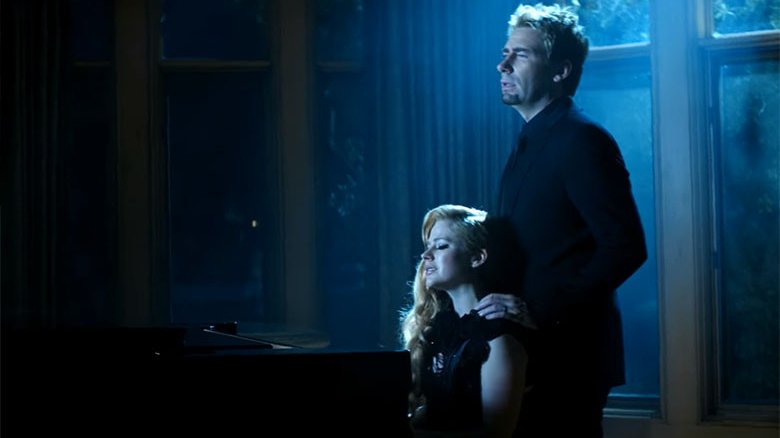 When it comes to a wedding song, most people choose something sweet and romantic. Maybe it's a newer hit like "All of Me" by John Legend or a classic like Elvis Presley's "Can't Help Falling in Love" –two of the most popular songs for first dances. But when you're multi-platinum selling pop stars, penning romantic ballads just might be your thing. Why waste any moment of your wedding on someone else when it should be all about you?
Avril Lavigne and Chad Kroeger didn't take the easy way out and queue up an Ed Sheeran song for their first dance. Their wedding was so uniquely them that they even penned their own song for the special moment, a tune called "If I Said I Loved You."
"Chad and I wrote [the song] and recorded it together later on in our relationship," she told Access Hollywood Live. "...our love song was our first song at the wedding and one day I'd like to release it, but our family all got to hear it so it was kind of nice."
Kroeger and Lavigne are no strangers to duets. The first song the couple ever wrote together was "Let Me Go," a teary-eyed duet between the budding lovebirds. Hopefully, their wedding song was just a smidge less sad.
They don't party if they're apart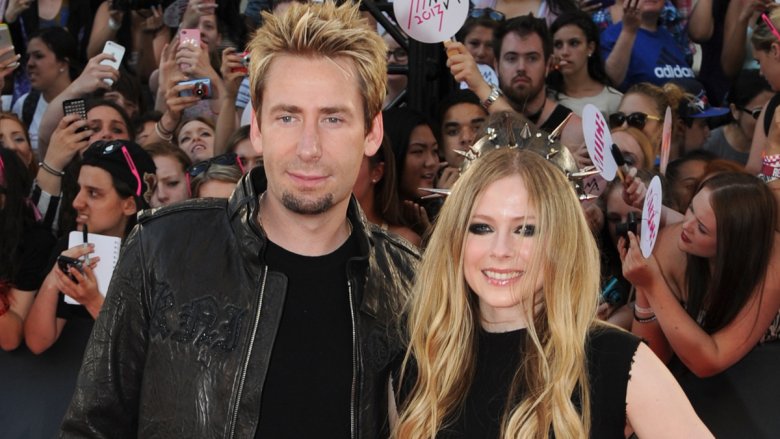 Getty Images
Being married isn't easy for anyone, but it's especially difficult when you're away from your partner for weeks at a time. Kroeger and Lavigne weren't about to make things so complicated. Instead, they created a simple list of self-imposed rules for keeping their marriage happy and healthy.
Kroeger and Lavigne are full-on rock stars, but they certainly don't party like them — at least not since getting hitched. The couple admitted to People that one of their main rules is to abstain from drinking when they're apart and to avoid nightclubs at all costs. Basically, if there's a place where temptation runs rampant, these two think they're better off staying in the tour bus.
"We don't drink when we're apart. Ever." Kroeger said. "We don't want to go anywhere that you're asking for trouble. I don't want to be in Europe texting her, like 'Where are you?' This way we don't have to worry about any of that stuff."
While most couples just rely on a fundamental understanding and deep-seated trust, Kroeger and Lavigne are proactive. Of course, rules are made to be broken. A year before the couple announced its amicable split, Lavigne was allegedly spotted drinking white wine without her wedding ring, and Kroeger was nowhere in sight.
Kroeger is allegedly the cheating type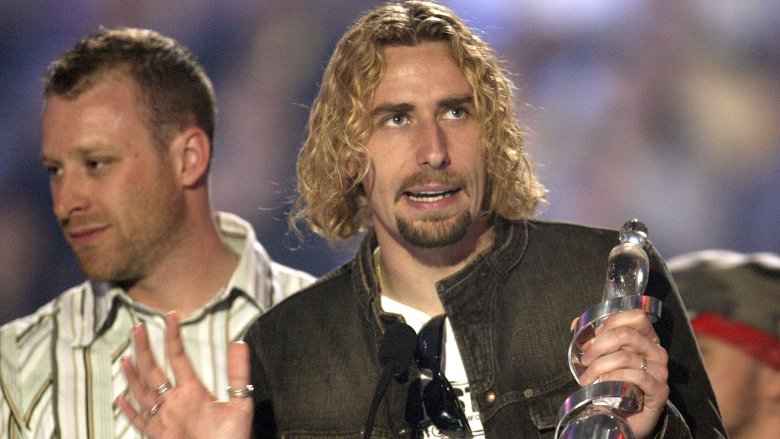 Getty Images
Perhaps the couple's rules for marriage are coming from a reasonable place — at least if we're to believe the rumors about Kroeger. The Nickelback frontman allegedly has a tendency to cheat, which certainly wouldn't make things easy if he's away for weeks at a time touring with his platinum-selling band.
Before Kroeger was dating Lavigne, he was in a long-term relationship with Kristen Dewitt, a then-20-something Ohio native. According to Radar Online, the timeline of when Dewitt and Kroeger broke up doesn't match up with when the singer started dating Lavigne — there seems to be some overlap! According to Perez Hilton, Kroeger admitted to dating "a girl from Ohio" during an April 2012 interview with Jimmy Kimmel, yet Lavigne was engaged to the rocker just four months after that segment aired. Four months is long enough to move on, right? 
Not according to Dewitt. "The moment u find out ur ex of four months engaged the girl he was cheating on you with! #classic," the rock star's ex wrote in a since-deleted tweet.
Though Lavigne and Kroeger claim they only dated for a month before getting engaged, some reports suggest they were secretly hooking up for about six months.
Kroeger publicly slammed Lavigne's ex husband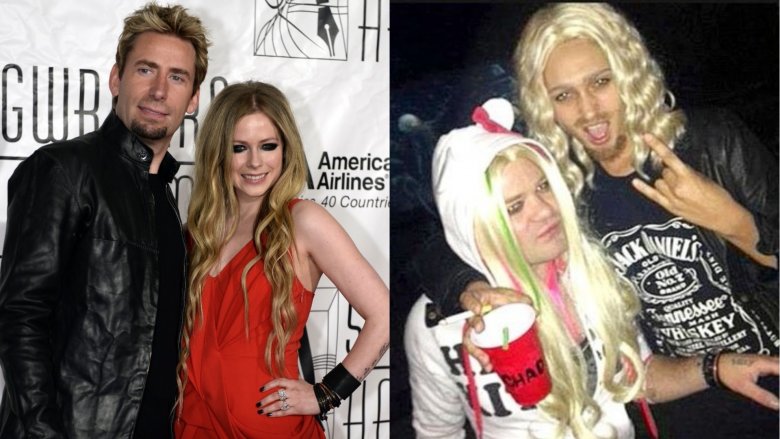 Getty Images / Twitter
In 2012, Lavigne's ex husband paid homage to his former wife and her new hubby by dressing up as the rock star couple for Halloween. Deryck Whibley played the part of Lavigne, donning a wig with her signature pink and green highlights. His girlfriend, model Ari Cooper, sported Kroeger's "Photograph"-era bleach blond curls and a Jack Daniels tee. 
Though Lavigne and Whibley remained on excellent terms after their divorce, Kroeger was less than thrilled about the costumes. He slammed Whibley with an insult stripped right from the script of Degrassi: The Next Rock Star Generation (which doesn't yet exist, but Kroeger should definitely be cast as the lead if Netflix makes a spin-off of everyone's favorite Canadian teen drama.) Anyway, here's what he tweeted from NIckelback's official account: "Hey Deryck loved the costumes! we were going to dress up as you guys this year but all the parties had celebrity themes haha!"
Kroeger later doubled down and asked Whibley on a bowling-themed double date, but bizarrely enough, he didn't tag the punk rocker. We're guessing that date never happened because we'd like to assume Whibley doesn't stalk Kroeger's feed. A scorned ex-husband he most certainly is not.
Lavigne still considers her first husband family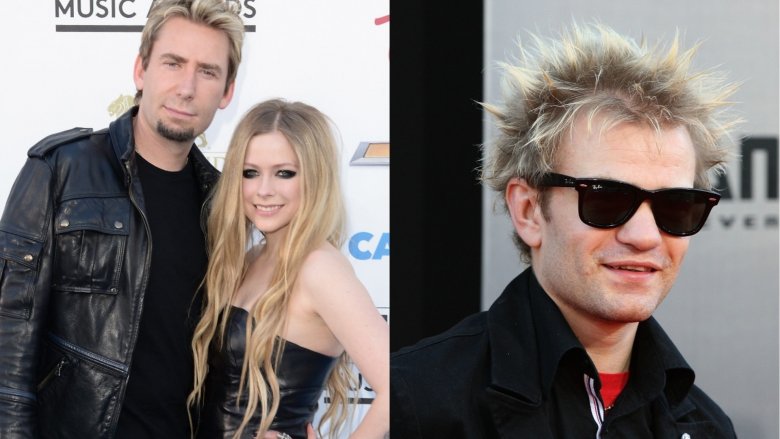 Getty Images
Most folks do not remain super tight with their exes. We're lucky if we remain on speaking terms. This isn't the case for Avril Lavigne. Throughout her marriage to Chad Kroeger, she remained wildly close to her first ex-hubby, Deryck Whibley. In fact, she still considers him part of the family.
Whibley and Lavigne met when she was just 17 years old. They started dating when she was 19 and wed when she was 21, so these two have endured a very important stretch of their youth together, not to mention experiencing all the pitfalls of fame at the very same time. Though they divorced, and she remarried, Lavigne still hangs out with Whibley. He goes to her shows, and she occasionally visits with his parents. She even continued to write music with Whibley after their divorce, and he produced her album Goodbye Lullaby. When Whibley was admitted to the hospital for alcohol-related issues that nearly claimed his life, Lavigne was one of the first people to show support.
"Spoke to @Sum41 Deryck today. I am so proud of him. He is family to me and always will be. #StayStrongDeryck," she tweeted.
The singer has an excellent track record for remaining besties with most of her ex-beaus. Though we haven't heard her mention her ex and covert Kardashian clan member Brody Jenner in a while, she has certainly remained tight with Kroeger after calling it quits. More on that...
Will you be my Valentine...after the breakup?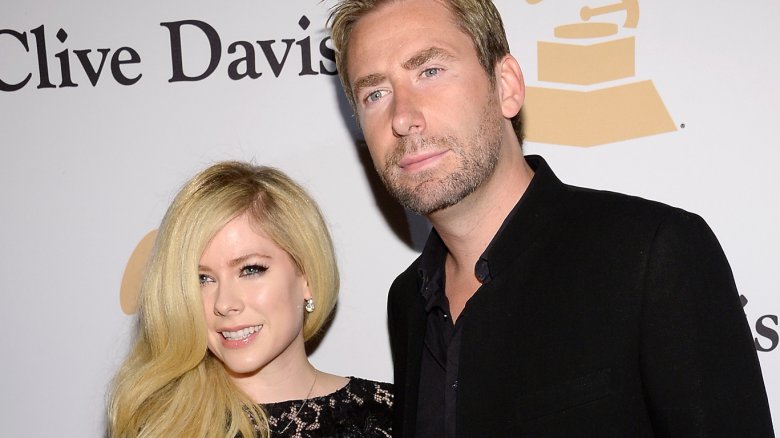 Getty Images
"Chavril" continues to defy the laws of modern dating with its post-breakup friendship. C'mon, who wants to spend Valentine's Day with their ex? Then again, there's only one Chad Kroeger and Avril Lavigne.
The two stars ended up spending Valentine's day together more than a year after publicly announcing their split in September 2015. The not-a-couple couple attended Clive Davis' pre-Grammys party together on what is arguably the most loaded day for two people in an ambiguous relationship. How did Lavigne secure a coveted date with her ex-hubby? 
She simply asked. And Kroeger's response? "I said, Yeah sure. So, we did that and that was fun," he told eTalk.
The couple was spotted together again in April of that year at the Juno Awards, sparking rumors of a rekindled romance. Lavigne shot them down, claiming she was just there to support Kroeger because he was nominated. Kroeger's reasoning for having Lavigne on his arm was just as easy.
"I got tired walking around with my band members, so I went and found hottie here," he joked.
She defends her estranged husband from online bullies – even the famous ones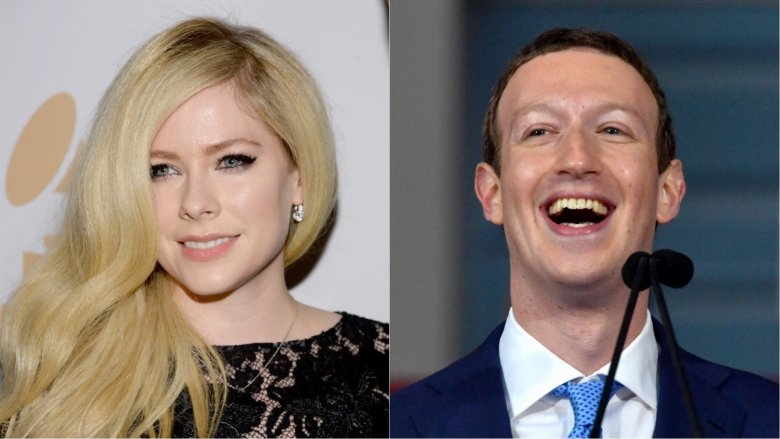 Getty Images
It's no secret that Nickelback is basically a punching bag for online trolls. The band placed second in a Rolling Stone poll of the worst '90s bands and has become so cool to hate that it's actually not cool to hate them anymore. Nickelback's mystifying success (more than 50 million albums sold worldwide) launched a thousand memes and even more think pieces. How could a band so universally hated become one of the highest-selling bands of all time? 
Because Nickelback isn't hated, and Avril Lavigne will let you know it. The singer has fearlessly stood up for her estranged husband, even when those bullying him were major corporations. In 2016, she slammed E News after the magazine published an article titled "Poll Reveals People Actually Dislike One Thing More Than Nickelback" (the thing was Donald Trump).
"Nickelback is one of the of the highest selling rock bands of the past 2 decades selling more than 50 million albums worldwide," Lavigne wrote in a series of tweets. "Seventeen No. 1 hit singles! What an epic accomplishment! Nickelback is adored by millions worldwide! I've seen their sold out shows!"
She also went to bat for her hubby after Facebook founder Mark Zuckerberg cracked a cliche joke about the band's terribleness. While promoting his Morgan Freeman-voiced home assistant, Jarvis, Zuckerberg joked about how Nickelback doesn't have any good songs. Lavigne took to Twitter to slam the CEO for "promoting bullying" and tagged it "#TheJokeIsOld."
Lavigne's first performance in almost three years was with her ex
After releasing her fifth studio album in 2013, Lavigne retreated from the public eye. This led some to believe her marriage with Kroeger was on the rocks. Others thought the singer had actually died and was replaced with a clone named Melissa. However outlandish the speculation, the truth was that Lavigne was struggling with Lyme disease and spent months bedridden. It was an emotional time for Lavigne, who told Rolling Stone that she thought she was dying.
Though she undeniably faced a long road to recovery, Lavigne inked a deal with BMG and started working on her sixth studio album. To help her get back on the horse, she turned to her estranged husband for support. 
By September 2017, Lavigne was officially back in action. She performed for the first time in three years at a Nickelback concert at the Greek Theater in Los Angeles. Lavigne joined Kroeger on stage to help him sing their hit, "Rockstar."
"Good to be back on stage," she posted on Instagram. "Feeling excited, happy and grateful."
Lavigne last toured in 2014, and though the impromptu performance was a small step, it was an important step forward that would not have been possible without Kroeger's support.
They're still working on music together
Both of Lavigne's husbands were undeniably talented when it came to making music. That's why she opted to have Deryck Whibley produce Goodbye Lullaby after their divorce, and it's the same reason she's reunited with Kroeger for her sixth album.
Lavigne sent "Chavril" fans into a frenzy when she posted a rather suspicious photo just a couple weeks after strolling down the red carpet with Kroeger on Valentine's Day. In the snap, she's smiling ear-to-ear, but there's no caption! Are they together again? Just friends? What's the deal? She left us hanging! 
As for her album, the singer told Billboard that she wrote one of her favorite songs while she was battling Lyme disease. "...I was in bed and literally felt like I was dying ... in the midst of feeling so close to death, I came up with one of my most true and moving songs," she said.
Who better to collaborate with than the person who stood by her side during her debilitating illness? For everyone holding out hope for true love, it may just exist in the world of Canadian rock stars.