How Dr. Dre Got Marjorie Taylor Greene In Trouble With Twitter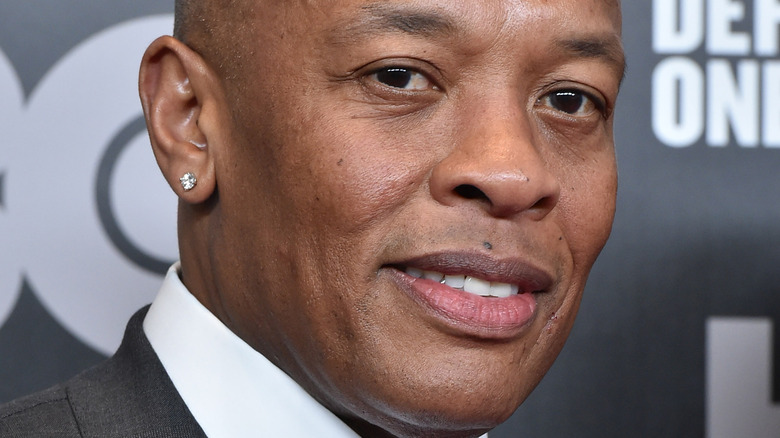 Win Mcnamee/Getty Images
Marjorie Taylor Greene hit the ground running in the new year. The first thing on her agenda was getting a new speaker of the house elected — however, that didn't go exactly as planned. It took an unprecedented 15 rounds of voting, but finally, Kevin McCarthy was successful and won a small majority last week.
The voting process was nothing if not chaotic. Social feeds were inundated with memes and videos of popular politicians arguing on the house floor. Greene came into the mix as a self-styled "anti-establishment conservative" who made it her mission to get McCarthy confirmed as Speaker of the House, per Fox. While she was ultimately successful, the process wasn't without hiccups. Midway through the week, Greene publicly disparaged her conservative colleagues, whom she claimed were holding up a majority of votes in the hopes of negotiating high-powered committee positions for themselves. 
"I'm the only Republican that has zero committees. So, you would think I would be the one in there asking for something. But I haven't done that," Greene — who was stripped of her committee membership thanks to her QAnon connections — told reporters, per the New York Post. She added, "I'm furious." After the longest week in congressional history, you might think that the second week of January would be smooth sailing for Greene. Well, you'd be wrong! Instead, Greene is in hot water with the most unlikely source: Dr. Dre.
Dre had harsh words for Marjorie Taylor Greene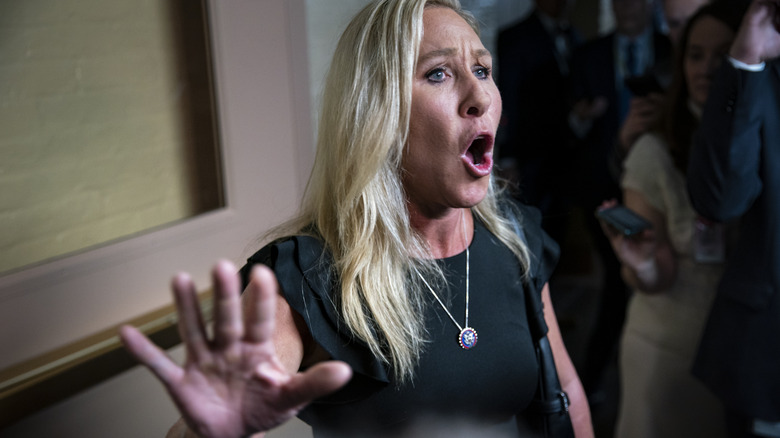 Bloomberg/Getty Images
Following Kevin McCarthy's hard-won speakership, Rep Marjorie Taylor Greene posted a boastful video to her social media account celebrating the win. In the video, Greene struts out of her office and around the halls of Congress — intercut with clips from the previous week — all while Dr. Dre's "Still DRE" plays in the background. Dre was not about to let that fly. "I don't license my music to politicians, especially someone as divisive and hateful as this one," Dre told TMZ when asked for comment.
Dre took further action and pushed for Twitter to remove the video, which the platform ultimately did, according to the Los Angeles Times. For good measure, his team also sent Greene a cease and desist letter. "One might expect that, as a member of Congress, you would have a passing familiarity with the laws of our country. It's possible, though, that laws governing intellectual property are a little too arcane and insufficiently populist for you to really have spent much time on," the letter read. "We're writing because we think an actual lawmaker should be making laws, not breaking laws, especially those embodied in the constitution by the founding fathers."
For her part, Greene was quick to respond to Dre's cease and desist, per NBC. "While I appreciate the creative chord progression, I would never play your words of violence against women and police officers and your glorification of the thug life and drugs," Greene said in a press release.