The Most Savage Celeb Audience Reactions Ever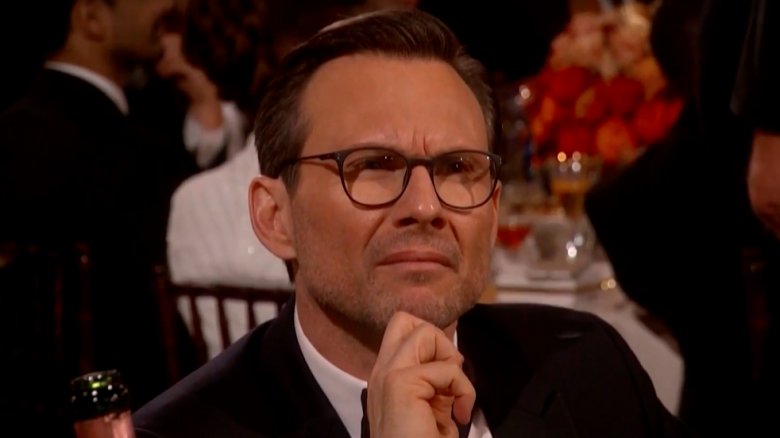 Thanks to the internet, savage celebrity audience reactions can become viral sensations before the event they're attending is even over. We're talking eye rolls, stone faces, crinkled brows, puzzled looks, and even frustrated outbursts — it's all fair game for the meme-verse.
It's also true that a lot of these famous folks were simply swept up in the moment, and did not think their genuine display of emotion would be such fertile ground for web entertainment, let alone make the news. Brendan Fraser and Nicole Kidman learned this lesson the hard way, but other stars seem to either not care or know exactly what they're doing in these highly scrutinized moments.
Do we honestly think that Taylor Swift doesn't keep one eye trained on the red light above the camera at all times? Or how about Samuel L. Jackson? He's not known for pulling punches, so why should he start at some fancy award show? These two are in good company among others who have kept it one hundred during the entertainment industry's biggest nights. Here are the most savage celeb audience reactions ever.
Don't kiss yucky boys in front of Taylor Swift
Pop star Taylor Swift built her entire career by shrewdly crafting her personal drama into undeniably catchy songs, and while she's generous to a point in sharing her stories, she effectively guards her actual personal life from the press to a degree other celebs aren't able to do. So, when she does offer up a savage reaction while seated in the audience of a high-profile award show, you can bet she knows exactly what she's doing.
For example, when One Direction — the boy band that includes Swift's ex, Harry Styles — was on stage presenting at the 2013 VMAs, Swift was caught apparently mouthing the words "shut the f*** up" to her BFF, Selena Gomez. Savage, right? Except another Swift confidante, Ed Sheeran, later tried to clear the whole thing up by claiming Swift was actually reacting to Gomez's speculation that Miley Cyrus would win an award that Gomez was also up for. Hmm, paging Occam's Razor — we've got a case for you.
Then there was also the time earlier that year when Swift was caught on camera being visibly grossed out after seeing Gomez kiss her then-boyfriend Justin Bieber backstage at The Billboard Music Awards. First she sticks out her tongue like a toddler refusing her broccoli, then she stands by impatiently as Gomez talks to her man for an interminable 30 seconds. (We're still waiting on Ed Sheeran to try to shovel Swift out of that one.)
Blue Ivy will one day rule us all
Blue Ivy was a viral celeb before she was even born thanks to Beyoncé's internet-shattering pregnancy announcement at the end of her performance at the 2011 VMAs. Since then, Blue Ivy has stolen the spotlight literally every time she's been in it, including at the Grammys in 2018, when she was caught in the audience apparently trying to stop her parents from clapping. Precocious? Possibly. Legendary? Absolutely.
But what did singer Camila Cabello, the presenter who was on stage at the time think? Nothing at the time because she was too nervous to even look out at the sea of mega stars in front of her, but after discovering the viral incident, she was reportedly struck with "a moment of insecurity." Speaking with BBC Radio 1, Cabello said that she had to stop herself from pondering the 6-year-old's motivations, because it was a "wormhole" she wouldn't be able to handle.
Let's just pause here for a second and consider that: Camila Cabello, a successful recording artist and former member of the girl group Fifth Harmony, couldn't bear the notion that a first-grader may not have connected with her moving speech about support for DACA recipients (which was the crux of Cabello's remarks). Wait, does this mean Blue Ivy is more of a Little Mix fan? Or maybe she just doesn't support a path to citizenship? Yep, this whole thing has gone way beyond ridiculous.
It's always worth it to cut to Samuel L. Jackson
If there's any celeb we expect to constantly dish out savage audience reactions, it's Samuel L. Jackson, and over the years he has not disappointed. 
For starters, when he lost the Oscar for his career-changing role in Pulp Fiction to Martin Landau in 1995, Jackson was caught on camera visibly exclaiming, "S**t!"
Speaking with Deadline in 2012, Jackson still seemed just as salty about that loss, saying, "You know they were saying 'Martin's been nominated a few times and you're going to be around for a while. Don't worry.' I was thinking I didn't know it was a thing where if you get nominated for a few times you automatically get one. I thought it was supposed to be about impact."
Jackson returned to Oscars-audience infamy in 2010 when cameras caught him rolling his eyes after Mo'Nique's acceptance speech for best supporting actress for her role in Precious. Though he never clarified what he was actually annoyed about, Mo'Nique later told Detroit radio station WJLB (via EurWeb) that the whole thing was "misconstrued" and that Jackson was giving her a "love look." Okay. If that's his "love look," what face does he make when he doesn't like someone?  
Have a little Faith, people
In one of the most infamous audience reactions of all time, Faith Hill hilariously responded to losing female vocalist of the year to Carrie Underwood at the 2006 CMAs by throwing her arms up in the air and appearing to scream, "What?" But before you go changing your opinion of the enormously well-liked country star, just breathe for a second.
Hill later told People that it was "unimaginable" to her that her joke would be misconstrued as being "disrespectful towards a fellow musician." Her manager also told the mag, "She was being playful while the nominations were being read and playful after."
Underwood herself confirmed all of this to CMT News, saying, "I knew she didn't mean it. ... She called me immediately and said, 'It's no big deal. I'm so sorry. I was just messing around, and it was sort of a joke gone bad, and I would never disrespect you.'" 
So that means Faith Hill is not only still the beloved star we always thought she was, but she's got a great sense of humor, too? Yay!
Leonardo DiCaprio: Accidental Shade Master
When Leonardo DiCaprio appeared to shrink away from Lady Gaga as she walked past him to accept her award for best actress in a miniseries at the 2016 Golden Globes, the internet went absolutely wild. But as was the case with Faith Hill, DiCaprio's admittedly hilarious reaction of arching his eyebrows and tucking his chin in a gesticulation normally reserved for disgust was not what it seemed.
"I just didn't know what was passing me — that's all!" DiCaprio explained to Entertainment Tonight, who informed him of the viral moment backstage. Fortunately, both DiCaprio and the "Born This Way" singer were good sports about the whole thing. During another interview on ITV's This Morning (via the Daily Mail), The Revenant star marveled at "what goes viral these days" and said, "We were laughing about that afterwards. I actually had no idea who was passing me or what was going on, but that was a funny little bit that went around ... we were laughing at it at the after party!"
At this point we have to ask what's more savage: The fact that Leo DiCaprio is so "over it" at award shows he doesn't even pay attention to what's going on, or the fact that he possibly double-shaded Gaga by implying that before the incident he didn't even know who she was.
No love for Joan?
Our list of savage celeb audience reactions ends with another low-key entry, but an eyebrow-raising one nonetheless. It comes via Christina Hendricks and her silent shading of Mad Men co-star Jon Hamm finally winning an Emmy after eight nominations for the role. Hendricks, who never took home TV's highest honor for her own role as Joan Holloway, sat sullenly looking on as Hamm playfully crawled onto the stage and gave his acceptance speech.
Her reaction was an eerie contrast to other cast members, like Elisabeth Moss, who seemed elated for the leading man to finally be recognized. Popsugar even pointed out that Hendricks' husband, Geoffrey Arend, possibly stopped himself from applauding. So, what's the deal with that?
Nobody knows. As far as we can tell, there's no actual beef between Hamm and Hendricks, so maybe she was just upset that Hamm ended up being the only actor to ever win an Emmy over the entire span of the series. That seems crazy, but it's true, especially considering the number of acting nominations the show received that ultimately went unrewarded: 35. Yep, we'd probably sit there stewing about that TV injustice, too.
What about Bill?
When Bill Murray lost his only Oscar nomination to Sean Penn in 2005, his disappointment was palpable. As he was announced as a nominee, Murray rolled his eyes, and formed his mouth into a crooked grimace as if to shrug and say, "Yeah, right." It was almost as if Murray's sad eyes seemed to already know the outcome even before presenter Nicole Kidman read Penn's name after unsealing the envelope.
Ten years later, Murray told Charlie Rose (via the Los Angeles Times) that he was actually "surprised" by the loss, and that he'd even prepared a funny acceptance speech that he regrets not being able to give. "I was going to say, 'When I heard I'd been nominated with,' you know I'd name these other people, 'I really thought I had a pretty good chance,'" Murray told Rose.
Murray went on to say that in retrospect, he was glad he lost, noting the trend of Oscar winners struggling for years after their wins because they don't know what to do next after such a peak career moment. In light of that sentiment, we'll just go ahead and leave this fact right here: Two of Murray's movies after losing the Oscar were Garfield and Garfield 2.
A silent protest heard loud and clear
Brie Larson's savage celeb audience reaction came in the form of a sort of silent protest. She actually wasn't in the audience — she was right on stage when she cold-shouldered Casey Affleck while presenting him with the Oscar for best actor for his performance in Manchester by the Sea. 
Larson — who was presenting because she'd won best actress the previous year for her portrayal of a rape and kidnapping victim in Room — graciously accepted a hug from Affleck, but she refused to clap after reading his name for the award.
Viewers quickly noticed the snub and leapt to the conclusion that Larson was signaling some kind of feeling about Affleck having previously been accused of sexual harassment by two different women. (Affleck has denied any wrongdoing.)
Speaking with Vanity Fair, Larson shed a tad more light on the subject, saying, "I think that whatever it was that I did onstage kind of spoke for itself. I've said all that I need to say about that topic." Boom. 
Need even more savagery? Affleck withdrew as a presenter the following year, because he "did not want to become a distraction from the focus that should be on the performances of the actresses in the category," reported Deadline. Who knew the sound of one woman not clapping could be so deafening.
No punchline for old men
Jim Carrey offers perhaps the biggest insight into Tommy Lee Jones' curmudgeonly ways with a story he's repeatedly told about his experience co-starring with the legendary actor in 1995's Batman Forever. According to the rubberface funnyman, he bumped into Jones at a restaurant one night during the shooting of the film, at which point Jones allegedly told Carrey he "hated" him and "cannot sanction [Carrey's] buffoonery."
Cut to 18 years later at the Golden Globe Awards in 2013 when Jones was still clearly not a fan of buffoonery. This time it was Will Ferrell and Kristen Wiig's bit about Jones' film Hope Springs that seemed to stir up the same unfriendly emotions. Though Jones didn't say a word — or even so much as blink for that matter — his ice cold glare was all that was needed to express how he truly felt. In other words: Buffoonery – 0 Jones – 2.
Did you have a question, Mr. Slater?
At the 2017 Golden Globes, two actors went viral for two very different reasons. One was Tom Hiddleston, whose rambling acceptance speech for his best actor in a miniseries, drama win was criticized by some as too self-congratulatory, not to mention culturally insensitive thanks to the part where he complimented his own role in Sudanese relief efforts.
The other actor was Christian Slater for his seemingly savage reaction to Hiddleston's remarks, which like Leonardo Dicaprio before him, went totally viral. Though Slater has yet to publicly reflect on the ponderous look he wore while Hiddleston spoke, Hiddleston has since apologized for his remarks.
"I completely agree that my speech at the Golden Globes last night was inelegantly expressed," The Night Manager star wrote on Facebook, adding, "In truth, I was very nervous, and my words came out wrong." Hiddleston did not specifically address Slater, or apologize for inadvertently turning him into the human equivalent of this confused pug GIF, but we feel confident he didn't mean to do that either.