Jill Scott: What Most People Don't Know About The Elusive Singer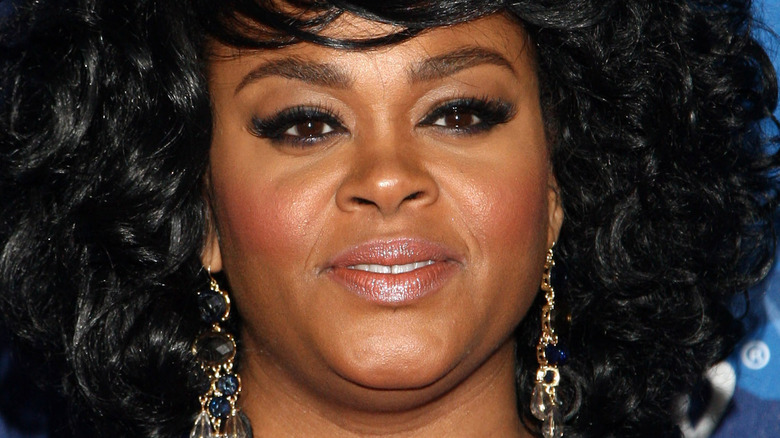 Tommaso Boddi/Getty Images
Before Jill Scott was a star, she was an only child being raised by her mother and grandmother in Philadelphia. "I was treated as a princess, with room service," she joked in an interview with The Guardian, recalling how her family would often prepare a luxurious breakfast in bed for her. "We didn't have much, and they found a way to treat me as special as possible."
From a young age, they encouraged her artistic side and let her watch artists like Patti LaBelle, Teddy Pendergrass, and Gladys Knight & The Pips live — even if she wasn't technically old enough to be in the clubs where they performed. "So much of who I am is because of the music of Philadelphia," Scott told NPR, recalling how her mother got her interested in different kinds of music. "She took me to Ortlieb's, which is a jazz spot in Philly and I wasn't supposed to be there, but she put me behind a chair and kinda hid me. I watched great musicians be great musicians." The singer also insisted that audiences in Philadelphia pushed those musicians to be better. "If they don't like it, they'll let you know, and it's more than a boo. You might have to duck in Philly," she quipped.
Keep reading to find out more about Jilly from Philly and how she became a star.
Jill Scott wanted to be an English teacher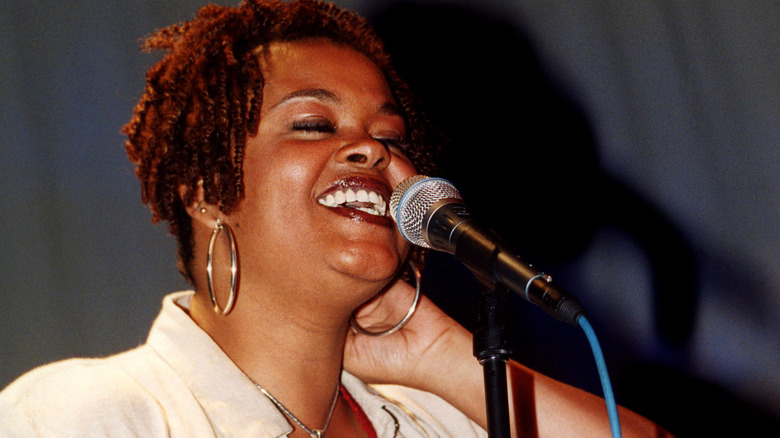 Raymond Boyd/Getty Images
Jill Scott has been passionate about poetry since her schoolyard days. "I could hear music playing in the background of works by certain authors, like Poe and Shakespeare," she told the Oprah website, reflecting on her lifelong love of English literature. "And I discovered Nikki Giovanni when I was in eighth grade. Her writing has a musical energy with pulse and rhythm, almost like jazz or hip-hop." That passion for language led her to train as an English teacher during her secondary education degree at Philadelphia's Temple University.
As a college student, Scott had her own methods for teaching kids and created tunes to help them learn how to spell words. "That's the way that I learned how to spell. I made a melody out of the words," she explained to Rolling Stone. "The students were feelin' it." The other teachers were skeptical about her creative approach, however. "They said, 'Oh, to be young and idealistic.'" Scott ended up leaving the degree and focusing on her creative pursuits full-time. "I was like, 'I don't know what I'm-a do, I don't know where I'm-a go.' But by the time I got home the phone was ringin'," she reflected.
She met Questlove as a spoken-word poet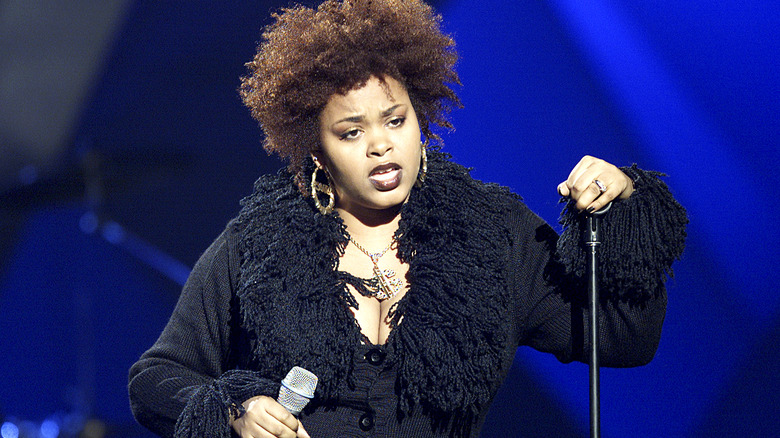 Jmenternational/Getty Images
Before they collaborated on the Grammy award-winning song "You Got Me," Questlove and Scott were hanging around the same poetry slams in Philadelphia. They first met when a mutual friend brought Scott to the studio where The Roots were working and Scott made quite an impression with her first sentence. As the musician revealed on his podcast "Questlove Supreme," his roommate and Scott had been unknowingly seeing the same guy at the time. "I sat down on the couch and she must have gotten the news that he did her wrong," he explained. Scott turned to him and declared: "I'm going to cut his dick off." A shocked Questlove reportedly thought: "I'm scared of this woman forever." The cheater also coincidentally stole a drum machine from The Roots.
They met again at an open mic where Scott was performing spoken word poetry. When a fellow poet tried to introduce her, she interrupted by belting Jodeci's "Freek'n You" from the back of the room, according to Questlove. "Our tongues were collectively wagging," he added. When they finally spoke properly, Questlove asked if she wrote songs. "And I lied," Scott admitted. "I said yes, which I did not do." She bluffed her way through some ideas and ended up with seven tracks on a cassette, including an early version of "You Got Me" that immediately caught Questlove's attention. "When I heard it, I said to myself, 'This song's going to change my life,'" he stated.
She was in a touring production of Rent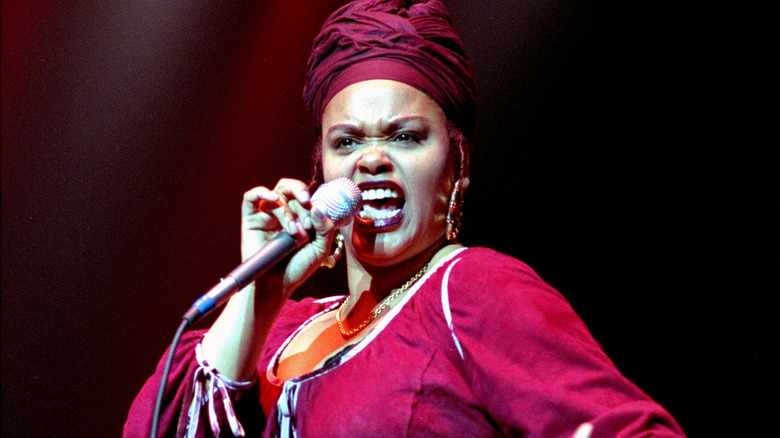 Hiroyuki Ito/Getty Images
Before Jill Scott's career as a singer-songwriter took off, she made a living in theater. As she told the Philadelphia Inquirer, Scott first ventured into the world of acting as "the oldest intern" at the Arden Theatre Company, before becoming a "fellow" at the Walnut Street Theatre. Her job meant that she spent "14-hour days, six days a week doing everything from building sets and putting up lights to sweeping floors, in return earning free acting lessons and eventually my Actors' Equity card." And Scott put that card to good use when she was cast in the Canadian touring production of "Rent" at age 25.
"I did eight shows a week, under the same lights, wearing the same clothes every time, and it was a challenge for me — I wanted to do something different every day," she admitted in an interview on Oprah Winfrey's website. Scott eventually ended up leaving the tour because she felt the need to explore something new. She later declared that her resignation was the best mistake she ever made. "Part of me wishes I had continued, because then I might have become a stronger actress," she observed. "But instead, I decided to refocus my energies — and I put out my first album a year later."
Jill Scott wrote 52 songs for her first album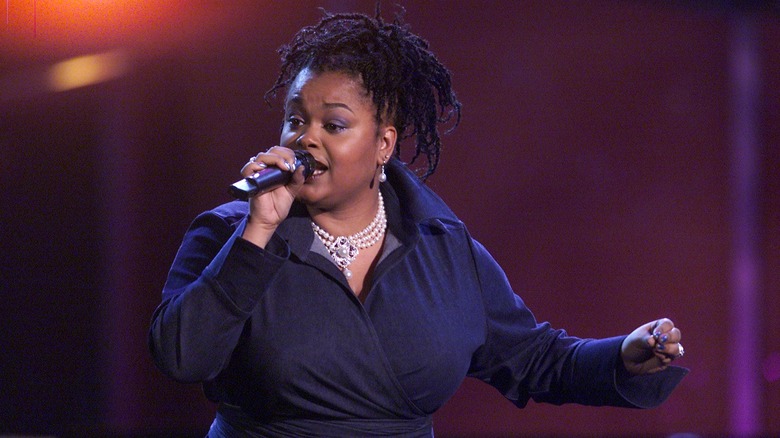 Scott Gries/Getty Images
Jill Scott's first album was a game-changer, both for the musician herself and for the genre of neo-soul music. When she was writing her initial ideas for "Who Is Jill Scott? Words and Sounds, Vol. 1," DJ Jazzy Jeff became an unlikely early collaborator and friend. She got the Philadelphia DJ to hand out her first songs to record executives without her picture attached, so no one could judge her by her looks. "I'm not interested in being commodified," Scott later told Rolling Stone. "I'm not into being sold. I'm not a slave."
But before it was released, Scott had to whittle down her ideas. She initially wrote an astounding 52 songs, so the singer ended up spending a lot of time narrowing down her options. "I liked them all," she explained to Rolling Stone, adding that she made her decisions based on personal taste rather than commercial appeal. "The ones that I loved were the ones that I placed on the album, because at the end of the day, if nobody bought it, I would want to be able to play it and listen to it and enjoy it."
The Roots left her stranded in Paris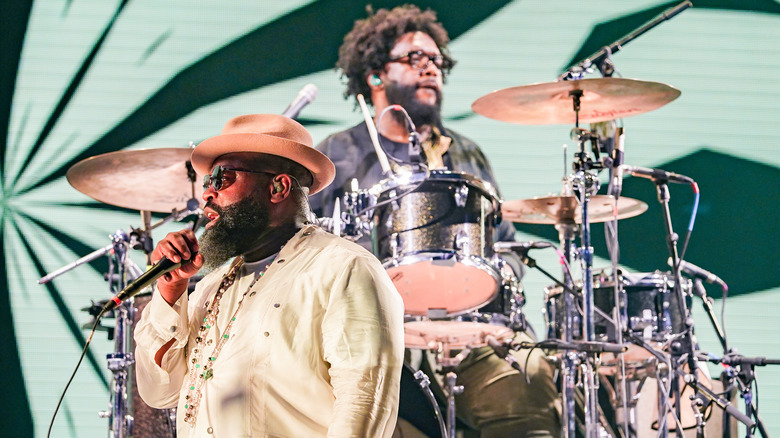 Erika Goldring/Getty Images
Jill Scott's first experience of touring as a musician happened alongside The Roots. And as she later revealed on the "Questlove Supreme" podcast, it was not the best trip of her life.
"You took me on the road and treated me like a newbie and left me in Paris," the singer insisted, to his dismay. "There was a ticket at the desk for me to go home, luckily. I got the ticket and had to figure out how to get to the airport because the French don't like if you don't speak French." She explained that there was no English on any of the signs and that the rest of the band had taken off without her, without any explanation. "Left my a** in Paris," Scott observed. "I learned everything from you ... I learned how I don't want to travel."
She had also been stuck in a different hotel, which stunk of cigarette smoke and was full of shady characters. Although Scott compared the tour to being hazed, Questlove insisted that the band always had shoddy tours at the time, although they grew more professional over the years. Scott still loves to travel: when she couldn't celebrate the 20th anniversary of her first album due to COVID-19 in 2020, she turned it into a 23rd-anniversary tour around the US instead.
She spoke out against sexist music videos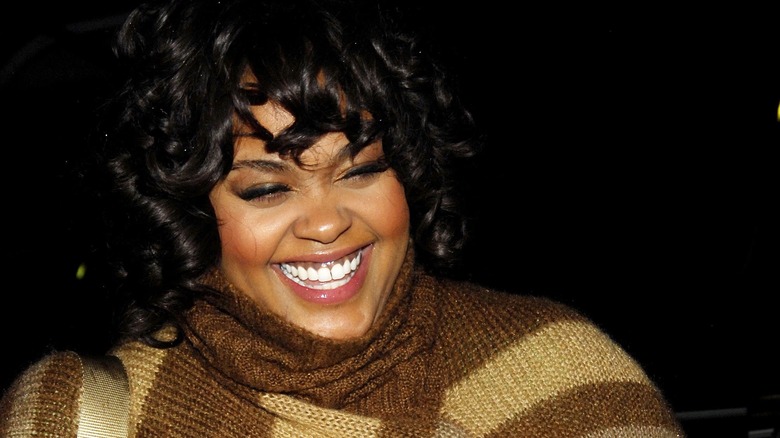 Ray Tamarra/Getty Images
Jill Scott has never been afraid to speak out against the music industry and the songs she sees as disposable. "I think that artists have to remember that the songs that they're singing are going to follow them for the rest of their lives," she told Essence in 2015, adding that in order to "create the mosaic of life" as an artist, you have to resist the trends that the rest of the culture are following. "I think they're creating a lot of microwaveable music and not thinking about longevity."
And at Essence festival in 2006, she called for a culture-wide reassessment of current popular music. At a seminar called "Who You Calling a Ho? Sisters, Take Back Our Sex!," Scott criticized the depiction of Black women in music videos, as the BBC reported. "It is dirty, inappropriate, inadequate, unhealthy and polluted. We can demand more," she declared, speaking alongside former video vixen Karrine Steffans and actor Shemar Moore. Scott encouraged the audience to start boycotting particularly disrespectful examples by refusing to buy albums from certain artists. "This is about choosing what we will allow in our lives," she stated. "We can force things. We can change things. Challenge the music industry with your purchasing power."
Jill Scott had a child with her drummer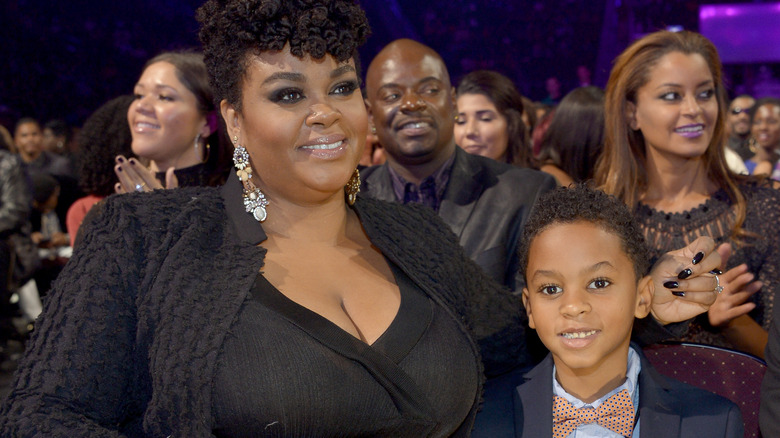 Paras Griffin/bet/Getty Images
During a 2008 concert at Carnegie Hall, Jill Scott revealed that she was in a relationship with her drummer, Lil John Roberts, and that they were actually engaged to be married, per Essence. This wasn't her first engagement ring: Scott was previously married to Lyzel Williams, but they filed for divorce in 2007.
Shortly after her on-stage reveal, Scott and Roberts announced that they were expecting a baby. Her pregnancy took Scott by surprise, as she later admitted on Instagram. "I thought I was terminally ill," the singer recalled, explaining that she noticed that she was oversleeping and couldn't stay awake. "I prepared for the worst but Jehovah gave me THE BEST surprise ever." She had previously assumed that she was unable to give birth due to reproductive problems, as Scott revealed to People. "I was married for five years and could never conceive a child. Until now... It's the most amazing thing that's ever happened to me."
The baby, Jett Hamilton, was born on April 20, 2009. Scott and Roberts called off their engagement a couple of months later, but decided to co-parent.
She was sued by her label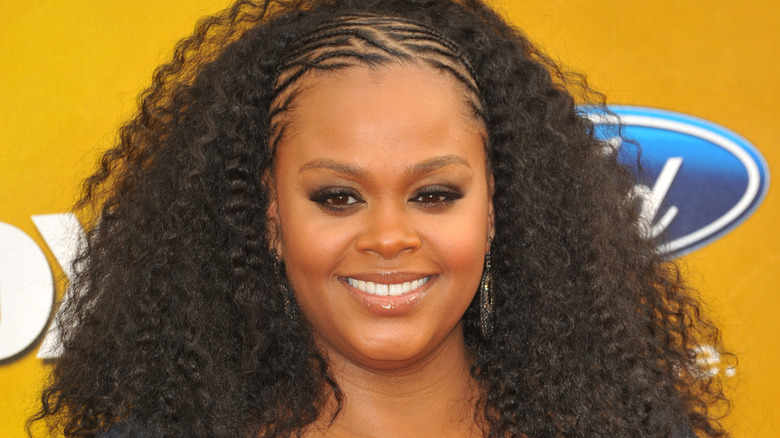 Featureflash Photo Agency/Shutterstock
Jill Scott's own label sued her in 2010 and accused the artist of failing to fulfill her six-album contract with them. Hidden Beach Records, who had released Scott's first three albums and seen her achieve double-platinum success with her critically acclaimed songs, alleged that she still owed them three more so couldn't leave. "Hidden Beach feels that Jill Scott is an incredibly talented artist," a spokesperson told Billboard, insisting that they had given her special treatment by allowing her to have an acting career. "But its hands were tied and it had no other option." Scott's lawyers, on the other hand, argued that California's laws meant that no artist could be kept in a contract for more than seven years. They settled out of court in 2011.
Scott later told Interview magazine that releasing her music by herself was a thrilling experience. "I feel like more of myself than I've ever been, having this freedom, choosing a company that is supportive and understanding, that will distribute my music — it feels very exciting to me," she explained. Her first album without Hidden Beach Records, "The Light of the Sun," took a year and a half to create. Scott also explained that becoming a mother really motivated her to strike out by herself and make the music she wanted. "It's honest and it's about humanity," she reflected. "And standing on your two feet again."
She had a nasty experience with Harvey Weinstein
Kathy Hutchins/Shutterstock
In 2009, Jill Scott's burgeoning acting career led her to star in "The No. 1 Ladies' Detective Agency," a critically acclaimed HBO adaptation of the popular book series by Alexander McCall Smith. Scott played the lead role as a woman in Botswana who launches her own private investigation firm. But she had an unpleasant run-in with the man who produced the series, Harvey Weinstein, when they first met.
"In the NASTIEST tone he said 'Who told you to get pregnant?!' And rolled his eyes in disgust," Scott wrote on Twitter in 2017 after Weinstein had been exposed as a sexual predator, sharing her own encounter with the notorious producer. "Who acts that way towards a pregnant woman?" the singer asked, noting that she avoided him on set after that conversation. "Power to all the women bullied by a**holes. Power in general," she added.
Scott also tweeted that there was more to reveal about the conduct of abusive men in Hollywood. "What's true is there are stories I will never tell publicly," she added. "I have my reasons and peace in those areas."
If you or anyone you know has been a victim of sexual assault, help is available. Visit the Rape, Abuse & Incest National Network website or contact RAINN's National Helpline at 1-800-656-HOPE (4673).
She's been friends with Erykah Badu for decades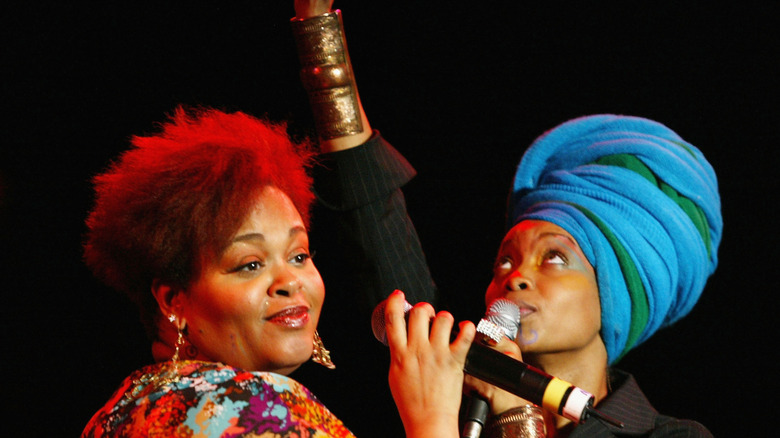 Karl Walter/Getty Images
Jill Scott and Erykah Badu didn't have the most auspicious of meetings: as she told Questlove, Scott first heard Badu's voice when she realized that she had been replaced on her own song. The Roots drummer explained on his podcast, "Questlove Supreme" that the record decided she wasn't famous enough to sing on "You Got Me" so they had gotten Badu instead, but nobody told Scott. They later overcame any conflict by performing "You Got Me" together on "Dave Chappelle's Block Party" 2004.
The pair did a Verzuz battle in 2020 and spoke out against people who compared them against each other. "They pitted us against each other," Scott reflected, per Page Six. "There's been some kind of stink in the air for a long time that didn't belong to us." Badu agreed, adding that she didn't look at Scott as a rival just because they were both neo-soul singers or female songwriters. "I ain't got no enemies. I don't got no beef," she clarified. "We're friends." 
The Verzuz battle was praised for the two women's camaraderie and included celeb fans like Rihanna, Adele, Christina Aguilera, Stephanie Mills, Charlie Puth, Solange, MC Hammer, Diplo, Missy Elliott, and Queen Latifah among the 700,000 viewers. Even Michelle Obama shared her appreciation, telling Scott and Badu: "Thanks for sharing some much-needed love tonight."