The Tragic Death Of Evel Knievel's Son Robbie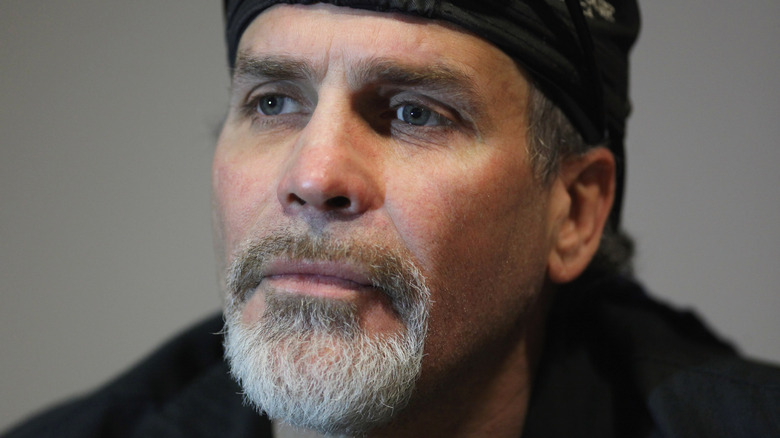 Dan Kitwood/Getty Images
Evel Knievel's son, Robbie Knievel, died on January 13, according to reports from TMZ. The stuntman was 60 years old at the time of his passing and had reportedly been "in hospice care" recently. The outlet said that Robbie had been experiencing pancreatic cancer and died at the hospice facility. His daughters, Krysten and Karmen, were apparently with Robbie when he passed, per an insider who spoke with the outlet.
Robbie followed his father's daring legacy with an equally exciting career of his own. The 60-year-old established a name for himself as a famous "daredevil," earning the nickname "Kaptain Robbie Knievel." He had been on the back of a motorbike since he was a child, often performing alongside his father, Evel. Robbie was known for "death-defying motorcycle jumps," per the Daily Mail, and never shied away from a challenge.
As noted by the Daily Mail, Robbie performed well over 300 terrifying jumps throughout the course of his career as a stunt performer. Though the outlet echoed TMZ's declaration that the Montana native had pancreatic cancer, little information is available about his ailing health in recent years. CBS Sports reported that there had been "complications" with Robbie's diagnosis prior to his death. His father, Evel, died in 2007 at the age of 69, after dealing with several major health issues in the last years of his life, per the New York Times. 
Robbie's family has not commented on his death at this time.
Robbie Knievel created a legacy of his own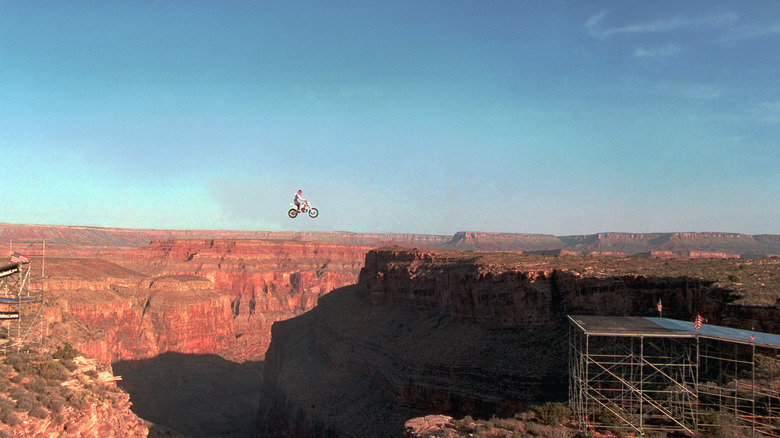 Frank Micelotta Archive/Getty Images
When you're born to a famous parent, it can be difficult to successfully establish a name for yourself, particularly if you follow in their career footsteps. However, Robbie Knievel, son of the legendary stuntman Evel Knievel, successfully navigated this feat. According to Biography, Robbie joined his father "at a young age," and began jumping motorcycles professionally when he was in his teens. At the time of the 60-year-old's tragic death on January 13, he had completed well over "350 jumps," and "broken 20 world records," according to the outlet.
One of Robbie's most electrifying (or terrifying, depending on how you view it) jumps occurred in 1999. Piquing the anxiety of his family, along with those watching in person and on television, the Montana native jumped the Grand Canyon. "Kaptain Robbie Knievel" attempted to make the jump approximately two weeks prior but had been sidelined due to increasingly inclement weather, per YouTube. As the newscasters point out in the video, Robbie cleared a "2,000-foot drop" at around 90 miles per hour to land on the opposite side of the Canyon. The Los Angeles Times noted that he did fall off his motorcycle upon jumping over the "200-foot-wide gorge," and was later transported to the hospital via helicopter. At the time, he stated, "I'm wiped out in the head a little."
Gary Davis, revered stunt coordinator, expressed concern about the ordeal to newscasters (via YouTube), though Robbie went on to prove him wrong.
Kaptain Robbie Knievel was used to taking risks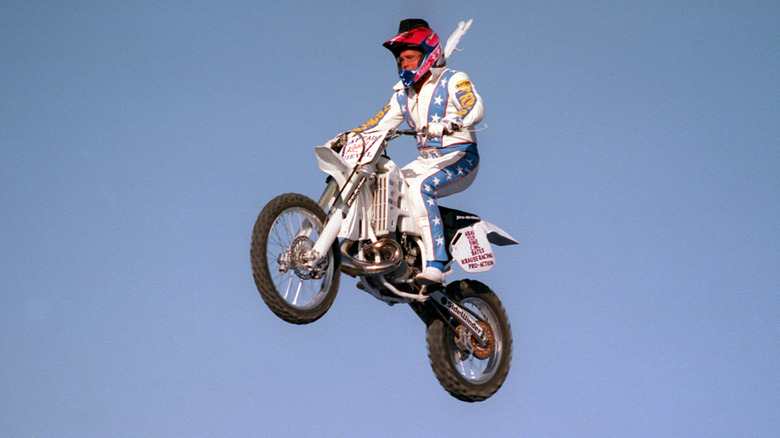 Frank Micelotta Archive/Getty Images
Robbie Knievel — who sadly joined the growing list of celebrities who've passed away through the years — was used to taking risks in his professional career as a daredevil. In addition to his death-defying jump over the Grand Canyon in 1999, Knievel was applauded for his stunt on the U.S.S. Intrepid. According to the New York Post, the stuntman jumped his motorcycle across six different aircraft arranged on the "898-foot deck of the 40,000-ton Intrepid." These included, "an amphibious helicopter used by the Coast Guard, a massive U.S. jet known as 'Willie the Whale,'" and four foreign aircraft.
The stunt became one of Knievel's best-known, as he navigated the 200-foot gap with skill and expertise. Prior to the big event, he spoke with the New York Post with bravado, stating definitively that he wasn't afraid to make the jump. "I'm a pro, I plan my jumps meticulously, and I have God on my side. He watches over me." During a previous interview with Conan O'Brien in 2005, Robbie surprised the talk show host and viewers when he stated that his father, Evel Knievel, actually discouraged him from being a daredevil when he was much younger.
"He gave me capfuls of Wild Turkey and said, 'Don't do this,'" Robbie said while chuckling (via YouTube). He went on to detail how, despite this warning from his father, stunt work became his "passion" when he was around eight years old after he famously performed alongside Evel at Madison Square Garden. 
Our thoughts are with Robbie's family during this difficult time.