The Tragic Death Of The Wire Actor Al Brown
It's a sad day for "The Wire" fans. TMZ reports that Al Brown, who played Stan Valcheck on the long-running gritty HBO drama, has died at age 83 following his diagnosis with Alzheimer's disease. The veteran actor's daughter, Jenny, broke the news, sharing that her father died Friday night in Las Vegas, Nevada.
Brown's character on "The Wire" was a cop-turned-Colonel who never went easy on his subordinates. Before stepping his toe into the acting pool, Brown had served in the Air Force, conducting two tours of Vietnam before hanging up his wings, per TMZ. However, it was his new career that he loved the most. According to Jenny, Brown really got a kick out of the attention that came with being a star on a hit TV show, and always had time for anyone wanting an autograph or chat.
Cast and fans of the show alike took to Twitter to mark the tragic loss. "#ThankYouForYourService #AlBrown," wrote one fan. Keep reading for a look back on Brown's career.
Al Brown took center stage on The Wire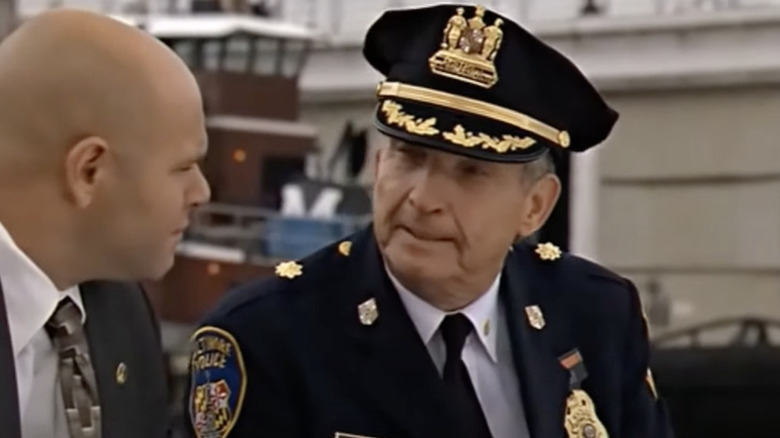 YouTube
Al Brown started acting in the 1990s and often played law enforcement characters. Per IMDb, his first role was in "Homicide: Life on the Street." Brown also had parts in "Commander in Chief," and "Law & Order: Special Victims Unit" before landing "The Wire" gig. Brown really got to show off his acting chops and take center stage during Season 2 of "The Wire," which focused on Baltimore's drug importation business.
It seemed Brown's military experience and outlook on life brought his Stan Valchek role to life. "Have learned almost everything the hard way. But, have never quit or stopped trying," the actor's LinkedIn bio reads. "Believe 'honor' is a way of life and should be cherished. Have always wanted to be an actor. Gave it up for family, the military, and obvious responsibilities for 30+ years. Back at it. Thank God for my TV Show The Wire!!!"