Tom Hanks Is Actually Related To A Former President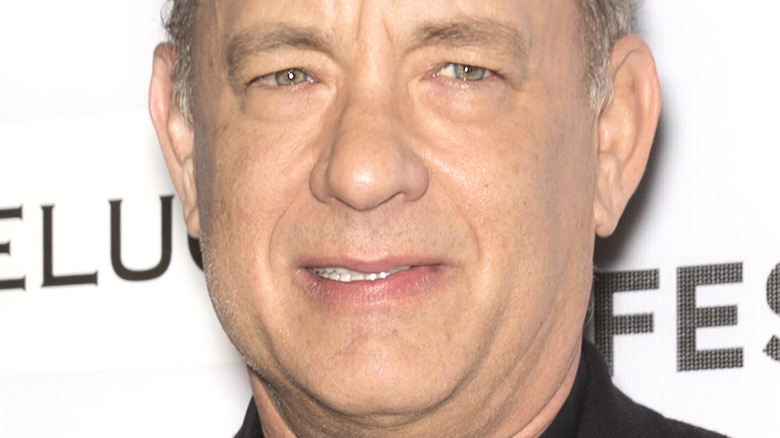 Ovidiu Hrubaru/Shutterstock
Who knew Tom Hanks was related to a very famous former U.S. president (and, no, it's not former President Donald Trump)? Well, we already know Tom is Hollywood royalty in his own right and one of the most beloved people in America, with pretty much everyone who's ever worked with him only having the sweetest things to say about him.
Case and point? Julia Roberts' (somewhat rambling) tribute to Tom during The Film Society Of Lincoln Center's Gala Tribute to Tom Hanks in 2009. Roberts (who, of course, is one of the biggest movie stars in her own right too) revealed that working with her fellow actor is exactly how you'd expect it to be when she admitted (via The Guardian), "Tom can walk into any room and make you feel like you're in your living room, truly. Make you feel comfortable, make you feel like you have something interesting to contribute, make you feel like there's a reason you're on the planet." And we'd expect nothing less.
But now we know just how much Tom is beloved by, well, pretty much everyone, it turns out he has even more of a reason to be branded a total legend and America's sweetheart with his way, way, way back connection to one of the nation's most important and famous people.
Tom Hanks has an unexpected connection to Abraham Lincoln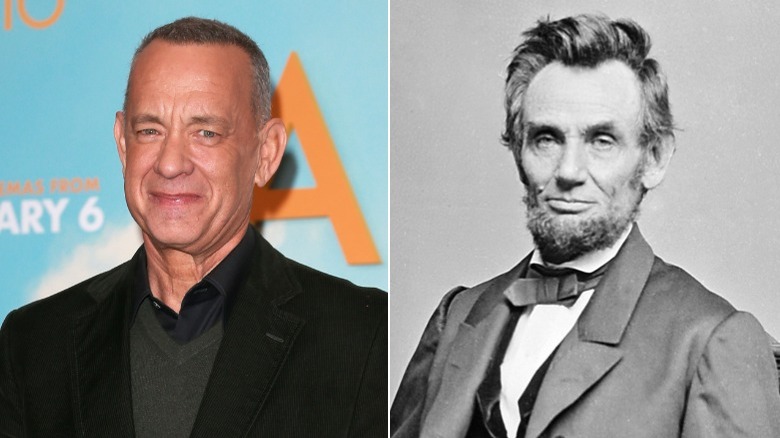 Donaldson Collection/Getty & Fred Duval/Shutterstock
As if we actually needed another reason to love Tom Hanks (seriously, there are already just way too many to actually keep up with) there he goes making us love and admire him even more through his impressive family tree. It turns out that Tom is related to another American national treasure... Abraham Lincoln! Yep, the actor is distantly related to the political icon, as he's his third cousin, four times removed. "His mother was called Nancy Hanks, and the members of my branch of the family are either cousins or in-laws or poor relations," Tom explained back in 2012, per Daily Mail, also revealing he'd known about his connection to Lincoln since he was a kid and would often do essays on him.
Things came full-circle for Tom that same year when he narrated National Geographic's "Killing Lincoln," in which he told the story of his late distant cousin's famous death. Tom admitted he took on the project because he didn't think people knew enough about the details behind Lincoln's infamous assassination. "The depth of the intrigue, the breadth of the conspiracy and the bare-naked exposure of human nature is so timeless, it's a wonder how that seminal tragedy in our history could ever be explained in a few sentences," he said, per The Hollywood Reporter. "The murder of Lincoln is not a passage of our history — it was a signpost of our American character, then, now and forever."
Tom Hanks is also distantly related to Mr. Rodgers
As if being related to Nancy Hanks, and subsequently Abraham Lincoln, wasn't enough, it turns out Tom Hanks also has a connection to none other than Mr. Rodgers. In another work experience linked to one of his distant family members, Tom discovered in 2019 that he shares some DNA with Mr. Rogers, who he played in the movie "A Beautiful Day in the Neighborhood." Though Tom had no idea when he took on the role, Ancestry.com revealed that Tom and Rogders are actually sixth cousins, with a common ancestor in Johannes Meffert. It was uncovered that the late Meffert is a great, great, great, great, great, great-grandfather to both. Who knew!? Tom seemed pretty excited about the connection too, telling Access Hollywood after the outlet surprised him with the news on the red carpet, "It all just comes together, you see." Tom's wife, Rita Wilson was clearly equally thrilled by the reveal, admitting, "This is crazy!"
A few other people you may not realize Tom is (much more closely) related to? His brother is short-film maker and actor Jim Hanks (who you may recognize from the likes of "JAG" and "Scrubs)," while Tom's son is also a big time actor, Colin Hanks. Colin has popped up in the likes of "Jumanji," "Impeachment: American Crime Story," and "Dexter." Now that's one insanely talented and prestigious family!