Dwayne Johnson Opens Up About Daughter's Recent Hospitalization
Dwayne Johnson is discussing his toddler's recent medical scare.
On Thursday, April 5, 2018, the Rampage star opened up to Extra about his 2-year-old daughter, Jasmine's, trip to the hospital last month.
"About three weeks ago, in the middle of the night, she wound up having like a croupy cough, which a lot of parents out there know," Johnson, who shares little Jasmine with girlfriend Lauren Hashian, began. "So we experienced that, and then she also had a problem breathing in that moment. It got a little hairy....[We] called 911." 
While giving an update on his daughter's condition, he added, "But she's great. She's really good."
As Nicki Swift previously reported, Johnson recently revealed that Jasmine had spent all night at the emergency room after requiring emergency services on Saturday, March 3, 2018. However, at the time, he didn't reveal why she had been hospitalized.
"Things got a lil' hairy this weekend," the Moana star wrote in the caption of a heartfelt video on Instagram. "Thank you LAFD first responders & UCLA medical team. We're grateful to you all and if you ever need anything, I got your back."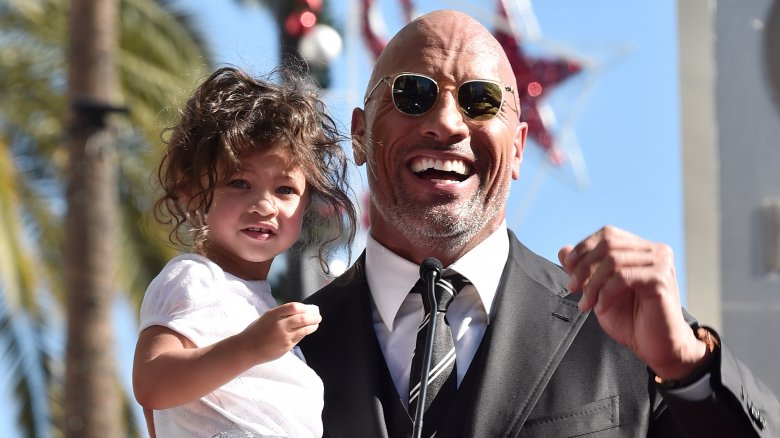 "This past Saturday night, something happened to me and my family that I would never want to happen to any of you, but, of course, emergencies do happen," Johnson explained in the video. "We were up all night with something scary that happened with our little baby girl Jasmine, who is okay now."
The Rock, who is currently expecting another baby girl with Hashian later this month, went on to share advice with other parents who may one day face a similar situation. "To all you mommies and daddies out there, when emergencies like this happen, I would just highly recommend that you stay as calm and as focused as possible because our little babies energetically, they pick up on what we're putting out," he said. "Especially in times of stress."
Johnson, 45, and Hashian, 33, have been together since 2007, and welcomed Jasmine in December 2015. The Jumanji: Welcome to the Jungle star also shares 16-year-old daughter Simone Garcia Johnson with ex-wife Dany Garcia.