What You Didn't Know About The Toyota Commercial Lady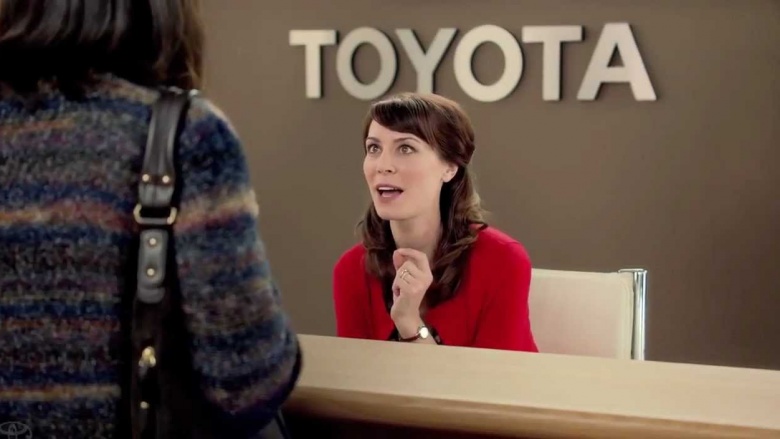 Like the Pine Sol lady before her, The Most Interesting Man in the World, and that weird twerking girl from the Sun Drop ads, Jan, the Toyota dealership receptionist, has become a beloved commercial mainstay. And according to the sometimes unintentionally hilarious auto-filling that happens when Google searching, people are really curious about her hair, whether or not she's pregnant, and have almost certainly decided that she is pretty hot. Way to keep it classy, Internet. But regardless of what the quasi-creepy searches are returning, one thing is clear. Inquiring minds want to know more about Jan from the Toyota commercials. Here's what we could find out about her.
Jan's real name: Laurel Coppock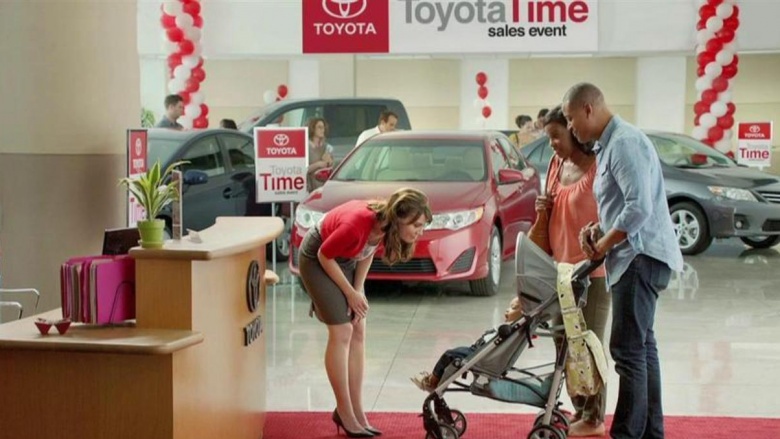 With credits on IMDb that go back to 2006, actress Laurel Coppock has been in front of the camera for a solid decade, logging brief appearances on respectable shows like The Office, 2 Broke Girls, and Arrested Development. Her only film credit so far is Crazy Stupid Love, which isn't too shabby considering that was a giant movie starring Steve Carell and Ryan Gosling. Coppock is married to actor Bobby Mort, and they have one child together, so there you go, online speculators, her pregnancy in those commercials was legit.
She's really into sketch comedy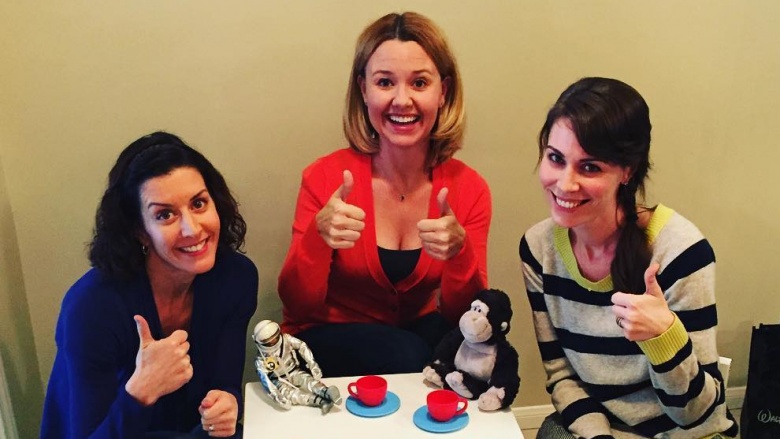 Coppock is a main company member of The Groundlings, which is one of the most well known sketch and improv comedy groups in the country. They boast alumni like Will Ferrell, Kristen Wiig, Melissa McCarthy, and many, many more. It's no small accomplishment for Laurel to count herself among them. Before getting into The Groundlings, she also put in time at Second City and ImprovOlympic in Chicago, which are equally well regarded in terms of comedy training. It's like she got a degree at Harvard, then decided it would help to have to double down with another one from Yale as well. She's got comedy chops is what we're getting at. But she isn't resting on her...laurels (sorry, it had to be done) by coasting on that sweet Toyota gig.
She's got videos all over YouTube, Funny or Die, and a website called The BreakWomb, which she co-founded. The BreakWomb is mostly just sketch comedy geared towards moms. That's quite a few irons in the fire, but it's probably going a long way in establishing her as more than just "the lady from the Toyota commercials." Flo from Progressive could stand to take a page from this playbook.
Jan's Spanish-speaking counterpart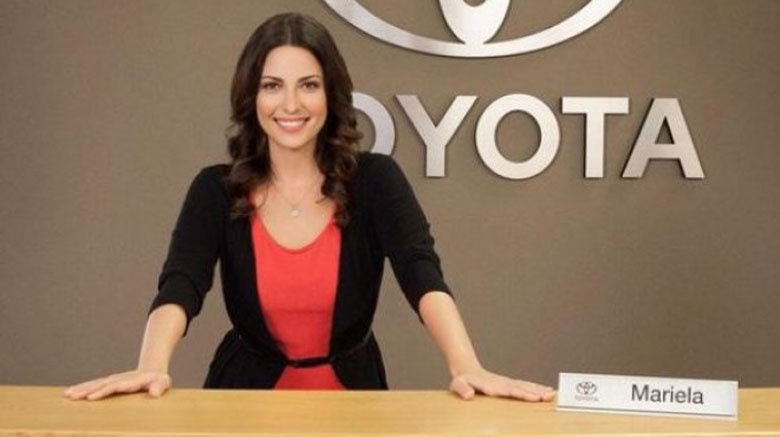 The concept of Jan is so appealing to a broad audience that Toyota didn't just dub her voice over for foreign markets, they actually developed a similar character called Mariela. According to The News Wheel, Mariela is played by Tiffany Diaz. The character Mariela is similar to Jan in almost every way except she speaks Spanish and is a little less wacky. So the idea is that customers like to buy cars from good looking, smart, and funny people? Wow, what amazing insight. What's next? Making everyone believe that drinking light beer feels like a sexy party instead of a sad attempt at dieting while getting hammered? Nah, that'll never work.
She probably makes a ton of money from Toyota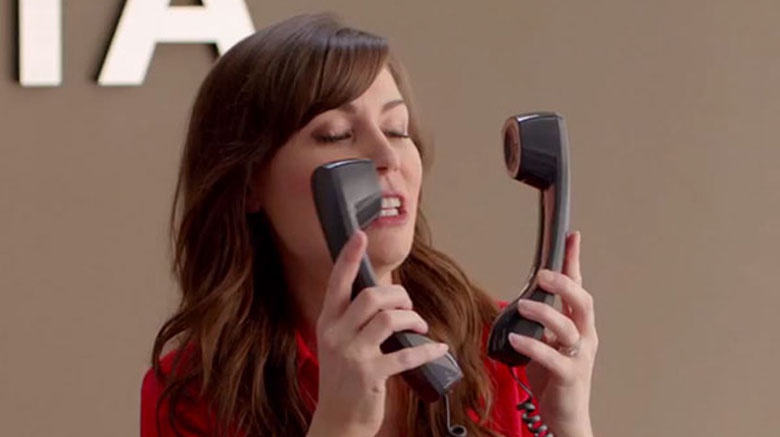 While outside parties never know the exact salaries that commercial actors make, that has never stopped the Internet from speculating about it. Some of the biggest recurring characters in the commercial game allegedly make millions, from the T-Mobile girl, who is said to earn $1 million per year, to the now-disgraced Jared Fogle of Subway, who reportedly earned $15 million over the course of his 17 year campaign, according to Celebrity Net Worth. We feel confident saying Jan is as ubiquitous as both of those ad campaigns. Laurel Coppock might be getting paid close to $1 million per year to wear a red polo shirt and pretend to sell cars. That's great work if you can get it, but don't go knocking on Lincoln's door. They somehow roped Matthew McConaughey into schilling for them. Judging by his awkward and sleepy performance, we'd guess they did it by drugging him.
She was on the verge of quitting commercial auditions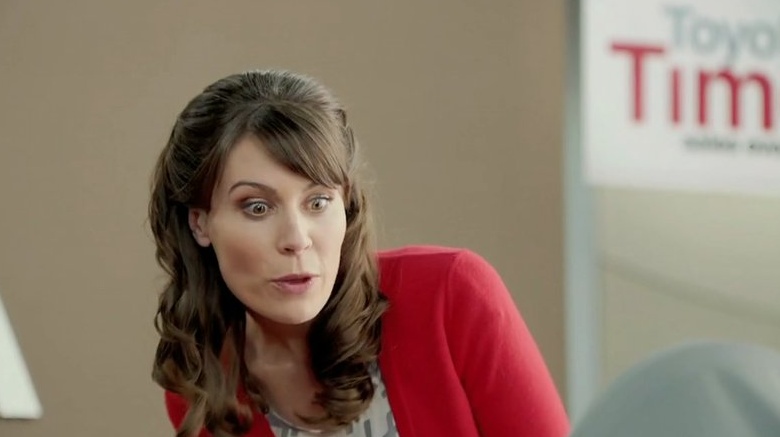 Telling the web show, Commercial Break, that she was on the verge of quitting auditions for commercials just before landing Toyota, Coppock said she had to take a breather from trying to land the gigs because it was getting depressing. She said she tested well for multiple ad campaigns, but never booked anything, which caused her to almost throw in the towel. After a brief pause from auditioning, the Toyota gig was the first one she went out for, and she got it. It was originally supposed to be a smaller, regional campaign, but the success of the ads prompted Toyota to expand the character into a full-blown campaign. Talk about a lucky break. Coppock also mentioned that she auditioned for Bridesmaids, but didn't get it. Bridesmaids is a surprisingly good movie, and it would've been better with Jan.
Her whole family is creative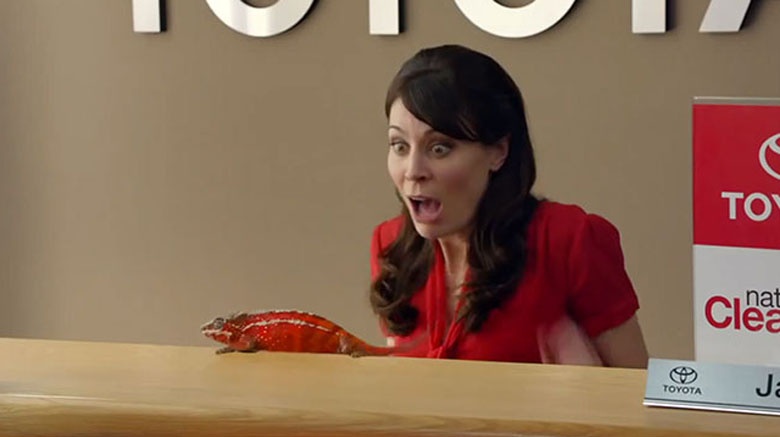 Sometimes the success of a sibling or child can breed ugly resentment in families. For the Coppocks, this couldn't be further from the truth. According to a local profile of the family on the community blog site Patch, both of Laurel's sisters and their mother have all been successful in creative pursuits. Her sister, Selena, is a stand-up comic and published author. Her other sister, Emily, is an art appraiser and dealer, and their mother, Susan, published a memoir about growing up in an abusive household with a mother who was a dancer and Broadway actress who had "minimal maternal instincts and a maximum ability to belittle and humiliate her younger daughter." Yikes. That could have gone in the complete opposite direction, and the Coppocks could easily have turned into the Lohans with a few bad decisions. We're glad it didn't go that way, and we're guessing Toyota is as well.