The Interesting Theory Behind Ivanka Trump's Changing Eye Color
Ovidiu Hrubaru/Shutterstock
There have been conspiracy theories, allegations, and rumors galore about Ivanka Trump since former President Donald Trump began his presidential run. One wild theory claimed Ivanka's COVID-19 vaccination contained "a Quick Response (QR) code with ties to QAnon." Reuters debunked the speculation, insisting there was no evidence to tie the code to Trump "secretly fighting" a cabal of child-trafficking sex predators. And that it didn't "redirect to 8kun, an unmoderated forum that is home to ['Q drops']."
Meanwhile, Vivica A. Fox alleged that Ivanka made a racist comment about how "well" she spoke. "I will never forget that when I did Celebrity Apprentice and Ivanka Trump, she said, 'Wow you speak very well. [I hate to say it] I don't think she knew at the time she was insulting us. I think at the time she thought she was complimenting us," Fox told Andy Cohen, via E! News. "She was like, 'Oh wow, you guys are intelligent,'" Fox continued.
Then there are the rumors about Ivanka having undergone a "little work." Life & Style spoke to the plastic surgeon Dr. Norman Rowe, who confirmed it appeared she'd tweaked a couple of things. "It looks as though she has had either a rhinoplasty or a tip-plasty done to define her nose and balance it to the rest of her features," he told the magazine. "It also appears that she has had a breast augmentation done." And, there's the interesting theory behind Ivanka Trump's changing eye color.
Ivanka Trump's chameleon corneas
There is no getting away from the fact that the transformation of Ivanka Trump from 6 to 41 has been pretty startling. Of course, adults look different from when they are little kids, but in Ivanka's case, it's vastly different. One of the major differences that some have been focusing on is Ivanka's ever-changing eye color. Esquire was the first to notice Ivanka's chameleon corneas. The magazine pointed out that her eyes even changed color twice in one day during the Republican Convention in July 2017.
In an article titled "Ivanka Trump's Eyes Speak Her Father's Language (Wink, Wink)," Esquire asked, "Why does the color of Beloved Daughter No. 1's peepers seem to change with her audience?" They note that only Eric Trump has inherited his father's "fishy blue eyes" while former President Donald Trump Jr. has brown eyes, and Ivanka has, well, it depends on the day and time, it seems. Case in point, during an appearance on CBS news, Ivanka's optics were a definite dark brown. Meanwhile, during a Fox News interview with Greta Van Susteren, they were a noticeable shade of green.
Refinery 29 continued the questioning, pointing out that "in various appearances, she's swapped her natural brown eyes for what appears to be deep hazel or bright green contacts." They claim that Ivanka seems to bust out with the colors for big political rallies, important meetings and TV appearances while sticking with her natural brown for more casual affairs.
Ivanka Trump's optical illusion remains as much a mystery as Donald Trump's hair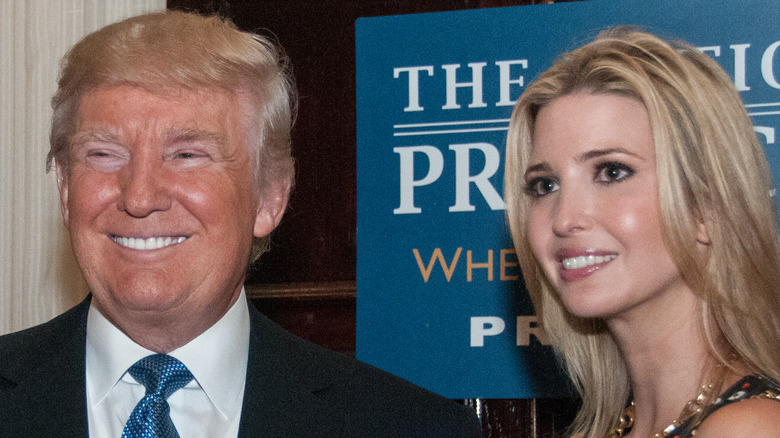 Al Teich/Shutterstock
We'll likely never know the truth about Ivanka Trump's eye changes. The Trump family isn't exactly renowned for their relationship with the truth or their willingness to spill the tea regarding their physical appearance. Vanity Fair published a listicle about "Donald Trump and the inanimate object that straddles his scalp like a dead, furry lobster," yet, over the years, he's remained decidedly schtum on the subject of his amazing mop.
However, Donald is keen to talk about Ivanka's appearance. He boasted about how "hot" she is during a 2003 interview with Howard Stern. He claimed Ivanka is "one of the great beauties of the world" before continuing, "she's 6 feet tall, she's got the best body." On another Stern appearance, Donald raved about how she's "a piece of ass," via The Mirror.
Meanwhile, Ivanka better take care when it comes to her optical illusions. Refinery 29 claims the mom-of-three could be putting her eyesight at risk with her continual use of colored contacts and that she should be sure to seek professional advice. "Colored contact lenses are safe to wear every day, as long as your contacts are properly prescribed, used and cared for," optician Dr. Smith told the site. Although, when it comes to the Trumps, sometimes it's best to see things through a colored lens.