Why Hugh Grant Didn't Like Kissing Julia Roberts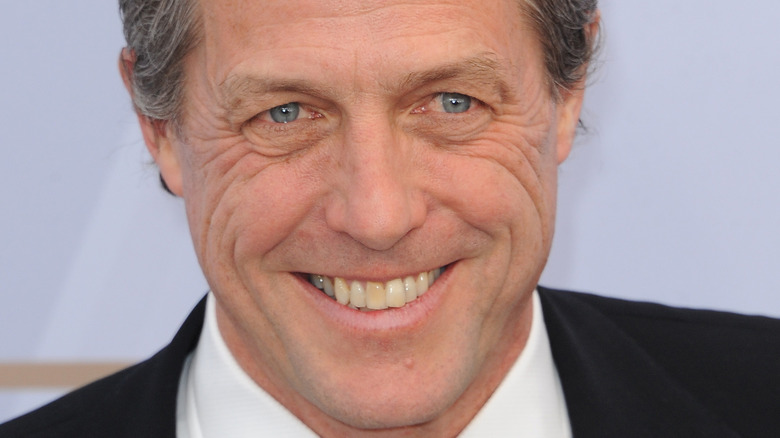 Tinseltown/Shutterstock
Hugh Grant and Julia Roberts starred in one of the 1990s biggest hit romantic comedies, "Notting Hill." Grant played a small bookshop owner named William Thacker living in London, while Roberts' role was that of a famous American actor, Anna Scott. The two end up falling for each other in the film, but naturally, there were many impediments that come between them. However, as with any good rom-com, Thacker and Scott inevitably have their happily ever after. While fans can't imagine "Notting Hill" without its leading actors, Roberts initially rebuffed the idea of playing a movie star. In an interview with Vanity Fair, she described telling her agent at the time, "How boring. How tedious — what a stupid thing for me to do." After learning that Richard Curtis wrote the script, though, Roberts was all in.
The "Pretty Woman" star recalled feeling nervous about starring opposite Grant. "I was actually intimidated by Hugh and I think also being the only American in the movie. Everybody just sounds smarter than you," she told E! News. Still, the two actors seemed to have gotten along, and Grant revealed that Roberts would humorously throw fruit at him on the set of the movie. However, something he shared after "Notting Hill" wrapped may have ticked off his charming co-star.
Hugh Grant made fun of Julia Roberts' mouth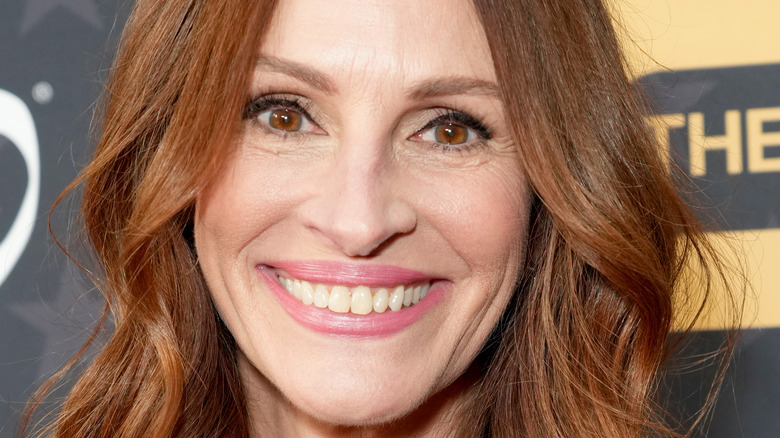 Kevin Mazur/Getty Images
Hugh Grant and Julia Roberts shared many kissing scenes in "Notting Hill," but it wasn't all fun for the "Love Actually" actor. In an interview with Oprah Winfrey, Grant revealed one issue he had with Roberts. "Very big-mouthed! Literally, physically, she has a very big mouth. When I was kissing her I was aware of a faint echo," he declared (via Digital Spy). When Winfrey stated that Roberts was "one of the nicest people [she'd] met," Grant seemingly shaded his former co-star even further by stating, "I wouldn't go that far."
Grant again echoed his sentiments on Roberts' mouth during an appearance on "Watch What Happens Live with Andy Cohen." He said, "She might hate me for saying this but the kissing scenes weren't all that great because she has such a large mouth. I was aware of a faint echo as I was kissing her," (via Hit). When asked if they were still friendly, Grant mused, "No. I would be I suppose but I probably made too many jokes about the size of her mouth. She might hate me by now." According to The Things, Roberts allegedly forgave him for his remarks about her in the past and said she'd work with him again. However, the "Erin Brockovich" star is unlikely to go for Grant's "Notting Hill" sequel proposal.
Hugh Grant's idea for a Notting Hill sequel has a gloomy outcome
Getty Images/Getty Images
Hugh Grant has starred in many romantic comedies but it appears he doesn't believe in happily ever afters. When asked if he would like to star in a rom-com again, he answered, "I would like to do a sequel to one of my own romantic comedies that shows what happened after those films ended, to really prove the terrible lie that they all were, that it was a happy ending," (via Twitter). Referencing his movie "Notting Hill" with Julia Roberts, Grant mused, "I'd like to do me and Julia and the hideous divorce that's ensued, with really expensive lawyers and children involved in [a] tug of love, floods of tears, psychologically scarred forever. I'd love to do that film."
It seems like Grant's days of starring in romantic comedies are over, as he previously stated that he was "too old and ugly and fat to do them anymore," per The Hollywood Reporter. When talking about his role as murderer Dr. Jonathan Fraser, Grant told NPR, "[It's] certainly been a blessed relief after having to be Mr. Nice Guy for so many years, which is a thankless task for any actor." So, it looks like there won't be a Grant/Roberts reunion anytime soon.