What These Celebs Sound Like On Helium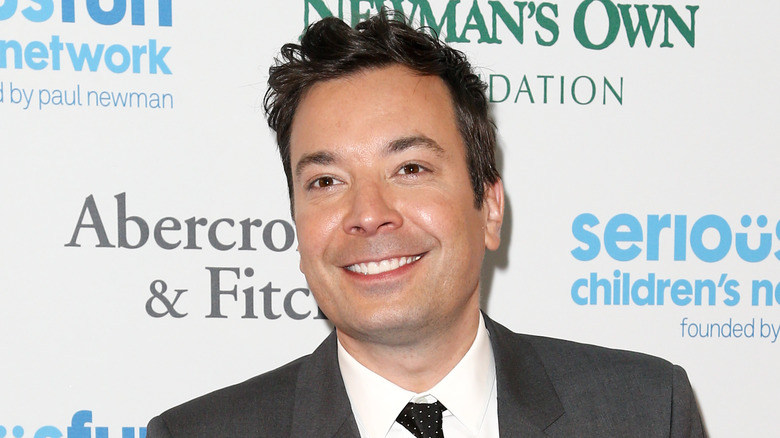 Debby Wong/Shutterstock
We may receive a commission on purchases made from links.
Who among us hasn't inhaled helium? It's a classic party activity (though perhaps not as popular as it once was due to helium shortages), beloved for the gas's unique ability to change the sound of your voice. But what exactly is happening? As bioscientist Jayatri Das told Whyy, "When you talk, your vocal cords vibrate at a particular frequency or rate, and the movement of your vocal cords then pushes the air around it in your voice box. That motion of air causes a sound wave that then gets picked up by the ears of your listener." The outlet goes on to note that it's not the pitch of your voice that changes but the timbre or the voice's quality.
The science might be a little difficult to understand, but what we can say with certainty is that listening to anyone's voice on helium is wildly entertaining. And because we're obsessed with what celebrities are doing, it's even more fun to hear their voices on helium. Here are some of our favorite famous voices changing from the funny gas.
Morgan Freeman didn't seem to love it
Few people on planet Earth have as recognizable a voice as Morgan Freeman. The Oscar winner is as prolific a narrator as he is an actor, and while some may think he was born with such a soothing voice, Freeman begs to differ. As he told Conan O'Brien, "It's not a natural gift at all. I don't think that any voice is a natural gift. Someone helps you get it." Freeman continued by noting that his college voice teacher helped him develop his lower register, giving hope to those of us — like O'Brien — who don't like the sound of our own voices.
Given Freeman's deep and unmistakable tone, it's natural that "The Tonight Show" host Jimmy Fallon (or someone on his team) would suggest having him suck helium out of a balloon while taking a turn as a guest on the late-night program. "I do love your voice, and everyone loves your voice, but I was wondering what your voice would sound like if you were on helium," Fallon said to Freeman. Freeman indulged, though he did tell Fallon, "I shouldn't be doing this ... it's very undignified." Undignified or not, it's sure hilarious hearing Freeman's voice on helium.
Olivia Munn didn't sound much different
Asking celebrities to inhale helium on talk shows is an apparently popular bit. While on "Rove LA," Olivia Munn, joined by Seth Green and Michael Weatherly, gave fans a taste of her voice on the gas. "This is the best show ever," Munn said after listening to Green and Weatherly perform monologues and recite famous cinematic quotes. "Why is it so funny?" host Rove McManus asked, giving life to everyone's internal thoughts. Infantile as it may be, McManus is correct. Listening to anyone speak on helium is hilarious.
After such a long acting career, Munn has amassed several voice-acting credits, lending her sound to projects like "America: The Motion Picture" and "The Lego Ninjago Movie." Although it seems easy, Munn has noted the hurdles voice actors face, especially compared to live acting. "You have a million ways to do one line," she said in an interview. "In a live-action film, you're in the moment with your other actors, and you're delivering lines ... this tests every acting sense that you have," she added in regard to voice acting. "You have to literally think of 15 ways to say 'um' and have it come across the right way."
Sofia Vergara had a ball while sucking helium
Fans fell in love with Sofia Vergara when she played Gloria Pritchett on "Modern Family." The Colombian actor became known for her distinctive accent, and the writers incorporated it into many of the show's episodes, her character's antics due to the slight language barrier becoming a running joke. But the characteristic that gave Vergara such recognition is the trait she tried to change. As she shared with an audience during a "Modern Family" cast panel session, "I did [try to change my accent] at the beginning ... I hired someone, and I worked very hard for months," noting that when she decided to audition for parts with her accent as is, she landed her role on the hit sitcom.
Vergara has appeared on several talk shows to discuss and even participate in bits regarding her accent, but none were quite as entertaining as when Jimmy Fallon asked her to speak after sucking helium while on "The Tonight Show." "When you say you love my voice, you mean you laugh at my voice," Vergara told Fallon when he asked her to inhale. After asking about the legality of inhaling helium on national television, Vergara squeakily said, "My name," laughing before she could say anything else. Vergara tried again and squawked out a couple more phrases, much to the delight of Fallon and the audience.
Jimmy Fallon has sucked helium a lot
Jimmy Fallon loves a bit. The "Saturday Night Live"-star-turned-late-night-talk-show-host has several recurring segments on his program, "The Tonight Show Starring Jimmy Fallon," like "Classroom Instruments," "Hashtags," and a slew of various games. In another popular bit of Fallon's, the host has his guests inhale helium from a balloon to alter their voices. The guests are typically actors known for their unique voices, but Fallon always joins the celebrities by sucking helium himself. "I want to thank you so much for being on the show. And please, would you ever like to come back?" he said to a less-than-enthused Morgan Freeman after sucking helium with the esteemed actor.
While Fallon has been hosting "The Tonight Show" for years now, prior to his tenure as a late-night host, the comedian was working as an actor. Fallon mostly did live-action acting, but he did lend his voice to multiple projects, including "Arthur and the Invisibles" and "Doogal." Fallon's voice has also been heard in an episode of "Family Guy," but the host played himself in the episode.
Steve Harvey sounded hilarious
While on an episode of "Steve Harvey," the host extraordinaire received a quick science lesson in sound waves. The guest, former Miss USA Kára McCullough, shared some of her scientific knowledge, and like all good teachers, she included a tutorial so the audience could see the lesson in practice. McCullough brought two different sets of balloons, each with different gases inside, to demonstrate how sound moves through them.
"We know that helium is actually six times lighter than the air that we breathe," McCoullough began. "That is why it's able to float in the air." After giving Harvey an overview of the steps he was to take, the two inhaled the gas, both speaking in noticeably different voices. McCullough took the experiment further by having Harvey inhale sulfur hexafluoride, a gas that's six times heavier than the air we breathe, which gave Harvey a noticeably and comically lower speaking voice.
Before and during his career, Harvey used his voice to make lots of fans. As he said to a contestant in an episode of "Family Feud," "Back in the day, Ms. Elaine, when I was a player, they used to call me butterscotch because my conversation was that of butterscotch." "You know, Steve, I'm 78, but I'm not dead. Keep talking," the contestant encouraged Harvey.
Helen Mirren made audiences laugh
A voice altered by helium is exponentially funnier when the person's regular speaking voice is decidedly refined, like Dame Helen Mirren's. As Jimmy Fallon told her, "You have the best British accent. It's very proper." Just a Grammy away from EGOT status, Mirren has a better shot than most at receiving the voice and music award, but something tells us it won't be from anything she records after inhaling helium. After complimenting her speaking voice, Fallon gave Mirren the means to completely alter it, handing her a balloon full of helium to finish a bit of her "Tonight Show" interview. Ever used to accepting an award, Mirren gave a mock acceptance speech, saying, "Oh, thank you, I'm so honored ... I want to thank my whole crew and my husband. I love you, darling."
If you're unfamiliar with her in-person acting, perhaps you've heard Mirren lend her voice to "When Nature Calls," an ABC comedy in which Mirren acted as a narrator. "Yes, I think that is true. Although I have to say, sort of my whole career, I tried to do what I wanted to do, you know, rather than what I didn't want to do. And I never really paid much attention to fame and glory through that. I just did what I wanted to do," Mirren said of her career choices while discussing the animal series.
Alan Rickman's voice was nearly unrecognizable
The late great Alan Rickman has a long resume. Though he's perhaps best known for his role as Professor Snape in the "Harry Potter" series, many also associate him with movies like "Love Actually," "Sweeney Todd: The Demon Barber of Fleet Street," and "Die Hard." Other fans, though, don't associate him with a role at all and are simply fans of his speaking voice. As one fan commented on an old interview with the actor, "Alan's manner of speaking and vocal tone really resonates with me. He's so eloquent, articulate, thoughtful, and warm-hearted." Some fans have even compiled clips of Rickman to serve as ASMR. If you can't sleep tonight, listening to Rickman might help.
Before his untimely death in 2016, Rickman joined Jimmy Fallon for an episode of "The Tonight Show," and like Fallon does with many of his guests, he cajoled Rickman into participating in a silly bit, handing him a balloon full of helium to change the timbre of his voice. Rickman obliged, though their conversation wasn't long. Rickman answered Fallon's question about which character he played in the "Harry Potter" series with the simplest answer possible, but after some prodding by Fallon, he expounded with, "This is very difficult, but it's Harry Potter." File Rickman's voice on helium under things we didn't know we needed.
Demi Moore had fun sucking helium
Known for her roles in films like "Ghost" and "G. I. Jane," Demi Moore has had a decades-long career in Hollywood. Though her specialty isn't comedy, the actor did join Jimmy Fallon for a comedic bit while on an episode of "The Tonight Show." "You have that one-of-a-kind, beautiful voice," Fallon said to Moore before offering her a balloon inflated with helium. Fallon and Moore each removed the clothespin keeping the helium from escaping before continuing their conversation. The two discussed Moore's then-upcoming movie, "Rough Night," garnering laughter from the audience due to their helium voices.
Prior to the helium bit, Moore discussed something else that had recently happened to her that, had it gone untreated long enough, could've permanently altered her speech. "I sheared off my front teeth," Moore shared, along with a photo of herself with her front tooth missing. Teeth are an integral part of speech production, and as Jeffrey L. Erwin, DDS, notes, "If you have any front teeth missing, you may struggle to pronounce certain sounds. These are known as strident sounds, and they are caused by the friction and airflow when your tongue or lips push against the front teeth." Moore, thankfully, was able to see a dentist to give her new teeth.
Vin Diesel was surprised by the gas
A bass if you've ever heard one, Vin Diesel has used his signature sound to make a living in Hollywood, acting as the titular voice in projects like "Iron Giant" and "I Am Groot." "You're as famous for your super deep voice as anything else," "Absolute Radio" host Andy Bush told Diesel, asking him when his voice became so deep. "Once I was about 15 years old ... I would call my mates on the home phone, and their mother would pick up, and they would go, 'Ooh, who's this?' and I knew that my voice was changing," Diesel recalled with amusement.
Clearly aware that Diesel's voice is deeper than most, Jonathan Ross, while interviewing the actor on BBC One, seemingly introduced Diesel to the phenomenon that is human voices on helium. After a look of shock at hearing Ross, Diesel joined the "Friday Night" host in inhaling the gas. "I'd make a brain tumor look like a birthday present," Diesel said, adding a British accent to further alter his sound. But thanks to its already low pitch, Diesel's voice wasn't quite as chipmunk-esque as you'd expect. As one commenter put it, "Even when his voice is high, it's low."
One Direction took turns talking on helium
What's funnier than listening to one celebrity's voice on helium? How about listening to a quintet of celebrities, particularly One Direction. Before they disbanded, the boy band visited "The Kyle and Jackie O Show," and the hosts asked each of the members a question, requiring them to answer while on helium. "I like to weight train a little bit ... I think probably someone like Taylor Lautner," Liam Payne answered when asked whom he'd like to portray him in a biopic. "I went out for a beer with my family, and me and the boys had some fun," Harry Styles said about the celebration of his 18th birthday.
The One Direction members are certainly more well-known for their singing voices than their speaking voices, and Styles, likely thanks to his popularity as a solo artist, has garnered comparison to other famous vocalists, particularly Mick Jagger. While many fans see and hear a striking resemblance to Jagger, the Stones' frontman doesn't see it. "I used to wear a lot more eye makeup than him. Come on, I was much more androgynous. And he doesn't have a voice like mine or move on stage like me; he just has a superficial resemblance to my younger self, which is fine — he can't help that," Jagger told The Sunday Times.
Selena Gomez thought it was funny
After ascending to fame as a Disney star, Selena Gomez broke from her child star persona and began appearing in films made for adults. Despite the shift, Gomez has still lent her voice to more child-centric projects, like all four installments of the "Hotel Transylvania" series. While many love her distinctive voice, Gomez isn't such a fan. In an interview with Fandango, Gomez said, "I hate hearing my voice sometimes, speaking. It's just weird."
A few years after Gomez shared her opinion on her speaking voice, she was cast in the Hulu original "Only Murders in the Building," and after the show aired, fans noticed something different about her voice. As one viewer noted on Reddit, "Does anyone else think Selena Gomez's voice sounds super weird in this show? I compared back to her Wizards of Waverly Place days, and her voice sounds SO different!" Others responded in the affirmative, leading people to wonder what might be responsible for the change. Though we can't be certain, it could be due to lupus, the autoimmune disease Gomez was diagnosed with. Per the National Library of Medicine, most lupus patients report a change in their voice.
Gomez's voice might sound different now than it did while on "Wizards of Waverly Place," but it doesn't sound nearly as different as it did while on helium. The actor gave us a taste of her voice on the gas while on "The Tonight Show Starring Jimmy Fallon," amusing the audience with her high-pitched voice.
Russell Brand used a different method to inhale the helium
Jimmy Fallon isn't the only talk show host who's repeatedly had his guests inhale helium. Jonathan Ross is a fan of the bit, too, having had multiple guests suck in the gas while on his show. But few guests have been quite as eager to do it as Russell Brand. "Let's do it!" the actor exclaimed after Ross suggested his guests suck from gaseous balloons, hopping up and using his nose to inhale the gas, whereas most use their mouths. The rest of the guests more gingerly joined Ross and Brand, but all happily inhaled helium to sing James Blunt's song "You're Beautiful" one line at a time, as Blunt was also a guest.
Brand's enthusiasm and inhalation method, though humorous, could be dangerous. Though, to be fair, it's not exactly safe for anyone to inhale helium. As Healthline notes, "When you inhale helium, it displaces oxygen. This means that as you inhale, your body is only getting helium." Too much helium and not enough oxygen can cause nausea, lightheadedness, passing out, and, in extreme cases, death. Helium can also cause a high, so the outlet suggests inhaling helium carefully, if at all.