Rachel McAdams Was Older Than You Thought When She Starred In Mean Girls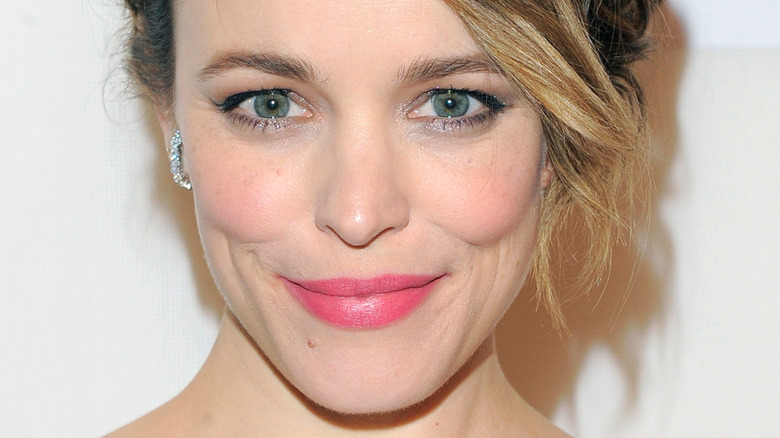 Ron Adar/Shutterstock
When "Mean Girls" was released in 2004, the comedy became an instant phenomenon. The hit film gives fans a slice of high school life at its cruelest. Teenager Cady Heron, who was previously homeschooled, navigates petty gossip, frenemies, and romance. She joins a clique called "The Plastics," which is led by Queen Bee Regina George. George's sidekicks, Karen Smith and Gretchen Wieners, also make up the exclusive group.
As George, Rachel McAdams was the quintessential it-girl villain. Her character frequently stirred the pot and wreaked havoc in her tight inner circle. Of course, fans just couldn't get enough of her iconic performance, and apparently, neither could McAdams. In a 2020 live stream for "Heroes of Health: COVID-19 Stream-a-thon," McAdams revealed, "It would be fun to play Regina George later in her life and see where life took her!" Since McAdams' reveal, "Mean Girls" lovers have been crossing their fingers in hopes of a comeback. To this day, fans continue to reflect on the beloved film, which includes one surprising detail about McAdams' age.
Rachel McAdams was 26 years old in Mean Girls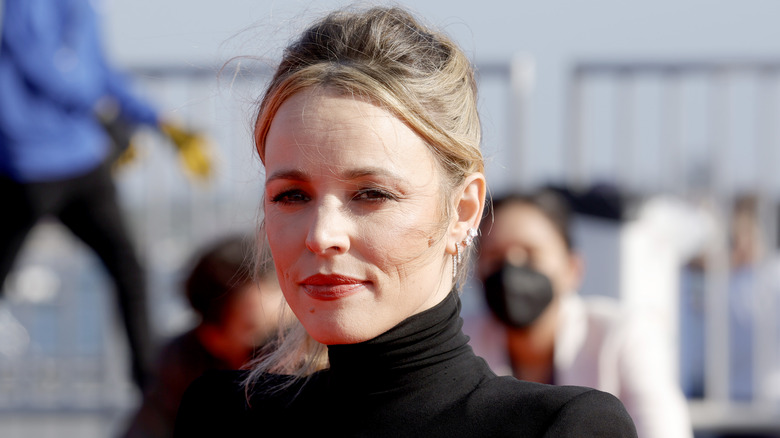 Frazer Harrison/Getty Images
During the filming of "Mean Girls," Rachel McAdams was 26 years old, 10 years older than her character, Regina George. Mark Waters, the director of "Mean Girls," revealed how this affected casting. Apparently, McAdams initially auditioned for the role of Cady Heron, which went to Lindsay Lohan. Waters told Vulture in 2014, "I remember watching her do the scene, and after it was over, I told her, 'I think you're a movie star, but you're way too old for this character. You just aren't going to be able to play the ingenue." Yet McAdams' age didn't get in the way too much. McAdams told Entertainment Weekly, "Mark said, 'I see Cady a little bit younger, but I think it makes sense if Regina kind of grew up a little too fast.'"
Interestingly enough, Lohan had her sights set on playing the part of Regina George. In a 2022 video for Vogue, Lohan explained that after working on "Freaky Friday," she was interested in playing a character that contrasted with her previous roles. She shared, "I wanted to have a different kind of role than just the damaged teenager again." Lohan added, "Mark Waters, the director, was insistent that I play Cady, and so was Tina [Fey]. They're like, 'No, no, no, you're the lovable one. You have to play Cady.'"
Rachel McAdams and her Mean Girls mom, Amy Poehler, were only a few years apart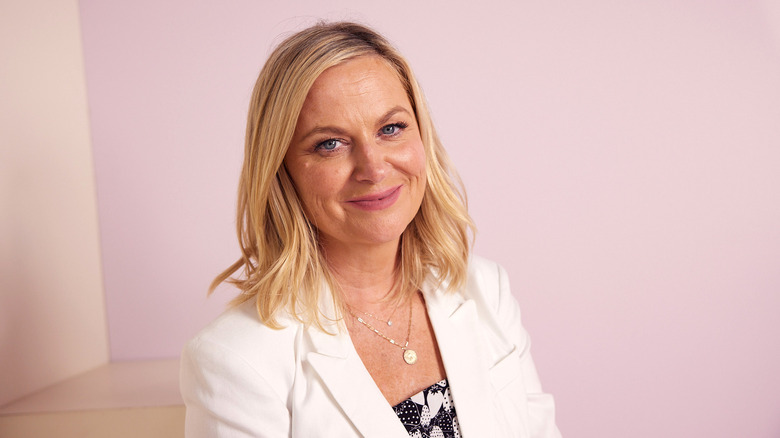 Corey Nickols/Getty Images
Another detail about Rachel McAdams' age in "Mean Girls" threw fans for a loop. Amy Poehler, who played McAdams' mother, was 33 years old during filming, per Bustle. The internet was shocked by the minuscule age difference between Poehler and McAdams, and took to Twitter to share their surprised reactions. One fan tweeted, " Hold up, Amy Poehler, who plays Rachel McAdams' mom in "Mean Girls," is only 7 years older than her in real life???? Cinema is a lie." Another person remarked, "amy poehler playing rachel mcadams's mom in mean girls when they were only 7 years apart is still so funny."
Not every actor in "Mean Girls" was significantly older than their character. Lohan was only 18 when she played Cady Heron, per Insider. Amanda Seyfried, who was 19 in the film, was only a few years older than Karen Smith. Lacey Chabert, who played Gretchen Wieners, was 21 at the time of filming. Unlike her co-stars, McAdams played a much younger character. However, that wasn't the only time the then-26-year-old took advantage of her youthful genetics. The same year she filmed "Mean Girls," McAdams starred in "The Notebook" as the 17-year-old Allie Hamilton.