Russell Crowe Finalizes Divorce From Danielle Spencer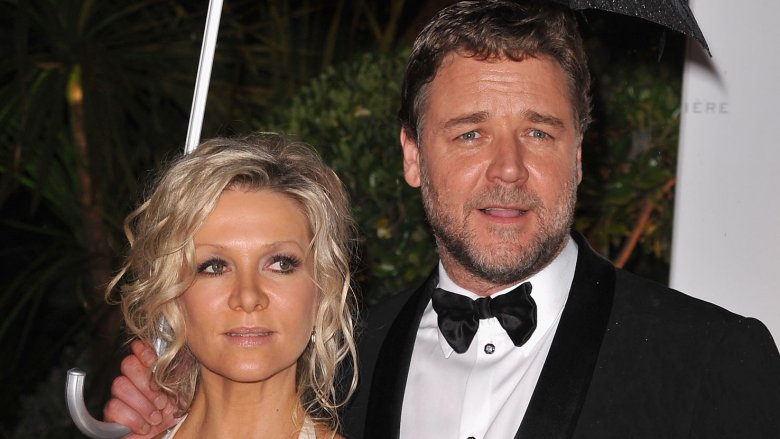 Getty Images
Russell Crowe is now officially divorced.
On Monday, April 9, 2018, Crowe took to Twitter to set the record straight about some recent dating rumors and to reveal that his divorce from Danielle Spencer had been finalized.
Sharing a photo of a tabloid's cover that suggested he was dating Australian radio host Fifi Box, Crowe tweeted out, "Oh ... and this ... Something is so wrong with the leadership of this magazine. They keep piling on the humiliations. I am not in a relationship with this young lady and never have been."
He then wrote, "In other news ... yesterday, April 9th, 2018 at 12:30 pm Eastern Daylight time (Aus) ... I officially became divorced," adding, "Thank you linesman. Thank you ball boys."
As E! News noted, Crowe and Spencer, who married in 2003, previously separated in 2012. But in 2015, during an appearance on CBS This Morning, Crowe revealed that he still loved Spencer. Crowe told host Charlie Rose, "I was so proud to wear that ring, Charlie," noting, "I don't feel balanced" (via E! News).
Crowe also expressed hope that he and Spencer might reconcile. Explaining that they had not yet filed for divorce, Crowe stated, "We haven't done the deal yet. I'm a very persistent person, you never know."
But apparently, Crowe and Spencer, who share two children together, just couldn't work things out.
On April 7, 2018, which was both his birthday and wedding anniversary, Crowe auctioned off a number of his belongings during his event The Art of Divorce at Sotheby's Australia in Sydney. He'd previously told radio show 2GB that the event was a way for him to make something positive out of a bad situation. "The process of divorce and no matter how positive you are and in agreement with the fact that you are separated ... there's still a lot of really deep things to unwind," the actor said (via E! News). "So through the course of that I started to just look around and go, 'How can I celebrate this? How can I put this in a different perspective and actually get some joy out of this instead of just sadness?' So this is what I came up with."
By the end of the night, Crowe made about $3.7 million from the auction — including $7,000 alone from the sale of a leather jockstrap he wore while filming Cinderella Man — as reported by Vogue.