Here's How Much Jay-Z Really Spent On Beyonce's Engagement Ring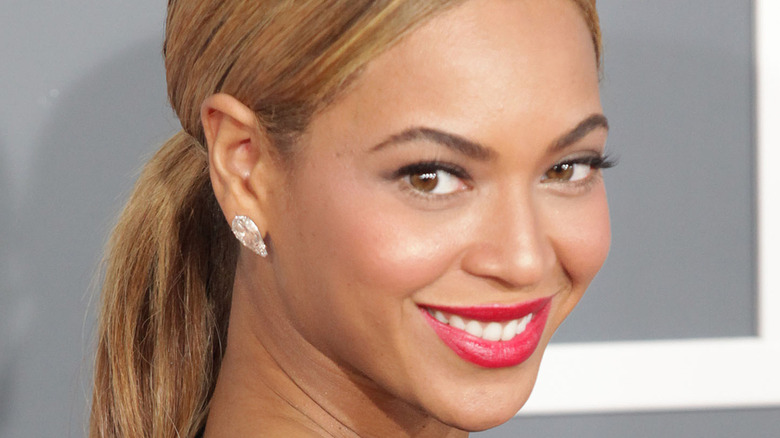 DFree/Shutterstock
Shawn Carter, aka Jay-Z, and Beyoncé Knowles-Carter are hip-hop and R&B royalty, and they have the fame and fortune to prove it. Forbes reports that Beyoncé and Jay-Z are worth a staggering $1.225 billion "and counting." Beyoncé was just a teen when she first met Jay-Z, 17 years her senior. However, the couple didn't start dating until she was 20, and the "Destiny's Child" star gives full props to her husband for shaping her into who she is today.
"I would not be the woman I am if I did not go home with that man. It's given me such a foundation," Beyoncé admitted during an interview for "Oprah's Next Chapter." She said they'd been phone friends "for a year and a half" before things turned romantic. Beyoncé also shared that she'd fully embraced Oprah Winfrey's advice about keeping her dating life on the down low. "You took it a little too far," Winfrey quipped. "You took it all the way." No kidding.
Jay-Z and Beyoncé keep their personal lives personal, aside from dropping clues about marital indiscretions into songs and scrapping with siblings in elevators, via TheColi.com. After years of dating, Jay-Z finally got the hint and put a ring on it in 2008 (per Songfacts). However, true to form, the couple stayed schtum about the secret wedding until they decided it was time to spill the tea. And when they did, we finally learned how much Jay-Z really spent on Beyoncé's engagement ring.
Jay-Z splashed out millions on Beyonce's (totally not an) engagement ring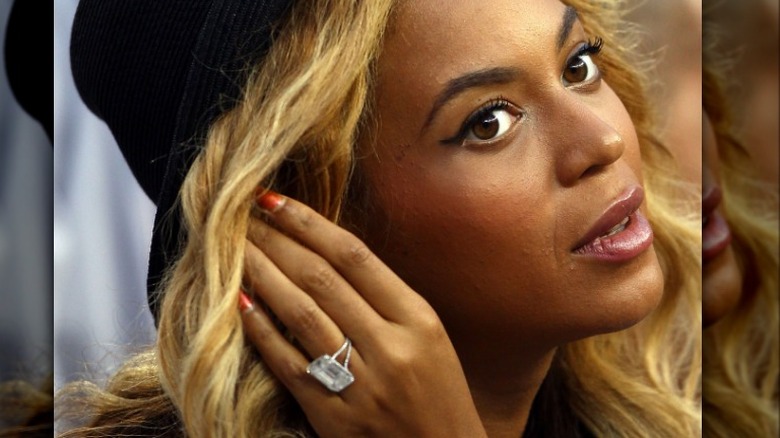 Clive Brunskill/Getty
Beyoncé Knowles-Carter waited 6 months before dishing on her wedding. Despite claiming she'd "[get] in trouble" if she let slip too many details, the singer gave the 411 on her simple and low-key nuptials to Essence Magazine. "What Jay and I have is real. It's not about interviews or getting the right photo op. It's real," she shared (via MTV).
The singer insisted that she went full-on Beyoncé from the block for the wedding because she's not a traditional kind of woman who wants to be the bridal center of attention. "It's been my day so many days already," Beyoncé said graciously, referring to her award show appearances. She also insisted that she'd ordered Jay-Z not to buy her an engagement ring because "it's just material, and it's just silly." Was Essence Magzine interviewing the real Beyoncé? The Beyoncé who owns multiple Birkin bags, a fleet of high-end luxury motors including a $28 million Rolls Royce, a private jet, and her own island? (per Lifestyle Asia). The same Beyoncé whose little kids even live ludicrously lavish lifestyles?
Beyoncé claimed that instead of a silly material ring, the couple got matching tattoos of the Roman numeral IV on their fingers, as four is their special number. Meanwhile, she's remained quiet regarding the humungous 18-carat diamond that's firmly on her wedding finger. But it's definitely an engagement ring that's worth $5 million, according to Page Six.
Jay-Z and Beyoncé's marriage hasn't been all plain sailing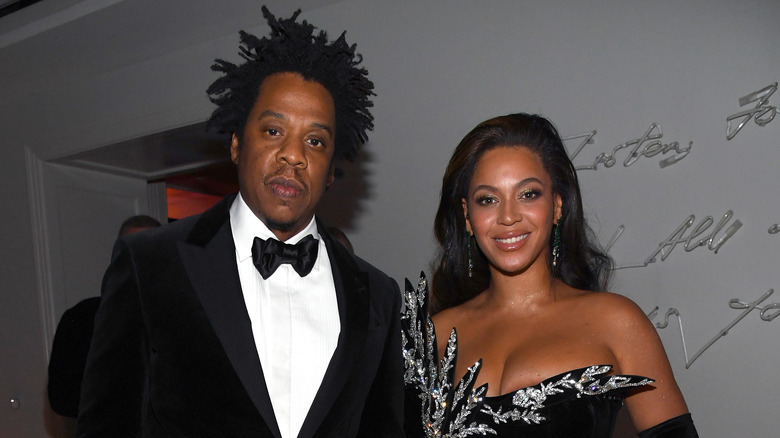 Kevin Mazur/Getty Images
In 2006, Beyoncé Knowles-Carter told "Access Hollywood" about "three things she wanted to achieve" before 30. Marriage, kids and an Oscar. Glamour reports Beyoncé was 26 when she wed Jay-Z. But, she was just on the cusp when it came to kids, as Beyoncé was 30 when Blue Ivy was born. Still, she's allowed a pass given that she was building her fashion empire and racking up 24 Grammys at the time. As for the Oscar? Per Harper's Bazaar, Beyoncé's yet to win one, but she has been nominated in addition to performing at the awards ceremony.
Beyoncé and Jay-Z are pros at protecting their public image, so it's easy to assume they lead perfect lives and have a perfect marriage, but they've weathered their share of adversities. There was the infamous 2014 Solange Knowles Vs Jay-Z Met Gala grapple when Beyoncé simply grabbed the popcorn and watched the drama unfold. Inevitably, break-up reports soon followed.
"They are trying to figure out a way to split without divorcing," a source claimed to Page Six. "Jay was out doing Jay, and Bey was out doing Bey," the source added cryptically. "They made the classic mistake of thinking a child would change everything and help to rekindle the initial fire, and it didn't." Well, something clearly did. That's until Becky with the good hair, per Elite Daily, popped up in 2016. However, that, too, did pass, and the king and queen continue their musical reign.