The Truth About The Walmart Yodeling Kid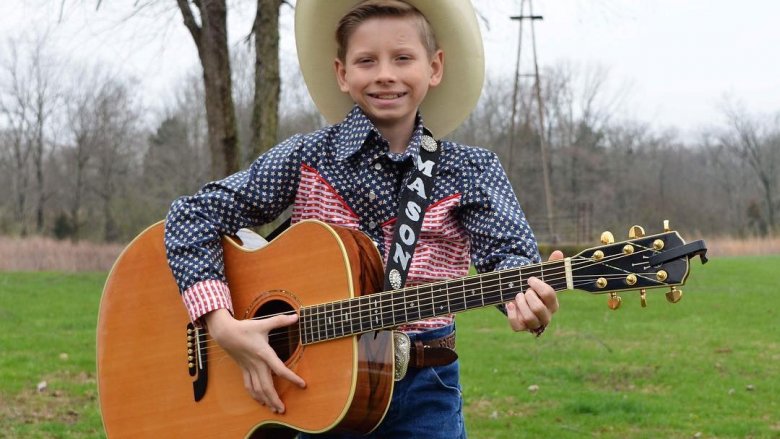 The "Walmart yodeling kid" — or "yodel boy," as he's being called — became an internet phenomenon after a video of him belting out a spirited version of Hank Williams' "Lovesick Blues" in an Illinois Walmart went viral. Clad in a bowtie, cowboy boots, and a belt buckle that could double as a shield, 11-year-old Mason Ramsey spun viral gold with his rhythmic toe-tapping and exaggerated falsetto version of the classic country tune.
Since then, it's been a whirlwind. He went on Ellen, of course. He's been memed into oblivion, and he's even inexplicably become a darling of the electronic dance music world. Go figure.
As of this writing, he's already landed his dream gig and secured a college scholarship, and he's even headlined his own concert at — where else? — Walmart, which the retail giant livestreamed on Twitter and Facebook on April 11, 2018. Though it seems like it's just the beginning for Ramsey, he's actually already accomplished a ton in the first decade of his life. This is the truth about the Walmart yodeling kid.
The ViralHog boost
As of this writing, the version of Ramsey's Walmart video that's still surging in views is this one, uploaded by Sonell Official on April 2, 2018. However, the original boost came from the viral video hub, ViralHog, who got the drop on the Walmart yodel kid story by nearly a week. In internet years, that's practically a lifetime.
According to ViralHog, Ramsey's cart-stopping performance happened at the Harrisburg, Illinois Walmart on March 24, 2018, where "he was very excited to stop and sing for a group of customers that had gathered." We'll get to the reason Ramsey's preferred venue is a big box discount store in a minute, but we also want to point out that the tiny troubadour wasn't the only one who went viral that day.
As of this writing, over two weeks after Ramsey yodeled his way straight to the heart of the internet with his rendition of Hank Williams' "Lovesick Blues," the nearly 70-year-old tune is now in the #4 position on Spotify's Viral 50 Chart. That's certainly nothing to be blue about.
Reeeeeemix!
Though Ramsey's preferred genre is obviously country, he's somehow became the darling of the electronic dance music (EDM) community, according to Billboard. In addition to being the subject of a surreal video made my EDM megastar Steve Aoki, Ramsey's Walmart performance has now been sampled into many, many dance mixes.
Two of the most popular remixes so far have been the "Walmart yodeling kid (TRAP REMIX)" (above) by Timo, which, as of this writing, has over half a million views and counting. There's also "Yodeling Walmart Kid EDM Remix" by Galactic Fusion, which has a jaw-dropping nearly 7 million views. In other words, to say that folks are getting down to yodel boy in the clubs even more than they are in the housewares aisle is a huge understatement.
And while we're on the subject of meme collision, a literal internet supernova occurred thanks to this video of Millie Bobby Brown, the star of Stranger Things, dancing to a Walmart yodeling kid remix by using young meme star Backpack Kid's signature move, flossing. We will never understand how the web even survived what could easily be described as an 8.9 magnitude "memequake."
What's a yodel boy gotta do to get noticed around here?
Though ViralHog eventually sent him into the fame stratosphere in March 2018, Walmart yodeling kid was already on YouTube for months just waiting to be discovered. In fact, the first video uploaded to his channel on June 25, 2017 features him singing the exact song that would eventually turn him into a viral sensation.
Just 10-years-old at the time of the video, Ramsey had already perfected his warbling "sweet daAYAYAddy" as well as the acoustic guitar arrangement to go along with it. He was a superstar in waiting, and nobody noticed for months.
Seriously, from the time Ramsey got on YouTube until the time he was discovered, Selfie Kid, Bullied Boy, and even the Dancing Hot Dog Snapchat Filter went viral before he did. How is any of that even possible? But don't feel too bad, because it wasn't like Ramsey was just sitting around waiting for the internet to claim him. This little man is a straight up hustler...
Crushing it since kindergarten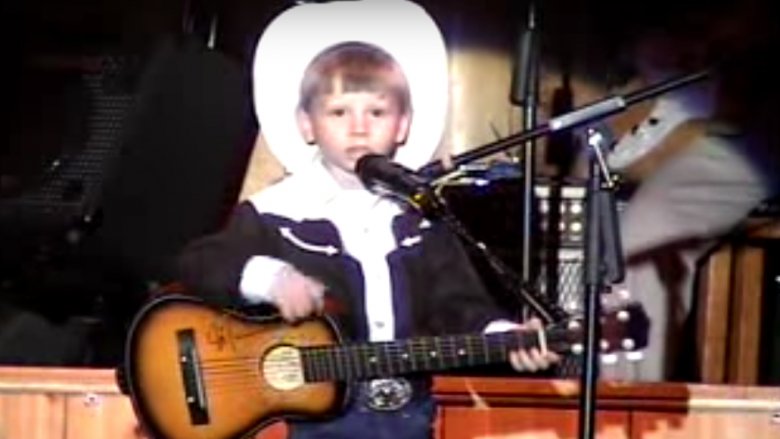 According to a 2017 profile of the Walmart yodeling kid by The Southern Illinoisan, he's actually been a fixture of the local music scene since he was 3 years old. At an age when most kids have barely mastered the potty, Ramsey opened for country star Josh Turner at the Carson Center, where he blew the audience away with a performance of "I Saw The Light." Turner was so impressed, he called Ramsey "the real star of the show."
Ramsey got the Turner gig by competing in — and winning — a talent show at The Kentucky Opry, and, after nailing his professional debut, he went on to open for Kenny Rogers, Gene Watson, and the Bellamy Brothers, as well.
"We take Mason all over the country. He just loves to sing," said Earnest Ramsey, Mason's grandfather. It was Earnest, who, along with his wife, Frances, raised Mason since he was three weeks old. Earnest also unwittingly inspired Mason's singing career by exposing the youngster to the music of Hank Williams with a karaoke machine he kept in his garage.
Before his internet moniker, Mason adopted the stage name "Little Hank" as a nod to the legendary country star, and, over time, his fan club even took notice. In fact, they invited Ramsey to perform at the 38th Annual Hank Williams Festival in Georgiana, Ala., which he did in June of 2017. So, if you think Walmart invented this kid, that's nothing but a beautiful drEEeeEEeam for the retail giant.
A big break on Beaver 100.3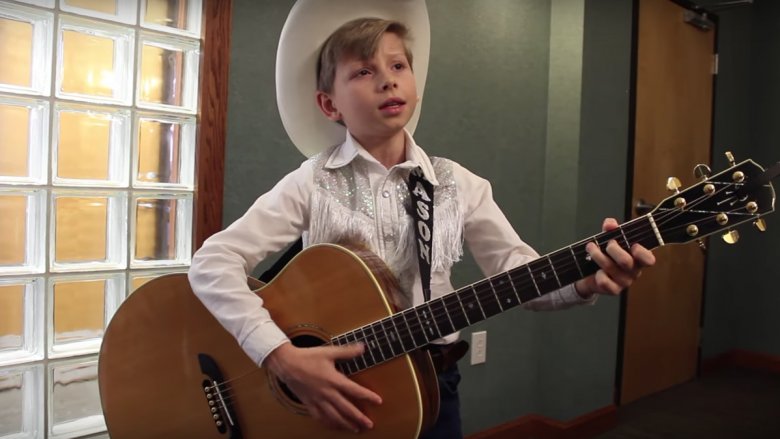 Back in January 2017, local Kentucky radio station Beaver 100.3 took notice of a previous quasi-viral video of Ramsey singing at Walmart. In that video, Ramsey was seated in a shopping cart, sans bow tie, and he sang a medley of songs, including "Hey Good Lookin'" and "Love Sick Blues."
Beaver 100.3 was so impressed they asked Ramsey to help them recreate the video in another Walmart, which he did, and they brought him into the studio, where they shot several videos of him singing and playing guitar in the hopes of helping him achieve his dream of performing at The Grand Ole Opry. While the exposure surely helped in the local market, it would take another year, another viral video, and Ellen DeGeneres to make that dream come true, because, of course, the next stop after almost every internet sensation's viral video breakout is a guest spot on The Ellen DeGeneres Show.  
Does the internet have a contract with Ellen?
DeGeneres has hosted so many meme stars that, by now, they are as much of a staple of her show as dancing, scaring people, and giving away free stuff. Thus, it was the Walmart yodeling kid's turn on April 10, 2011. One of the first things he told her was that he's not a fan of sparkling water, which he tried for the first time upon his arrival in Hollywood.
Mason went on to say that he is "a country boy" who enjoys "sitting under a tree and taking a nap with your hat down and a weed in your mouth," and that the reason he sings at Walmart — which he estimates he's done "like 50,000 times" — is because "that's the only store we've got." Seriously, there are born stars, and Mason Ramsey is one of them. But getting back to the point here, Ramsey also told Ellen his dream, which is "to sing at The Grand Ole Opry," as well as to "go to college," "move to Florida," and "work [his] way up in a motorhome."
We don't know what that means, but it sounds great, and Ellen, of course, got him on his way with a $15,000 college scholarship as well as a gig at The Grand Ole Opry just four days later where he'll perform with "Ricky Skaggs, David Ball, Lorrie Morgan, Natalie Stovall, Beth Nielsen Chapman, Point of Grace, and more." Now that's something to yodel about.
Walmart is here for all of this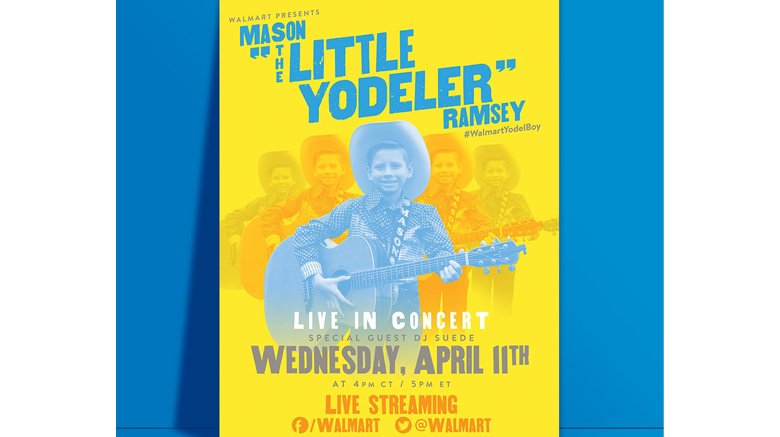 Knowing there will probably never be a golden (and free) marketing opportunity like this ever again, Walmart jumped on the Mason Ramsey train with the excitement of possum eatin' a sweet potato. Just one day after Ramsey's video went viral, the mega-retailer announced it was "putting on a concert at his local Walmart to let him shine!"
Walmart subsequently issued a call for a celebrity opener for Ramsey, tagging Jason Aldean, Blake Shelton, Snoop Dogg, Katy Perry, and more. But the only other musician that was actually promoted for the show was DJ Suede, who — you'll never guess — also made his own remix of Ramsey's viral video.  
According to the Belleville News-Democrat, Ramsey's Walmart concert was scheduled for April 11, 2018 at 4:00 p.m. at the chain's Harrisburg, Illinois store, which is located approximately 30 miles from Little Hank's hometown of Golconda, Ill. Luckily, fans of the kiddo who were not anywhere near the southern tip of the Prairie State that day were able to watch the performance via livestream on Facebook and Twitter.
Thanks, anonymous 'old feller'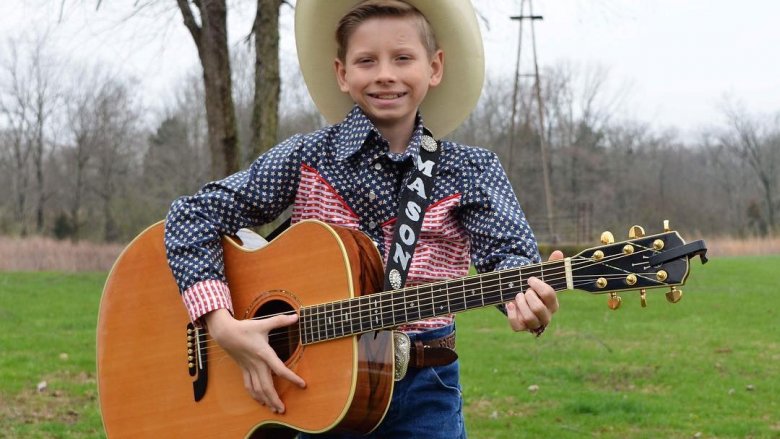 Instagram
In between his performances for Beaver 100.3, the Walmart yodeling kid sat down for a brief but illuminating interview alongside his grandpa Earnest. During the chat, the elder Ramsey revealed that Mason acquired the guitar that he plays after it was left to him in the will of "an older feller" with whom Mason used to sing in "jam sessions."
Nope, we don't have a million more questions about that whole situation. Unfortunately, Grandpa Ramsey didn't elaborate. However, when asked whether he likes the axe, Mason agreed, but also acknowledged that the Alvarez acoustic is "heavy." It is a full size guitar after all, which when stood up straight is probably nearly as tall as the young superstar.
Though the six-string has certainly served him well thus far, something tells us that young Mason is going to be able to afford many, many more of them in the very near future.
Yodeling into your DMs
We already mentioned how Ramsey claimed his stake on YouTube long before another user of the platform sparked the fame he is now enjoying. And it seems that, like a dog with a bone, yodel boy isn't going to let social media ignore him again this time.
In the less than two weeks since the ViralHog video, Ramsey has launched official Instagram, Twitter, and Facebook feeds. Though none have been verified as of this writing, Ramsey, sporting his one-of-a-kind belt buckle, made and shared this video across all his platforms to ensure his fans that they were following the real deal Little Hank.
The pages all claim they are "Managed by his Guardian(s)," which we assume to be Grandpa Earnest and Grandma Frances. We point this out only because Ramsey's Twitter in particular, has already demonstrated a web savvy that is perhaps surprising for a midwestern couple in their 70s — they're retweeting Prince Harry memes for cotton-pickin' sakes!   
Though he still so young, and he shot to fame in the quirkiest way possible, the truth about the Walmart yodeling kid is that he's been putting in his dues for almost his entire life. Now that he's gained the national spotlight and set up shop on social media, we don't see this little superstar fading from fame anytime soon. We're rooting for you, Mason — keep on yodeling!