Inside Austin Butler's Friendship With Ashley Tisdale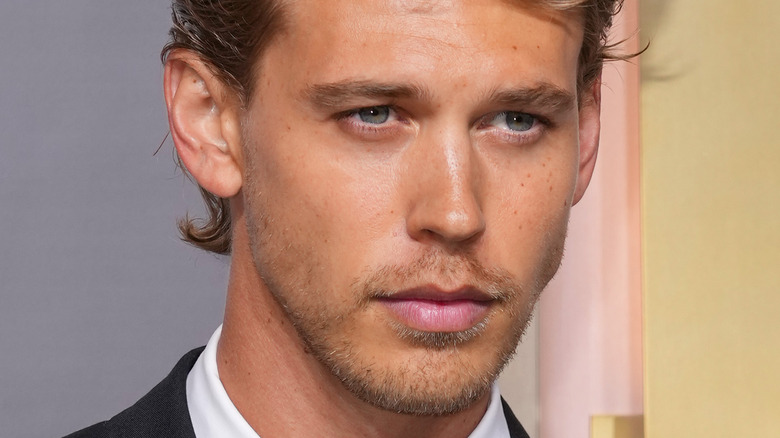 Kevin Mazur/Getty Images
Most Disney fans know that Ashley Tisdale's claim to fame was her role as Sharpay Evans in the "High School Musical" trilogy. The actor told HollywoodLife in 2019, "The best part about Sharpay was that she was unaware of everybody around her, and she was only aware of herself in that moment." She added that although she thinks she wouldn't be able to reprise her role, she had fun with the character throughout the three movies.
Austin Butler was a child actor himself before he landed the role of Elvis in Baz Luhrmann's biopic about the singer. According to PopBuzz, Butler guest starred in Nickelodeon's "iCarly," as well as Disney's "Wizards of Waverly Place" and "Hannah Montana." He also landed a small supporting role in "Once Upon A Time... In Hollywood."
And it seems that it's a small circle when it comes to starting out in Disney shows, because Tisdale and Butler have been best friends for years. They even worked on "Sharpay's Fabulous Adventure" together, playing romantic interests. "I have been friends with Ashley for years, and we have a strong relationship but have never taken it further," he told Elle Girl about their off-screen friendship. But the two have only strengthened their bond as they found out that they're related.
Ashley Tisdale and Austin Butler are cousins
In August 2021, Ashley Tisdale took to Instagram to wish Austin Butler a happy 30th birthday. The "High School Musical" actor mentioned in the caption of her post that they have known each other since they were 15 years old. "You've been my closest friend through the years," she wrote. She then joked that she feels like the "Elvis" star is her "twin born 7 years later."
And in November 2022, the strong bond between Tisdale and Butler all made sense for the Frenshe CEO. On an episode of Ancestry's "2 Lies & A Leaf," it was revealed that the "Sharpay's Fabulous Adventure" co-stars are tenth cousins once removed. "No wonder we have such a connection," Tisdale said after finding out about the family connection. "We've always said we were brother and sister. That is insane."
Butler then revealed to Access Hollywood that Tisdale called him afterward to tell him they were related. His reaction? Pretty much the same as his best friend. He said it just "made sense" and that he "wasn't surprised" they were cousins. "We've been close for a long time and I love her a lot," he said. In fact, Tisdale was rumored to have introduced her best friend to Vanessa Hudgens.
Ashley Tisdale played matchmaker for Austin Butler and Vanessa Hudgens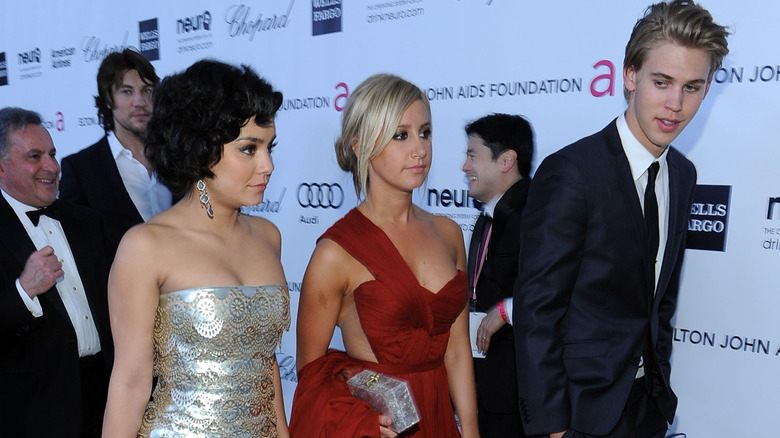 Larry Busacca/Getty Images
Ashley Tisdale revealed to Us Weekly that she and her "High School Musical" co-star, Vanessa Hudgens, were in a Sears commercial together before starring alongside each other in the Disney movie trilogy. "We just have a connection and she's so awesome and one of my best friends," she told the media outlet. "I think what we share is that we're really grounded people and I think that that's important."
And when Hudgens and Austin Butler started dating in 2011, it was rumored that Tisdale was the one who initially introduced them, per Distractify, as she was best friends with both actors. But unfortunately, after nearly nine years of dating, Hudgens and Butler split. "They're just shooting on two different continents and it's a matter of distance," a source told E! News at the time. "There is no bad blood at all, and they have a lot of respect for each other.
And it seems that the split between Tisdale's two besties hasn't affected her friendship with Butler. In January 2022, the "Phineas and Ferb" actor took to Instagram to express her excitement when she and Butler had a long-awaited reunion. "When you haven't seen your best friend in 2 1/2 years," she said on her Instagram Story (via Us Weekly). "You hold on real tight and don't wanna let go."