Where The Stars Of Seinfeld Are Now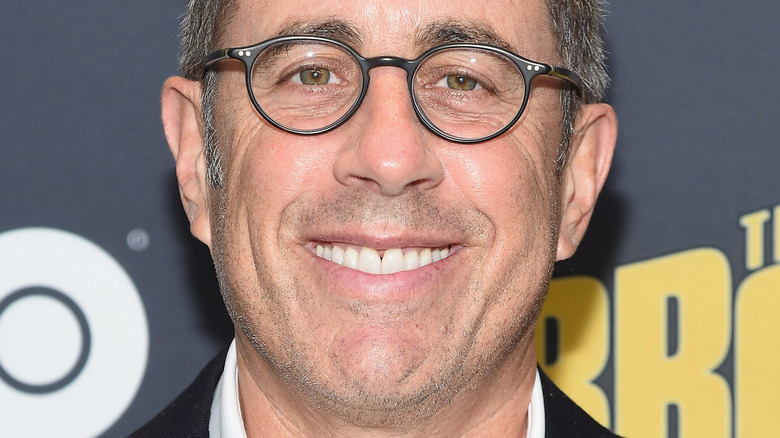 Gary Gershoff/Getty Images
Throughout the 1990s, "Seinfeld" ruled the airwaves at NBC. Coupled with "Friends" and other popular shows on the network, "Seinfeld" drew in more viewers than nearly everything else on television. The series was nominated for several awards, winning many, including 10 Primetime Emmy Awards. That's a fantastic feat, seeing as the show is about nothing. That's how it was presented, and when you boil it down, that's what "Seinfeld" was, but thanks to unforgettable characters played by incredible actors, fans tuned in every week.
Seinfeld ran for nine seasons, from 1989 to 1998, and throughout its 180 episodes, it featured a plethora of talent. Jerry dated a different woman almost every week, and some great guest stars managed to kickstart their careers by showing up for one episode. Jennifer Coolidge's first acting credit came thanks to an episode called "The Masseuse," and she's not the only one.
Still, while "Seinfeld" had a ton of impressive guest stars in nearly every episode, the core cast was similarly outstanding. Jerry Seinfeld often joked that he couldn't act, Julia Louis-Dreyfus proved her comedy chops built over at "Saturday Night Life," Jason Alexander made George unforgettable, and Michael Richards' Kramer is one of the most unique characters on television. Of course, there were many more people who made the show a hit, and this is what the stars have been up to in the decades since "Seinfeld" wrapped in 1998. 
Jerry Seinfeld got back into doing standup comedy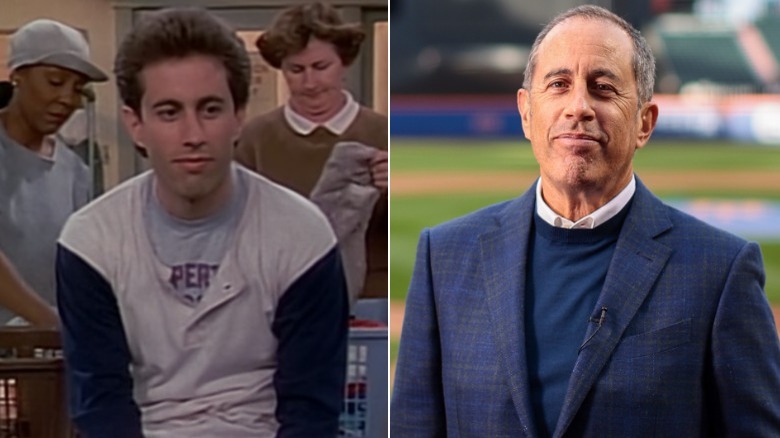 Columbia Pictures Television/Dimitrios Kambouris/Getty
Jerry Seinfeld got his start doing stand-up comedy long before he landed his series on NBC. When it finally happened in 1989, it took some tweaking to get everything running smoothly, and before long, he was one of the highest-paid and most recognized names in comedy. Seinfeld kept his series going for nine seasons, but when NBC wanted him to stick around for a tenth, not even $100 million would keep him there.
Instead, Seinfeld decided he was done, telling NBC executive Warren Littlefield, "I don't have a life, I'm not married, I don't have kids." The money tempted him, but ultimately, Seinfeld walked away at the height of his popularity, per Fox News. When the series ended, Seinfeld made good on fixing the things that kept him from the 10th season. On December 25, 1999, he married Jessica Sklar. The comedian later told NBC Nightly News, "If it wasn't for jess and the kids, I'd really blow my brains out. Jessica saved my life. She gave me something to care about" (via Daily Mail).
While Seinfeld retired from the sitcom, he didn't stop working. After leaving the series, he produced, co-wrote, and starred in "Bee Movie," had a reality show on NBC, and created the hit web series "Comedians in Cars Getting Coffee." Seinfeld also returned to what he does best and started touring the United States doing comedy, recording Netflix specials, and more — and this time, he had all new material.
Julia Louis-Dreyfus hit it big with Veep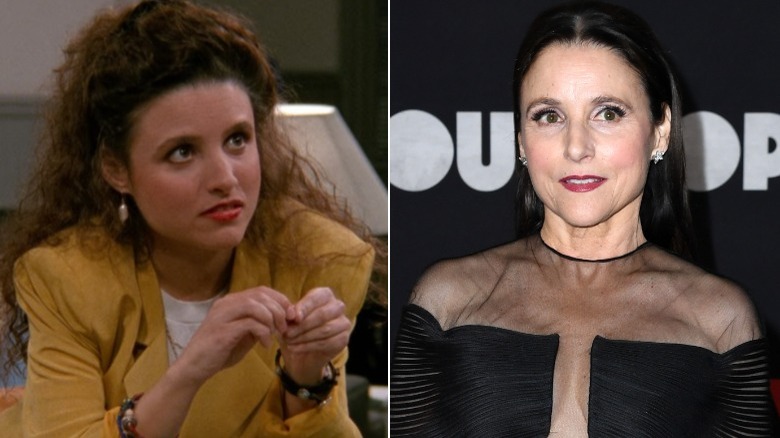 Columbia Pictures Television/Jc Olivera/Getty
While many "Seinfeld" fans first met Julia Louis-Dreyfus as Elaine Benes on the series, others knew her from "Saturday Night Live." That's where she first met Larry David and honed her comedy chops in the early 1980s. After leaving the show, she found her way to the cast of "Seinfeld" and became one of the funniest women on television in the '90s. Louis-Dreyfus was nominated for and won a plethora of awards for her work on the series and had nothing but opportunities and open doors when the show came to an end.
Louis-Dreyfus didn't take any time off after "Seinfeld" and has worked consistently ever since. She's had some highly successful television projects come to fruition, including "The New Adventures of Old Christine," which was shortly followed by "Veep." Throughout the 2000s and 2010s, Louis-Dreyfus was all over the small and silver screens, jumping from one award-winning performance to another. After "Veep" ended in 2019, she signed a deal with Apple TV+, giving her license to executive produce and star in projects she develops.
While Louis-Dreyfus has appeared in numerous high-profile movies over the years, her most significant role may be that of Contessa Valentina Allegra de Fontaine. She was first introduced in the Disney+ series "The Falcon and the Winter Soldier." The character is essential to the MCU's Phase 5, so Louis-Dreyfus' work with the most successful film franchise of all time will continue for years.
Jason Alexander continued appearing on camera and on stage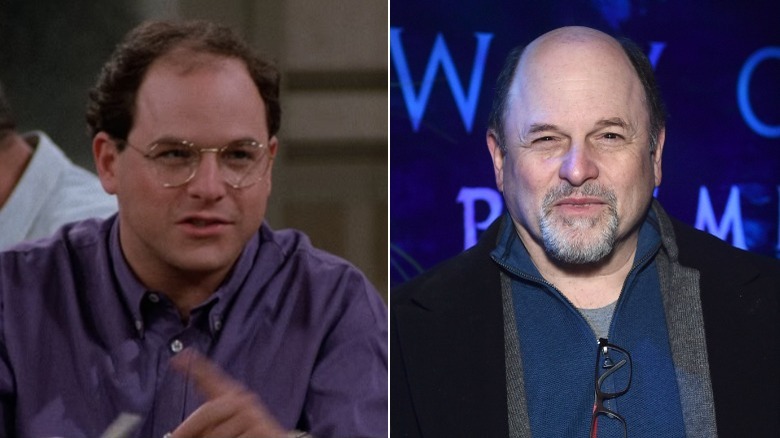 Columbia Pictures Television/Alberto E. Rodriguez/Getty
Jason Alexander's career before "Seinfeld" was limited to recurring roles on television and work in the theater. When he was cast as George Costanza in "Seinfeld," his career was forever changed. While working on the series, he managed to voice the main character on "Duckman," filmed recurring roles in several series, appeared in "Pretty Woman," and much more. Despite being a comedy genius on the small screen, most of Alexander's work has been in films.
Throughout the 1990s, while playing George, Alexander managed to show up in around 20 feature films. His voice's unique intensity and articulation have also brought him a great deal of work behind the microphone. In addition to voicing Duckman, Alexander has brought nearly 40 more characters to life. When "Seinfeld" ended in 1999, Alexander continued appearing in movies and TV series, and he never strayed far from comedy.
Most of his work has been limited to cameos or playing characters in a handful of episodes. He had an excellent two-episode arc in Season 3 of "The Marvelous Mrs. Maisel." Bustle described his portrayal of Asher Friedman as "a minor one, but nonetheless integral to setting up a possible and intriguing future for Abe and the rest of Midge's family." He returned for another two episodes the following season. In 2022, Alexander's long love of "Star Trek" paid off when he was cast as Doctor Noum in "Star Trek: Prodigy," which may be his favorite role to date.
Michael Richards went back to stand-up and killed his career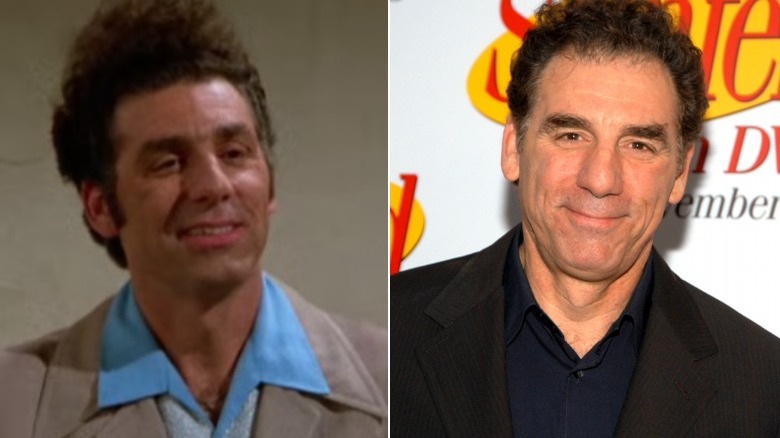 Columbia Pictures Television/Everett Collection/Shutterstock
Michael Richards had a fairly long career before joining the cast of "Seinfeld" as Cosmo Kramer. He'd already appeared in half-a-dozen movies and 20 TV series. Of course, none were as high-profile or successful as "Seinfeld." Kramer is one of the most fascinating, funny, and odd characters in the series, which was primarily due to Richards' unique mannerisms and comedic timing. After "Seinfeld," Richards developed "The Michael Richards Show" with NBC, but it failed fairly quickly.
Undeterred, Richards decided to go back to doing stand-up comedy, and while that worked for Seinfeld, it was a colossal failure for Richards. In November 2006, Richards performed at Hollywood's Laugh Factory when a heckler started messing with him. Instead of being professional, Richards unleashed a tirade of racist comments at the top of his lungs. While that's bad enough, someone recorded the back-and-forth, and Richards' career was severely damaged along with his reputation.
Richards apologized on the "Late Show with David Letterman," but the damage was done. Richards took some time off from performing, though he was effectively persona non grata in the industry, and he's never fully recovered. Richards booked some work on his friends' series, "Curb Your Enthusiasm" and "Comedians in Cars Getting Coffee," and had a recurring role on "Kristie," which was canceled after one season. After "Kristie," Richards disappeared again, only showing up occasionally at events, where he awkwardly avoids racially sensitive questions about the Laugh Factory incident.
Wayne Knight is busy on TV and behind the microphone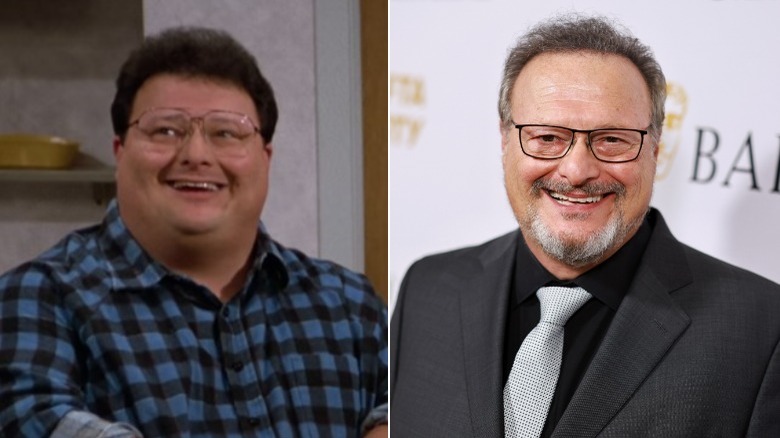 Columbia Pictures Television/Matt Winkelmeyer/Getty
Wayne Knight worked in films and television for a few years before arriving on the set of "Seinfeld" in 1992 to play Newman. He played minor roles in "Dirty Dancing" and "JFK" before becoming a dino dinner in "Jurassic Park." While he's had plenty of work before and after "Seinfeld," it's difficult to think of him as anyone but Newman, Jerry's nemesis, though it was never made clear why they loathed one another so much.
That was by design because, as Jerry Seinfeld explained in an interview with CBS News, "The real answer, why I hated Newman, is because it just seemed funny to hate Newman." Knight played the role perfectly, and he certainly hated Jerry, so it worked. Since "Seinfeld," Knight has continued to work steadily, often lending his voice to various animated characters. Still, he doesn't appear on camera as much as he once did, which contributed to some on the Internet assuming he'd died.
In an interview with USA Today in 2014, Knight stressed that he was indeed alive and joked that he gained more followers on Twitter as a corpse than he ever did when he was alive. That same year, Knight reprised his infamous role alongside Seinfeld and Alexander in a commercial aired during the Super Bowl. In 2020, Knight reprised Newman once more in a PSA about mail-in-voting. According to Deadline, Knight was apprehensive "but felt a sense of duty to reprise the role, given the attacks on the postal system and its service." 
Heidi Swedberg acted for a bit before becoming a musician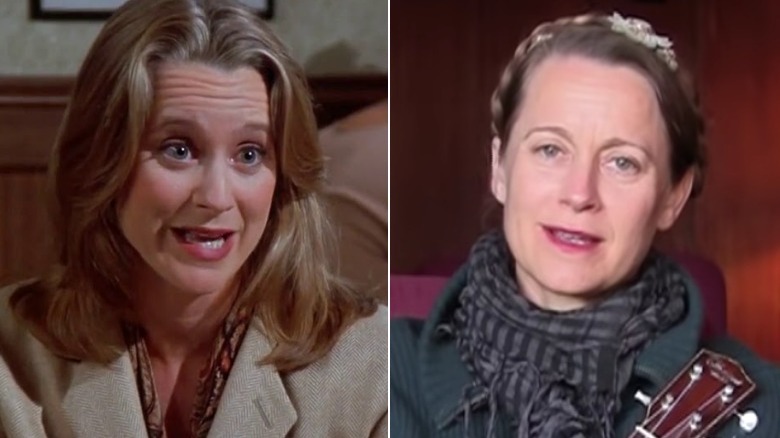 Columbia Pictures Television/YouTube
Heidi Swedberg's acting career began the same year as "Seinfeld," though she didn't join the cast until 1992. Swedberg came on as Susan Ross, one of the executives Jerry and George pitched the show about nothing to at NBC. She and George began dating, Susan was fired, Kramer puked on her, and later burned down her family cabin, so she was involved in a lot of stories. Of course, her most significant impact came when George proposed to her, and he spent the rest of their engagement hilariously trying to get out of it.
While preparing for the wedding, Susan died licking toxic envelope glue, and George was free to be George again. While her death was an important story milestone for George, it didn't come about naturally. Instead, Swedberg's character was killed off because she was impossible to act with, according to several cast members. Jason Alexander told Us Weekly he "couldn't figure out how to play off" Swedberg, and he wasn't the only one.
Still, it wasn't anything personal that got Swedberg fired from "Seinfeld," which Alexander cleared up in a since-deleted tweet (via TwitLonger). After her time on the series was over, Swedberg continued acting in minor roles before retiring from the craft in 2010. Her new passion is teaching the ukulele, as revealed on her website: "Having children re-focused her life. Singing and playing ukulele with them brought her so much joy that she found herself drifting away from auditions and into the classroom." (via Esquire).
Estelle Harris transitioned into voice acting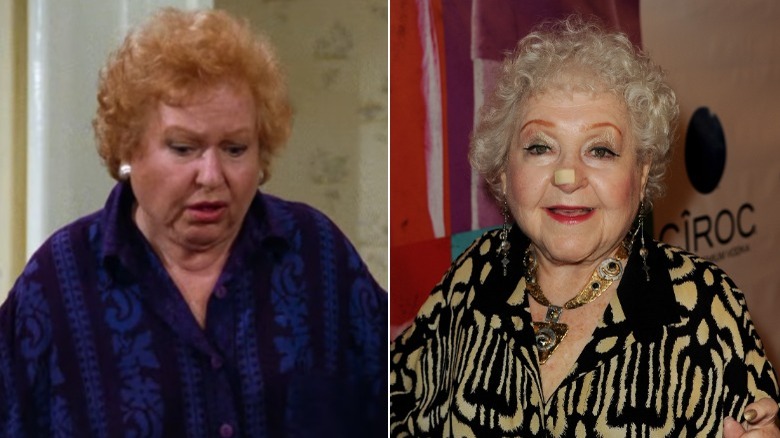 Columbia Pictures Television/Kevin Winter/Getty
Estelle Harris entered the entertainment industry via the theater in the 1970s. She later became a prominent commercial actor, appearing in so many over the years, she was dubbed the "Queen of Commercials" on advertising's Madison Avenue for doing 23 national ads in one year. In the mid-1980s, Harris transitioned to film and television work, playing minor movie roles and small roles in "Night Court," "Married... with Children," and others before joining the cast of "Seinfeld" as Estelle Costanza in 1992.
Estelle made it seem as if the role was created especially for her, thanks to her amazing on-screen chemistry with Jerry Stiller, Jason Alexander, and the rest of the cast. Her shrill voice, which was often critical of her son, was the perfect addition to a show about nothing. The New York Times described her character as "a sitcom mother from hell, a human one-way ticket to psychoanalysis for whom guilt is just another household utensil." After "Seinfeld," Harris transitioned to work behind the microphone and was prolific.
Harris famously voiced Mrs. Potato Head in "Toy Story 2" and its sequels, but on the small screen, Harris was a voiceover queen. She lent her inimitable vocal talents to everything from "Mickey Mouse Works" and "Family Guy" to "Tripping the Rift" and American Dad!" Harris died on April 2, 2022, a few weeks before what would have been her 94th birthday. It was reported that Harris' death was the result of natural causes.
Jerry Stiller never stopped making people laugh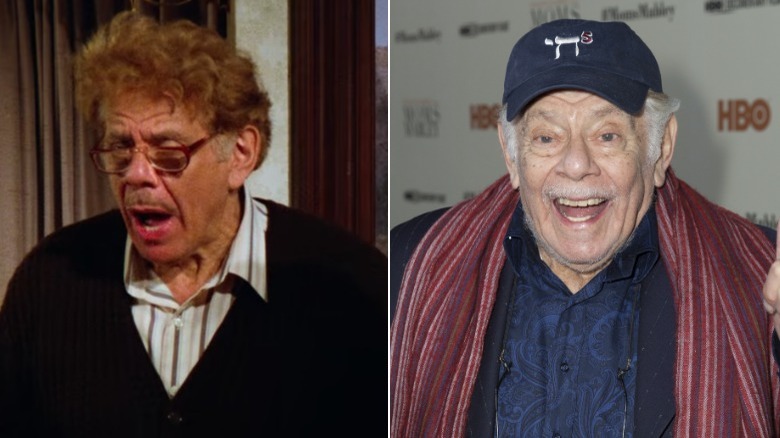 Columbia Pictures Television/lev radin/Shutterstock
Jerry Stiller's comedy chops go back to the 1950s, following a successful theater career performing alongside Gene Saks and Jack Klugman. In his book, "Front and Center," John Houseman called them "the best trio of Shakespearean clowns I have ever seen on any stage." In the mid-1950s, Stiller and his wife Anne Meara formed the comedy team, Stiller and Meara. They performed all over the country and on variety shows, including "The Ed Sullivan Show," "The Carol Burnett Show," and "The Tonight Show Starring Johnny Carson." The couple dissolved their comedy team, which Stiller later revealed was done to keep their marriage together (via People). 
Stiller appeared in dozens of television series and films throughout the 1970s and '80s. Finally, in 1993, he was cast as Frank Costanza on "Seinfeld," and Stiller was given a burst of energy. New generations of fans discovered Stiller for the first time, and he was once more seen in numerous shows and films. Interestingly, Stiller planned on retiring after "Seinfeld," but his casting as Arthur Spooner on "The King of Queens" kept him going in the industry. 
He worked on several projects with his son, Ben, and put his amazing voice behind many animated characters. Stiller continued working throughout the 2000s and 2010. His final film role was a reprisal of Maury Ballstein in "Zoolander 2." On May 11, 2020, Ben revealed on Twitter that his father died of natural causes at the age of 92.
Liz Sheridan's incredible career continued after Seinfeld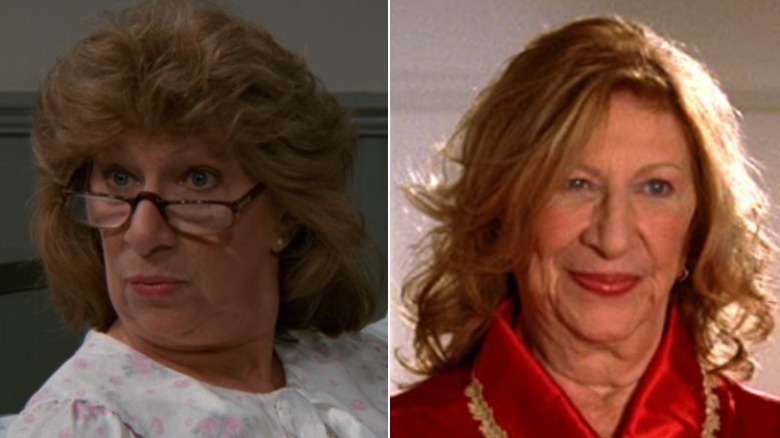 Columbia Pictures Television/Netflix/Slowhand Cinema
Liz Sheridan lived a fascinating life long before being cast as Helen on "Seinfeld" in 1989. Sheridan started her career as a singer and dancer, working in various New York City nightclubs in the early 1950s. She met and fell in love with James Dean, whom she wrote about in her 2000 memoir "Dizzy & Jimmy: My Life With James Dean: A Love Story."
Sheridan sang, danced, and played the piano in the Caribbean for a decade before returning to the States. She left for the Caribbean once more, where she met and married Dale Wales. It wasn't until the 1970s that Sheridan began acting, with her debut in "Frank Merriwell" on Broadway. She continued working in the theater for several years while transitioning to film and television. Most of her career was spent in television films and guest roles on series, which changed in 1986 when she was cast as nosy neighbor, Mrs. Ochmonek, on "ALF." 
Not long after, Sheridan was cast as Helen Seinfeld, and she played the role until the series concluded. After "Seinfeld," she appeared in a handful of movies and television series. Her last significant role was in the 2009 film "Play the Game," where she filmed an intimate scene with Andy Griffith, which Roger Ebert described as 'The Andy Griffith Show' meets 'Seinfeld' in the sack." Sheridan died on April 15, 2022, at the age of 93 — less than two weeks after Estelle Harris' passing.
John O'Hurley got into dancing and game shows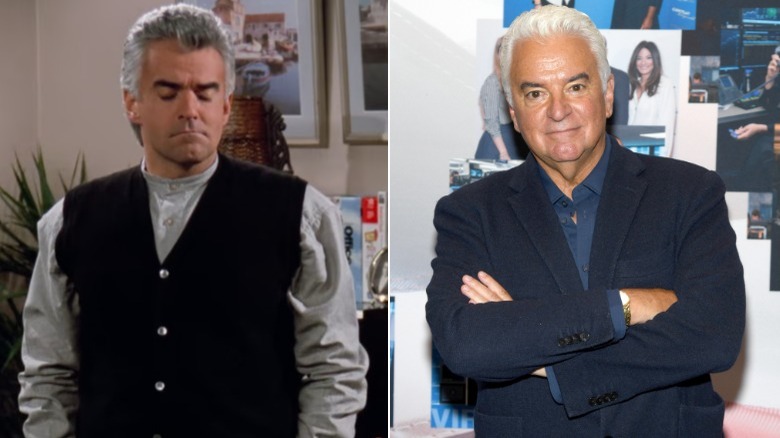 Columbia Pictures Television/Gary Gershoff/Getty
John O'Hurley entered the entertainment industry via the theater, first appearing in "The Pirates of Penzance or The Slave of Duty" in 1983. He continued acting in the theater throughout his professional life, having played Billy Flynn on Broadway in 2018. Long before he got into acting, O'Hurley taught himself to play the piano, first becoming interested in music when The Beatles came to the United States. He's since released two albums of his own composition alongside cellist Marston Smith.
O'Hurley began his long career on television and in films in the early 1980s, first appearing in "The Edge of Night" in 1983. He had recurring roles in numerous series, including "Santa Barbara" and "Valley of the Dolls" before he was brought onto "Seinfeld" as J. Peterman. His satirical take on real-life businessman John Peterman helped revive his company. In 2001, O'Hurley became a part-owner and member of the board of directors of The J. Peterman Company, per Time. 
Of course, that's more of a side hustle for O'Hurley, who became a contestant on the first season of "Dancing with the Stars" with Charlotte Jørgensen. He lost to Kelly Monaco, but his time on the show only boosted his image. He went on to host "Family Feud" for five years. In addition to his on-camera work, O'Hurley has voiced numerous characters on television and in movies over the years, so it's fair to say he kept himself busy long after his time on "Seinfeld" came to an end.
Phil Morris spends much of his time behind the microphone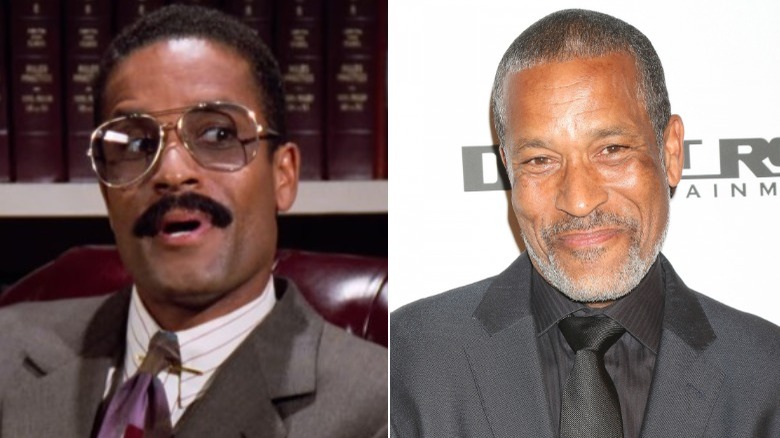 Columbia Pictures Television/Joe Seer/Shutterstock
Phil Morris started acting when he was a child, first appearing in an episode of "Star Trek" when he was seven. Decades later, he returned to the franchise in "Star Trek III: The Search for Spock" and has had guest spots on "Deep Space Nine" and "Voyager," so his time with the franchise consists of three decades of work on and off. Of course, Morris hasn't only worked on "Star Trek," and over the years, he racked up quite the resume, appearing in dozens of television series and films.
Morris played Jackie Chiles, a parody of real-life attorney Johnnie Cochran, on "Seinfeld" in six episodes. He was most often depicted as Kramer's go-to lawyer whenever he wanted to sue someone, and every time the case was in the bag, Kramer killed it with his antics. Each time, Chiles swore he'd never represent Kramer again, but he kept coming back for more. He last appeared in the two-part finale, representing Jerry, George, Elaine, and Kramer in their trial.
"Seinfeld" was one of Morris's many credits in the 1990s, and he kept working when his time as Chiles was complete. Morris transitioned franchises, leaving "Star Trek" behind as he moved to the DC Comics animated and live-action universes. He's voiced numerous characters in animated series, video games, and movies, but his most prominent DC role to date is Silas Stone, Cyborg's father, on "Doom Patrol." In 2022, he played General Zod and Lor-Zod in "Young Justice."
Bryan Cranston became our fave on-screen meth manufacturer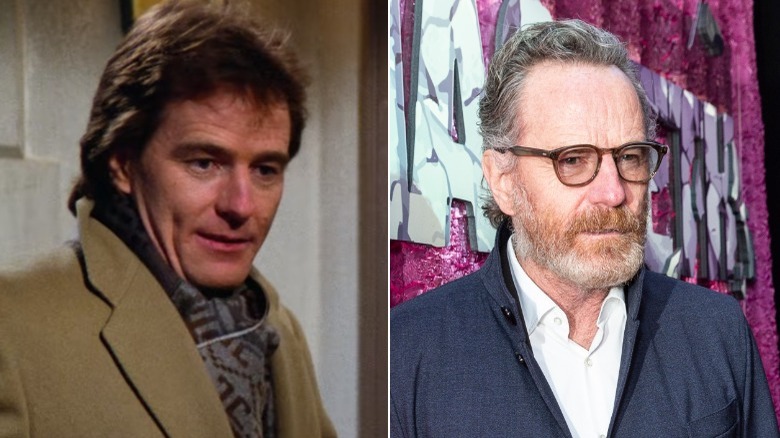 Columbia Pictures Television/lev radin/Shutterstock
Bryan Cranston began his acting career, appearing in minor roles in films and television series. He found work in several high-profile TV series, but it would take some time before he became a household name. Not even his work in "Seinfeld," as Dr. Tim Whatley elevated his standing to Hollywood A-lister. That wouldn't come until he landed the role of Hal on "Malcolm in the Middle" in 2000, which was a few years after his last performance as Whatley.
"Malcolm in the Middle" proved two things to the world: Bryan Cranston would do anything for a laugh and was an expert at making that happen. The writers threw everything (including a beard of live bees) at the man, and he kept it going. After "Malcolm in the Middle," Cranston bounced around before landing the lead in "Breaking Bad," which is likely where most people know his work. As Walter White, Cranston proved he was capable of a wide range of genres and won five Primetime Emmys for the series. 
Cranston has been a leading man in Hollywood for years and has a habit of jumping from one incredible series to another. He also voices many animated characters, so you've likely heard him in something without realizing it. In 2020, he landed the role of Michael Desiato in "Your Honor," which is one of several significant roles Cranston has on his plate in the 2020s. He also appears in Wes Anderson's 2023 film "Asteroid City."
Patrick Warburton became a superhero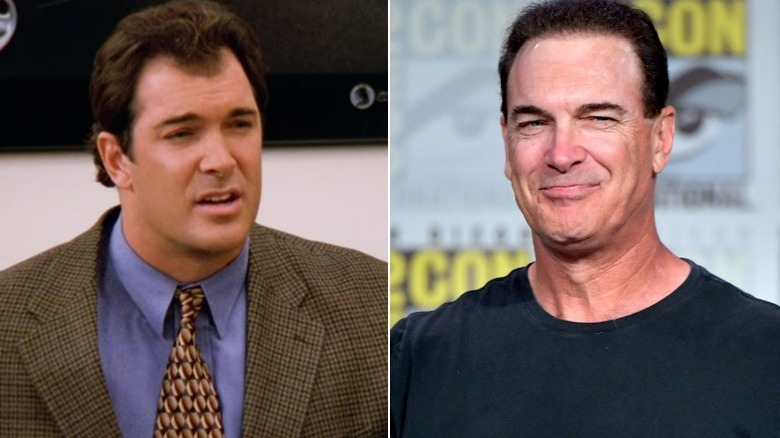 Columbia Pictures Television/Amy Sussman/Getty
Patrick Warburton found some success on the small and silver screens in the 1980s and early '90s, with his most significant work coming in 1995's "Dave's World." He landed the role of David Puddy on "Seinfeld" the same year, and that's the role most people remember him for from his early career. Puddy was a mechanic-turned-car salesman who was Elaine's off-again-on-again boyfriend. He played the role in the series finale, and by that time, Warburton had already built up quite the resume of voice acting credits.
Warburton's distinctive, deep voice is perfectly suited for animated characters; over the years, he's voiced tons of them. Most notably, in one of his first voice-animated roles, he played Kronk in "The Emperor's New Groove," which he reprised in the sequel. He's also voiced Joe Swanson on "Family Guy" since the series began, and his list of characters includes Buzz Lightyear in "Buzz Lightyear of Star Command," Brock Samson on "The Venture Bros," and many more. 
In terms of live-action, Warburton had no trouble finding work after "Seinfeld," having appeared in prominent roles in "Less Than Perfect," "Rules of Engagement," Lemony Snicket in "A Series of Unfortunate Events," and "The Tick," where he played the lead. In addition to acting, Warburton sings in the Bearded Pearl Clams, which primarily covers Pearl Jam. In a Newsweek interview, he called it "the most fun [he's] ever had," and expressed an interest in transitioning into musical theater, eyeing "Sweeney Todd" as an ideal production.
Danny Woodburn continued acting in numerous hits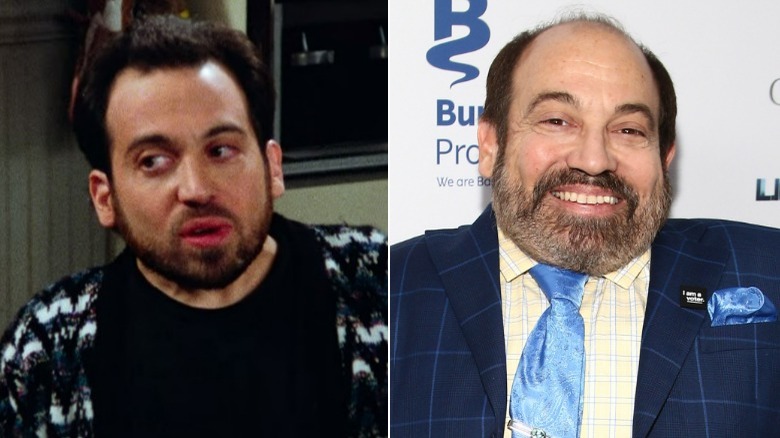 Columbia Pictures Television/Tommaso Boddi/Getty
Danny Woodburn got into acting in the early 1990s, following some early work in the theater. He's probably most well-known for playing Mickey Abbott in "Seinfeld" than anything that came before it. Mickey was Kramer's quick-to-anger friend and fellow acting partner. He started out doing stand-in work for child actors and was burned by his peers after Kramer convinced him to try "heightening" via lifts in his shoes. Mickey appeared in only seven episodes, but each performance topped the ones that preceded it. 
Following his work on "Seinfeld," Woodburn picked up higher-profile roles in film and television. In 2009, he played Big Figure in "Watchmen," which gave him some serious screen time in a major motion picture. He also had a prominent role in "Jingle All the Way," "Death to Smoochy," and "Mirror Mirror," where he played Grimm. Woodburn has also been prolific in his TV credits, appearing in recurring roles in "Charmed," "Bones," and "The Bold and the Beautiful."
Woodburn doesn't stick solely with acting on-camera. In 2014, he did the motion-capture performance for Splinter in "Teenage Mutant Ninja Turtles," which was his first time doing that sort of work. He's also voiced numerous animated characters and provided the voices for several in the Disney+ series "Willow" in 2022. Woodburn spends a lot of his time advocating for disabled and Little People, once saying, "My identity was greater than my height. It was greater than my dwarfism" during a motivational speech put on by APB. 
Larry David continued being, well, Larry David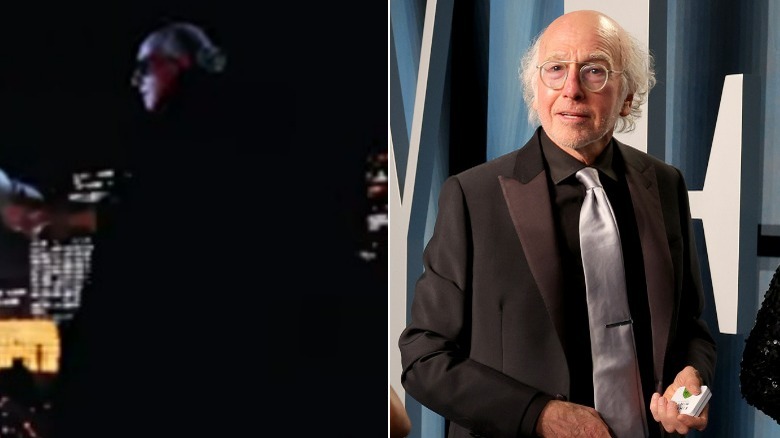 Columbia Pictures Television/Rich Fury/vf22/Getty
Larry David worked primarily as a writer but also got in front of the camera in several films, including two of Woody Allen's, and shows like "Saturday Night Live." He hit it big in 1989 with "Seinfeld," as David is the co-creator, and served as the head writer and executive producer for the first seven seasons. David rarely appeared on camera and most often lent his voice to George Steinbrenner and a handful of off-camera characters, including Newman, before Wayne Knight was brought on to play him. 
In one of his rare on-camera moments, David played George Costanza's cape-wearing attorney, who inexplicably steps in and saves a woman's life in one episode's credits. After "Seinfeld," David appeared in numerous television series and films, including "Entourage," "Comedians in Cars Getting Coffee," and "Saturday Night Live," where he brilliantly portrayed Bernie Sanders — he later learned they were cousins (via Time).
David's most notable post-"Seinfeld" work came when he created, wrote, executive produced, and starred in "Curb Your Enthusiasm," where he plays a somewhat fictionalized (and hilarious) version of himself. "Curb Your Enthusiasm" gave David much more screen time than he'd had previously, making him a more recognizable star. The series ran for eight seasons from 2000 to 2011. It was brought back in 2017 for a ninth season, and two more followed in 2020 and 2021.