Why 49ers QB Brock Purdy Gets Called 'Mr. Irrelevant'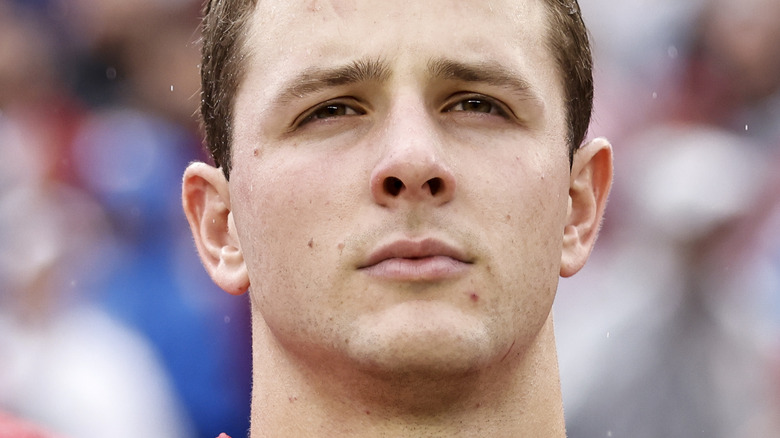 Michael Owens/Getty Images
Because it falls just before the playoffs, December is crunch time in the NFL. So when San Francisco 49ers starting quarterback Jimmy Garoppolo suffered a foot injury that saw him carted off the field in Week 13 against the Miami Dolphins, it was doubly crushing. "It just stinks because I really felt him coming on, even more so this year," defensive end Nick Bosa told 49ers.com. "Just hearing it is pretty crushing," 49ers head coach Kyle Shanahan added.
Enter Brock Purdy. The rookie quarterback from Queen Creek, Arizona stepped in for the injured Garoppolo, and the results have been astonishing. In his first full game as a starter, Purdy threw two touchdowns in the 49ers' blowout win against the Tampa Bay Buccaneers, per CNN. "Just standing there, like 'man that's Tom Brady,' talking to guys and dapping guys up and stuff," Purdy later told reporters about the game.
Since beating Tampa Bay, Purdy has only gone from strength to strength. The 49ers finished the regular season 13-4, and they are currently set to face off against the Philadelphia Eagles in the NFC Divisional Championship on January 29. Purdy has already beaten the Seattle Seahawks and the Dallas Cowboys, throwing for 332 yards (the second-most by a rookie QB in the postseason) and three touchdowns against the Seahawks alone. He's been setting the league on fire ever since his first game against the Dolphins — so what's this about the moniker, "Mr. Irrelevant?"
Brock Purdy was picked last in the NFL Draft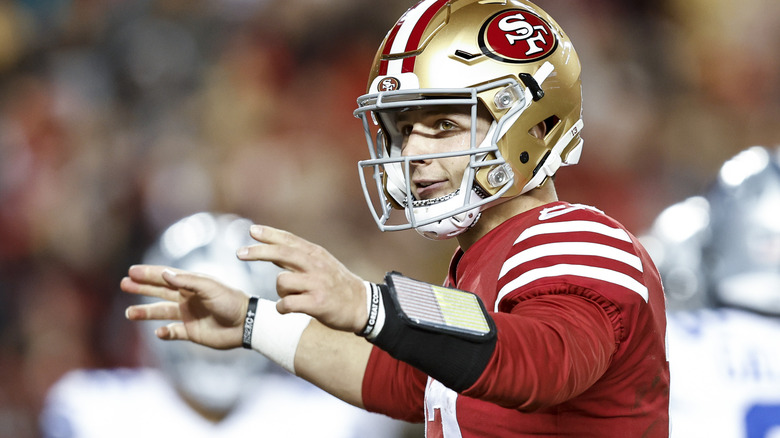 Michael Owens/Getty Images
In 2022, Iowa State quarterback Brock Purdy was selected last in the NFL Draft. Purdy's current improbable win streak notwithstanding, Greg Cosell of "The Ross Tucker Podcast" explained that there was a reason behind the pick. "[Purdy] ... has average arm strength," Cosell said. "He tends to be streaky with his accuracy. He does move well ... he's not physically imposing. So he was not seen as a really good prospect." Pro Football Network reports that the last pick of the draft has the dubious honor of being referred to as "Mr. Irrelevant," a tradition dating back to 1976. That year, Indianapolis Colts wide receiver Paul Salata invited the last pick of the draft to Newport Beach, California, to participate in a series of activities dubbed "Irrelevant Week." The tradition grew to the point that NFL teams began clamoring to acquire the last pick, leading ex-NFL commissioner Pete Rozell to pass the "Salata Rule," in which teams cannot pass up the penultimate choice in a bid for the last pick.
Today, Purdy seems determined to shed his mantle of irrelevancy. Those close to the star quarterback have always believed that he'd make it big one day. "He is going to make it because he is Brock Purdy," Purdy's high school coach Preston Jones told AZ Central. "Someday they will write a book about Brock and his story. Mr. Irrelevant will be just a chapter in the middle somewhere."
Do we have another GOAT on our hands?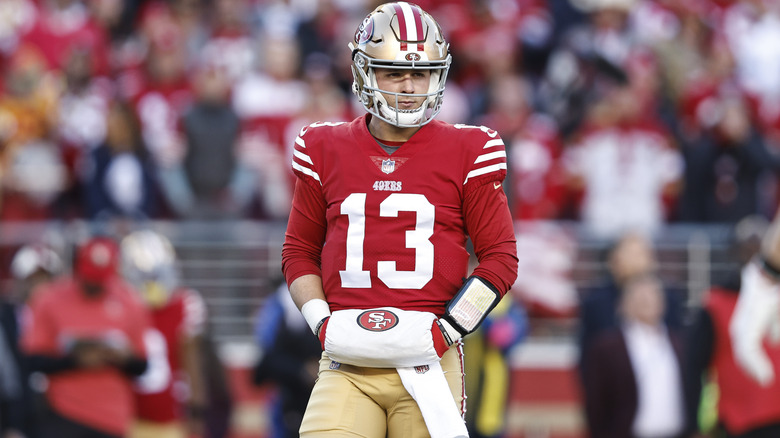 Michael Owens/Getty Images
Brock Purdy's meteoric rise is interesting, because it mirrors that of another NFL great: Tom Brady. Though Brady wasn't "Mr. Irrelevant," he was close to it at the 199th pick, per Insider. And former NFL player Brent Jones thinks that Purdy has what it takes to overcome "Mr. Irrelevant" for good and follow in the footsteps of the GOAT. "I can't say that Brock will be the new Tom Brady, but there are a lot of similarities," Jones told The U.S. Sun. "Tom was never affected. He was never super nervous and Brock is like that. He's the best rookie I have seen since Dan Marino." Now, a quarterback is only as good as his offensive line, and Jones praised the San Francisco 49ers offense, adding that Purdy has "a lot of great weapons around him ... [which has] given him confidence."
A Super Bowl victory for the 49ers is still up in the air, but don't count on head coach Kyle Shanahan to bench Purdy anytime soon, even if Jimmy Garoppolo is healthy. "With the way that Brock Purdy has been playing over these past few weeks, what he adds to this 49ers offense — being able to improvise, the deep ball, throws outside the numbers — I think that if Jimmy Garoppolo returns, he should be the backup to Brock Purdy," NBC Sports' Donte Whitner opined, as of December 2022. Either way, having two QBs with cannons for arms sounds like a good problem to have.