What Happened To Witches Of WeHo Wine From Vanderpump Rules?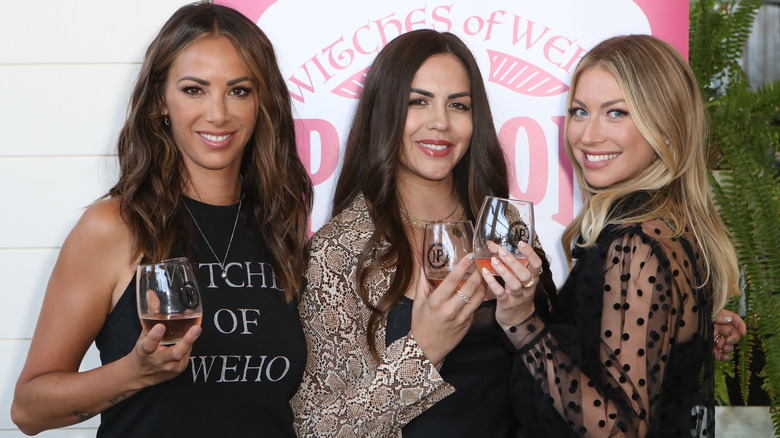 Ari Perilstein/Getty Images
In the early days of "Vanderpump Rules," Stassi Schroeder, Katie Maloney, and Kristen Doute were besties. The 20-something pals were all SURvers at SUR, the restaurant owned by Lisa Vanderpump, and they ruled the roost at work — and the after-parties. Not only did they shut out new girl Scheana Marie, but they also made their clique status clear by nicknaming their friendship "The Witches of WeHo."
While speaking on the "Vanderpump Rules Aftershow," the trio revealed that it was actually Maloney's longtime boyfriend Tom Schwartz who came up with the nickname. "One night we were just like doing our normal like me, Katie, and Kristen thing, just like drinking wine and Tom Schwartz was like, 'Look at you, you guys are like three witches, the Witches of WeHo," Schroeder said. Maloney admitted that the trio's original nickname was "The Vagina Mafia." "That was, like, a great name," she said. "But Witches of WeHo... that was money."
And the nickname was perfect when the three friends decided to go into business together several years into "Vanderpump Rules." "When we started 'Vanderpump Rules,' let's be honest, we were like, 'OK, what can we get out of this? What can we do? What would we like to do together?' Schroeder told Page Six in 2019. "And we had always joked about making a wine since that's what we lived off of. That's why we were so skinny. We didn't eat. We just drank wine." That year, the Witches of WeHo wine line was born. But is it still a thing?
The Witches of WeHo wine line was pulled in 2020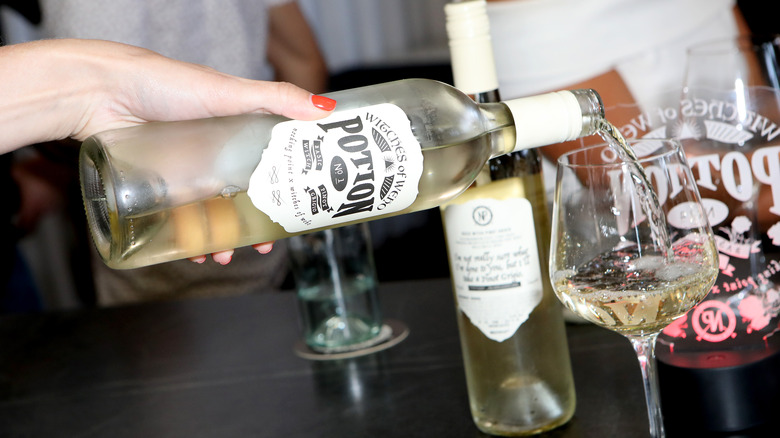 Ari Perilstein/Getty Images
In 2019, Stassi Schroeder, Katie Maloney, and Kristen Doute launched the Witches of WeHo's Basic Witch Potion No. 1 Pinot Grigio, followed by a rosé blend. The wine was available exclusively through Nocking Point's subscription wine club, according to Refinery29. The outlet noted that the three Bravo stars were hands-on with curating and branding the wine club offering.
But their entrepreneurial venture was short-lived. In June 2020, the brand was pulled following Schroeder and Doute's firing from "Vanderpump Rules."  The veteran cast members were canned amid a scandal about their past racially insensitive behavior, which included false accusations about a Black SUR co-worker, Faith Stowers.
At the time, a spokesperson for Nocking Point told Us Weekly, "The term of our agreement with the ladies expired months ago and we have taken any remaining inventory down from the website. ... We won't be making or selling more." The company also released a statement in solidarity with the Black community, as it permanently cut ties with the Witches of WeHo brand.
The Witches of WeHo started to fall apart before the scandal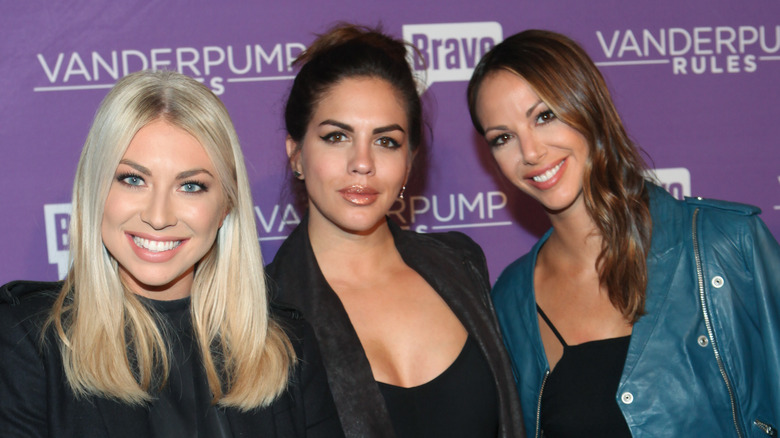 Steve Zak Photography/Getty Images
The Witches of WeHo actually started having problems before the "Vanderpump Rules" scandal. Stassi Schroeder and Katie Maloney's friendship with Kristen Doute began to fall apart while filming Season 8 of the Bravo reality show in 2019, and things came to a head during an event to promote their wine brand. The drama started when Schroeder and Maloney expressed disapproval over Doute's relationship with her then-boyfriend, Brian Carter, according to Entertainment Tonight. Doute also roasted Schroeder's podcast and said she was "nothing" just a few years prior. "I feel like the more episodes that air, and the more emotions that I have about it, the further we are pulling away from each other," Doute said. "I just don't have an answer as to whether or not this is something that can be salvaged."
While Schroeder and Doute did reconcile amid their mutual firings in 2020, they are not as close as they once were. Doute did not attend Schroeder's wedding in Italy in May 2022, according to E! News, while Maloney served as the maid of honor.
In a December 2022 episode of "The Viall Files," Maloney admitted that things have changed between the threesome. "We don't always, like the three of us, hang out like we used to anymore, but I still have relationships with them both," she said of Schroeder and Doute. "Things have changed quite a bit, but I wouldn't say it's awkward. They've moved on."