Who Is Oscar Nominee Andrea Riseborough And Why Is She Causing A Stir?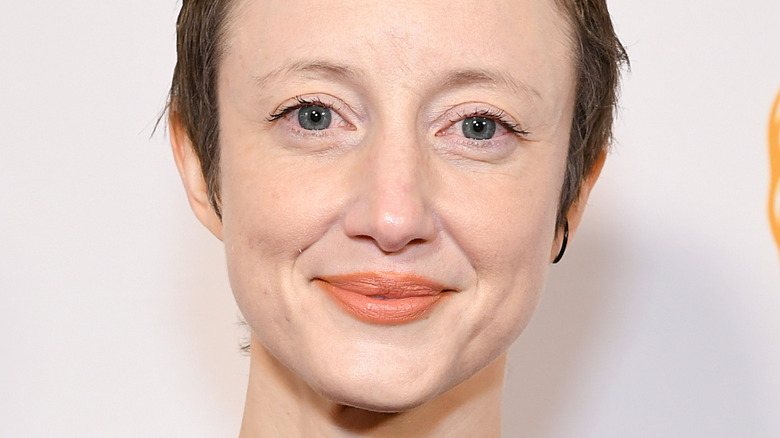 Jon Kopaloff/Getty Images
Andrea Riseborough may just be the most famous movie star that nobody's ever heard of. Of course, that's more than a little facetious, given that the British actor has racked up more than 50 film and television credits since making her screen debut in a 2005 TV movie produced in her native Britain, and has appeared alongside some of Hollywood's biggest names since then. Riseborough's impressive screen credentials, however, didn't quell the massive wave of confoundment that hit in 2023 when she was nominated for an Oscar in the Best Actress category for her performance in low-budget indie "To Leslie."
Not only did that unexpected Oscar nomination generate surprise, it also stirred up unanticipated controversy surrounding just how Riseborough came to receive that nomination, resulting in a full-fledged investigation into the unorthodox "To Leslie" Oscar campaign. Ultimately, that surprise nomination gave the stolid Academy of Motion Picture Arts and Sciences a less-than-gentle nudge to remind that its rules regarding Oscar campaigning desperately need some updating in order to keep up with social media and the ever-evolving technology that drives it.
Since that nomination and the ensuing controversy, Riseborough's name has generated more headlines within a few weeks as she had in her 15-plus years as a professional actor. Keep on reading to find out who Oscar nominee Andrea Riseborough is, and why she is causing a stir.
She began acting at age nine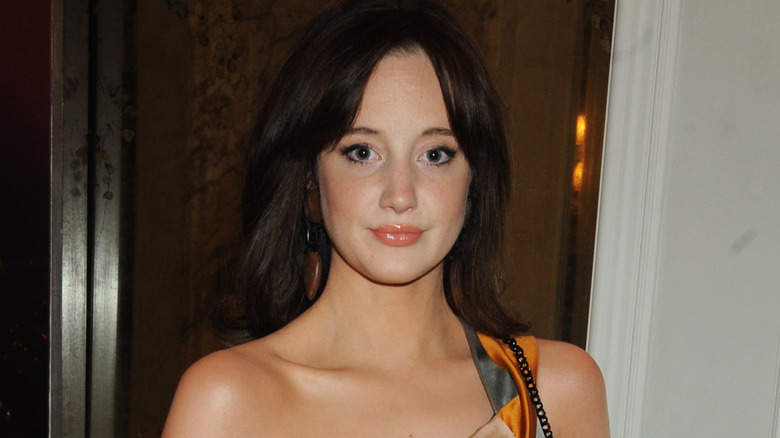 Dave M. Benett/Getty Images
Andrea Riseborough realized early on that she wanted to be an actor. Riseborough landed her first professional acting job at age nine with a local theater company. "It was never really a decision," she told W Magazine of how she came to make her stage debut. "Somebody asked me to be in a play at a theater that did classical work not far from my house. At first I said no and I felt really uncomfortable. And then a week later, I said to my mum, 'You know, that play. I might like to read for it.' And that was the first thing I did."
By her late teens, however, Riseborough had drifted away from acting. "I didn't really think I was going to do it again," she admitted in an interview with The Irish Times. Asked why, she explained that she'd moved out of her parents' home at age 17, and was making her first stab at independence and supporting herself. "I had different jobs and had my own little flat," she explained.
In fact, acting was something she felt that she'd moved on from, a childhood pursuit that no longer reflected where she was at in her life. "I think when you grow up with anything you go through a period of reckoning with it — where you have outgrown the way you were doing it," she added.
How shredding a duck in a Chinese restaurant prompted a revelation
Dave M. Benett/Getty Images
After moving out of her parents' home at 17, Andrea Riseborough toiled at a variety of jobs, particularly within the service industry. It was while working at one of those restaurant jobs, she told The Irish Times, that she had an epiphany that led her to be accepted to London's prestigious Royal Academy of Dramatic Art. "I had a period of time working in a Chinese restaurant," she recalled. "I remember clearly when I was shredding a duck and I had a moment of clarity: I could just audition for RADA."
She did and was accepted, her passion for acting immediately reignited. At first, she wound up portraying a string of virgins in productions of Jacobean plays, "a result of my pale, symmetrical features," she told The Guardian. That experience gave her an early glimpse into how an actor can be pigeonholed into specific types of roles, something she decidedly wanted to avoid in her own career. By the time she graduated, Riseborough had portrayed "a wealth of bonkers characters, from 17-year-old boys to women in their 80s."
She auditioned for her first film in 2006, and wound up landing a small role in the Peter O'Toole-starring 2006 drama "Venus." It was an inauspicious debut. "My first scene was with Peter O'Toole, and I cried," she told W Magazine. "That was basically my part. I came in, cried in a white wig, and then left."
The movie that changed the way she looked at acting on film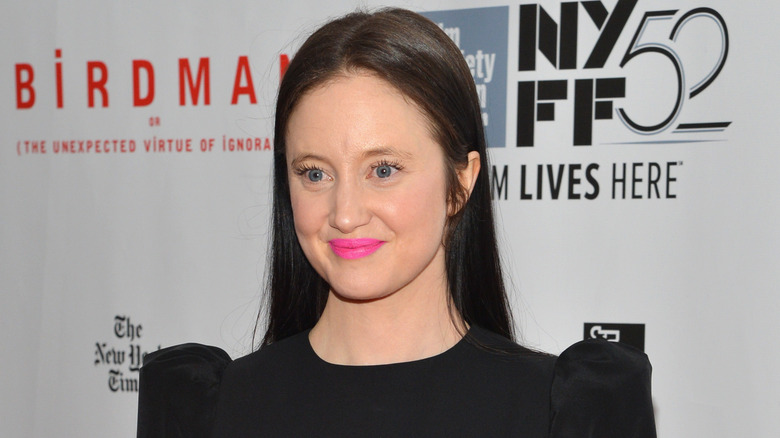 Slaven Vlasic/Getty Images
Andrea Riseborough had earned a reputation as an uncompromising actor with a knack for disappearing into roles when she landed the small part of Laura, actor and girlfriend of washed-up '80s movie star Riggan Thompson (Michael Keaton) in "Birdman or (The Unexpected Virtue of Ignorance)." Working with director Alejandro G. Iñárritu proved to be an eye-opening experience for her, due to his insistence on exceptionally long takes — unlike typical moviemaking, in which actors perform a few lines of dialogue over and over until the director yells cut, at which point they'll move on to further lines.  
The way Iñárritu worked, however, meant that if an actor messed up a single word, the entire thing would have to be started again from the top. "Alejandro was trying to achieve a 360-degree experience, and that meant we all had to get the f**k out of the way," she told The Washington Post. "We had to hide behind that door or that flat or whatever the hell was available. No one wanted to be the one to drop the ball."
She found the experience to be exhilarating, and compared the experience to that of performing live theater. "The pace of the piece and the energy of the piece was so like being onstage," she said — even if, as she later told The Guardian, "the technical thing that we were trying to achieve was so impossible."
The reason she 'just stopped' her career after appearing in an Oscar-winning film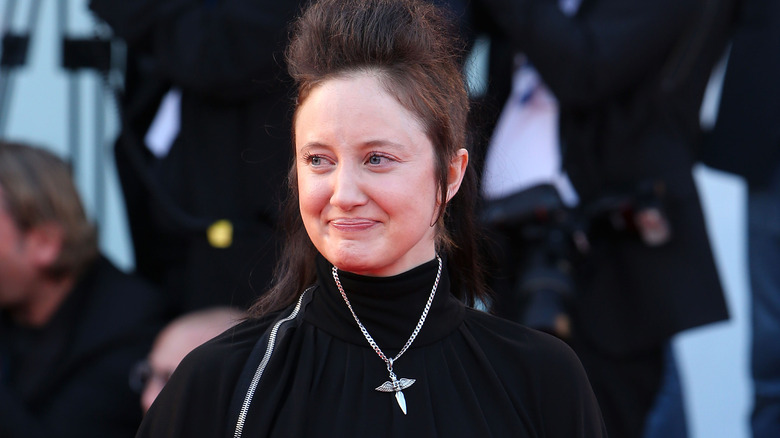 Franco Origlia/Getty Images
After her role in "Birdman," which won four Oscars (including an Academy Award for Best Picture), Andrea Riseborough did something unexpected: she pressed the pause button on her career, at a time when she was just coming off the most celebrated and acclaimed project with which she'd ever been associated. The problem wasn't the film, of the difficulty of nailing extremely long scenes in a single take, but something altogether different. 
"I needed to shake off the studio system at that time. It hadn't felt satiating, for myriad reasons," she told The Guardian in 2022, explaining why she "just stopped" acting after "Birdman." By then, of course, she'd moved beyond the issues she was having. "It's very different now, thankfully, and I have allowed myself to fall in love again with the purpose of what I am doing, which had very much been lost," she admitted. 
According to Riseborough, she'd fallen into a trap that awaits anyone in the arts who experiences commercial success, as that success raises the stakes, requiring more and bigger successes and the ever-present temptation of artistic compromise in order to make that happen. "You think that you're going to be talking about Chekhov, and you find yourself talking about things you're not interested in, in an effort to sell a product," she candidly stated. "You feel like a cog in a vast machine."
Andrea Riseborough has played a jaw-dropping breadth of roles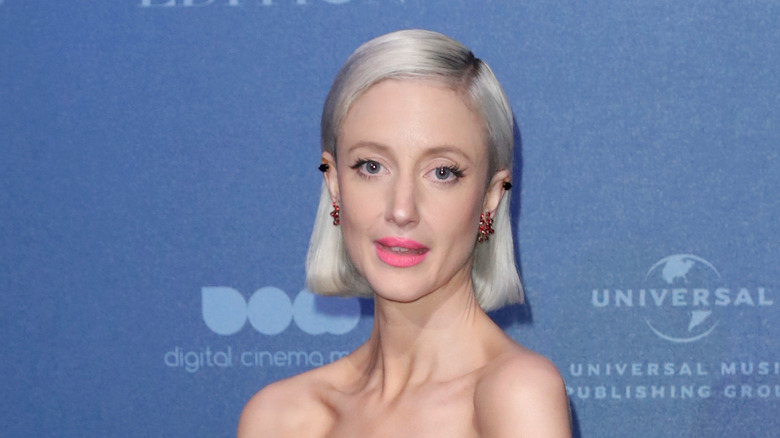 John Phillips/Getty Images
Andrea Riseborough's screen credits run the gamut, illustrating her versatility as an actor. Among those disparate roles have been a 1960s-era factory machinist in "Made in Dagenham," a detective trying to solve a supernatural mystery in "The Grudge," Mrs. Wormwood in "Matilda: The Musical," and even such historical figures as Wallis Simpson, Duchess of Windsor, in "W.E." and young Margaret Thatcher in "The Long Walk to Finchley." She's also played the title character in Nicolas Cage's blood-soaked fever dream "Mandy," and the lesbian lover of Emma Stone's Billie Jean King in "Battle of the Sexes."  
Beyond the immense diversity of her roles, perhaps equally important are the parts that she decided not to take. "I turned down projects that I felt I couldn't contribute to — that were so far outside my wheelhouse. That were not enough of a challenge creatively," she told The Irish Times. 
Riseborough has also been proud to admit that she's passed up what she described as "old-fashioned gender roles" because she didn't want to be responsible for perpetuating the implicit sexism of portraying the appendage-like girlfriend of a male protagonist. However, she also believes that taking a hard pass on those types of roles has contributed greatly to giving her the kind of acting career she'd always envisioned. "If you turn those down early on," she explained, "the message gets out there."
She starred in a movie about a notorious royal directed by Madonna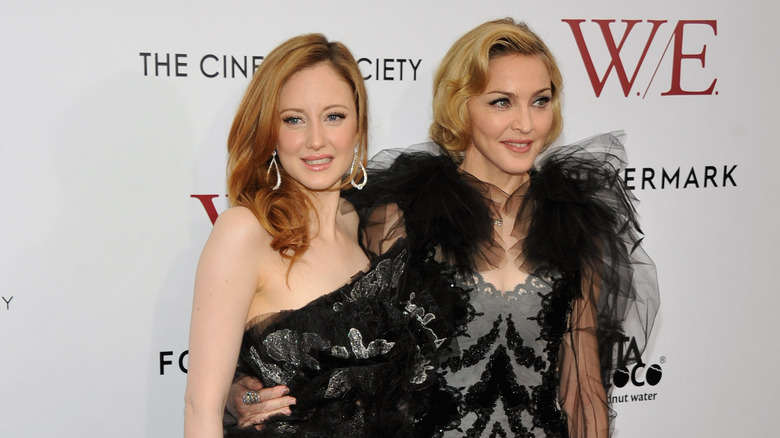 Theo Wargo/Getty Images
In terms of Andrea Riseborough's visibility as an actor, the film that really landed her on Hollywood's radar was "W.E." There, Riseborough starred as American divorcee Wallis Simpson, whose forbidden love with Britain's King Edward VIII led him to abdicate. And while there's no doubt that Simpson was one of the more controversial figures of the 20th century, the same can easily be said of the film's director: Madonna. 
As Riseborough told W Magazine, it was her performance as young Margaret Thatcher that attracted the attention of Madonna. "I went to her house and I had a cup of tea with her, which was weird because it was comfortable and it was lovely ... I guess we hit it off," she said. Ultimately, she told The Guardian, she and Madonna had a sympatico vision of how to portray Simpson. "I think we were just very complicit about how we felt about Wallis Simpson and what she was like behind closed doors," Riseborough said. "She had researched the hind legs off it."
While reviews for "W.E." were savage — bordering on brutal – some critics were also quick to praise Riseborough's performance as outshining the film itself; Film School Rejects, for example, lauded the "terrific performance by Andrea Riseborough as Simpson, which could have provided the core of a great picture."
Her biggest fear is to be in projects that are 'crap'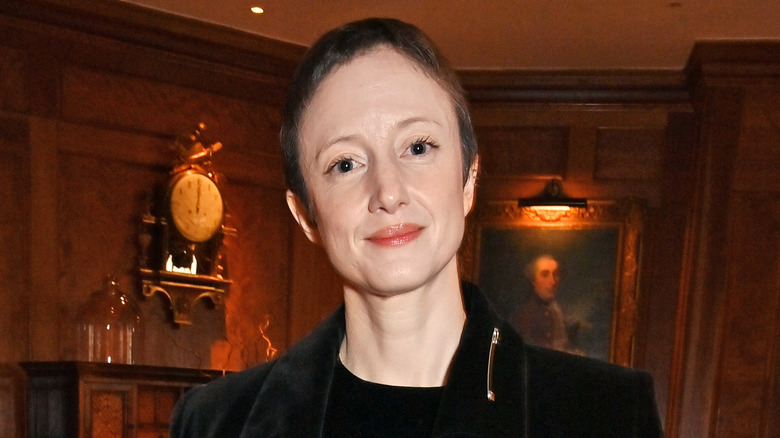 David M. Benett/Getty Images
When determining what jobs to accept and which to turn down, Andrea Riseborough has come up with a deceptively simple decision-making method: if she feels that the final product won't be something she'll be proud of, she'll walk away. "I am certainly terrified of crap," she joked to Collider. However, she was quick to point out that it's not always so cut-and-dried, as there can be varying degrees of crap. In addition, she pointed out that taking on a great role in a project with a crappy script can be fraught with peril — along with scads more work, because "you're not then just occupying one role. You're not doing your one job. You suddenly find yourself as co-writer. You're taking on a lot more. "
This trait isn't one that she's developed over time, but one that's guided her since the earliest stages of her career. "I think it's possible to have standards," she told The Irish Times. "Those are the things that haven't changed — from even when I couldn't pay my rent."
In fact, Riseborough has admitted that she can be quite stubborn when it comes to what projects she will tackle and those she won't. "Well, I'd rather get a day job than do certain jobs in the industry," she admitted, adding that "for some reason, there has always been this level in my head of what I will and won't do."
She admits that not being famous after all her movies is 'hard on the ego'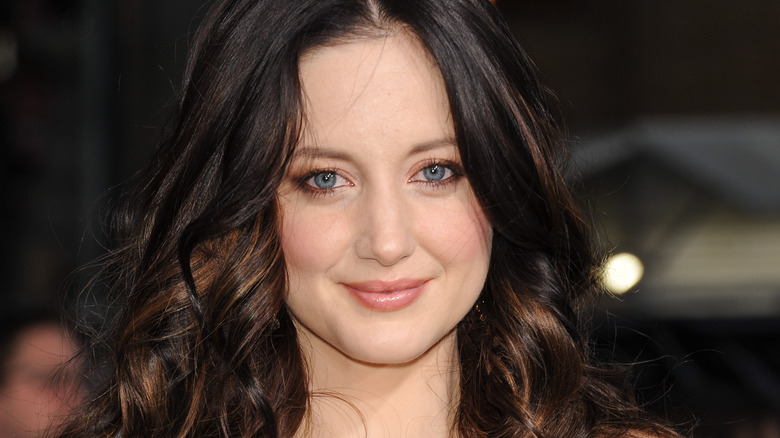 DFree/Shutterstock
Andrea Riseborough's chameleon-like ability to thoroughly inhabit her characters has provided her with a successful Hollywood career, yet has also prevented her from attaining a higher degree of fame — which hasn't necessarily been a bad thing. "In one way, I'm very relieved," she admitted in an interview with Metro UK. However, she conceded that there is a down side. "And in another ... it is like a stab to my heart, like I haven't done my job well enough to be noticed." That said, Riseborough ultimately recognizes that the fact she's not mega-famous only means that she's set out what she accomplished to do as an actor. "But then I know that the way I like to do my job, I've done it well when I'm not recognized," she added. On the flip side, she conceded, "It's hard on the ego."
Her ability to vanish inside a character is something of an innate trait that she's had since childhood, when she used to mimic friends' mannerisms in order to amuse herself. "I really enjoy picking up the physical rhythm of somebody else, speaking with their voice," she told W Magazine.
In fact, she can't imagine any other approach to acting than the one she's taken. "I've never done in anything in my own voice and I can't imagine what that would be like," she said. "It would be weird, I guess."
She's spoken out about Hollywood's shocking disparity between male and female actors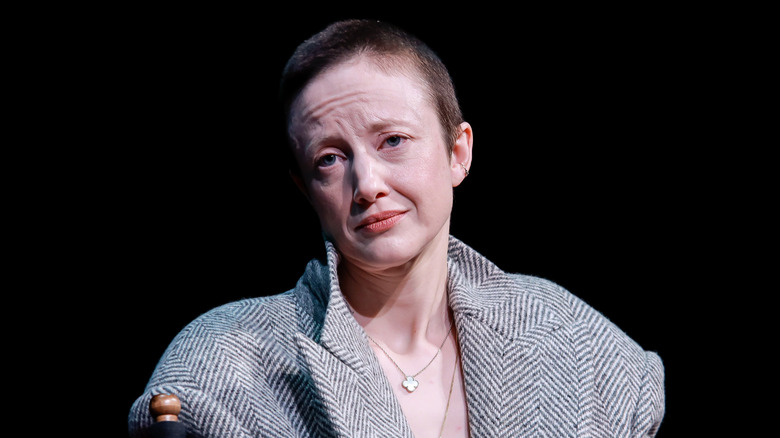 Jason Mendez/Getty Images
If there's one topic guaranteed to bring Andrea Riseborough's blood to a boil, it's Hollywood's wage disparity between male and female actors, with men typically earning significantly higher salaries than women. "The reality is I'm still being paid one twentieth of my male co-stars' fee. In anything," she told the Big Issue. "I can't explain how frustrating it is."
In that same interview, she also pointed to another disparity in the careers of male and female actors, in that a woman's career as a so-called  leading lady has a relatively short shelf life. "Women's careers don't have the same longevity — because as soon as wrinkles appear, there are only a few women who get work," she conceded. "It is a really stressful component of what I think women face every day in the world."
Riseborough has done more than just complain about the situation, but has taken matters into her own hands by founding her own female-led production company, Mother Sucker. As she told Metro UK, the impetus behind Mother Sucker "has just been to give more opportunities to women in film." That bore out on a film her company produced that, she told Entertainment Weekly, boasted a crew that was 90 percent female.
How she connected with playing an addict in To Leslie
Of all the roles Andre Riseborough has played, none has brought her the level of critical acclaim as the title role in 2022 indie "To Leslie." The feature directorial debut of Michael Morris (whose extensive directing work in television includes the likes of "Better Call Saul," "Shameless," and "House of Cards"), "To Leslie" follows the journey of the titular Leslie, an East Texas woman who won nearly $200,000 in a lottery and squandered it all, leaving herself bitter, broken and sinking into alcoholism. Filmed in just 19 days, the film is based on the true story of screenwriter Ryan Binaco's mother and his recollections of his own painful childhood.
As Riseborough told Deadline, she was able to forge a connection with Leslie, and understand her addiction, through the character's happier moments. "There's an honesty to having her turn to drink in moments of happiness, because that's the most human reflex. 'I'm happy, I want to celebrate. I want to be even happier,'" Riseborough explained. "Happiness is such a transient beast for all of us."
As in all her roles, the secret sauce that allowed Riseborough to so fully inhabit Leslie was her full and total commitment to displaying the character's truth, as brutal and, at times, unpleasant as it may have been. "But I think, no matter what you do, if you're unable to fully commit yourself to telling the story, it just isn't going to work," she explained.
If you or anyone you know needs help with addiction issues, help is available. Visit the Substance Abuse and Mental Health Services Administration website or contact SAMHSA's National Helpline at 1-800-662-HELP (4357).
Even Andrea Riseborough couldn't believe she was nominated for an Oscar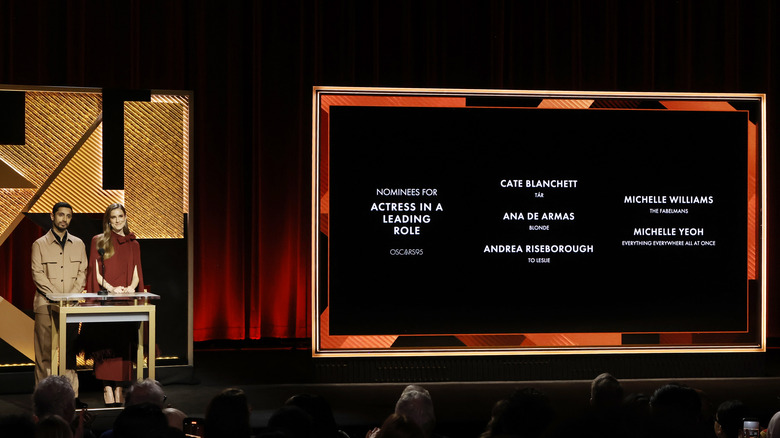 Kevin Winter/Getty Images
When actors Riz Ahmed and Allison Williams announced the 2023 Academy Award nominations on the morning of January 24, most of the nominations in the Actress in a Leading Role category were expected: Cate Blanchett as a symphony conductor in "Tár," Ana de Armas as screen goddess Marilyn Monroe in the controversial character study "Blonde," Michelle Williams standing in for Steven Spielberg's mom in the semi-autobiographical "The Fabelmans," and Michelle Yeoh as a confused wife and mother on an unanticipated journey through the metaverse in "Everything Everywhere All At Once." Also on that list was Andrea Riseborough, nominated for "To Leslie," which led to many reactions of "Andrea who? In 'To what?'"
As surprised as the general public was to see Riseborough's name on that list of nominations, it didn't come close to the shock that Riseborough herself felt to see her name on that roster. "It's sort of surreal," Riseborough told the New York Times. Speaking with Entertainment Weekly, Riseborough went even further to express her surprise at being an Oscar nominee for the first time. "It really has been baffling," she conceded.
"I'm astounded," Riseborough told Deadline of learning she was nominated. "It was so hard to believe it might ever happen because we really hadn't been in the running for anything else," she added. "Even though we had a lot of support, the idea it might actually happen seemed so far away."
How Andrea Riseborough snagged an Oscar nomination for a movie nobody saw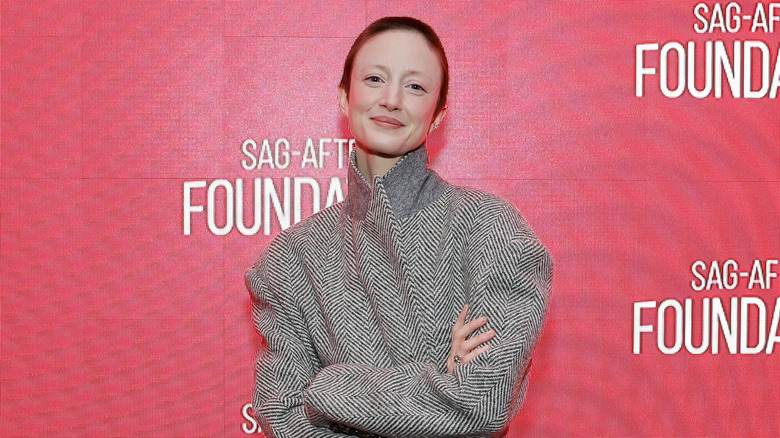 Jason Mendez/Getty Images
What the average filmgoer may not realize is that receiving an Oscar nomination rarely comes about from just a great film performance. It's almost always the result of a months-long campaign mounted by a film's studio, in which the wannabe nominee attends a seemingly endless stream of industry events during award season, a process not that dissimilar from running for political office. "For Your Consideration" ads are taken out in industry trade magazines, billboards, and posters sprung up all over Los Angeles — all of which require the deep pockets of a major movie studio.
That then begs the question, how did Andrea Riseborough land an Oscar nomination for a low-budget indie that didn't have big studio backing? It all began in October 2022 when Howard Stern told his listeners he'd seen "To Leslie" and loved it, having been sent the film by Mary McCormack, who had played his wife in his film "Private Parts," and was married to "To Leslie" director Michael Morris. McCormack, in fact, led her own ad-hoc, grassroots campaign using the power of social media.
According to an email obtained by Variety, McCormack began contacting her Hollywood friends and colleagues, asking them to endorse the film on their own social media platforms. "If you're willing to post every day between now and Jan 17th [the final day of voting for Oscar nominations], that would be amazing!" McCormack wrote. 
Some protests complained that her Oscar nomination stemmed from racism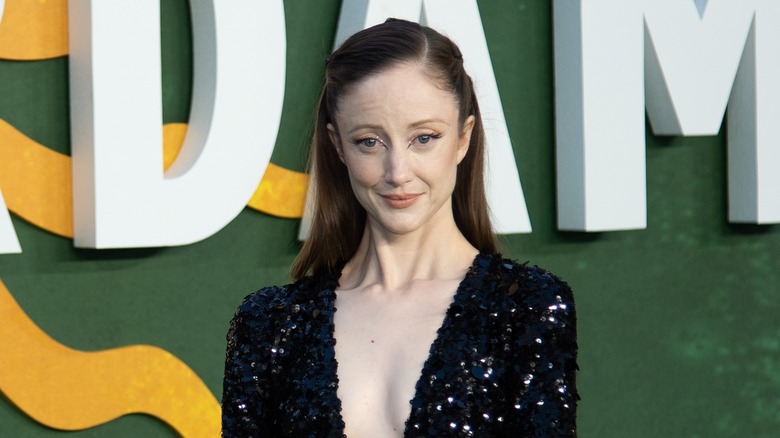 Loredana Sangiuliano/Shutterstock
Andrea Riseborough's addition to an otherwise-predictable list of Oscar nominees wasn't the only thing that led to surprise. In fact, industry observers made the uncomfortable observation that, with the exception of Michelle Yeoh, every nominee on the list was white. That proved to be particularly galling for Black actors and filmmakers who pointed out that Viola Davis' performance in "The Woman King," or Danielle Deadwyler's for "Till," were equally Oscar-worthy. 
The #OscarsSoWhite hashtag from a few years earlier began trending on social media again. In addition, "Till" director Chinonye Chukwu called out both the Academy and the movie industry in general in a scathing Instagram post that slammed Hollywood for "upholding whiteness and perpetuating an unabashed misogyny towards Black women." 
Meanwhile, Los Angeles Times film critic Robert Daniels wrote that Riseborough nabbing a nomination by eschewing the traditional Oscar campaigning while Black female actors who did follow the traditional Oscar-campaign underlined the inherent racism within the Academy Awards. "What does it say that the Black women who did everything the institution asks of them — luxury dinners, private academy screenings, meet-and-greets, splashy television spots and magazine profiles — are ignored when someone who did everything outside of the system is rewarded?" Daniels pointedly remarked.
Andrea Riseborough's Oscar nomination triggered an Academy investigation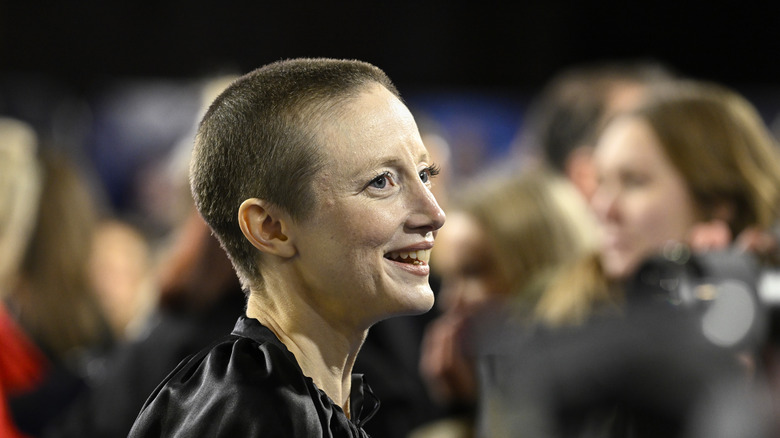 Gareth Cattermole/Getty Images
As has often been the case whenever the choice of Oscar nominations is criticized, the Academy responded with a knee-jerk reaction. As Variety reported,  an investigation was undertaken; while neither Andrea Riseborough nor "To Leslie" were mentioned, a statement announced, "We are conducting a review of the campaign procedures around this year's nominees, to ensure that no guidelines were violated, and to inform us whether changes to the guidelines may be needed in a new era of social media and digital communication." 
That review was hit with backlash from Marc Maron, Riseborough's "To Leslie" co-star, who told listeners of his "WTF" podcast that a grassroots campaign for a low-budget indie upsets the established order — and the big money involved. "Millions of dollars [are] put into months and months of advertising campaigns, publicity, screenings by large corporate entertainment entities and Andrea was championed by her peers through a grassroots campaign which was pushed through by a few actors," Maron said. Christina Ricci, in a since-deleted Instagram post, wrote, "So it's only the films and actors that can afford the campaigns that deserve recognition? Feels elitist and exclusive and frankly very backward to me."
When the review concluded, Riseborough's nomination was allowed to stand. "The Academy has determined the activity in question does not rise to the level that the film's nomination should be rescinded," wrote Academy CEO Bill Kramer in a statement to CNN.