Brad Pitt Is A Huge Chiefs Fan (But It's Not The Only NFL Team He Roots For)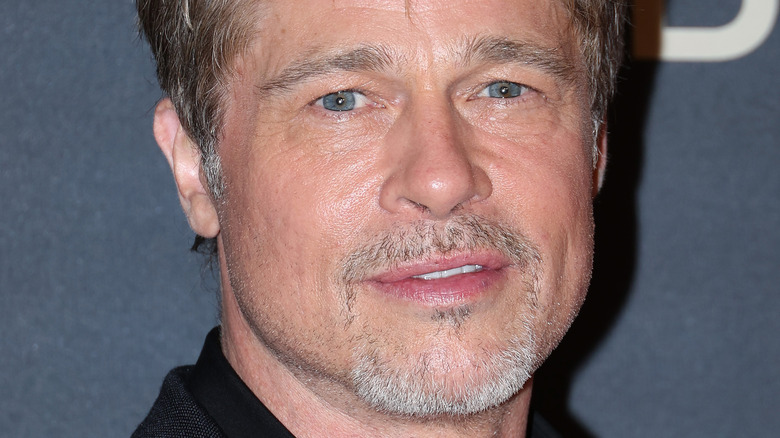 Pascal Le Segretain/Getty Images
Fortunes and mega-mansions aside, celebrities are just like us. By that — we mean that some of them are die-hard sports fans, too! Relatable, right? According to Bleacher Report, Mark Wahlberg regularly cheers for his beloved Boston teams, while Jack Nicholson bleeds purple and gold. A native Brooklynite, rapper Jay-Z once owned a minority share of the Brooklyn Nets. Meanwhile, others, like Ryan Reynolds and Rob McElhenney, have gone in on more unorthodox sports franchise purchases. The duo's purchase of fifth-tier Welsh soccer team Wrexham was the focal point of the 2022 Hulu documentary, "Welcome to Wrexham."
Speaking of McElhenney, the funnyman is set to support his beloved Philadelphia Eagles as they take on the Kansas City Chiefs in Super Bowl LVII. In fact, McElhenney was driven to choose Wrexham as his club because of its similarities to his Philadelphia hometown. "Working class. Blue collar people who love their sports teams more than almost anything else in their lives, and we knew how important that was to the community," he told CBS News. "And I felt like I know those people because I grew up with those people, I'm related to those people and I am of those people."
While McElhenney is backing the Eagles in the big game, other A-listers are supporting the Chiefs. Brad Pitt is one such celeb who will be doing the tomahawk chop as he cheers on Patrick Mahomes for what could be the team's third Super Bowl victory, per Sporting News.
Brad Pitt grew up in Missouri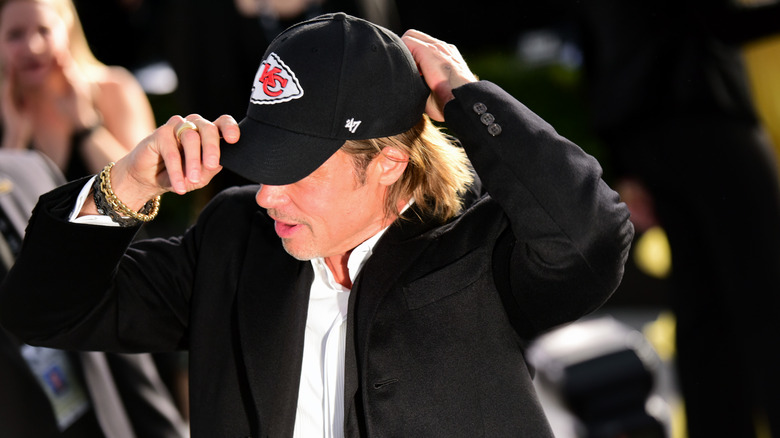 Chelsea Guglielmino/Getty Images
Brad Pitt was born in Oklahoma, but his family relocated to Springfield, Missouri, where he spent much of his childhood, according to Women's Health. He then attended the University of Missouri before dropping out to pursue acting. Given his Midwestern roots, the actor has been a lifelong fan of the Kansas City Chiefs. Back in 2013, Pitt recorded a taped message on a local news station that showed him raising a fist in support of the Chiefs.
Fast forward to 2020, and Pitt is still all in on Chiefs kingdom. That year, the "Moneyball" star repped his team by wearing a Chiefs' hat at the SAG Awards, per Variety. "My Chiefs won today," he told reporters on the red carpet, adding that "they're on fire" when pressed to give them a message. Pitt's support paid off, as the Chiefs defeated the San Francisco 49ers to clinch a victory at Super Bowl LIV. "It makes last year's loss [to New England] a whole lot better. I think we are looking at a dynasty," he later reflected on the win, per The U.S. Sun.
As of 2023, Pitt is still a die-hard Chiefs fan. While there's no word yet whether he'll be present at Super Bowl LVII, he spoke with TMZ ahead of the AFC Championship game featuring the Chiefs and the Cincinnati Bengals. "Chiefs, baby!" he said, believing that his team has what it takes to go all the way. It looks as if we'll have to wait and see what happens come February 12.
Brad Pitt is a big fan of the New Orleans Saints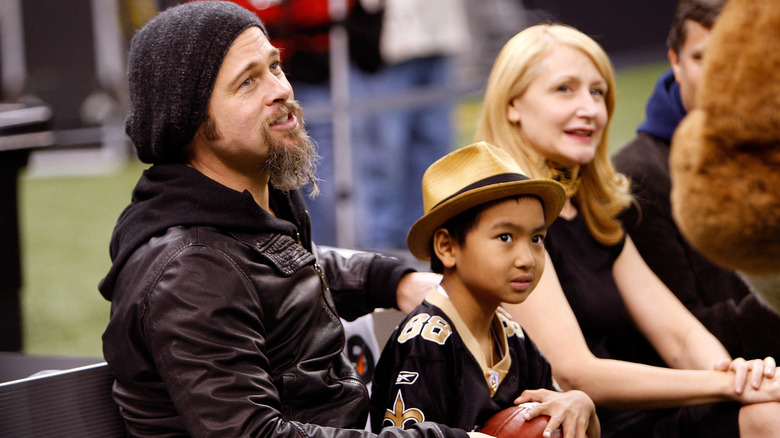 Chris Graythen/Getty Images
The Kansas City Chiefs have been to five AFC Championships in the last five years, so Brad Pitt has had a lot to cheer about. But there's another team who, while they might not have as good of a record as the Chiefs, is no less near and dear to Pitt's heart. We're talking about the New Orleans Saints, whom the actor began cheering for after spending time in NoLa. According to the Daily Mail, Pitt and his ex-wife Angelina Jolie bought a mansion near the French Quarter in 2007. A lover of the city's vibrant music and food scene, Pitt also pledged to help victims of Hurricane Katrina via his Make It Right Foundation, which built low-income houses in the Lower 9th Ward.
During his time in New Orleans, Pitt attended Saints games. He even took his son Maddox Jolie-Pitt to the Caesars Superdome, according to Radar. Former Saints quarterback Drew Brees was aware of the A-lister's support for the Saints and praised Pitt for the work he did within the community, according to TMZ Sports. The two remain friends to this day.
While it's clear that Pitt embraced the football team of his adoptive home, one question still has us scratching our heads — If the Saints and the Chiefs play against each other, who does Pitt cheer for?