Weird Facts Hulk Hogan Has Revealed About Himself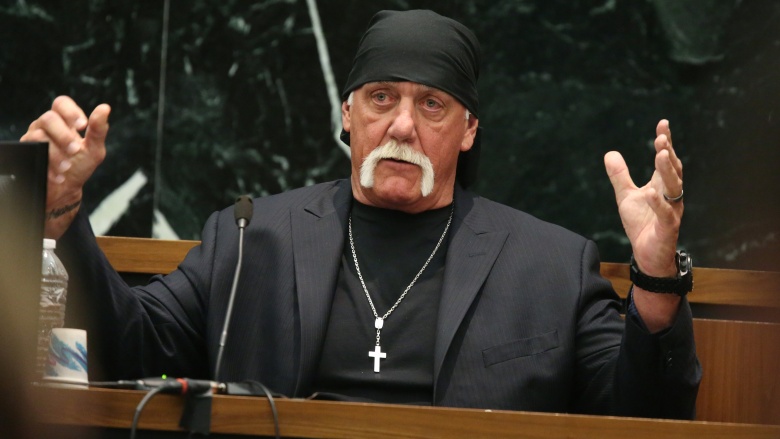 Getty Images
In March 2016, Hulk Hogan won $115 million in his lawsuit against Gawker Media, which posted a sex tape of the legendary wrestler without his knowledge nor his consent. The sex tape, and its subsequent trial, revealed a lot more about the Hulkster (real name Terry Bollea) than, well, his private parts. We're hitting the ring to reveal the most bizarre, heartbreaking, and infuriating details revealed in Hulk Hogan's lawsuit against Gawker.
He had an ongoing hookup with Heather Cole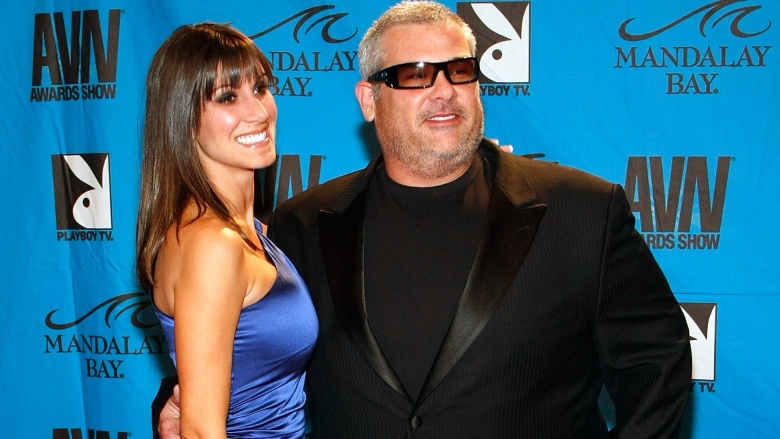 Getty Images
Hogan's co-star in the video was Heather Cole, then-wife of his former best friend, Bubba "the Love Sponge" Clem. The pair reportedly hooked up three times, though only one romp was released to the public on video. Though Cole was a consenting partner, The Daily Mail says that transcripts of the tape reveal she didn't necessarily enjoy the encounters. Then again, Hogan hasn't had a good match since Wrestlemania X8.
His weird relationships with his friends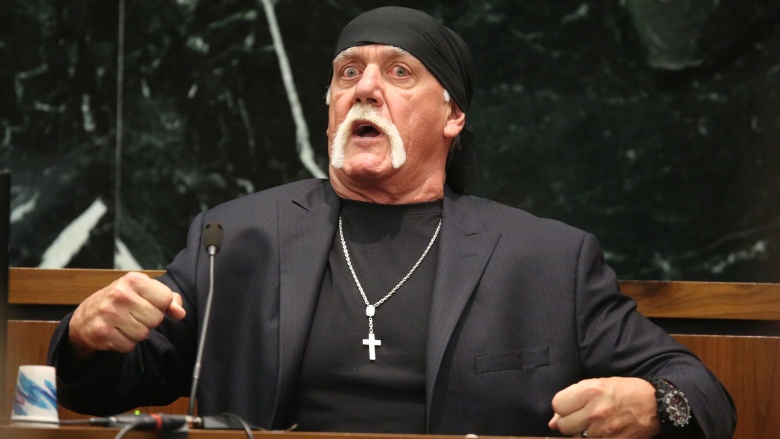 Getty Images
Clem reportedly encouraged Cole to hook up with the former wrestler, but never told Hogan he'd be videotaped. According to The Daily Mail, in one video recorded at Cole and Clem's home, Clem pops up throughout, offers well-wishes, and goes about his day while Cole and Hogan go at it, even offering to "keep a lookout" in his own office. Hogan never looks at any cameras, but The New York Post reports that Cole can be seen adjusting herself and Hogan to appear within the scopes of the lenses. A tearful Cole said during testimony that Hogan was never told he'd been videotaped and found out roughly about the same time as the rest of the world. Additionally, The Daily Mail notes that in the third tape Cole and Clem recorded, they chat about whether or not to blackmail Hogan with the video they just made, in which he uses racial slurs. And we thought Hogan's friendship with "Macho Man" Randy Savage was shaky.
The distinction between Hulk Hogan and Terry Bollea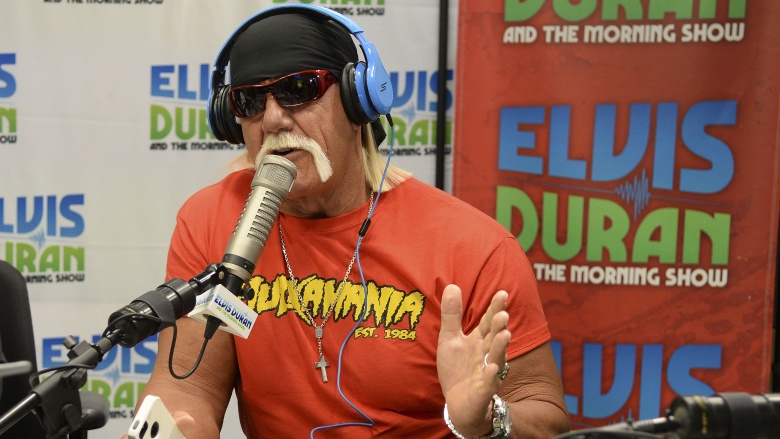 Getty Images
During the trial, the Hulkster admitted that his Hulk Hogan persona is a far cry from his offstage, out-of-the-ring true nature as Terry Bollea. When he was asked why he spoke about the sex tape to TMZ in October 2012, Hogan explained on the stand (via The New York Post), "I was totally Hulk Hogan [for the TMZ interview] because I wasn't at home in my private house." He added that when he spoke to VH1 about similar statements, "I was probably in the Hulk Hogan mode, trying to get through the day...As Hulk Hogan, I've said I've slammed an elephant and surfed on a tiger shark and body-slammed Moby Dick—and I've said I pulled a bumper off a Cadillac, Jack—so it gives you artistic liberty when you are Hulk Hogan, to be in character." Speaking of character, Hogan also explained in court the difference between Terry Bollea and Hulk Hogan's manhood (it was a dialogue topic on the tape that Gawker's lawyers mentioned and Hogan strangely had an explanation for).
Parting ways with WWE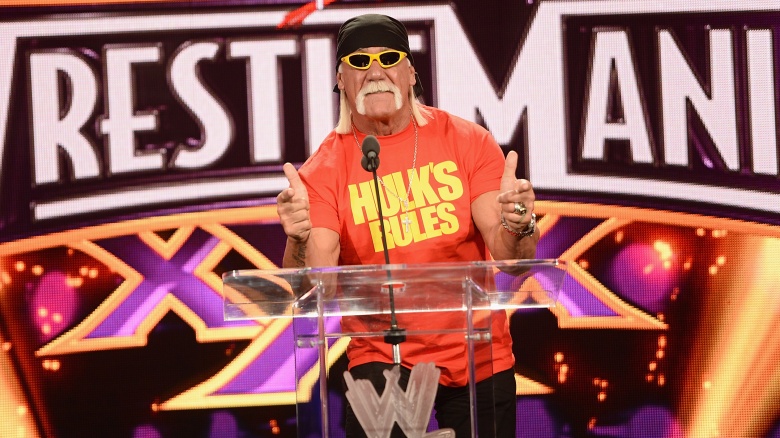 Getty Images
In July 2015, World Wrestling Entertainment (WWE) terminated their contract with Hogan when audio leaked from one of the sex tapes, featuring the former wrestler using racial slurs. WWE didn't just end their professional relationship with Hogan going forward, they even erased all traces of him from their Hall of Fame, official website, and merchandise shop, which probably cost him a pretty penny.
The news devastated his self-esteem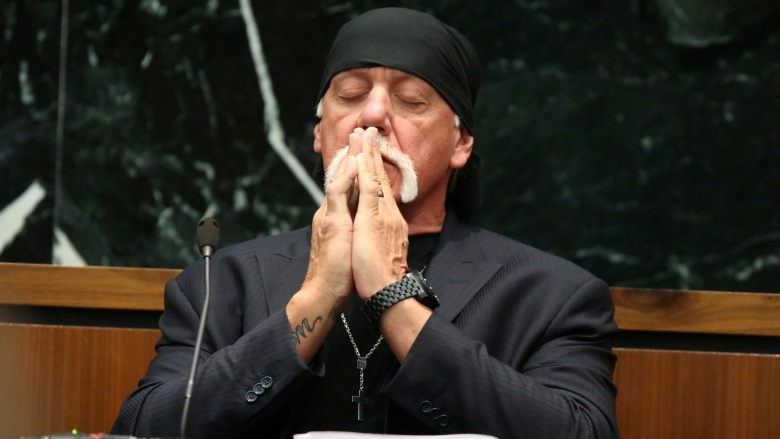 Getty Images
The New York Post reports that Hogan's lawyer, David Houston, noticed a change in Hogan's demeanor since the sex tape was published. "The Terry Bollea [Hogan] that I met was a confident, outgoing person that quite frankly believed in his message, and after the video, I know that he portrays the same persona, but you can tell it's not as strong—there's that self-doubt," said Houston. Hogan himself told Good Morning America that he contemplated suicide when the tape was posted and when the racially-charged audio leaked. "Everything I've done, my whole career and my whole life, it's like it never happened. It's like I never existed...I was completely broken and destroyed and said, 'What's the easiest way out of this?' I mean, I was lost."
His weird relationship with his kids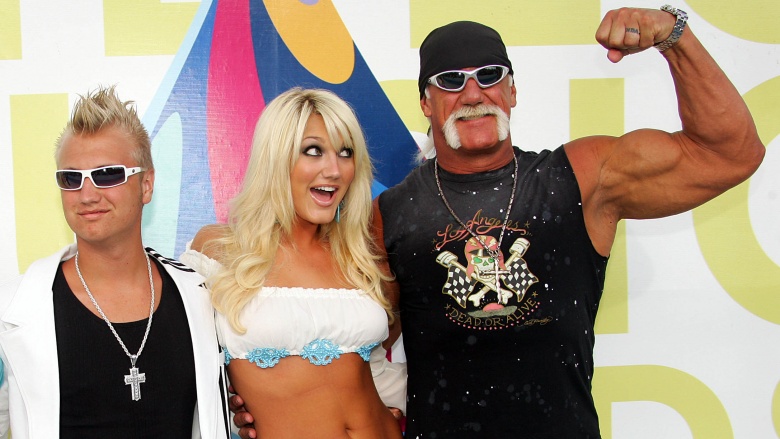 Getty Images
In one of the leaked tapes, Hogan expresses concern over his daughter Brooke's dating choices. Problem was, he expressed them using racial slurs. He also lamented spending over $3 million on her stalled music career, per The Mirror, only to have her take ex-wife Linda's side in their bitter divorce.
Hogan also speaks of his son, Nick, in a slightly better light...but puts himself in a pretty skeevy one. "Nick's girlfriend is only 17. She has a killer f***ing body," he said on the video (via Mirror Online). "The other night Nick is out and his dogs are playing tug of war with Nick's and his girl's underwear. Then Nick has another girl who is even hotter in Orlando. Then she wants to be the first to get me if I'm divorced. Hot commodity." Uh, yikes and gross.