What We Know About Sam Rockwell's Relationship With Leslie Bibb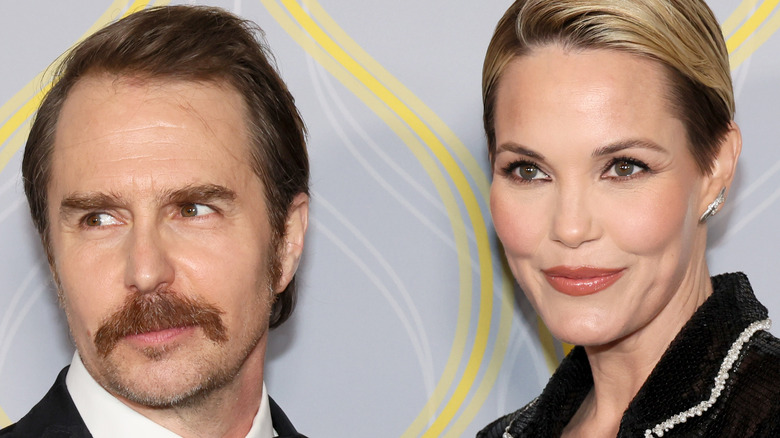 Dia Dipasupil/Getty Images
Sam Rockwell and Leslie Bibb have a low-key relationship that has been going strong for many years. The two actors first met in 2007 at the Chateau Marmont in West Hollywood at what Bibb called the "most cliched place." During an appearance on "The Rosie Show," Bibb shared, "I was standing there about to have dinner with some girlfriends, and somebody looked over my shoulder and waved and I turned around and it was him and he's walking behind me." She went on to say that he was filming "Frost/Nixon" at the time and they locked eyes and smiled at each other.
Bibb recalled feeling "struck" upon seeing him and the two went on a date a week later. Although the "Popular" star wasn't looking for a relationship at the time, she admitted she loved Rockwell three weeks later. Since their first date, Rockwell and Bibb have been inseparable and are open about how much they love each other. They have also taken their relationship goals a step further and proved that they can spend long days working together without getting sick of each other.
Sam Rockwell and Leslie Bibb have starred in several movies together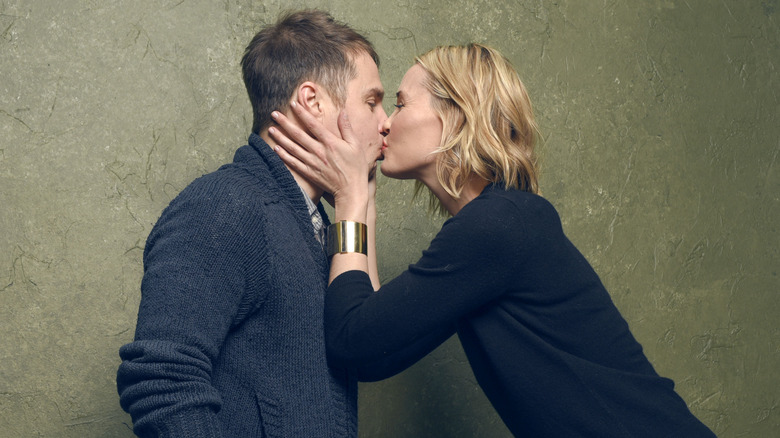 Larry Busacca/Getty Images
Leslie Bibb has had many acting jobs under her belt since she started her career in the 1990s. One of her biggest roles was her portrayal of journalist Christine Everheart in "Iron Man," alongside Robert Downey Jr. and Gwyneth Paltrow. Bibb reprised her role in "Iron Man 2," and this time, Sam Rockwell joined her. The "Vice" actor almost worked with Bibb in the first movie, as he was considered for the role of Tony Stark but Downey Jr. was ultimately picked over him, per MTV. Apparently, there were no hard feelings and he accepted the role of Justin Hammer for the sequel.
Bibb and Rockwell went on to star in "Don Verdean" together in 2015, in which Rockwell played the lead character. The two showed up that year at the Sundance Film Festival together and cozied up on the red carpet, as reported by the Daily Mail. Bibb and Rockwell reunited at work again for the short film "The Dark of Night" in 2017. The duo went on to work on various other projects separately but they rely on one rule to keep their relationship strong.
Sam Rockwell and Leslie Bibb rely on this rule to keep them bonded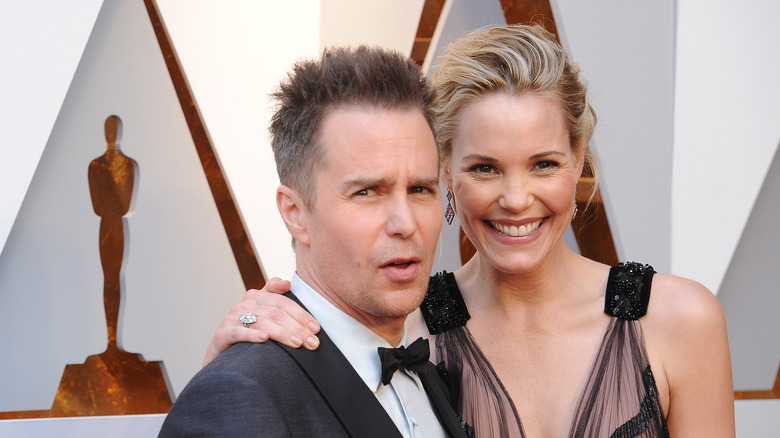 Tinseltown/Shutterstock
Being megastar actors means spending lots of time apart during filming, but Sam Rockwell and Leslie Bibb don't go too long without reuniting. "We have a two to three-week rule and then we see each other. Then you get too independent if it's four weeks, five weeks," Rockwell shared with Us Weekly. The rule seems to work as they've been together for well over a decade. Rockwell also credits a "sense of humor" for getting along so well with Bibb and told the publication during the 2018 SAG Awards, "She's really talented and funny herself. She reminds me of a young Mary Tyler Moore."
Bibb frequently shares her love for her forever partner on Instagram. "happy...happy birthday sammy...may this trip around the sun be out of sight...godspeed my love...you're the cake and the icing and the goddamn cherry on top...i love you cookie...xlb," she posted in 2022. In February 2021, Bibb posted a snap of her hugging Rockwell. "sammy and leslie sittin' under a tree, k-i-s-s-i-n-g...i wish...m-i-s-s-i-n-g my rockwell... hoping everyone is having a brilliant weekend...xolb," she shared. Although it's unclear if the two have tied the knot or are just the Kurt Russell and Goldie Hawn of their generation, it's evident they have much love for each other.