The Snoop Dogg Hit You Hear In Skechers' Super Bowl 2023 Commercial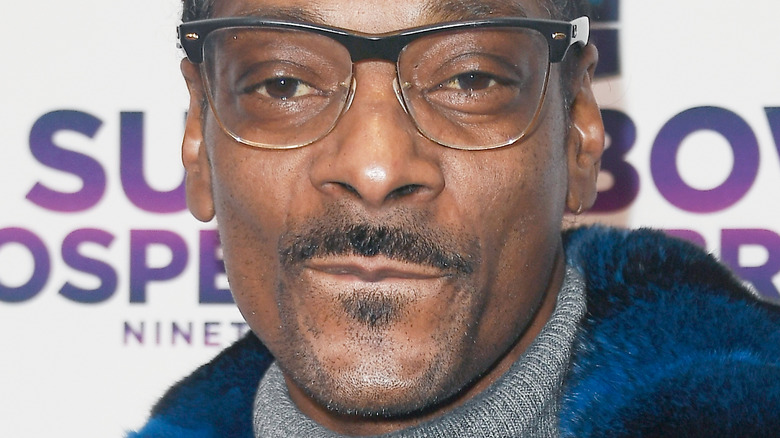 Frazer Harrison/Getty Images
It's almost time to get another round of Snoop Dogg at the Super Bowl. The "Drop It Like It's Hot" rapper is no stranger to football's biggest show. Just last year he joined an iconic group of musicians that included Dr. Dre, Kendrick Lamar, Mary J. Blige, Eminem, and 50 Cent for the halftime show. Although it seemed like Snoop Dogg had accomplished nearly everything in his career, the rapper was ecstatic to cross off the Super Bowl halftime show from his list.
Before the performance, Snoop shared how the halftime show was a "dream come true," per Billboard. Snoop said, "I'm still thinking I'm in a dream because I can't believe that they will let a real hip-hop artist grace the stage in an NFL Super Bowl. We're just going to wait for that moment and put something together that's spectacular, and do what we're known for doing and add on to the legacy." The halftime show performance was incredible as each musician sang a round of their best hits. The show even had viewers debating whether it was the greatest halftime performance of all time.
Of course, Snoop had plenty to do with making the performance iconic. From singing his collaboration "The Next Episode" to crip walking on stage ... viewers couldn't get enough. Lucky for fans, they'll have another opportunity to see Snoop on their Super Bowl screen, but this time as part of a commercial. Accompanied by one of his hit songs, the rapper will star in Skechers' upcoming Super Bowl ad.
Who am I? (What's my name?) will be in the Snoop Dogg commercial
Get ready to vibe to Skechers' 2023 star-studded Super Bowl commercial because it features one of Snoop Dogg's biggest hits. Those who catch the commercial on the big day will hear the iconic track, "Who am I (What's my name)?" playing in the background. Fans' attention will be on the screen as the lyrics, "Snoop Doggy, Dogg (yeah, yeah, yeah) / Snoop Doggy, Dogg (the bomb)" play. Since Snoop is starring in the advertisement, it seemed only fitting to have one of his songs as the background track.
The song is only one part of the exciting commercial as Snoop travels from place to place in his slip-on Skechers. At one point, the rapper even finds himself on the football field with former NFL star Tony Romo. In the scene, Romo is jokingly part of a youth football club and appears to be a little too strong for the other players. Snoop says to Romo, "Are you sure you're eight?" Playing on the humor, Romo responds, "I'm nine, actually." Romo isn't the only star in the commercial as Snoop's longtime friend Martha Stewart makes a brief appearance. Snoop and Stewart play president and vice president as the rapper sits in the oval office. Stewart then asks the rapper how he's able to take on so many roles. Snoop responds, "Skechers, baby. Shoes made for all walks of life."
Snoop Dogg and Skechers go hand in hand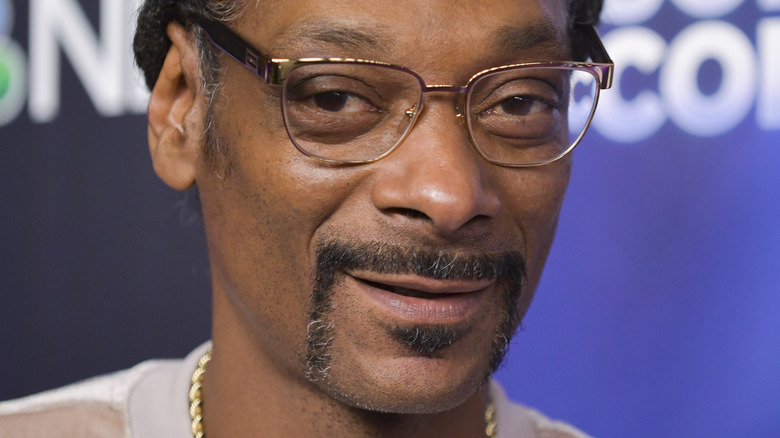 Rodin Eckenroth/Getty Images
Snoop Dogg and Skechers have had a history with one another for several years. The rapper has rocked the brand several times and has become a brand ambassador, per Business Wire. In one Instagram post the "Gin and Juice" rapper even shouted out Skechers with a promo picture as he was pictured on a private jet rocking the shoes. He said, "@skechers on the vacation with me every step of the way." Because of the rapper's relationship with the brand, it was obvious they had to get him in the commercial, and Snoop was more than happy to do so. According to Business Wire, Snoop shared, "I'm a man of the people. I'm excited to partner with Skechers, who always brings something for everyone — just like me."
Howie Long, Tony Romo, and Martha Stewart, who are all featured in the commercial, also have partnerships with the brand. But, besides that, Snoop joined forces with them to show how the shoe can adapt to any person and any situation. He told Business Wire, "In this commercial, I got together with some of my friends, who also all have very active lifestyles and want to be stylish and comfortable at the same time, which we can do with Skechers. They're shoes for all walks of life." Fans will be able to catch Snoop in the Skechers commercial during the fourth quarter of the 2023 Super Bowl. So, be sure to be on the lookout!