Here's How Old Kylie Jenner Was When She Met Travis Scott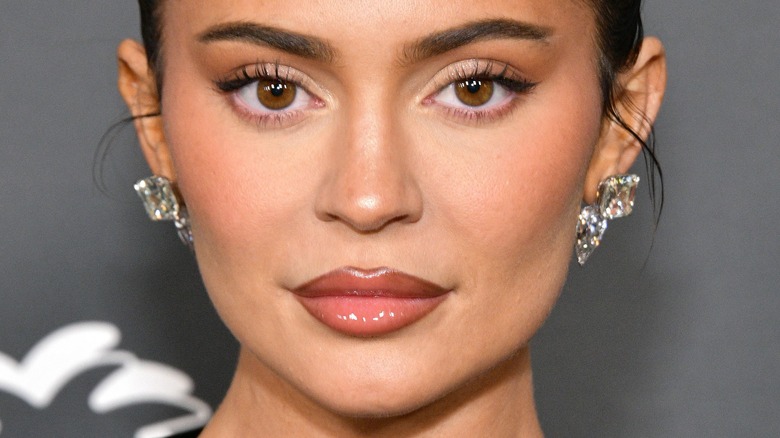 Araya Doheny/Getty Images
The relationship between Kylie Jenner and Travis Scott has been tabloid fodder since the two began their whirlwind romance in 2017. It shouldn't come as a surprise: Jenner is part of one of the most famous families in the world, and Scott is a well-renowned rapper. With their shared stardom, the two have become one of the most prominent couples in Hollywood.
Jenner and Scott have had a long history with one another that stretches back years. However, it didn't start in the way that many might think it did. Initially, Jenner assumed the "Sicko Mode" rapper wasn't a fan of hers. As Kylie shared with GQ, "We always knew each other, like we were hanging around each other — I mean, we just had mutual friends. But we never really had a conversation because I thought that he didn't like me." Although the two ran in the same circles, they saw their relationship as being nothing more than mutual friends. As we know now, things have changed. The pair have had an on-and-off relationship that has certainly seen a lot of highs and lows.
Throughout it all, fans have been rooting for the couple. Jenner has publicly shared her love for Scott, and it seems that no matter what, she will stand by him, per Entertainment Tonight. Regardless of their age gap, the couple appears to understand each other as no one else could.
Kylie Jenner was 19 when she started dating Travis Scott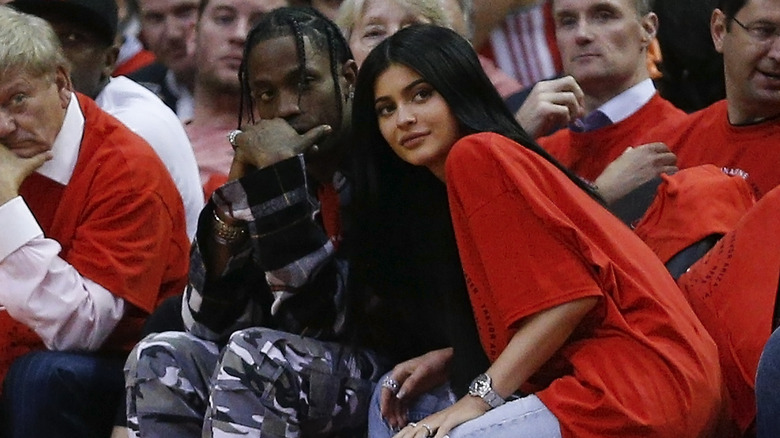 Bob Levey/Getty Images
Because Kylie Jenner and Travis Scott have a long history – it seems surprising that neither can remember when they first met. But it's the truth! The makeup mogul and rapper revealed to GQ that they don't really remember their first meeting, yet they both recall when their flame finally ignited. The reality star and the "Sicko Mode" rapper hit it off at Coachella in 2017. At the time, Jenner was 19, and Scott was 24, making him five years her senior.
The rapper landed one of the top spots on the coveted Friday lineup during the three-day festival, notes Pitchfork. After Friday, Scott had the opportunity to enjoy the festival, and it seems he chose to spend his time with Jenner. Billboard reports the two were seen holding hands and walking the polo field together. Fans were shocked to see Jenner with Scott because she had broken up with rapper Tyga a month earlier, per Insider. But, sometimes, you can't help how you're feeling.
Jenner fell head over heels for Scott as their relationship completely took off. She told GQ, "He said, 'I'm going back on tour...what do we want to do about this?' Because we obviously liked each other. And I was like, 'I guess I'm going with you.'" From then on, the two have been by each other's side.
Kylie and Travis have an up and down relationship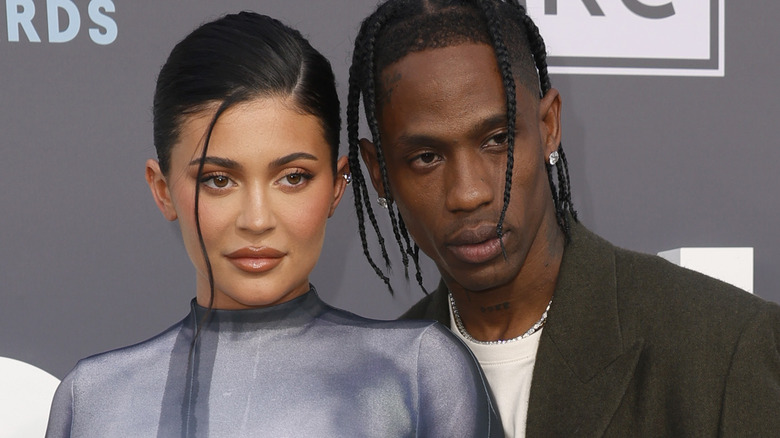 Frazer Harrison/Getty Images
If there is one thing we know about the Kardashian/Jenner clan, it's that their lives are filled with excitement. Many of Kylie Jenner's most memorable moments involve her beau, Travis Scott. After the couple met, it didn't take long before they were ready to take the next step in their relationship. In February 2018 — just ten months after they started dating — Jenner and Scott welcomed their first child. Jenner announced Stormi Webster's birth on Instagram, and fans were ecstatic to see the couple sharing this monumental moment.
Throughout the year, the couple was attached at the hip. They attended the Met Gala together, posed for magazines, and got matching tattoos, notes Insider. The two seemed inseparable. So, many fans were stunned when the couple decided to call things off in 2019. But this wasn't the end of the Jenner-Scott saga, as the two reportedly patched things up in 2020.
Jenner and Scott welcome a second bundle of joy in 2022 –- this time, a boy. Aire Webster was born a day after his big sister on February 2nd. Since then, the couple has co-parented their two children. However, the rapper and the cosmetics creator have found themselves at odds. According to People, the couple recently called it quits — again. But, due to the on-again-off-again nature of their relationship, it wouldn't be surprising if they found their way back to each other in the future.