What Darryl Henley's Life In Prison Is Really Like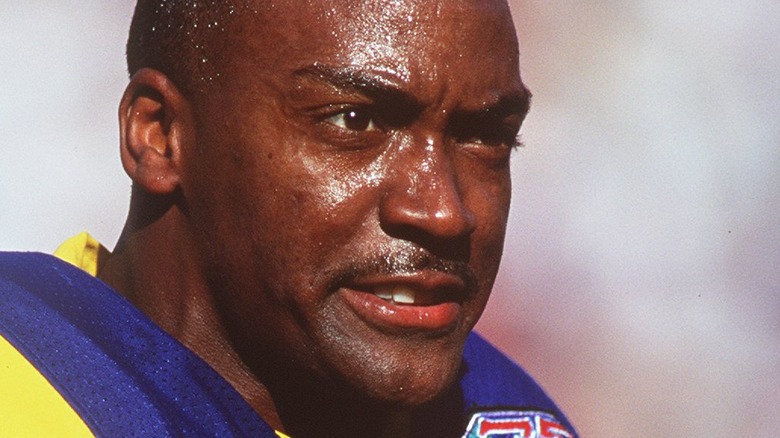 Al Bello/Getty Images
Darryl Henley was living the football dream until it all came crashing down. Sportscasting reports he was a standout at UCLA, scoring "consensus All-America honors" in his senior year. The defensive back was looking forward to a glittering NFL career. And sure enough, Henley was on his way after the Los Angeles Rams snapped him up during the second round of the 1989 draft.
According to the Los Angeles Times, Henley took a couple of years to shine, but by 1991, he'd found his groove and soon became the Rams' star of the starting lineup. Henley signed a contract for a $600,000 annual salary during the 1993 season. At the time, it looked like the only way was up with all the trappings of wealth and fame that comprise the life of a pro baller. However, just one year later, Henley joined the list of sports stars behind bars. He was arrested, and in March 1995 he was convicted of drug conspiracy and possession charges. 
The Los Angeles Times reports that it was discovered two years later that while Henley had been kicking his heels during the trial, he'd bribed a guard to smuggle a cellphone into his jail cell, and that Henley had tried to hire somebody to off the judge and co-conspirator-turned-witness Tracy Donaho for $100,000 each. Unfortunately for Henley, the hitman turned out to be a federal agent, and another 21 years was added to his 20-year prison sentence. So what's Darryl Henley's life in prison like?
Darryl Henley's serving hard time
Darryl Henley is one of the sports stars who ruined his career through a series of bad decisions, and he's paying for them by serving the majority of his adult life behind bars. According to ESPN, Henley's NFL past hasn't afforded him any special treatment. During his time at the infamous USP Marion in Illinois, the athlete spent 22 hours a day in his cell watching a small TV or listening to the radio. He was only permitted a total of "five 15-minute phone calls per month," and he had to communicate with visitors through a glass barrier using a prison receiver. 
"I lost focus," he said about how he ended up behind bars. "It was as simple as that. I lost focus as to knowing what got me to where I was." Henley explained that he began hanging with the wrong crowd, and one thing quickly led to another. However, He's trying to make his years inside count.
Henley has become involved in petitioning for prison reform and changing the "outdated" policies that result in high rates of recidivism and the destruction of families. "Entering prison as a young man, I won't be eligible for release until I'm 61, after spending over half my life behind bars," Henley explained in an opinion piece he wrote for Fox News. "In the nearly 23 years I've spent as a prisoner, I've learned a lot about prison reform from the inside."
Darryl Henley's learned a lot during his time in prison
Darryl Henley has served 28 years of his 41-year sentence, and he'll be in his sixties before he's even eligible for parole. After serving time in USP Marion in Illinois, Henley was transferred to ADX Florence in Colorado, then to a low-security facility in Yazoo City, Mississippi. During his stint behind bars, Henley has been a model prisoner and worked with inmates to help them pass their GEDs.
"Victim of the Drug War's harsh mandatory sentencing, as well as possible racial bias and entrapment, the onetime Rams star is 20 years into a 41-year jail term," Sports Illustrated wrote in 2015. The publication argued that the time already served "has been punishment enough" for Henley's crimes. "It's time the government considers whether he, like many non-violent offenders, has paid his dues and deserves a new chance," they continued.
Henley's next incarceration location was the Metropolitan Detention Center in Los Angeles. In his 2018 Fox News piece, he shared that he'd recently been visited by a reverend and a rabbi. "For almost two precious hours, these men listened to me share about my hopes and fears, my failures and regrets, and my setbacks and growth," Henley wrote. "They confirmed to me that I have worth and that there is a God who sees me, cares, and doesn't hold me in a prison of eternal condemnation."