Why Kate Middleton Left The Hospital Just Hours After Giving Birth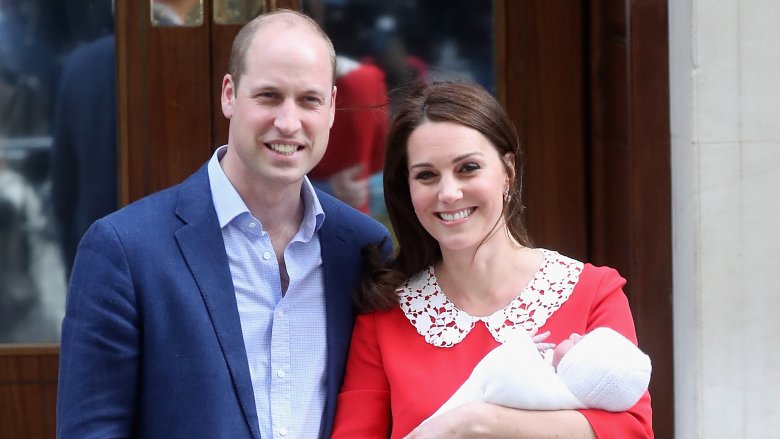 Getty Images
Prince William and Kate Middleton wasted no time in returning home with the newest addition to their family. Just seven hours after giving birth, Middleton left St. Mary's Hospital with her baby boy in tow. But why the rush?
Well, while a few days in the hospital post-delivery is hardly unusual in the United States, it's apparently not that common in the United Kingdom. In 2016, The Guardian reported that British women are sent home from the hospital after giving birth more quickly than women in any other developed country. On average, most British women reportedly spend just a day and a half in the hospital following childbirth.
But Middleton, who delivered her third child on April 25, 2018, hasn't even spent the average amount of time in the hospital after welcoming any of her three children. In fact, her hospital stays have gotten progressively shorter with each child. While she stayed overnight at the hospital after giving birth to Prince George in 2013, Middleton was in the hospital for just ten hours following the delivery of Princess Charlotte in 2015 (via People).
It could be that Middleton just doesn't need the extra care of a longer hospital stay. As Louise Silverton, the director for Midwifery at the Royal College of Midwives, told The Guardian, "The length of time a woman spends in hospital will vary depending on their needs..." Silverton added, "Midwives need to check to make sure women feel up to going home. However, provided the woman is medically fine, has the support she needs at home and the right postnatal care plan in place, and a good community midwife service, then going home even five or six hours after birth may be absolutely fine."
Of course, Middleton, who likely has a medical team on call, may have also decided to leave the hospital quickly due to the press outside — not to mention the public. As ABC News reported, there were a number of superfans that had camped outside the hospital.
We're sure that hospital patients, including other couples welcoming newborns, didn't mind having a little more privacy and personal attention from staff after the royal family left the premises.