Derek Fisher Engaged To Former Teammate's Ex-Wife Gloria Govan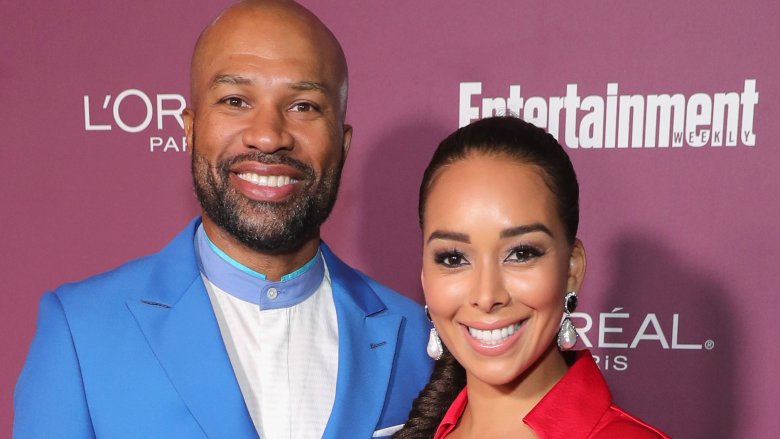 Getty Images
Congratulations to Derek Fisher and Gloria Govan!
TMZ reports that the former NBA star proposed to his girlfriend on April 7, 2018, getting down on one knee in front of their family at their Los Angeles home. Fisher reportedly arranged for Govan's friends to take her out earlier in the day so he could decorate their house with candles and flower petals. And, of course, Govan said yes when Fisher popped the big question.
Fisher and Govan first started dating back in 2015, following Govan's 2014 split from Fisher's former Lakers teammate Matt Barnes. Fisher and Barnes had previously gotten in a fight at Govan's home in 2015, when Barnes, who shares twins with Govan, reportedly drove more than 90 miles just to confront his fellow sports star (via Sports Illustrated).
However, Fisher and Barnes later settled the beef between them. Speaking with radio station Hot 97 in February 2018, Barnes said, "It's crazy I say this — Derek and I get along better than I get along with my ex" (via SI). Regarding their previous physical altercation, he said, "You know, we squashed — I told him why I came at him the way I did, and he understood."
And Barnes apparently meant it when he said he and Fisher were on good terms, as, when news broke about Fisher's engagement to Govan, he took to Instagram to write, "You guys want this to be an issue, it's not! I've known about this for a few weeks & I am all for it.. My kids matter to me at this point, that's it" (via USA Today). Interestingly enough, however, Barnes' post has since been deleted.