The 11 Saddest Things About Natasha Lyonne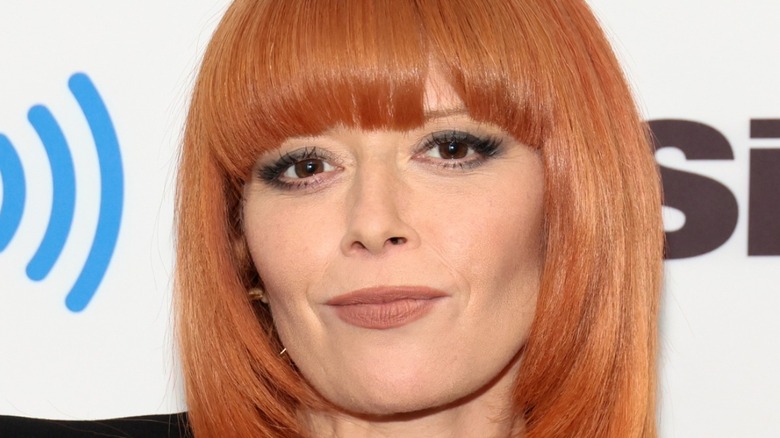 Dia Dipasupil/Getty Images
The following references drug addiction.
After decades working in Hollywood, Natasha Lyonne has finally come into her own. Witty and erudite, her fast-talking New York City-accented quips have led her to the forefront of the pop culture zeitgeist. With star turns in shows like Netflix's "Russian Doll" and "Poker Face" on Peacock, Lyonne's idiosyncratic portrayals of dynamic female characters have been years in the making. But as assured as her characters Nadia Vulvokov and Charlie Cale may be, Lyonne's life off screen has not always been a sure thing.
Lyonne got her start as a child actor on "Pee-Wee's Playhouse," then became a late-'90s indie darling in movies like "Slums of Beverly Hills" and "But I'm A Cheerleader." She reached mainstream status by appearing in the 1999 teen film phenomenon "American Pie," but soon her personal troubles sidelined her Hollywood success. Arrests, addiction, and family drama took their toll on Lyonne. While she eventually rebounded with a role in "Orange Is The New Black," her path to career redemption wasn't easy. To really appreciate Lyonne's triumphs, one must journey into her darker moments. Let's take a closer look at some of the saddest things about Natasha Lyonne.
Her connection to the Holocaust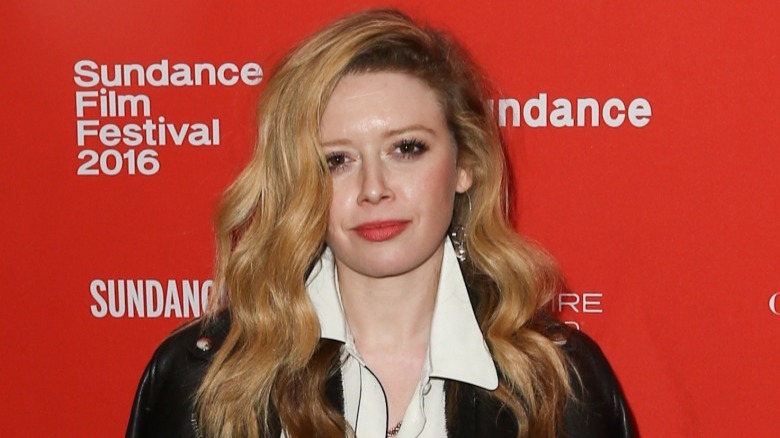 Debby Wong/Shutterstock
Natasha Lyonne's family history includes relatives who directly experienced the horrors of the Holocaust. On a 2017 episode of "WTF with Marc Maron," Lyonne delved into her family history, where she shared that her maternal grandmother, Ella, along with her sisters and a brother, survived the genocide. Lyonne said her grandparents often didn't speak directly about their Holocaust experience because, as she understands, it was a survival mechanism. Not only did they survive, but her grandparents made successful lives for themselves after World War II in the United States. 
Several of Lyonne's film and television projects have been about the Holocaust. In 2001, Lyonne co-starred in the movie "The Grey Zone," which depicts life in the Auschwitz death camp. Season 2 of Lyonne's Netflix series "Russian Doll" looks at the generational trauma the Holocaust caused. According to The New Yorker, preparation for Season 2's writers included assigning Holocaust survivor Viktor Frankl's book "Man Search for Meaning" to the writers.
Her parents pushed her to be a child actor
For Natasha Lyonne, being a child actor wasn't exactly her idea. Per The New Yorker, Lyonne started working in show business in kindergarten as a scheme to bankroll her father's varied, and somewhat eccentric, professional interests. She started in commercials, then made her movie debut in 1986's "Heartburn." She then appeared in the '80s children's show phenomenon "Pee-wee's Playhouse" and had a small role as a troubled babysitter in the 1993 movie "Dennis The Menace." For Lyonne's parents, her childhood stardom seemed like a path to financial success. She recalled in Variety, "It was my parents' fantasy to materialize their very own Shirley Temple; that was going to pay the bills. Sadly the money was spent."
Reflecting on her time as a child performer, Lyonne told Heeb Magazine, "It is kind of a wacky idea to put your child in business at six years old. I had to become coherent and a businesswoman at six. By 10, I was a jaded professional." She went on to add, "I don't think they knew better. It was a decision of my parents built on hopeful ignorance." Now, as an adult with a successful career in Hollywood, Lyonne looks back at her child acting days with appreciation. She said to Variety, "In some ironic adult-person way, now I'm just fine with how it all went. I forgive my parents for the weirdness of having me suited up with a briefcase as a 6-year-old."
Her unstable relationship with her parents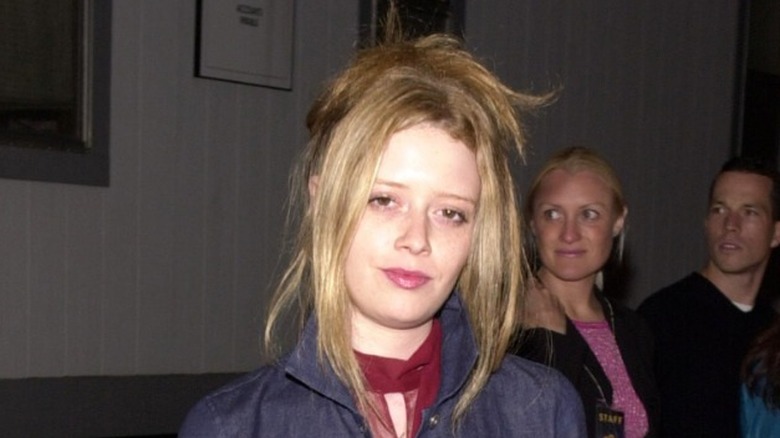 Chris Weeks/Getty Images
With all the instability in her childhood, it's not surprising that Natasha Lyonne's relationship with her parents became volatile. Per The New Yorker, her mother, Ivette Buchinger, was an aspiring dancer; dad Aaron Braunstein's career ambitions included boxing promotion and race car driving. Lyonne, along with her brother, moved with her parents from Long Island to Israel. Her father's alcohol misuse and his failing business ventures led Lyonne and her mother to return to the United States. The New York Times reported that by age 16, Lyonne was living on her own. She said of her relationship with her parents, "I'd love to say that there's been this great 180 and happy ever after." However, she remained mostly estranged from both her mother and father until their deaths in the early 2010s.
In 2010, the New York Post shared that Lyonne sought a restraining order against her father, but despite this, he still celebrated his daughter's successes. When the Observer visited Braunstein's apartment while he was running for New York City Council in 2013, it was adorned with Lyonne memorabilia. When her parents died, Lyonne felt relief. In The New Yorker, she told filmmaker Janicza Bravo, "I mean, I got really lucky, because they died. I only mean that it was so all-consuming, and I think it's very hard to let go of that." She added, "Now I'm an adult, and I can start my life. That's no longer a present danger in my psyche."
She was expelled from school for selling drugs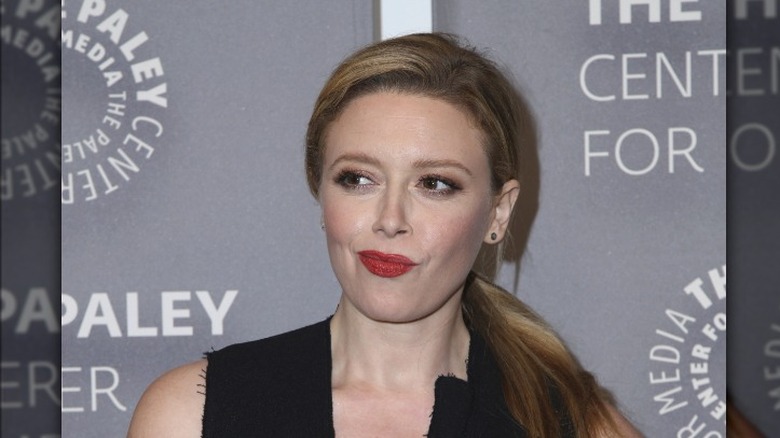 Kathy Hutchins/Shutterstock
Natasha Lyonne has plenty of street smarts, but at one point in her life, she tried cultivating her intellect via a more traditional academic path. Lyonne was a scholarship student at Ramaz, an Orthodox day school in New York City. She told Variety that, while studying the Talmud was tough, she liked it. On "WTF with Marc Maron," Lyonne shared that while she was taking honors Talmud classes and reading Aramaic, she was a bad influence on the other students.
Teenage Lyonne resented being a scholarship kid, and in an interview with NPR, she admitted this led to her selling marijuana at the school. She was quickly caught and then expelled as a result. In Variety, she also attributed scoring a role in director Woody Allen's film "Everyone Says I Love You" as a contributing factor to her expulsion, ironic considering she admitted to NPR that while on the cusp of becoming a famous actor, the school wanted her back.
The reason she dropped out of college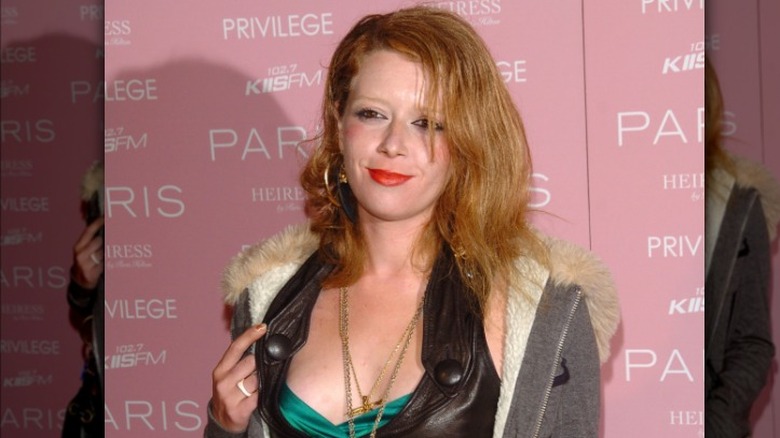 s_bukley/Shutterstock
Natasha Lyonne isn't afraid to tackle big concepts in her work. For example, she told InStyle that while Season 2 of "Russian Doll" is very much rooted in reality, there's also a heady side. "Then, at the same time, it's a philosophical, epistemological, metaphysical show about spiritual concepts," she said. For someone whose work unabashedly explores such intellectual ideas, it may come as a surprise to learn that Lyonne not only dropped out of college, but she never technically graduated high school. According to The New Yorker, Lyonne was on track to finish high school via a bridge program offered through New York University. However, when she finally arrived at NYU to study film and philosophy, it proved to be a disappointment.
On "Late Night with Seth Meyers," Lyonne recalls showing up to Cinema Studies 101 that, much to her horror, was screening the classic 1979 film "Apocalypse Now." She told the dean, "If you think I'm going to pay to hang out with these teenagers and talk about 'Apocalypse Now...' If you haven't seen "Apocalypse Now" by this age, why are you in film school, honey?" The remedial nature of her studies, combined with the sticker shock of paying $60,000 for her education, caused Lyonne to drop out of college. Unfortunately, by leaving college, she didn't meet the requirements of the NYU bridge program. This meant she never received her high school diploma.
Her drunk driving made early '00s headlines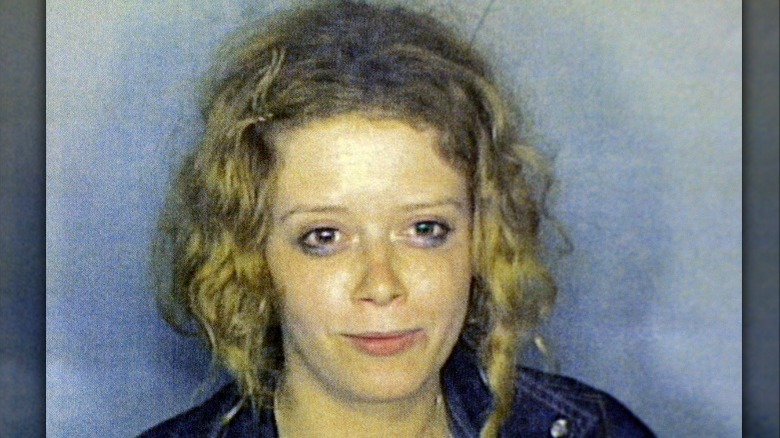 Joe Raedle/Getty Images
Before celebrities like Lindsay Lohan, Paris Hilton, and Nicole Richie made tabloid headlines in the '00s for their DUI arrests, Natasha Lyonne had an infamous run-in with the law for her own driving misbehavior. Per the AP, Lyonne was arrested for DUI in 2001 in Miami after she crashed her rental car while rounding a curve. According to a police report obtained by People, her passenger, actor and then-boyfriend Adam Goldberg, told police, "I tried to stop her. I just didn't know how. I didn't know whether to grab the emergency brake or what." The following year Lyonne entered a guilty plea, with the AP reporting that as a first-time offender, her plea deal included a $250 fine, court fees, and a suspended driver's license.
While Lyonne's arrest was the first time she had been caught driving under the influence by authorities, it actually wasn't her time operating a car while intoxicated. According to The New Yorker, Lyonne drove drunk while making her 1998 breakout film "The Slums of Beverly Hills." During filming, Lyonne, allegedly drunk, drove her car into the window of a Los Angeles furniture store. Director Tamara Jenkins said of the incident, "I'll never forget the steering-wheel imprint on her chest."
She suffered serious health complications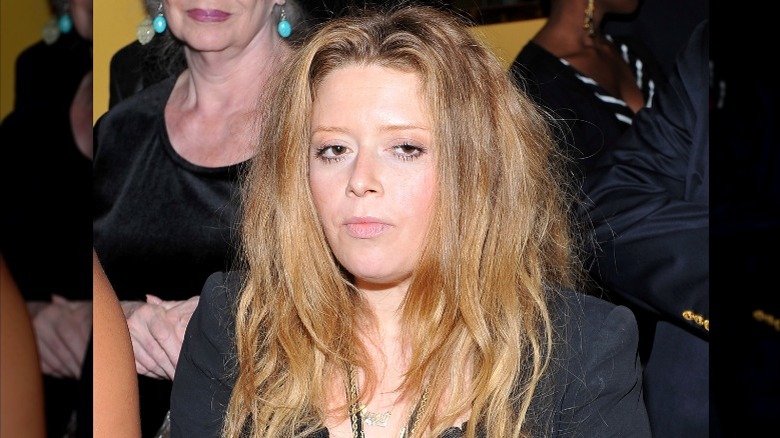 Marc Stamas/Getty Images
By the time Natasha Lyonne was in her teens, she was in the throes of drug use. She partied hard, and as she told The New Yorker, "I was so young that the consequences weren't that serious yet. I was seventeen. I was Teflon." But as she moved into her 20s, Lyonne's partying soon became a serious problem. By the mid-'00s, Lyonne had all but dropped out of Hollywood and was using heroin. She said in Entertainment Weekly, "Spiraling into addiction is really, really scary." Finally, her substance misuse caught up with her health in a very serious way.
As the The New York Times reported, in 2005, Lyonne was hospitalized for a number of ailments, including hepatitis C. She was put in the intensive care unit of Beth Israel Hospital in New York City and remained at the hospital for five months. In addition to being treated for hepatitis C, sources at the New York Post said Lyonne was also being treated for a heart infection, a collapsed lung, and underwent methadone treatment. She told The New York Times about her stay, "I remember being in pain a lot. I couldn't move, couldn't breathe, could hardly talk, could barely walk." Lyonne survived, but she shared to Entertainment Weekly about the ordeal, "It's weird to talk about. I was definitely as good as dead, you know? A lot of people don't come back."

If you or anyone you know needs help with addiction issues, help is available. Visit the Substance Abuse and Mental Health Services Administration website or contact SAMHSA's National Helpline at 1-800-662-HELP (4357).
Her beef with her landlord Michael Rapaport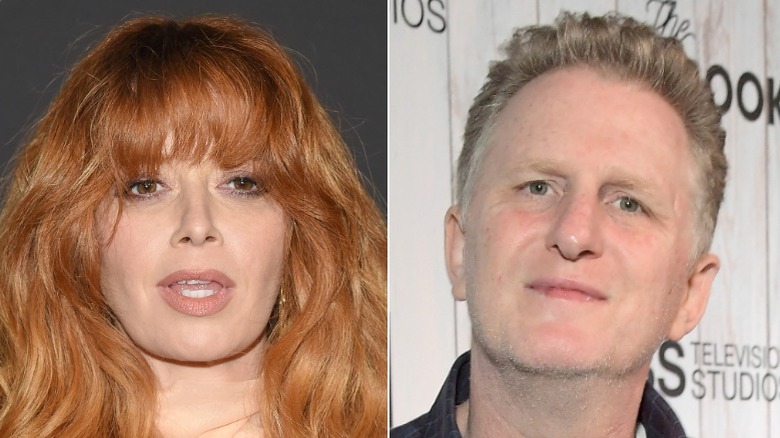 Charley Gallay/Getty Images & DFree/Shutterstock
Nastasha Lyonne and actor Michael Rapaport's relationship went from friendly to ferocious after a disastrous property rental experience got Lyonne arrested and Rapaport stuck with thousands of dollars in repair bills. As The New Yorker reports, in 2001 Lyonne moved into actor Michael Rapaport's New York City townhome. It soon became a local party den, much to the dismay of the building's other tenants. Eventually, Lyonne's behavior got her in serious trouble. According to Reuters, Lyonne was charged with criminal mischief, harassment, and trespassing for a 2004 argument with her neighbors. Rapaport eventually evicted Lyonne from his property and he chronicled the experience by penning the essay "Evicting Natasha Lyonne" for Jane magazine.
In 2006, Lyonne eventually turned herself in to New York authorities to face the charges stemming from her domestic dispute. Per CBS News, because she completed a court-ordered drug program and paid restitutions, prosecutors pushed for a conditional discharge and a judge promised to drop the charges. These days, Lyonne and Rapaport are on friendly terms. On "Watch What Happens Live," Rapaport insisted, "We're totally reconciled, we're good friends, and she's like a sister to me. We're totally cool, she's good people and she's a solid person." The two apparently are on such good terms that Lyonne impersonated Rapaport in a 2022 web-exclusive sketch on "SNL."
How Orange Is The New Black mirrored her own experience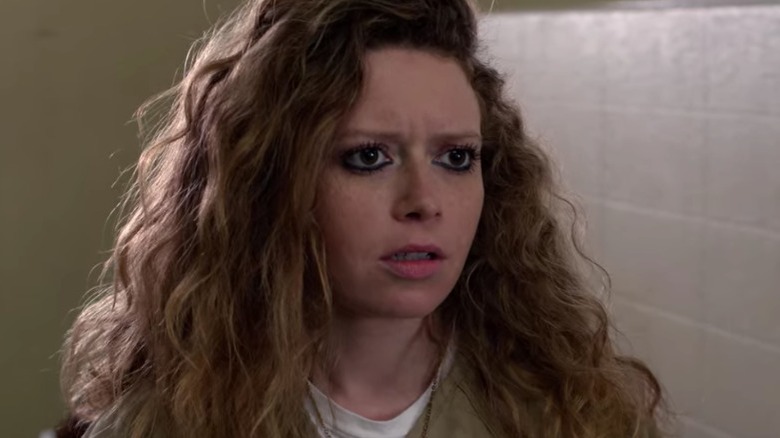 Netflix
The Netflix original series "Orange Is The New Black" followed the journey of inmates at the fictional Litchfield Penitentiary and was lauded by critics for its depiction of complex female characters. The Washington Post observed in 2013, "Watching the show, one begins to realize that all the good parts for women truly have been kept locked up somewhere; now, here they all are, free (in at least one sense) to be portrayed." Natasha Lyonne played one of those "good parts" in the show, playing "junkie philosopher" Nicky Nicols, a role which drew heavily from Lyonne's own experience with heroin and substance misuse.
Lyonne told The Guardian that her very public addiction story made her sympathetic to Nicky's circumstances. She said, "To me, what is more interesting about it is that I never feel like anybody in that position is a stranger to me." She added, "When I first started on 'Orange' I'd never served time, but I'd definitely been arrested enough times." Nicky's open-heart surgery after an overdose mirrored that of Lyonne's own procedure. In 2012, the actor underwent open-heart surgery for endocarditis, often referred to as "heroin heart." Being able to portray her own journey through Nicky was a positive experience for Lyonne. She said to The New York Daily News, "It's sort of life-affirming to see where personal experience ends up. Having some usefulness in your day job makes you better, so much more capable to transmit or articulate something."

If you or anyone you know needs help with addiction issues, help is available. Visit the Substance Abuse and Mental Health Services Administration website or contact SAMHSA's National Helpline at 1-800-662-HELP (4357).
She has called herself her 'own worst enemy'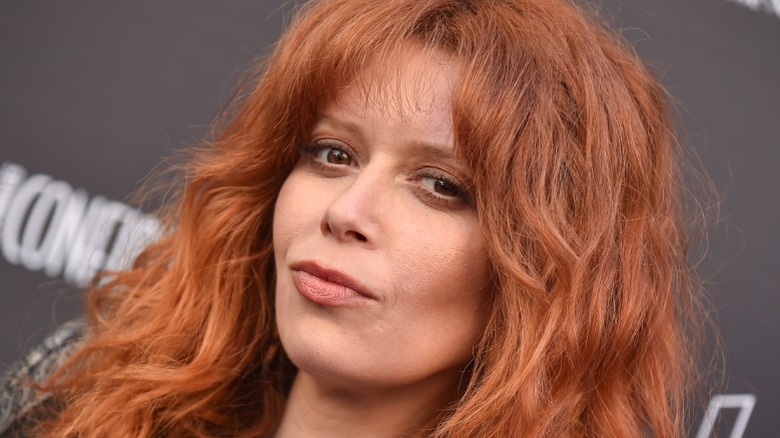 DFree/Shutterstock
Nastasha Lyonne's life has been filled with plenty of personal and professional highs and lows. Lyonne's journey from child actor to Hollywood powerhouse hasn't been linear and she lamented to The Guardian about her life's circuitous path to create her hit Netflix series "Russian Doll." She said, "At 16, I already knew who I was. But then had just the most insane waylaid life where at every turn, I was my own worst enemy. Then I reappeared, to tell that story." And tell it she did, and it's safe to assume that Lyonne's experiences only made the show better.
In middle age, Lyonne is championing herself and is making up for lost time in her career. Lyonne shared with W Magazine that she has lost any pretenses that might have held her back in the past. She said, "I'm 42; I just don't care anymore. I want to tell a story that connects with people and makes them feel less alone, and less ashamed of their existence." She told The New Yorker about the urgency of her creative zeal, "I get panicky I won't have enough time. I feel like I already blew so much." But despite appearances, Lyonne is no longer a villain to herself, telling W Magazine, "I might wear black clothes and smoke cigarettes, but in many ways I'm an optimist and believe in this underlying good-natured, happy ending type of s***."
She broke up with Fred Armisen over a swimming pool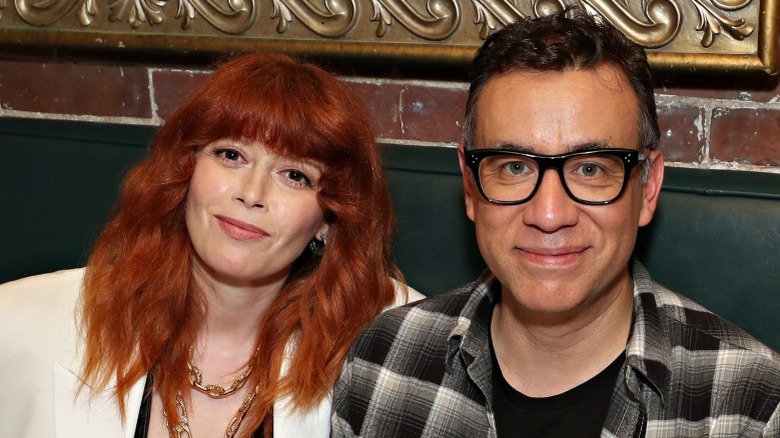 Cindy Ord/Getty Images
Over the decades, Natasha Lyonne has been linked to a variety of talented Hollywood men. In the late '90s, she fell for her "Detroit Rock City" co-star Edward Furlong, telling friend Chloë Sevigny in Harper's Bazaar, "I was crazy for him on that movie set. He and I were together for a while." After her relationship with Furlong ended, she was reportedly linked to actors Adam Goldberg and Michael Rapaport. However, her relationship with comedian Fred Armisen had staying power. Per Glamour, Lyonne was introduced to Armisen via their mutual friend Maya Rudolph and they became a couple in 2014. Two idiosyncratic talents like Lyonne and Armisen seemed like the perfect pairing, but ultimately, they hit some choppy waters that sank their ship. 
In 2022, Lyonne confirmed to The Hollywood Reporter that she and Armisen broke up because of a disagreement over a swimming pool. She said, "I honestly think we broke up because I wanted a swimming pool. We love each other just about as much as two people can love each other and we're still talking all the time, but Freddy doesn't like a swimming pool." Lyonne got her pool, and true to her word, she and Armisen are friendly exes. Less than a month after announcing their split, Lyonne and Armisen appeared together during her "SNL" monologue.