Alex H. From Laguna Beach Goes By A Totally Different Name Now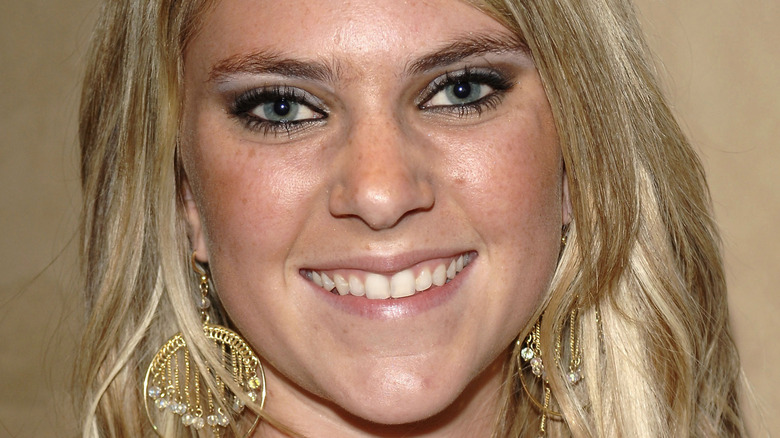 Stephen Shugerman/Getty Images
From the moment it first aired on MTV in 2004, "Laguna Beach" quickly became a pop culture phenomenon. The show — which follows a small group of friends and frenemies attending Laguna Beach High School — helped launch the careers of celebrities like Lauren Conrad and Kristin Cavallari. While "Laguna Beach" was canceled after three seasons, many of its cast members have attempted to parlay their reality fame into other careers — albeit with varying degrees of success. Talan Torriero tried his hand at acting, while Christina Sinclair found some success as a fitness instructor. At first glance, another "Laguna Beach" star appears to have disappeared entirely. But really, she's just using a totally different name. 
Of course, we're referring to Alex H. She appeared on 29 episodes of the reality series, credited in various forms as a friend of fellow cast member Kristin Cavallari. While she might have been credited as "Alex Hooser" for her work on "Laguna Beach," it turns out that Hooser has had a different name all along.
In a recent interview, Hooser shared more about her real name — and why exactly she dropped the moniker used in her "Laguna Beach" days. 
Alex Hooser was actually Lauren Hooser
First, "Laguna Beach" cast member Alex H. — or Alex Hooser — was actually Lauren Hooser, as the former reality television star exclusively told Us Weekly. Hooser, whose surname has since changed to her married name, Olsen, clarified to the magazine that she chose to go by her middle name, Alexandria, as a child. Olsen shared, "So when I registered for school, I went by Alexandria, and that was when I was about, like, 10 years old. And then from there on out, I went by Alex."
From this, it's clear that this hasn't been a case of years-long deception on the part of the former Alex H. Nor, added Olsen, was it the decision of MTV, the network that aired the show. "It just happened by chance, and I know it can be so confusing," admitted Olsen. "I have, like, three different names, but my name commonly through birth has been Lauren."
As a few fans of the show noted, it wound up being beneficial that the reality star went by Alex. "I just found out that Alex H from Laguna beach's real name is Lauren. So many Lauren's on Laguna beach," one fan shared, while another added: "That makes sense since everyone else's name was Lauren."
Lauren went back to using her given name after the show ended
As Lauren Olsen (formerly known to audiences as "Alex H.") told Us Weekly, she decided to use her given name after "Laguna Beach" came to an end. "After the fact, my family still called me Lauren, so I just gravitated back to that," Olsen explained of her decision. The former reality star added that reverting her name to Lauren provided her with a degree of separation from her public persona. "Also it was kind of a nice little shell to be like, no, I'm Lauren now. Like Alex H. is done ... but maybe coming back," she told the outlet. 
Unless and until Alex H. makes her return to reality television, it seems like Olsen will continue living a relatively private life. She nods to her previous identity on Instagram, but her photos show that she's moved on from her days on "Laguna Beach." These days, she seemingly enjoys spending her time as a wife and mother in Santa Cruz, California, with her husband, two children, and an adopted dog.