Who Is Nikki Haley's Husband, Michael Haley?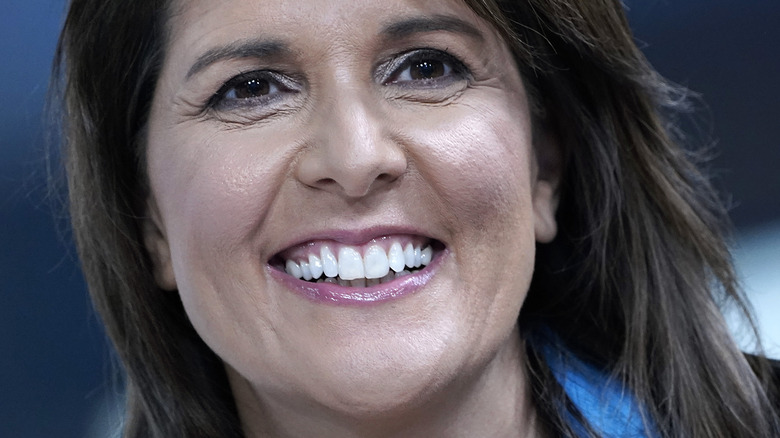 John Lamparski/Getty Images
All eyes are on Washington as the end of President Joe Biden's first term approaches. Biden has yet to confirm if he will seek a second term — which leaves a lot of room for speculation. As the Democrats await Biden's decision, the Republicans are gearing up for their own race. Former president Donald Trump announced his candidacy months ago to little fanfare. In February, his former Ambassador to the United Nations and the former Governor of South Carolina, Nikki Haley, announced her intention to run for president
"The Washington establishment has failed us over and over and over again. It's time for a new generation of leadership to rediscover fiscal responsibility, secure our border, and strengthen our country, our pride, and our purpose," Haley said in the video announcing her candidacy. Haley spoke at length about growing up in South Carolina as the child of Indian immigrants and about her time as a UN Ambassador. "I have seen evil," she said, referring to her time working with the UN under Trump. "Even on our worst day, we are blessed to live in America."
So, we know a lot about Haley and her background — but what about her husband? What about the man behind the candidate? Below, we dig into their relationship and everything we know about Michael Haley.
Michael and Nikki Haley had a rough start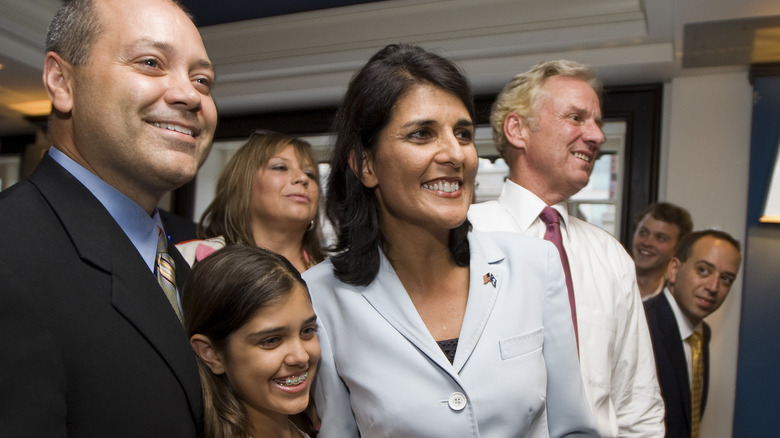 Chris Keane/Getty Images
Michael and Nikki Haley have been together for more than 25 years and share two children, Rena and Nalin. By all accounts, they are a happy, successful couple. However, the beginning of their relationship wasn't so easy. Nikki and Michael grew up in very different cultures. 
Michael is an adoptee who was raised in Ohio. Nikki is the child of Indian immigrants and grew up in a small town in South Carolina. Michael was raised Methodist, and Nikki has raised Sikh. Those fundamental differences reportedly made it hard for Nikki's parents to accept the relationship. Friends have claimed that it took Nikki years to convince her parents to give her and Michael their blessing.
Together, Michael and Nikki worked to build a relationship that honored both of their cultures. They were married in Hilton Head, South Carolina, and had two ceremonies, one Sikh and one Methodist. Over the years, though, Nikki has taken on more of Michael's religion. Both of their children were baptized in the Methodist church. However, Nikki now identifies as a Methodist and claims she was baptized before she and Michael married. "I was born and raised with the Sikh faith. My husband and I were married in the Methodist Church," she told The New York Times in 2021.
Michael has an impressive career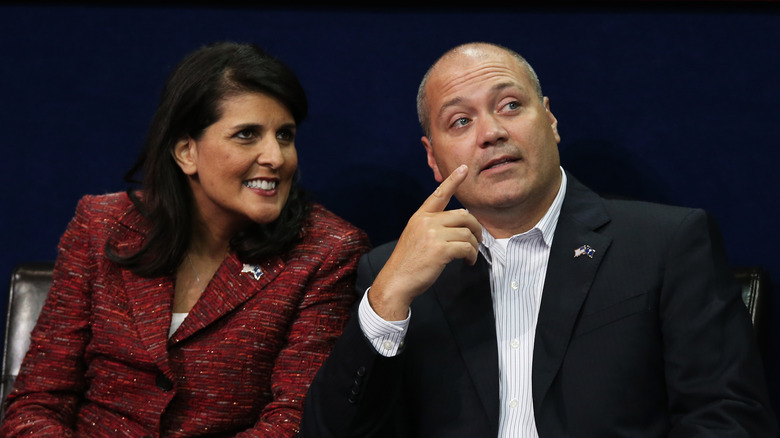 Win Mcnamee/Getty Images
Nikki Haley and Michael Haley are something of a power couple. Throughout her career, Nikki has been a state representative, a UN ambassador, a governor, and, now, a candidate for president. But while Nikki was climbing the ladder, Michael was quietly working in the background forging his career.
In 2006, Michael joined the National Guard. In 2012, he made history when he was deployed to Afghanistan as captain of the South Carolina National Guard. His year-long deployment was notable because Nikki was serving as the Governor of South Carolina. He became the first person in history to go on active duty while their spouse held the office of governor. While in Afghanistan, Michael worked with local farmers to replace opium poppy fields with lucrative cash crops.
Michael's deployment was stressful for Nikki. Due to the time difference and the hectic nature of their schedules, it was hard to find time to talk, so they mostly communicated through email. "There's a lot lost in translation," Michael said (via The Christian Science Monitor). "You don't get the emotion, the humor you get in one-on-one communication on the telephone or physically being there." As for Nikki, she couldn't wait for his deployment to be over. "Seeing him, I felt like I took my first breath in a year," she said upon his return home.