Ralph Macchio's Daughter Looks Just Like The Karate Kid Star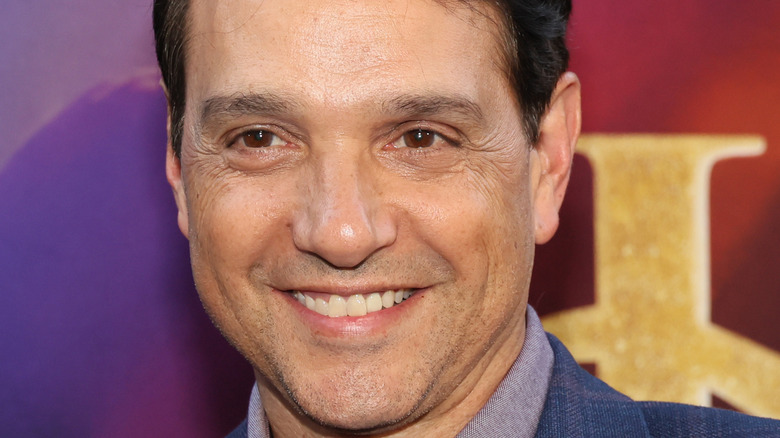 Dia Dipasupil/Getty Images
The Netflix series "Cobra Kai" imagines what everyone's favorite "Karate Kid" adversaries would be like as adults with kids of their own. When the tale of redemption and reluctant forgiveness begins, the hero of the films, Daniel LaRusso (Ralph Macchio), has a happy family. However, after his daughter, Sam LaRusso (Mary Mouser), embraces the sport that made him a local celebrity, her Miyagi-Do lessons about unity and patience prove to be of little help when the karate craze sweeping her school ends up causing her a great deal of trauma.
According to Mouser, Macchio treats her like a daughter even when the "Cobra Kai" cameras aren't rolling. "I literally had to have him come kill a bug in my apartment because I was too scared," she recalled to FanFest in 2018. "When I had a cold, he was texting me to stay inside, stay warm." Much like Daniel's karate moves, Ralph's expert parenting skills come from experience. When he began playing the father of a teen girl on "Cobra Kai," his own daughter, Julia Macchio, was well into adulthood. Speaking to BBC News about his youthful looks in 2022, Ralph said, "It's a blessing and a curse that I've had my whole life. It's not so much of a curse now as I'm north of 60." While looking so young made it difficult for Ralph to land the more mature roles he wanted post-"The Karate Kid," we're guessing that his look-alike daughter is thanking her lucky stars that she inherited his genes.
Ralph Macchio and Julia Macchio played relatives on Cobra Kai
Just like Sam LaRusso, Julia Macchio discovered that she shared the same passion as her father. Julia launched an acting career of her own and worked with some big names when she landed her first movie role in the 2012 comedy "Girl Most Likely" including Kristen Wiig, Annette Bening, Matt Dillon, and Natasha Lyonne. A handful of other roles followed, and almost a decade after her big-screen debut, she got to appear alongside her dad, Ralph Macchio, in "Cobra Kai."
The family resemblance made Julia a perfect fit for the role of Daniel LaRusso's cousin Vanessa. Julia has the same big brown eyes, warm smile, and dark hair as her dad. However, while preparing to play the college student studying to be a child psychologist, Julia told the "Cobra Kai Kompanion" podcast that her acting inspiration was actually Marissa Tomei in "My Cousin Vinny." (Vanessa even gets compared to Tomei on the show.)
According to Julia, she and her dad share a special bond. While some kids might find it awkward or annoying to work with a parent, she revealed that her close-knit relationship with Ralph made her job easier on the "Cobra Kai" set. "We have that comfort level there where we can really play around," she said in an interview with "Cobra Kai Nation." As for how Ralph felt about Julia's performance, he told People, "She knocked it out of the park. I was the proud father on set that day."
Julia Macchio and Ralph Macchio can both dance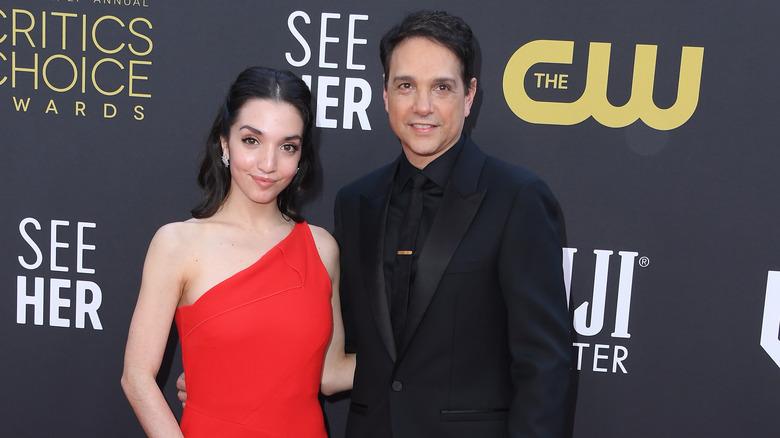 Steve Granitz/Getty Images
"Dancing with the Stars" fans might remember Ralph Macchio's impressive run on the reality competition in 2011 when he and pro partner Karina Smirnoff finished fourth. Long before that, though, Ralph played the lead in a touring production of "How to Succeed in Business Without Really Trying" in the '90s. Ralph was apparently just three years old when he began dancing, so one of his biggest challenges was actually trying to make it look like he wasn't a seasoned pro.
Julia Macchio told "Cobra Kai Companion" that she was five years old when she started her dance training. She proved that she inherited her dad's talent by landing a lead role of her own in a touring production of "Flashdance," a musical inspired by the classic film that came out a year before "The Karate Kid" did. Speaking to The Times in 2015, Julia revealed that she found it easy to relate to her character, Alex Owens, a welder whose biggest aspiration in life is to become a professional ballerina. "I'm proud that I've worked for everything I've received," she said. "I never had anything handed to me." 
While she clearly doesn't want anyone to think nepotism has played a role in her acting career, Julia did let Ralph tag along when her show toured in New Zealand. By then, her proud pops told the NZ Herald that he'd seen the musical over half a dozen times.