What Johnny Jolly's Life In Prison Was Really Like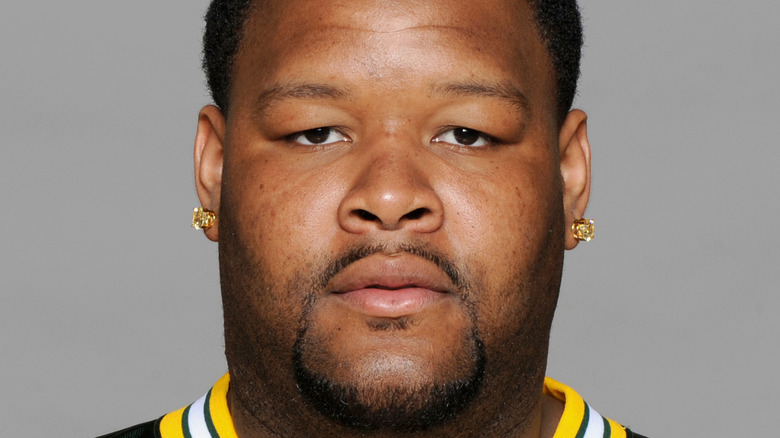 Handout/Getty Images
Many young athletes dream of playing in the NFL, but not all make the cut. So for rookies of the league, even the opportunity to take the field once — let alone twice — is a dream come true. That's where Johnny Jolly comes in. Jolly played for the Green Bay Packers from 2006 to 2009 and again in 2013.
His career was derailed in 2008 when he was arrested in Houston for possession of a controlled substance (codeine) and given probation. Two years later, he was suspended by the league for violating their strict substance abuse policy. For the time being, while Jolly had gotten in trouble with the NFL, he had avoided any more serious legal issues that might arise from his substance problems. Then came October 2010 — and his career came crashing down. Jolly violated his probation and was subsequently sentenced to six years in prison. "It was crazy because I knew I needed to chill, but it was like I was getting a thrill out of what I was doing, so I was just doing it," Jolly told USA Today. "In my heart, I was like, 'I need to chill. I'm a football player, and I need to take care of myself the other way.' But sometimes, you lose focus. And that's what happened to me."
Incredibly, after serving his time, Jolly made his way back to the field a few years later. But, transitioning from prison to the NFL wasn't easy, and Johnny had to work hard to stay in professional shape while behind bars.
Prison changed Jolly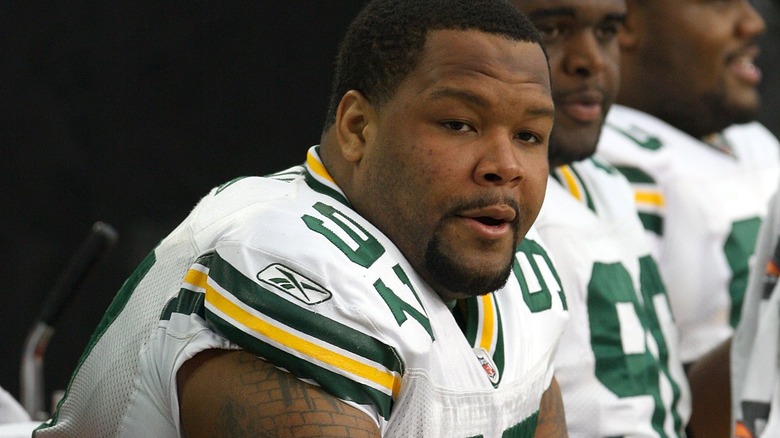 Maxx Wolfson/Getty Images
Undoubtedly one of the hardest parts of Johnny Jolly's prison sentence was trying to find a way to stay in shape. Jolly struggled at first to find the motivation to keep his physic and motivation in tip-top shape — after all, what are the chances he'd even be welcomed back to the NFL when his time was up? Thankfully, his fellow inmates had his back and pushed him to keep up with a routine.
"From Day One, they (provided) motivation," Jolly told USA Today upon his release in 2013. "They were like, 'Man, you don't belong here. Get back out of here and go to the field. Get yourself together.'" Jolly added that other inmates would join him for workouts which helped keep him focused on his end goal of rejoining the league. "(They'd say), 'Don't get in no trouble while you're in here. Just do what you're supposed to do, and everything will work out for you.'" After just six months, Jolly was released from prison but given a "shock" probation of 10 years — something reserved for people deemed not emotionally equipped to deal with prison.
All the while, all Jolly wanted was to rejoin the packers. He was a free man, but by then, he hadn't played football in three years, and it seemed impossible. Even though he'd done the work to stay in football shape in terms of getting reinstated, the hard work was just getting started.
Jolly got a second chance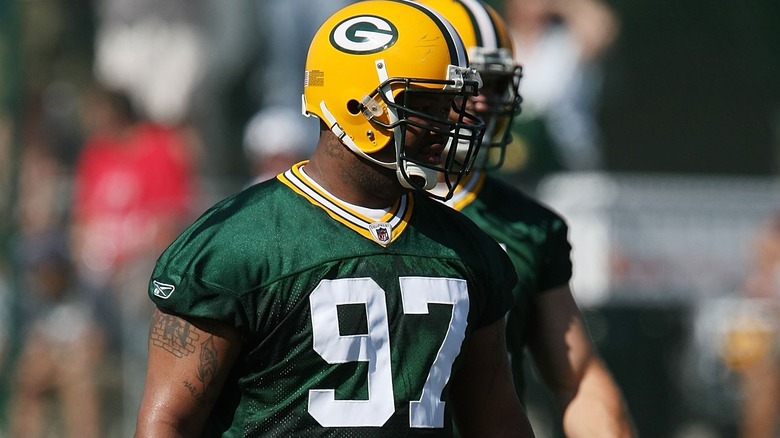 Jonathan Daniel/Getty Images
Even after putting in the work to stay in shape and kicking his drug habit, it was still a long shot for Johnny Jolly to rejoin the NFL. After all, he had been indefinitely suspended from the league before even going to prison. However, the Packers always supported his efforts to turn his life around. When Jolly completed a stint in rehab shortly after his release from prison, Packers executives attended and celebrated his graduation.
Jolly got up the courage to ask to rejoin the team, but the conversation was challenging. "I had to lay it on the table and let them know where I was and how I felt," he told USA Today. "For me to get it off my chest, and for them to hear me speak and knowing that it's true and coming from my heart. I think that was part of the thing for them signing me back, to know that I'm telling the truth." After getting the all-clear to rejoin the league, Jolly even negotiated a contract that would pay him over $700,000 if he made the team – which he did a few months later.
Jolly's return to the NFL was incredible but, short-lived. After rejoining the Packers in 2013, he only lasted another year. A neck injury took him out for the latter end of the season, and a free agent he is now effectively retired from the NFL. 
If you or anyone you know is struggling with addiction issues, help is available. Visit the Substance Abuse and Mental Health Services Administration website or contact SAMHSA's National Helpline at 1-800-662-HELP (4357).