Whatever Happened To Sarah McLachlan?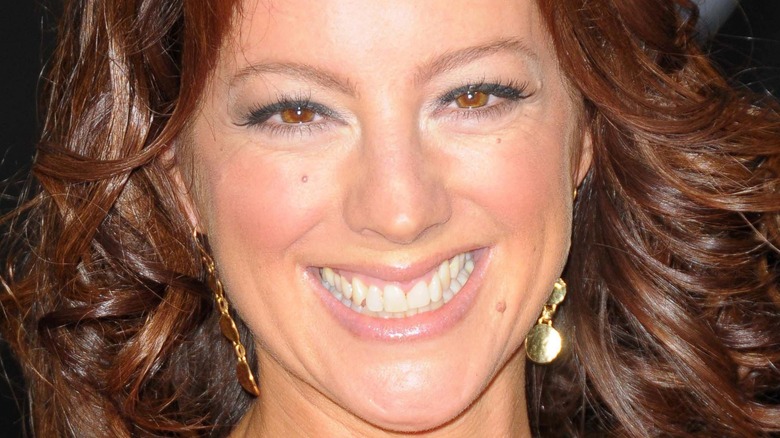 s_bukley/Shutterstock
Regardless of age, everyone knows the ASPCA hit commercial starring Sarah McLachlan. The one with heartbreaking clips of visibly hurt or dirty dogs and cats in really dilapidated situations, with Sarah McLachlan's 1997 classic, "Angel" in the background. The song, which features the lyric "In the arms of the angel," was the best choice to pair with the sad puppy and kitten eyes. Who wouldn't want to set up a monthly donation to those sweet angels? For some, that's what McLachlan is known for. But, of course, she's more than those.
The Canadian singer dropped her most popular album "Surfacing" in 1997, which won her two Grammys, charted at #2 on the Billboard 200, and went platinum eight times in the US. That album also allowed McLachlan to launch Lilith Fair, a popular tour that featured only female solo artists and female-led bands like Fiona Apple, Tori Amos, Tracy Chapman, Sinéad O'Connor, and Missy Elliott from 1997 to 1999 (with a revival in 2010), according to NPR. It was "born out of a desire to come together as a community" and prove men in the industry wrong; women could headline and sell-out tours. 
So while McLachlan is more than just her ASPCA commercials, it is still one of the most popular things she's done. And the popularity and nostalgia of those TV spots came out in full force when McLachlan parodied the commercial during the Super Bowl this year.
Sarah McLachlan is in a new Super Bowl commercial
While Sarah McLachlan has success outside of the ASPCA TV spot, there's nothing wrong with poking fun at it over a decade later. It's so well-known that the ad has veered into meme territory in some ways, with McLachlan herself making a parody commercial in 2022 for Bolt, an app that streamlines the online shopping process, as Billboard reported. McLachlan is taking a page out of that book once again and reprising her sappy "Angel" commercial. But this time, it's for a beer company.
Busch Light had a Super Bowl LVII ad for the 2023 game, with the Kansas City Chiefs beating the Philadelphia Eagles at the State Farm Stadium in Glendale, AZ. For the TV spot, the Busch Guy spokesperson lists off the "Busch Guide to Cold and Smooth Survival Skills." You obviously have to have food and your trusty 6-pack of Busch Light in a Busch Light commercial (duh). The third essential to have in the wild is shelter, which then pans over to McLachlan in a tent with a wolf behind her, giving a spiel about saving animals and donating to the cause, her iconic "Angel" playing in the background. While the guy says, "Wrong shelter, Sarah," pointing to the fact that they don't mean an animal shelter but just a shelter against the elements, the nostalgia, and hilarity of McLachlan being in on the joke is enough to make it a memorable ad.
McLachlan is still touring and making music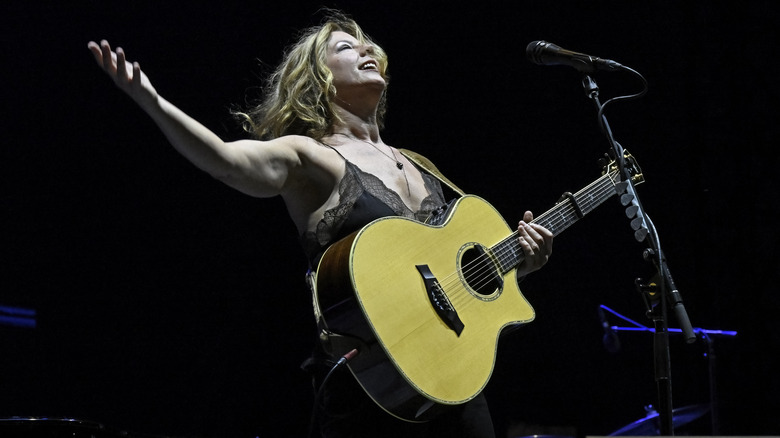 Astrida Valigorsky/Getty Images
If you weren't aware that Sarah McLachlan did things outside of making heart-wrenching TV spots, or if you weren't sure what she's been doing since 2007, you'll be excited to know that she's currently touring. She has a total of nine studio albums, with her last one being "Wonderland" from 2016. That year, McLachlan also performed on a float at the Macy's Thanksgiving Day Parade, promoting her album which was a Christmas-themed project.
Even though she hasn't released an album since then, McLachlan isn't slowing down. She's posted a lot on her Instagram about her upcoming shows and where she's going next on tour. 2023 brings even more dates, which fans can check out on her website. The tour is titled, "An Intimate Evening of Songs and Storytelling" and features Vanessa Freebairn-Smith, a cellist and founding member of the Sonus Quartet. According to McLachlan's Twitter, the two have toured together since 2019. 
McLachlan has two daughters and found some controversy back in the 90s when she fell in love with her best friend's ex — the basis for her song "Adia" — but she said that both she and her best friend got divorced and are still super close. And while she says "never say never" about another Lilith Fair revival, fans can at least have a bit of McLachlan's presence this Super Bowl Sunday.